Do you enjoy creating cute and delicious treats on paper?
If so, then learning how to draw a bunny ice cream step by step is the perfect artistic adventure for you!
Ice cream and bunnies are two delightful things that go great together.
Combining these fun elements into a drawing is an enjoyable way to create some whimsical and sweet art.
In this tutorial, we will walk you through how to draw an adorable bunny ice cream cone step by step.
How To Draw A Bunny Ice Cream – A Step by Step Guide
Drawing a bunny ice cream cone is a fun, creative way to combine the cute appeal of bunnies with the yummy treat of ice cream. By combining elements of a bunny and an ice cream cone, you will create a whimsical and unique treat that is sure to put a smile on anyone's face.
The wonderful thing about drawing a bunny ice cream is that you can get creative with the design. You can decorate the bunny cone with sprinkles, drizzles, and other candy toppings. The bunny can be designed in different poses and expressions. This versatility allows you to develop a drawing that fits your own unique style.
This guide on how to draw a bunny ice cream in 7 steps below, we will demonstrate my approach to drawing a happy bunny ice cream cone. Feel free to modify the designs and elements to create your own special version. The key is to have fun with the drawing process and develop a sweet treat that brings you joy.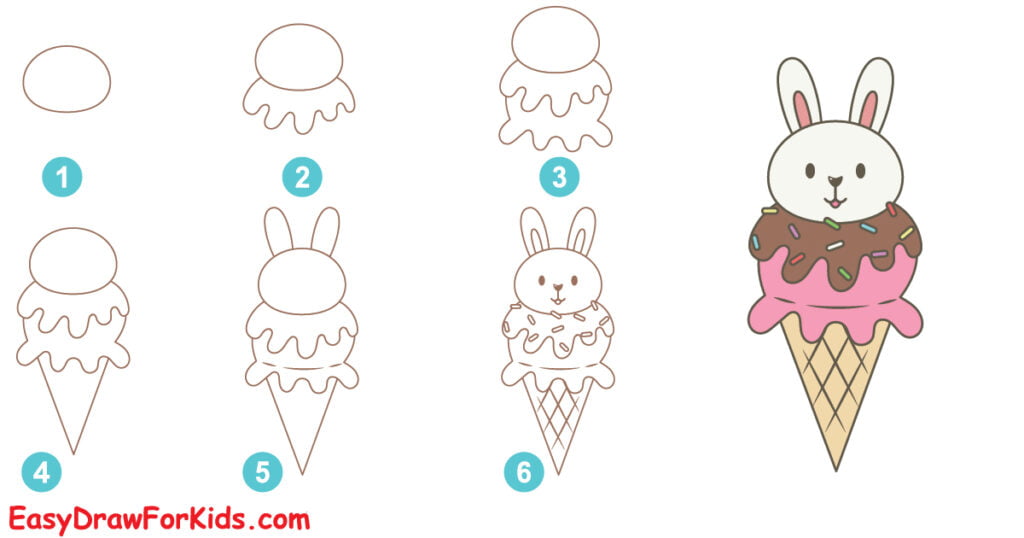 Step 1: Draw the Bunny's Head
In this first step in our guide on how to draw a bunny ice cream by drawing a large oval shape for the bunny's head. Make it slightly elongated horizontally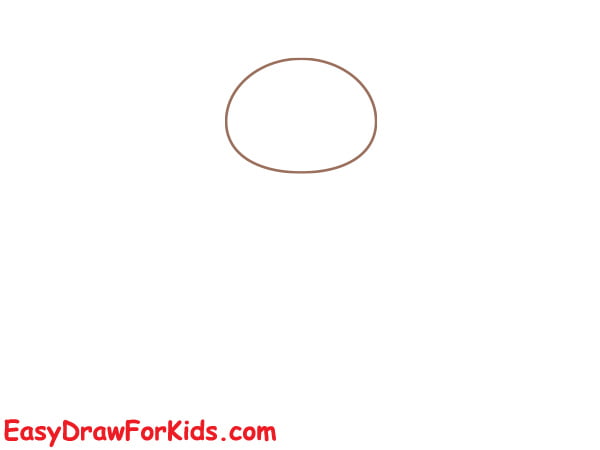 Step 2: Creating the Ice Cream Scoop
Drawing a large oval shape below the bunny head. Make sure the oval is wider at the top and narrower at the bottom, resembling a scoop of ice cream melting down.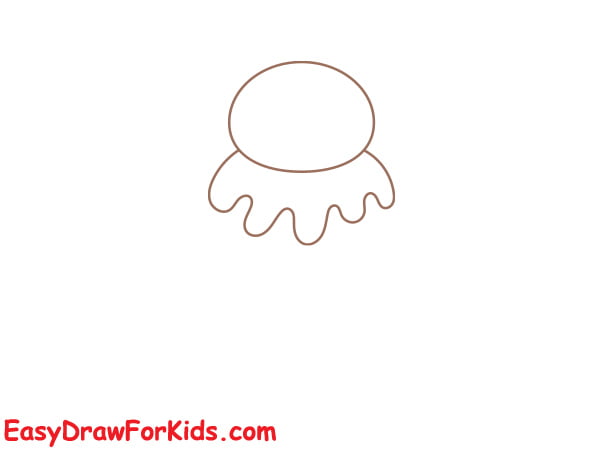 Step 3: Add More Layers
Add more layers to your bunny ice cream by drawing larger ice cream scoop below the previous one.
You can make as many layers as you want. Just remember to keep them proportional and centered.
Draw small, curved lines on the ice cream scoop to represent drips or melting.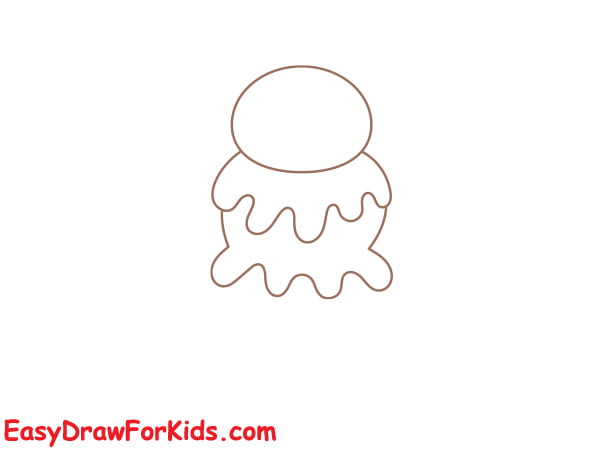 Step 4: Draw the Ice Cream Cone
In first step in our guide on how to draw a bunny ice cream will focus on the ice cream cone.
Draw an upside down triangle shape for the cone below the scoop of ice cream
Step 5: Adding the Bunny Ears
Draw two small, rounded shapes on top of the ice cream scoop to represent the bunny's ears. The ears can be slightly curved and pointy at the ends.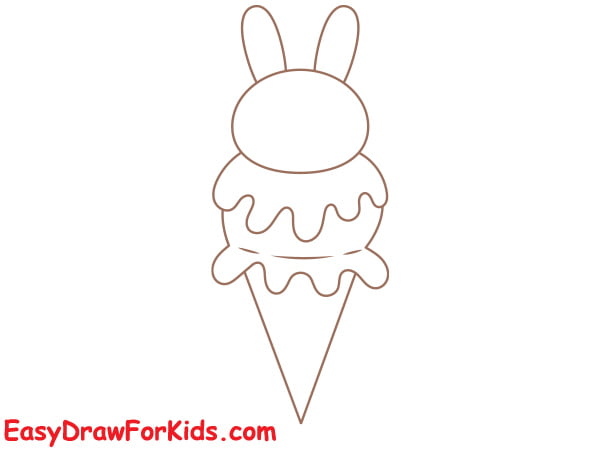 Step 6: Drawing the Bunny Face
To give our bunny ice cream character, let's add a cute face!
Start by drawing two large eyes on the scoop of ice cream.
Then, draw a small triangular nose in the center of the eyes.
Finally, add a smiling mouth beneath the nose to complete the adorable expression.
Add additional elements to the drawing, such as sprinkles, a waffle cone, or a decorative bow on the bunny's ears.
To make the ice cream cone look more realistic, draw diagonal lines across the surface of the cone.
These lines will represent the texture and pattern of the cone.
Don't forget to add a small curved line at the bottom of the cone to indicate its opening.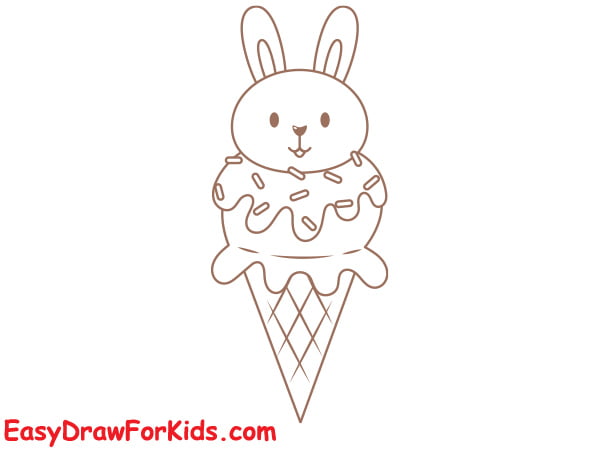 Step 7: Ink and Color the Drawing
Once you are satisfied with your pencil sketch, go over the lines with thicker ink outlines. Then color in your bunny ice cream cone with your choice of colorful mediums like markers, colored pencils, paints, or digital tools.
Vibrant colors really make the bunny and sweet treat come to life. Consider choosing complementary colors that look tasty together. For example, pink bunny fur and mint green ice cream.
And that's it – you now have an adorable bunny ice cream cone drawing to fill your heart with sweetness! With practice over time, you can refine your technique and develop your own unique style.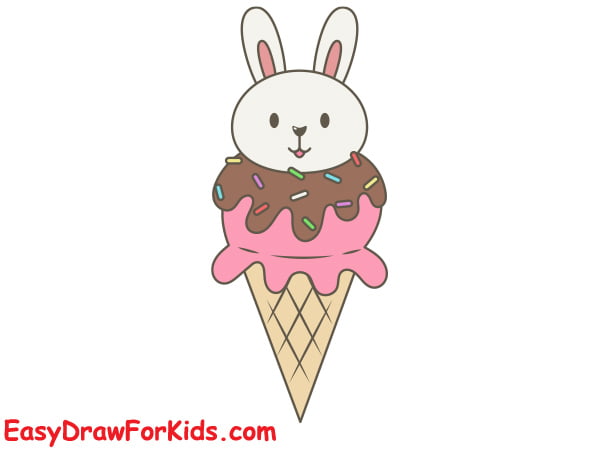 Tips and Ideas for Drawing Bunny Ice Cream
Here are some valuable tips and advice to consider when learning how to draw a bunny ice cream:
Use light pencil lines to sketch the basic shapes before pressing down hard. This allows flexibility to erase and modify your drawing as needed.
Customize your bunny's fur pattern, facial expression, and ice cream flavors/toppings. Add things that represent your personality for a meaningful piece.
Gather images of real rabbits and ice creams for inspiration. Referencing photos helps develop a lifelike, believable drawing.
Decide on color schemes that create a fun look. Contrasting or complementary colors (like orange and blue) make vibrant statements.
Add the details like grass, flowers, or other items relating to your bunny and ice cream's story. Scenes give the character context.
Turn your stand-alone drawing into a craft by making it into a sticker, greeting card, or other item perfect for gifting.
With a dash of creativity and a scoop of practice, you can become a pro at drawing charming bunny ice cream cone art. Develop your own special take on this sugary-sweet subject.
Conclusion
Learning how to draw a bunny ice cream cone is an enjoyable, rewarding way to explore your artistic abilities and unleash your creativity.
By following the steps outlined in this article, experimenting with different styles and approaches, and adding your personal touches, you'll be able to create beautiful bunny ice cream drawings that will delight both yourself and others.
Drawing a cute anthropomorphic bunny ice cream cone is a wonderful way to combine adorable animals with sugary treats.
Follow the step-by-step guide to learn the foundations, then make the drawing your own by customizing the colors, toppings, and bunny's expression.
With a little practice and creativity, you can develop a unique, sweet style. Whip up some art that's sure to melt hearts!