If you're looking to learn how to draw a cute donut, you've come to the right place!
Drawing a cute donut is a fun and easy way to create some adorable art.
With just a few simple steps of guide how to draw a cute donut, you can draw a sweet donut that will put a smile on anyone's face.
Here is a guide to drawing an utterly irresistible cute donut.
How to Draw a Cute Donut: A Step by Step Guide
There are many different ways to draw a cute donut, each with its own unique style.
Some people prefer cartoon-style donuts, while others like more realistic drawings.
Kawaii-style donuts are especially popular in Japan, where they are used in everything from stationery to food packaging.
Here are two different styles you can try when you learn how to draw a cute donut step by step
1. Cute Donut Drawing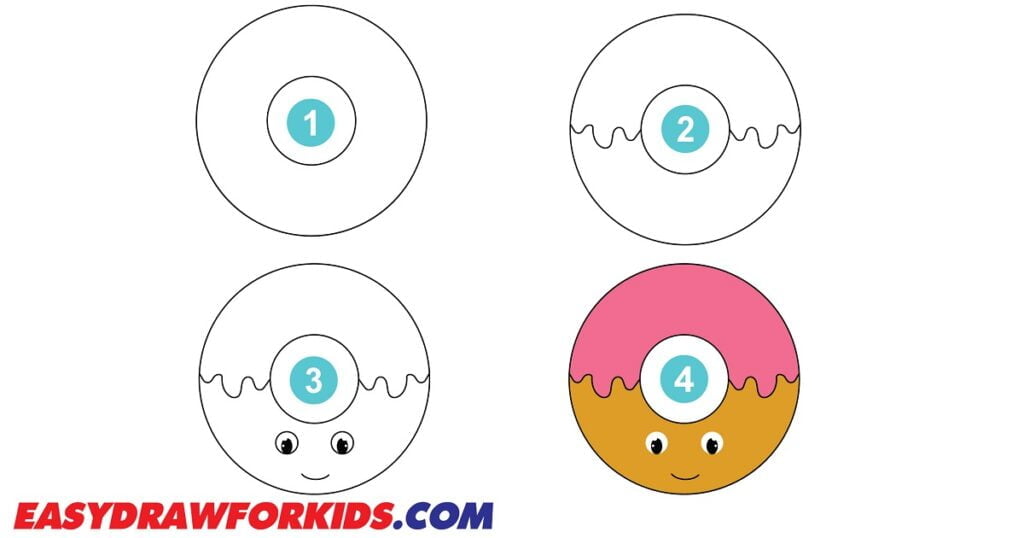 This guide on how to draw a cute donut in 4 steps to help you drawing a cute donut with ease!
Step 1: Draw the Basic Donut Shape
Start by drawing a large circle near the center of your paper. This will be the basic shape of the donut. Leave plenty of space around the edges of the circle for decorating later.
To draw the hole in the center of the donut, draw a smaller circle inside the large circle. Position it slightly above the center point of the bigger circle.
Outline both circles lightly in pencil first. Then trace over the lines more darkly once you have the shape right.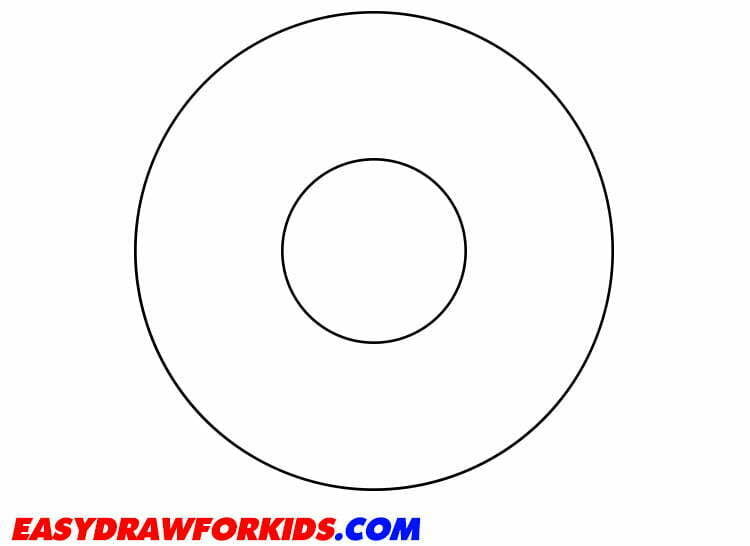 Step 2: Add the Icing
Donuts aren't complete without icing on top!
Add some icing decorations to your donut by drawing some wavy or zig-zaggy lines around the upper half of the donut.
Keep the icing near the outer edge of the donut – it should not reach all the way to the inner circle.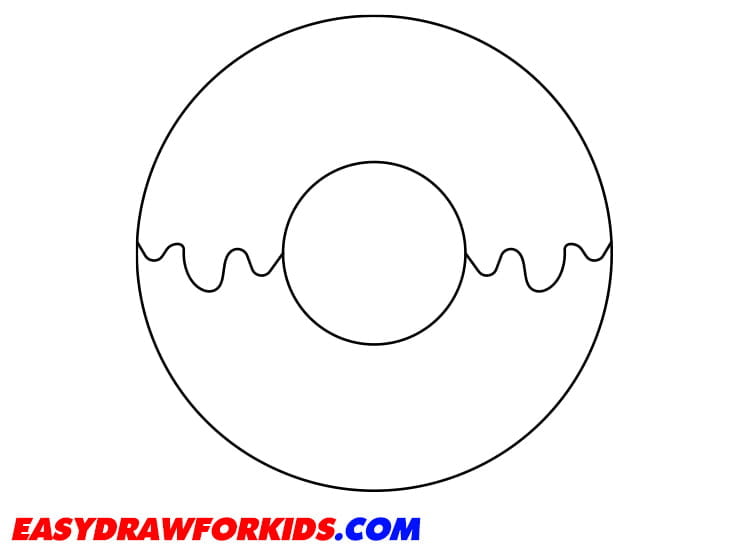 Step 3: Add a Face
To give your donut some personality, let's add a cute face. Draw two round eyes in the center of the donut with black or dark colored pencil. Position the eyes close together near the top of the donut.
Underneath the eyes, draw a wide smiling mouth shaped like an arched capital letter 'M'. An open smiling mouth makes the donut look super happy and friendly.
For extra charm, you can add a few freckles, rosy cheeks, or even a chef's hat. Get creative with fun facial features to customize your donut's personality.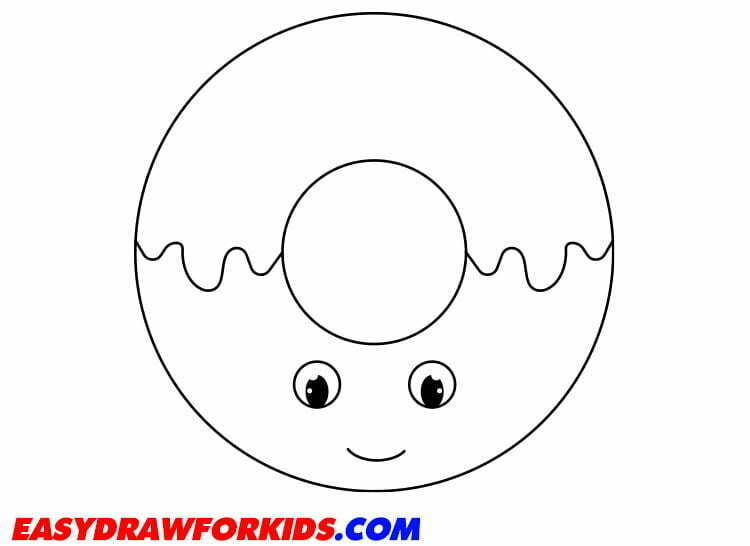 Step 4: Color the Drawing
Now that we've successfully this guide how to draw a cute donut, it's time for the most exciting part.
Outline everything in black marker first so the colors will pop. Then color in the donut, icing, sprinkles, and any facial features.
Pick fun, bright colors to make your donut extra cheerful. The possibilities are endless!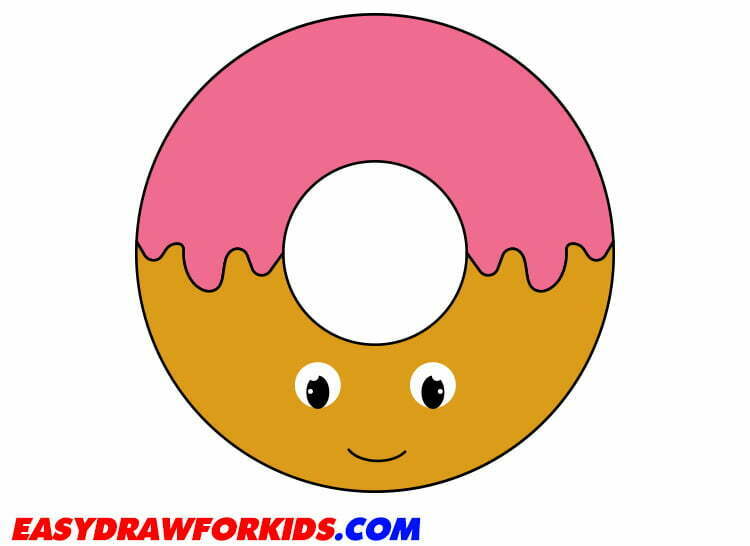 2. Easy Donut Drawing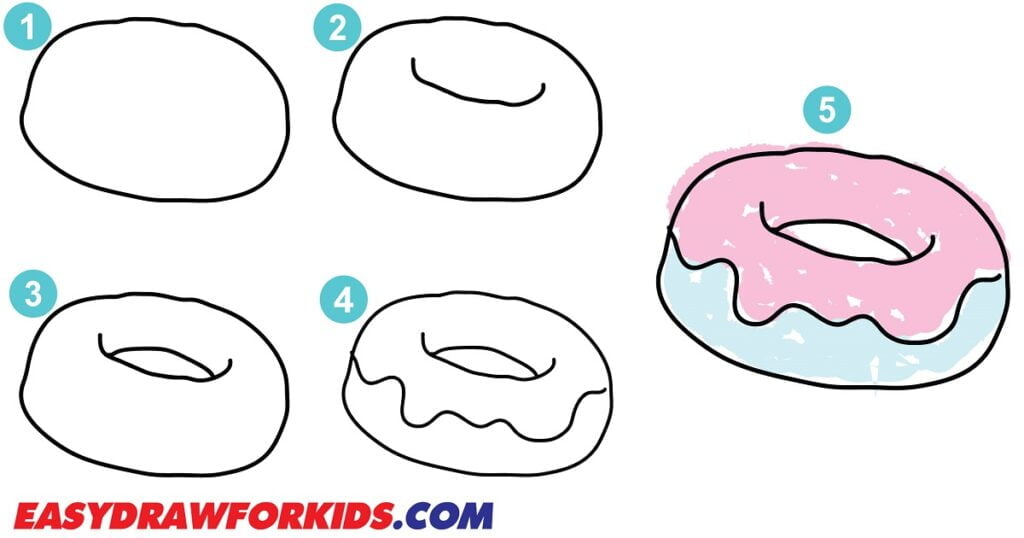 Step 1: Sketch out the outline of the Donut
In this first step in our guide on how to draw a cute donut by determine the size of your drawing and draw an freedom oval shape
Don't worry if they're not perfect – imperfection adds character to the donut!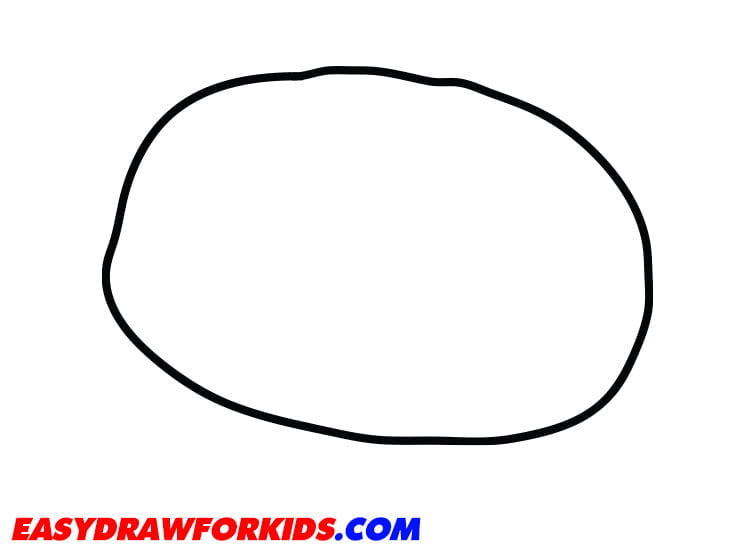 Step 2: Depict the Inner outline of the Donut
To do this, you need to draw a curved line inside the large circle.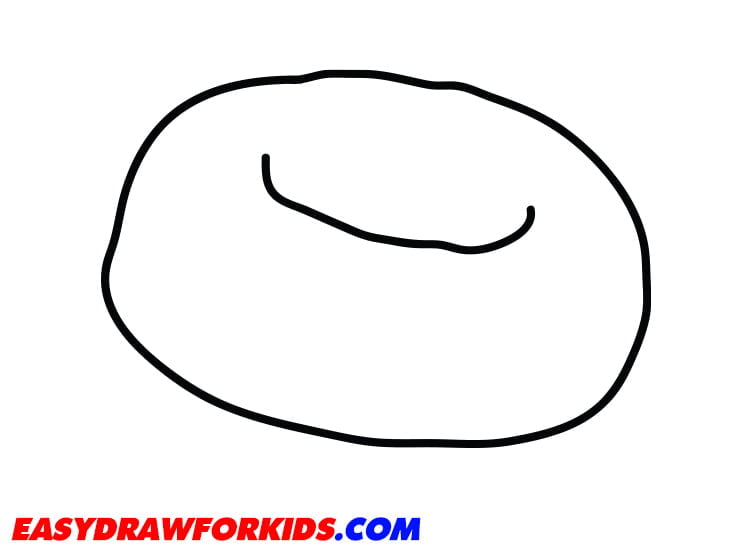 Step 3: Complete the out line Cute Donut
To complete the outline of cute donut by using the curved line above the curved line at step 3 as shown the picture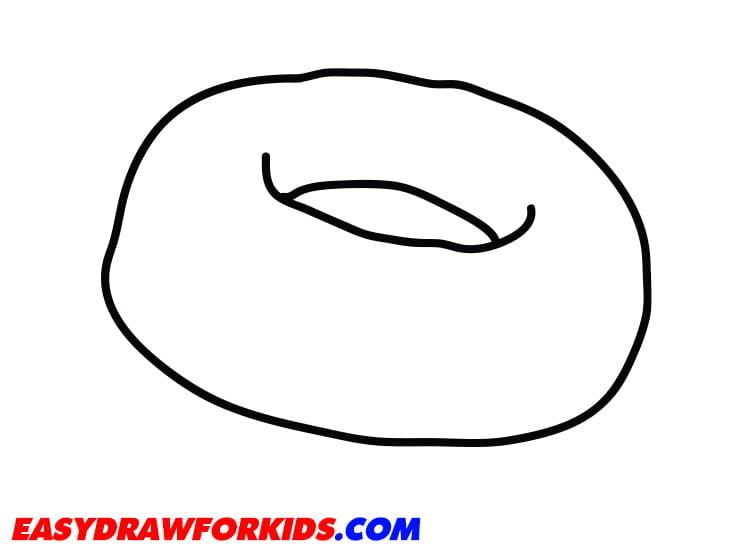 Step 4: Depict Contour of the Glaze
Now that you have the basic outline of your donut, it's time to add some details.
Start by drawing another curved line inside the wavy line you just drew. This will create the donut's icing.
Next, draw some sprinkles on top of the icing. Sprinkles are usually small and colorful, so feel free to use your imagination when drawing them. You can draw as many or as few as you like.
Finally, add some shading to the donut to give it depth. Use your pencil to lightly shade in the areas that would be darker, such as the creases in the icing.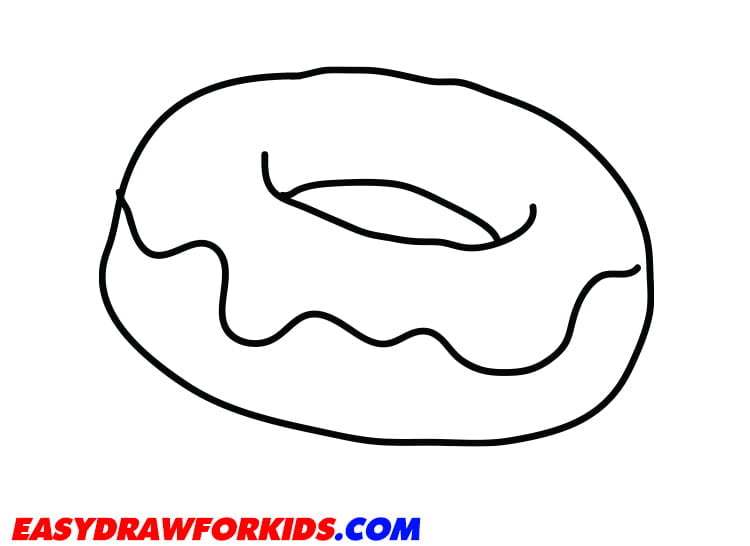 Step 5: Color the Donut (Optional)
If you want to make your drawing even more fun, you can color the donut with any colors you like.
Use pastel colors for a cute and sweet look, or bright colors for a more playful look.
You can also use colored pencils, markers, or watercolors.
To give the donut some depth, shade the outer circle of the dough.
Use short, light strokes to create an illusion of shadows.
The area closest to the inner circle should be lighter, while the area farthest from it should be darker.
This will make the donut look more realistic.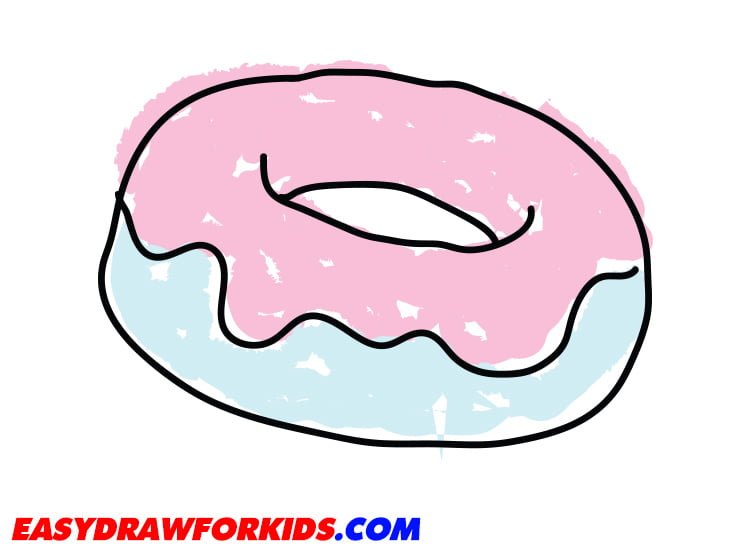 Your drawing is now complete! Congratulations on learning how to draw a cute donut.
Tips for Drawing Cute Donut
Here are some extra tips and ideas for drawing the most irresistible, sugary sweet cute donut:
Add shading with colored pencils to make your donut look more three dimensional
Draw sprinkles in fun shapes like stars, hearts or flowers instead of just dots
Top your donut with yummy toppings like chocolate drizzle, candy pieces or nuts
Experiment with the donut base flavor like chocolate, strawberry or blueberry
Include a background scene like a bakery counter, plate or donut box
Draw multiple donuts stacked together in a pile of different colors and toppings
Change up the facial expression like smiling with teeth showing, winking, laughing or taking a bite
Get creative with the positioning like tilted on its side, jumping in the air, dancing or wearing sunglasses
The possibilities are endless when drawing cute donuts! Let your imagination run wild and have fun with it.
Customize your donut artwork with favorite colors, flavors and decorations. Unleash your creativity to design the perfect adorable, delicious-looking donut.
Conclusion
Drawing a cute donut is a fun and easy way to improve your drawing skills and create adorable art pieces.
With basic shapes and colors, you can create a charming, kawaii donut that looks good enough to eat!
Follow the simple step of guide how to draw a cute donut to draw the basic donut form, add yummy decorations like icing and sprinkles, and give your donut personality by dressing it up with a cute face.
Let your creativity shine by customizing your donut artwork with unique colors, flavors and decorations.
In just minutes, you can complete a delightful donut drawing that makes a smile-inducing addition to any fridge art gallery.
So grab your art supplies and let the donut drawing fun begin!
You may also enjoy: