Halloween, a night of witches, ghosts, and magical creatures, is the perfect occasion to let your artistic imagination run wild.
If you're ready to embrace the wickedness and flair of Halloween in your artwork, drawing a pumpkin scarecrow is an excellent choice.
In this article, we will provide you with a step-by-step guide on how to draw a pumpkin scarecrow with wicked flair, perfect for this haunting season.
From adding sinister details to the pumpkin's face to infusing the scarecrow's appearance with eerie charm, you'll learn the techniques needed to create a spellbinding pumpkin scarecrow drawing.
So, let's dive into the world of Halloween and conjure up a masterpiece!
How To Draw A Pumpkin Scarecrow – A Step by Step Guide
During the bewitching season of Halloween, the image of a pumpkin scarecrow conjures up a delightful and eerie charm.
Combining the whimsy of scarecrows with the iconic symbol of pumpkins, a pumpkin scarecrow is a perfect embodiment of the Halloween spirit.
With its jack-o'-lantern head and ragged attire, this mystical creature adds a touch of magic to any Halloween-themed setting.
In this step-by-step guide how to draw a pumpkin scarecrow, we will walk you through the process of drawing a pumpkin scarecrow, allowing you to bring this whimsical and eerie character to life on paper.
Get ready to immerse yourself in the world of pumpkin scarecrows and discover the captivating allure they bring to the spookiest night of the year.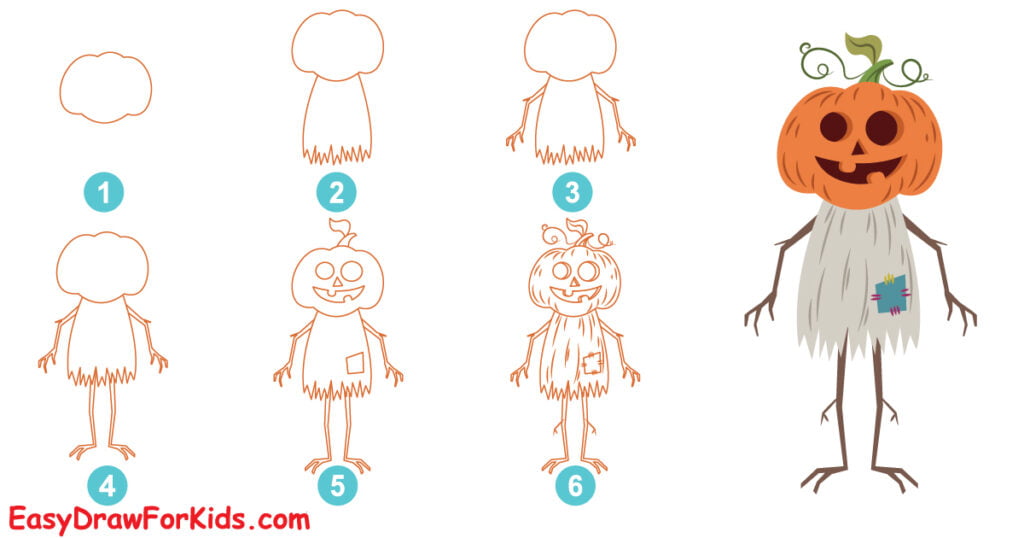 Step 1: Draw the Scarecrow's Head
Draw an oval shape in the center of your paper to represent the pumpkin head.
To give it a more realistic appearance, add some vertical lines to create the pumpkin's ridges.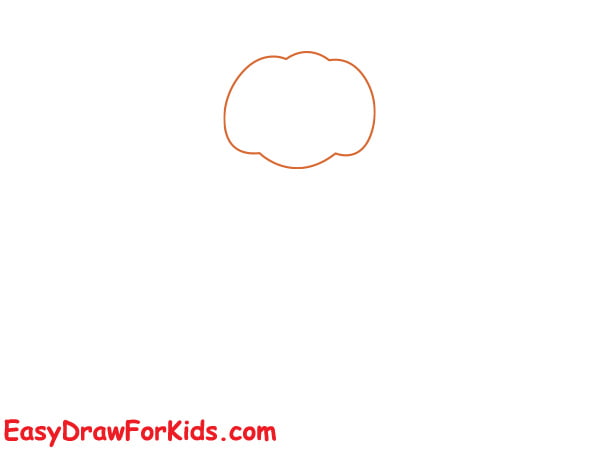 Step 2: Sketch the Scarecrow's Torso
In this second step in our guide on how to draw a pumpkin scarecrow will focus on the scarecrow's torso.
Below the pumpkin head, sketch a basic scarecrow body using straight lines and simple oval shapes for shoulders and torso.
At the end of the torso, conect two line by sharp angles – these can even zig-zag.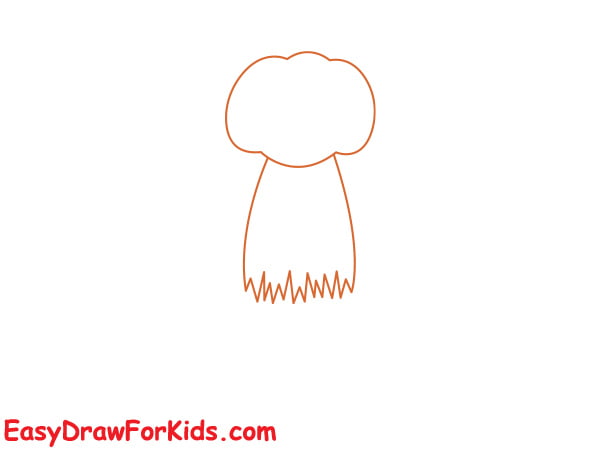 Step 3: Sketch the Scarecrow's Arms
Draw stiff arm lines sticking out from the shoulders at sharp angles – these can even zig-zag for a more scarecrow look.
From the end of each arm, draw two lines that curve inward to create the scarecrow's hands.
These lines can be slightly jagged to give the scarecrow a more rustic look.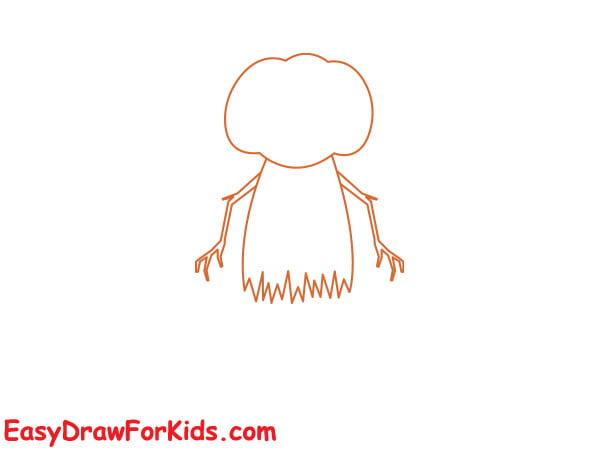 Step 4: Sketch the Scarecrow's Legs
Draw two long, vertical lines from the bottom of the pumpkin's body to create the scarecrow's legs.
Add two small horizontal lines at the bottom of each leg to form the feet.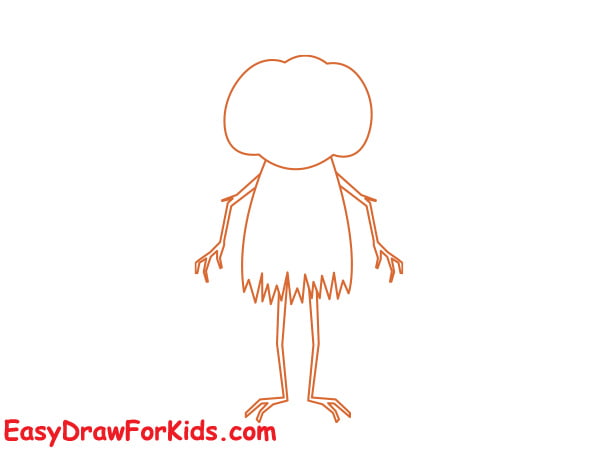 Step 5: Add the Facial Features
Draw two large circles inside the oval to represent the scarecrow's eyes. Place them towards the upper part of the pumpkin.
Draw a small triangle shape below the eyes to create the scarecrow's pointy nose. Connect the base of the triangle to the pumpkin's body using two curved lines.
Finally, draw a wicked grin by adding a curved line or a series of jagged lines for the mouth.
To give the scarecrow more character, you can also add details like stitches, patches, or a crooked hat.
Scarecrows are traditionally ragged, so don't be afraid to make yours a little rough around the edges!
Add a curved line at the top of the oval to create the pumpkin's stem. Make the stem slightly curved and thicker at the base.
Then, draw an oval shape at the top of the stem for the pumpkin leave.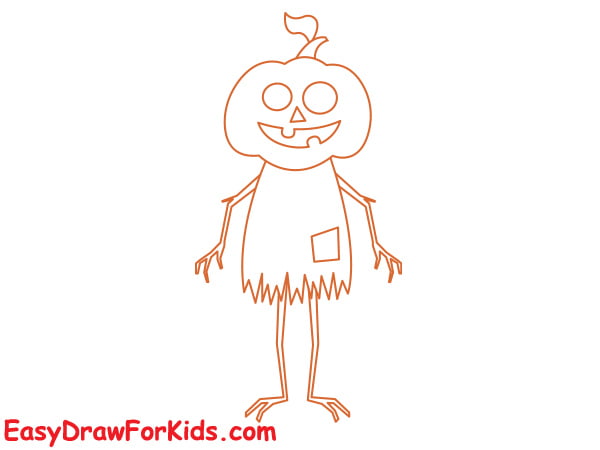 Step 6: Add details to the Scarecrow
To complete the scarecrow's look, draw patches or stitches on its body.
These can be irregular shapes or lines placed randomly on the pumpkin and the scarecrow's clothes.
Add some straw details to the scarecrow's body and hands to give it a more realistic appearance.
You can draw short, straight lines or small triangles to represent the straw.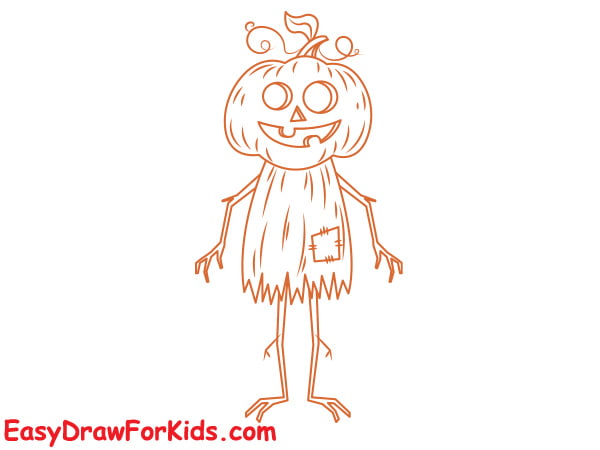 Step 7: Color your Pumpkin Scarecrow
Now that we've successfully this guide how to draw a pumpkin scarecrow, it's time to bring your pumpkin scarecrow art to life with color!
Color your pumpkin scarecrow using vibrant fall colors.
Use shades of orange and brown for the pumpkin, and choose warm tones for the scarecrow's clothes.
You can also experiment with different colored shirts, hats and overalls to create your unique look.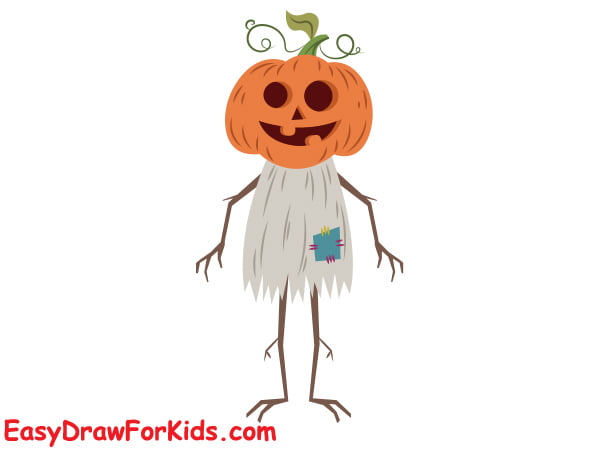 Pumpkin Scarecrow Drawing Tips
Here are some extra pointers for creating great pumpkin scarecrow art:
Lightly sketch first before darkening lines – this lets you erase and modify as needed.
Use reference photos of real pumpkins and scarecrows for inspiration.
Play with different expressions by tweaking eyes, mouth angles and "eyebrows".
Add fun textures with cross-hatching, dots, zig-zags, or other patterns.
Pose your scarecrow dynamically – have arms and legs pointing in expressive directions.
For symmetry, lightly draw a vertical axis line down the middle.
Color carefully, varying shades and leaving some white space for highlights.
So with a dash of courage, some patience, and a few simple techniques, you can create your own unique pumpkin scarecrow art.
Follow the steps on this guide how to draw a pumpkin scarecrow, but don't be afraid to add your personal spin.
Before you know it, you'll have a goofy, gorgeous, or ghoulish new scarecrow friend!
Conclusion
Drawing a pumpkin scarecrow is an enjoyable activity that allows you to embrace the Halloween spirit while showcasing your artistic skills.
Follow the simple steps on guide how to draw a pumpkin scarecrow to draw the basic shape and features.
Then add your own details and personality by dressing it up with spirited clothes, posing the arms and legs dynamically, and customizing the jack-o-lantern face.
Use colors, textures, backgrounds, and props to make your scarecrow drawing unique.
Let your creation proudly stand guard to welcome trick-or-treaters on Halloween night.
You may also enjoy: