Are you interested in learning how to draw a bear face?
Look no further, as we have got you covered! Drawing a bear face can be both fun and challenging at the same time.
However, with this guide, we'll go through a step-by-step guide on how to draw a bear face that's both easy and fun.
How to Draw a Bear Face: A Step by Step Guide
Before we delve into the steps on how to draw a bear face, let's take a look at some examples of what bear faces can look like.
Grizzly bear face: The grizzly bear has a distinct V-shaped snout with small round ears.
Polar bear face: The polar bear has a narrow snout with a black nose and small eyes.
Brown bear face: The brown bear has a broad snout with a black nose and medium-sized ears.
Now that we have gone through some examples, now let's dive into the actual drawing process.
In this article on how to draw a bear face in 6 steps to help you drawing a bear face with ease!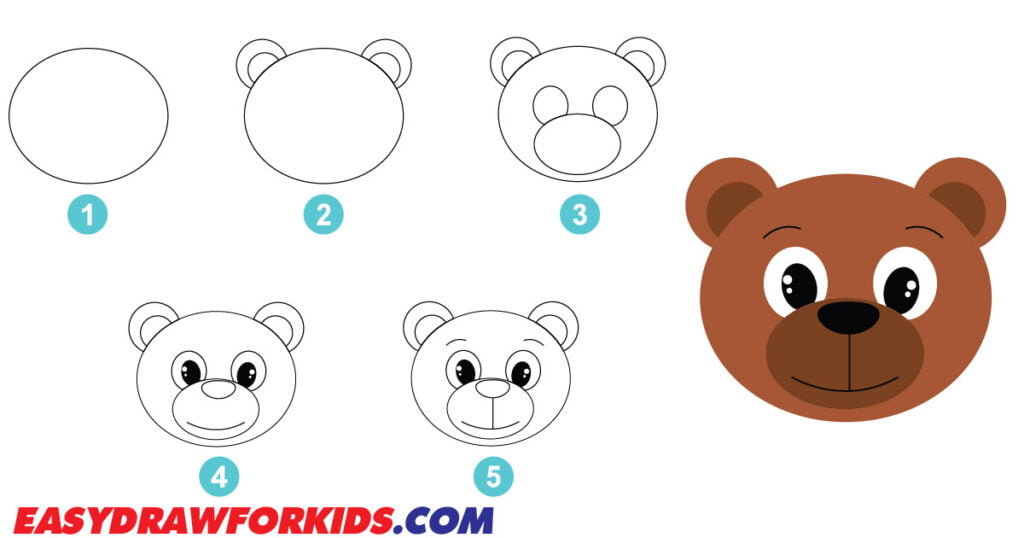 Step 1: Sketch the Head Shape
Let's start by loosely sketching some basic shapes that will define the structure of the bear's face
Draw an oval shape for the head. Make it wider at the bottom and slightly tapered at the top.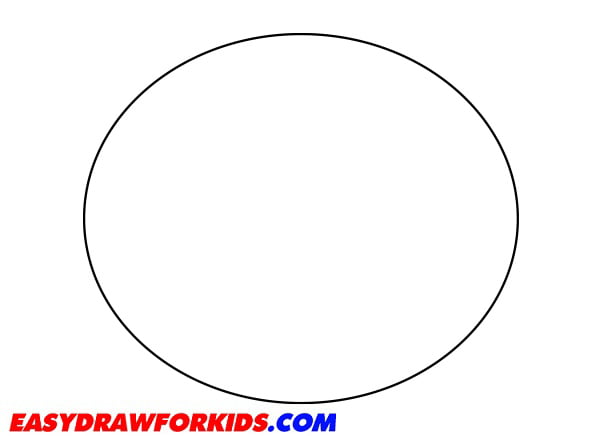 Step 2: Depict the Bear's Ear
The second step of this guide on how to draw a bear face will focus on the ears of bear face
Bears have round and fluffy ears that are proportional to their head size. The ears can stick out from the head or lie flat against it, depending on the bear's mood.
On each side of the head, draw two small, rounded ears. These ears should be situated near the top of the head and slightly outside the circle.
Draw a curved line in each ear for the inner part and small tufts of fur on top. You can also shade in the inside of the ears to make them stand out more.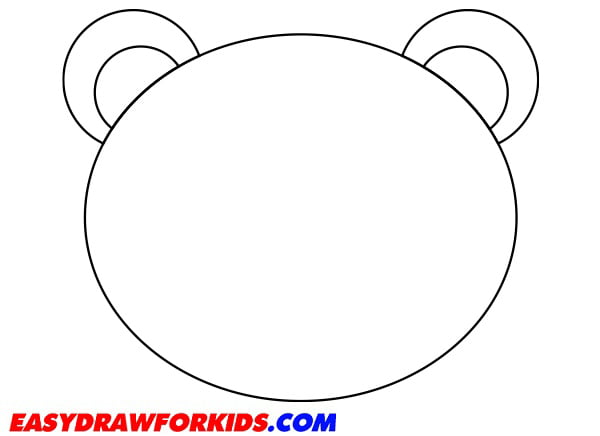 Step 3: Depict the snout and eyes
Draw two small circles near the top of the head for the bear's eyes. Leave a small gap between them.
Then drawing an oval shape bellow the eyes for the bear snout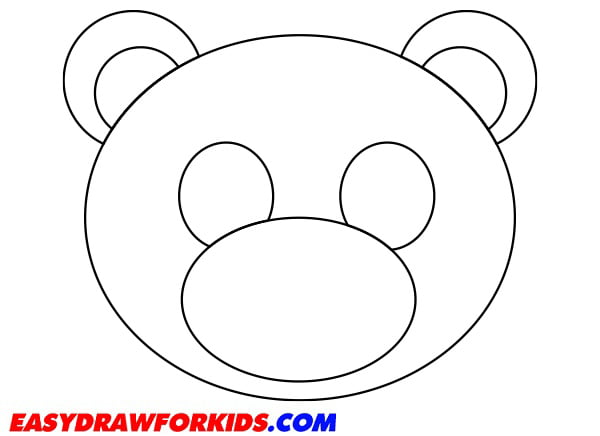 Step 4: Draw the Eyes, Nose and Mouth
Draw the eyes: Draw two small circles inside the eyes at step 3, making sure they're spaced out evenly.
Then, add another smaller circle inside each of the first circles for the pupils.
You can also add a small reflection dot in each pupil to make the eyes look more realistic.
Add two small dots inside the eye circles to represent the pupils. Leave a small area unshaded within each pupil to give the eyes a shiny look.
Draw the nose: Draw a rounded, upside-down triangle shape inside the snout for the bear's nose. The top of the triangle should touch the space between the eyes.
Draw the Mouth: Draw a curved line inside the muzzle to create the mouth. You can add a small, curved line above the mouth to indicate the bear's lower lip.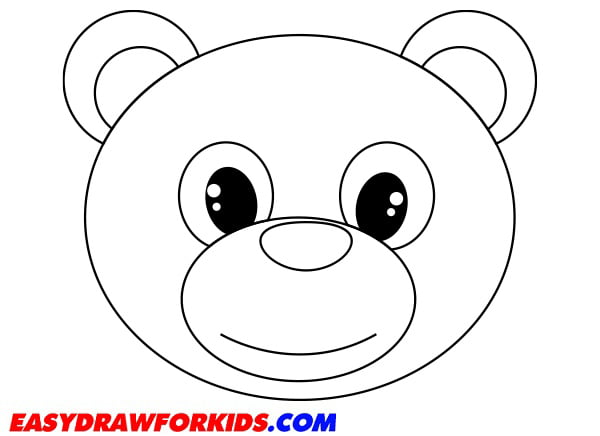 Step 5: Add the Details
Draw a line from the nose to the mouth
Draw two curve lines at the top of the eyes for eyelash
Erase any unnecessary or overlapping lines and refine the shape of the bear's head, making sure the proportions and curves look balanced.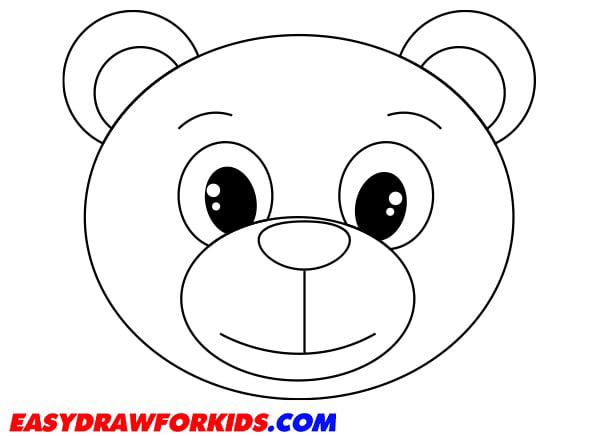 If you wish, you can add shading to your drawing to give it depth and dimension.
Imagine the direction of the light source and shade one side of the bear's head and ears, leaving the opposite side lighter.
You can also add some shading around the eyes and nose area.
Step 6: Color the Drawing
Now that we've successfully this guide how to draw a bear face, it's time for the most exciting part.
Bears can be various shades of brown, so you can choose different tones for the fur.
Use light brown for the lighter areas and darker brown for shading and shadows.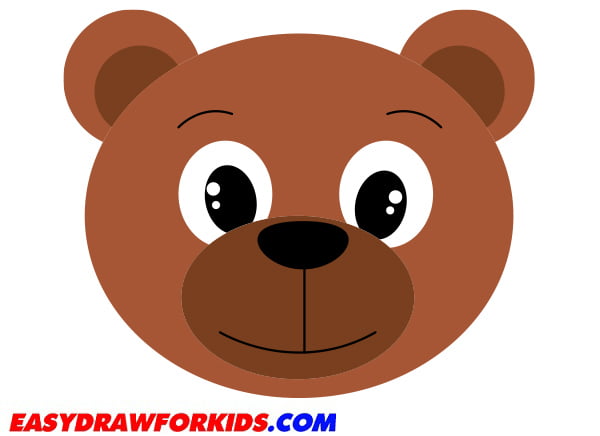 Drawing Facial Expressions on Bears
Bears' faces can portray a wide range of expressions and moods. Here are some tips for drawing different bear emotions:
Happy
Mouth curves up in a smile, eyes squint
Wrinkles outline the eyes and nose
Ears perked up
Sad
Downcast eyes, mouth frowned
Brows furrowed, ears drooping
Head tilted down slightly
Angry
Lowered brow, eyes narrowed
Wrinkles on snout, downturned mouth
Flared nostrils, gritted teeth
Ears folded back
Surprised
Eyes and mouth wide open
Raised eyebrows
Ears perked up
Sleepy
Eyes heavy-lidded or closed
Mouth relaxed, head tilted
Ears loosely relaxed
Tips for Drawing Bear Faces
Here are some additional tips for drawing great looking bear faces:
Pay attention to proportions. Bears have large muzzles, smallish eyes, and round teddy bear-like heads.
Look at photos of real bears for inspiration. Study their facial features and expressions.
Use triangle or doughnut shapes to construct the snout. This helps place features accurately.
Observe where shadows naturally fall on a bear's face and use shading to show form.
Try different artistic styles – cartoon, realistic, abstract. Find what suits your abilities best.
Sketch lightly at first so you can erase and adjust lines as you work. Darken later.
Give your bears colorful accessories like scarves, hats, or glasses to add personality.
Conclusion
Drawing a bear face can be a fun and rewarding experience that allows you to unleash your creativity.
With some attentive practice using these tips on our guide how to draw a bear face, you can develop your skills and confidence.
Try out different styles and techniques to find what suits you best.
Pay attention to the unique proportions and facial features of bears.
Work on portraying realistic fur texture and emotions through simple changes in the eyes, muzzle, and ears.
Above all, relax and have fun doodling these endearing creatures.
Let your creativity flow, and before you know it you'll have your very own bear character gracing the page!
You may also enjoy: