Bears are majestic creatures that can make for fun and challenging drawing subjects.
While it may seem daunting at first, learning how to draw a bear is quite achievable with some guidance on the steps and techniques.
In this article, I'll provide an overview on how to draw a bear in a cartoon style using basic shapes and lines to build form and detail.
How to Draw a Bear – A Step by Step Guide
Before we get into the nitty-gritty of drawing a bear, let's take a look at some examples to get an idea of what we are trying to achieve.
There are many different ways to draw a bear, depending on the style and level of detail you want to achieve.
Here are some examples:
Cartoon bear: A cartoon bear is often simplified and exaggerated, with round shapes and big eyes. This type of bear is perfect for children's illustrations or comic strips.
Realistic bear: A realistic bear drawing requires more attention to detail, such as fur texture, shading, and anatomy. This type of drawing is great for nature illustrations or scientific drawings.
Teddy bear: A teddy bear drawing is typically a cute and cuddly version of a real bear. This type of drawing is great for children's books or greeting cards.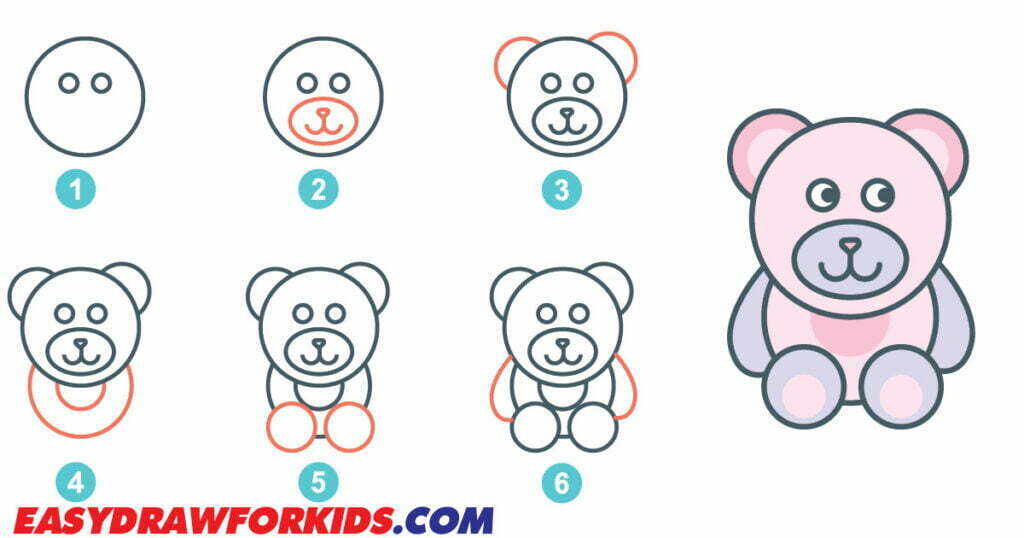 Now that we have explored different types of bear drawings, let's dive into some step by step how to draw a bear with ease!
Step 1: Draw the Basic Shape
Let's start with the basic head shape. Draw a large oval shape tilted slightly downward, with a flat bottom.
The oval should be wider at the bottom and more narrow at the top. This will serve as the basic framework upon which you'll add the facial features.
Remember to use light lines at this stage, as you'll likely need to erase some of the early lines as the drawing develops.
Draw two small circles high up on the head for eyes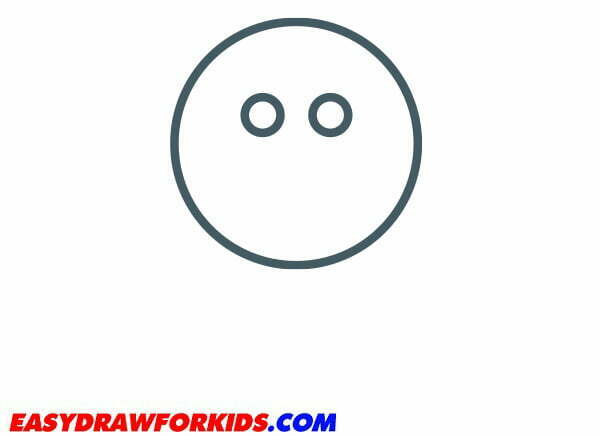 Step 2: Draw the Snout
Now let's add the snout, which protrudes from the front of the bear's face.
Draw an oval shape extending down from the bottom front of the head.
Draw a line across the snout to indicate the mouth and add a small oval for the nose.
As you're drawing the snout, also begin to map out the shape of the head using lines.
Draw curved lines from the snout up around the sides of the head to start to show the furry cheek shapes.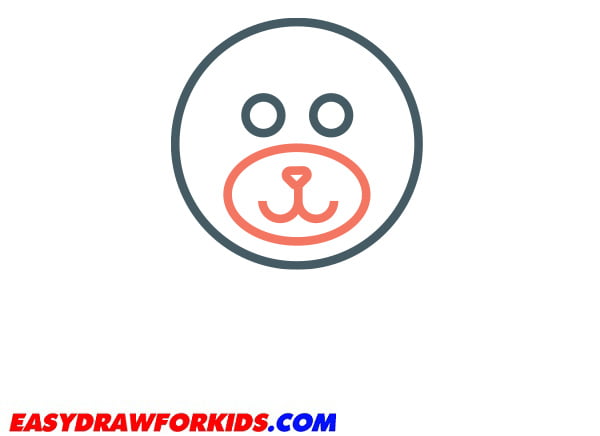 Step 3: Draw the Ears
Draw small rounded triangles on the sides of the head for the ears. Bears have small rounded ears.
Step 4: Depict the Bear's Torso
To draw the torso, sketch a pear-like shape with a wider upper body that tapers down.
Draw a cuver line inside the torso for bear belly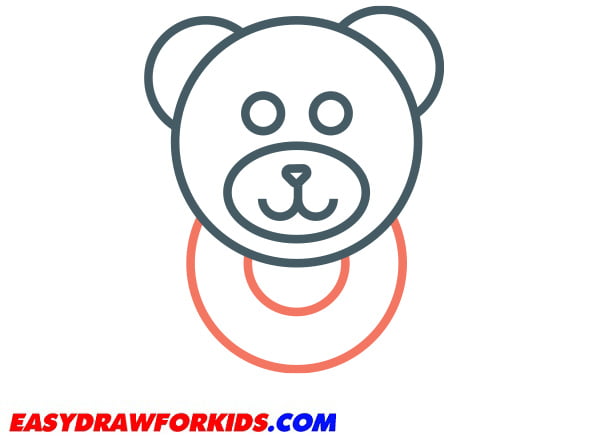 Step 5: Depict the Legs
Draw small rounded shapes at the end of torso to represent the bear's paws.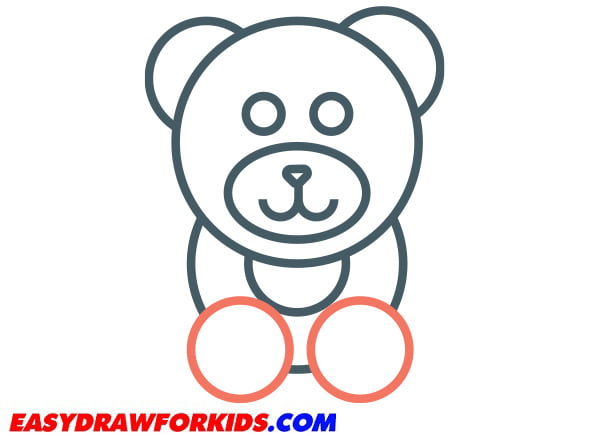 Step 6: Depict the Front Legs
On the bear's body, draw two small half circles on each side to represent the front legs.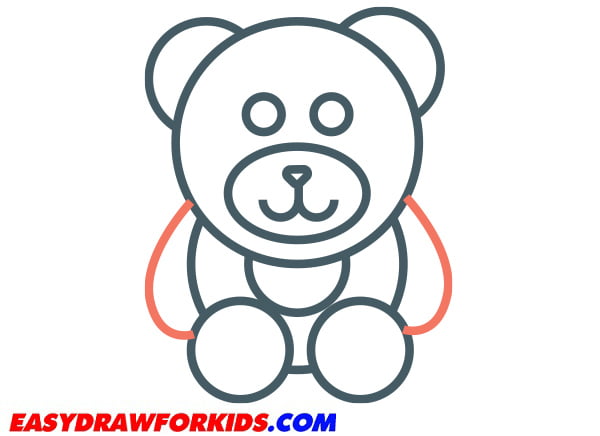 Step 7: Adding Color and Finishing Touches
Now that we've successfully this guide how to draw a bear, it's time to bring your bear art to life with color!
Bears come in various colors, such as brown, black, or white. Choose the color that best represents the type of bear you want to draw.
Consider adding different shades and highlights to create a more realistic or stylized effect.
Don't forget to refine details like eyes and nose for a realistic finish.
Sign your name and date your artwork when complete!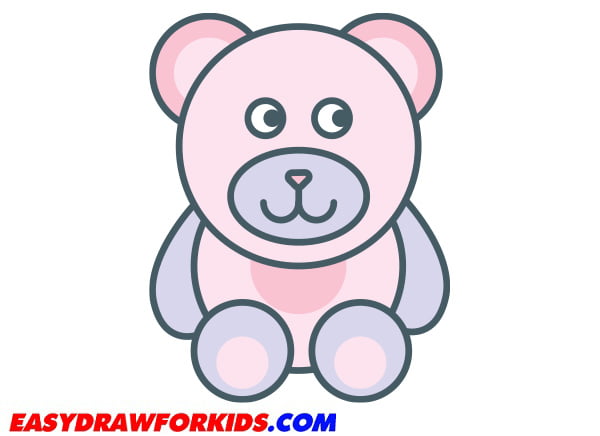 Comparisons for How to Draw a Bear
When it comes to drawing a bear, there are many different styles and techniques that you can use. Here are some comparisons to help you choose the right style for you:
Realistic vs. Cartoon: If you want to create a realistic drawing, focus on the bear's anatomy and features. If you prefer a more cartoonish style, exaggerate the bear's features and proportions.
Pen and Ink vs. Colored Pencils: Pen and ink drawings are great for creating bold lines and contrast, while colored pencils allow you to add depth and texture to your drawing.
Detailed vs. Simple: If you want to create a highly detailed drawing, focus on adding intricate details to the bear's fur and features. If you prefer a simpler style, use broad strokes and simple shapes to create your drawing.
Tips for Bear Drawing
Here are some tips and advice that will help you draw a bear like a pro:
Study the Anatomy: Before you start drawing, take the time to study the anatomy of a bear. This will help you create a more realistic and accurate drawing.
Use Reference Images: Look at reference images of bears while you're drawing. This will help you get a better idea of how to draw specific features.
Practice Makes Perfect: The more you practice drawing bears, the better you'll become. Don't be afraid to make mistakes – they're part of the learning process!
Experiment with Different Styles: There are many different styles and techniques that you can use when drawing bears. Experiment with different styles until you find one that suits you best.
Conclusion
Learning how to draw a bear involves practice and patience, but the payoff is very rewarding.
Whether you are drawing a cartoon bear, a realistic bear, or a teddy bear, remember to start with basic shapes, add details, and pay attention to texture and shading.
Mastering basic animal drawing skills like these will give you confidence to draw all kinds of wildlife.
The most important things are taking your time, using references, practicing regularly, and having fun bringing your bear drawings to life on the page.
I hope this overview of how to draw a bear step-by-step provides helpful insights and inspiration for your own drawings of these imposing yet beautiful animals.
Let your creativity run wild and have fun bringing bears to life through your unique artistic expression.
You may also enjoy: