Drawing a cute little bee is a fun and easy way to practice cartoon drawing.
With just a few simple shapes and some coloring, even beginners can create an adorable bee art piece.
In this guide, you'll learn step-by-step how to draw a bee with wings, eyes, legs and stripes.
Follow along to get better at drawing bees and other insects.
How To Draw A Bee Step by Step – Easy Guide for Beginners
Bees are familiar flying insects that pollinate flowers and produce honey and beeswax. Their iconic yellow and black striped bodies and fuzzy texture make them popular subjects for drawing.
While bees may look complicated to draw at first glance, they can be broken down into simple shapes that even kids can manage. All you need is a pencil, eraser, paper, and some coloring supplies like markers, colored pencils or crayons.
In this easy, step-by-step drawing tutorial, you'll learn how to draw a bee in a flying pose using simple shapes.
The instructions are designed for beginner artists, but feel free to add your own creative details and stylization!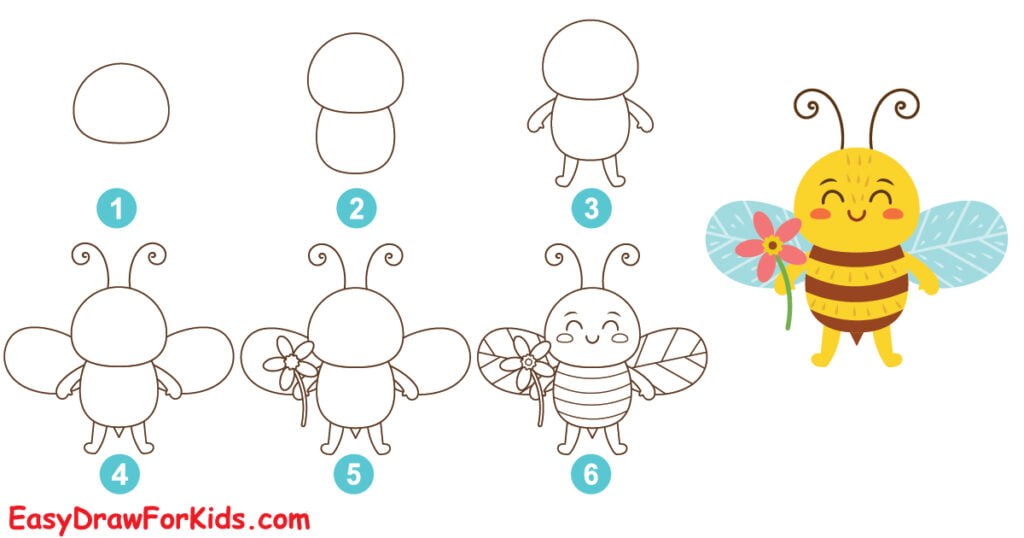 Step 1: Drawing the Bee's Head
The first step in our guide on how to draw a bee by drawing an oval shape for the bee's head. This will serve as the foundation for the bee.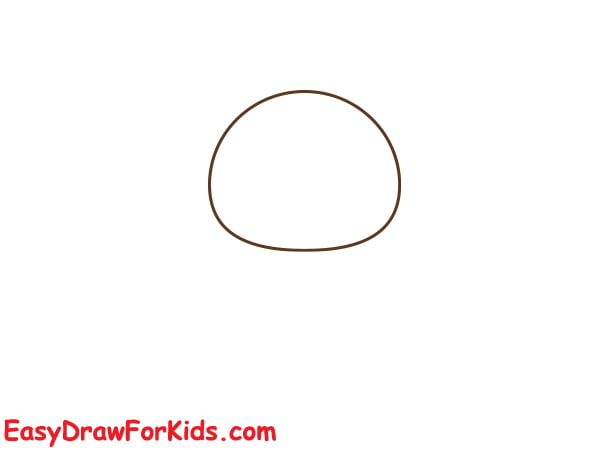 Step 2: Drawing the Bee's Body
Draw a larger oval shape at the bottom of the head for the bee's body.
Make sure to leave some space between the two shapes as we will be adding the wings later on.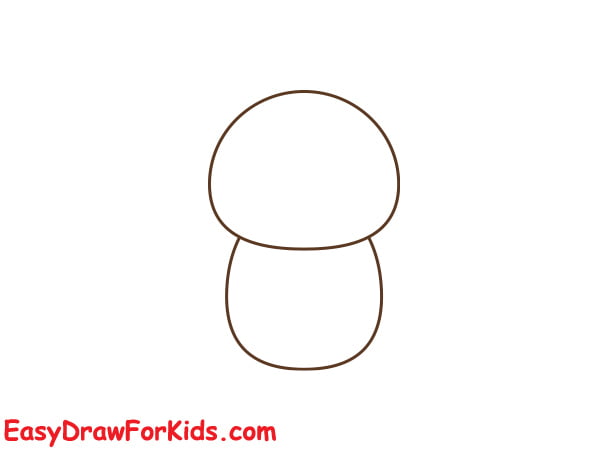 Step 3: Draw the Bee's Arms and Legs
The third step of this guide on how to draw a bee will focus on the arms and legs of your bee's
Extend two curved lines from the middle of the bee's body to form the arms. At the end of each arm, draw small oval shapes to represent the bee's hands.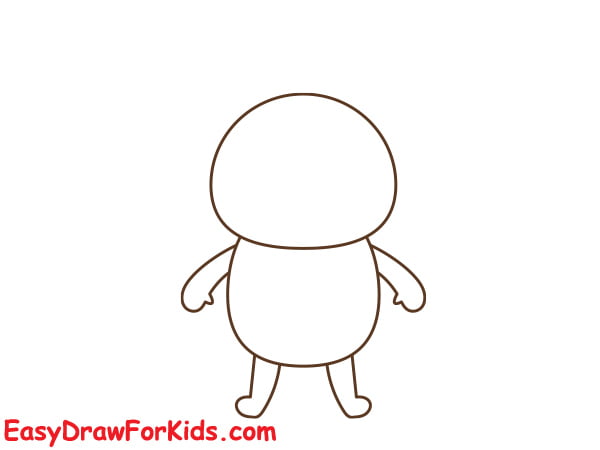 Step 4: Adding Wings and Antennae
Now that you have the bee's body, let's add the wings:
On each side of the body, draw a half-oval or half-heart shape for the wings. Make them wide enough to extend just slightly beyond the abdomen.
Draw a straight line across the widest part of each wing, parallel to the ground, to add detail to the wings.
Draw 2-3 more straight, parallel lines within each wing to create a translucent, detailed wing shape.
Connect the bottom tips of the wings to the wing joints on the thorax that you drew earlier.
Draw a curved line around the outer edges of each wing to refine their shape.
The wings should be symmetrical on each side. They can be open flat, tilted slightly up, or angled down—whichever you prefer! Add as much veining and detail as you want.
Then, add two curved lines above the head for the antennae. You can also add a small curve at the end of each antennae to give it a more realistic look.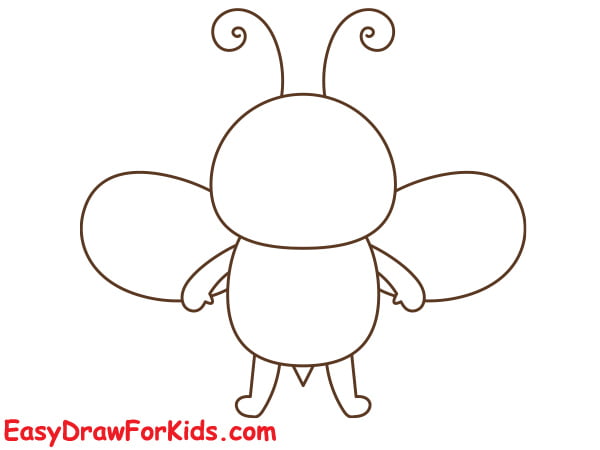 Step 5: Adding the Flower
In this step on guide how to draw a bee will focus on the flower that our bee will be holding. Start by drawing a small circle for the center of the flower. Then, draw five petals around the circle.
These petals can be in any shape you like, but for this tutorial, we will use simple curved lines.
Behind the flower, draw a curved stem down to the bee's hands.
Next, add some details to the center of the flower by drawing small circles or dots. You can also add some lines on the petals to give them more texture. Once you're satisfied with your flower, move on to the next step.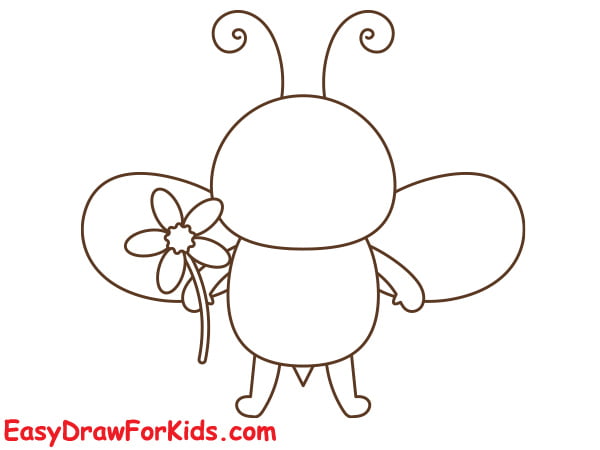 Step 6: Detailing the Body
Now we can add the finishing details to the bee's body.
On the horizontal stripes sketched earlier, draw additional angled stripe lines above and below. Cover the body with stripes.
Draw a vertical line down the center of the face and small oval eyes on each side.
Add a small half-circle nose between the eyes.
Draw a curved line for a smiling mouth.
Add some lines at joints of the legs for definition.
Your bee is almost ready to buzz away!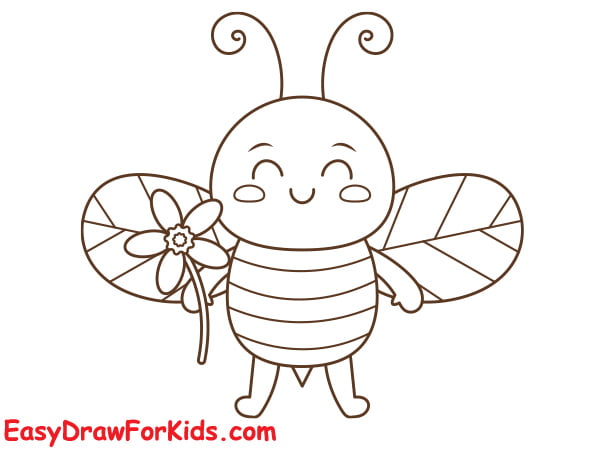 Step 7: Coloring the Bee
For the final step of guide how to draw a bee, let's add some color to bring our bee to life:
Color the head and body stripes black. Leave one stripe in the center yellow.
Color the wings transparent yellow with black tips and lines.
Color the legs brown. Leave white highlight marks for a glossy effect.
Shade the eyes black and draw a white highlight in each.
Color the antennae black and the face yellow.
Draw small lines on the transparent wings for texture.
Shade the body lightly with yellow and add depth to the stripes.
Erase any remaining pencil lines.
And that's it – you now have a happy buzzy bee to show off! The simple shapes make it easy for beginners, and you can always add patterns, flowers, or other creative touches.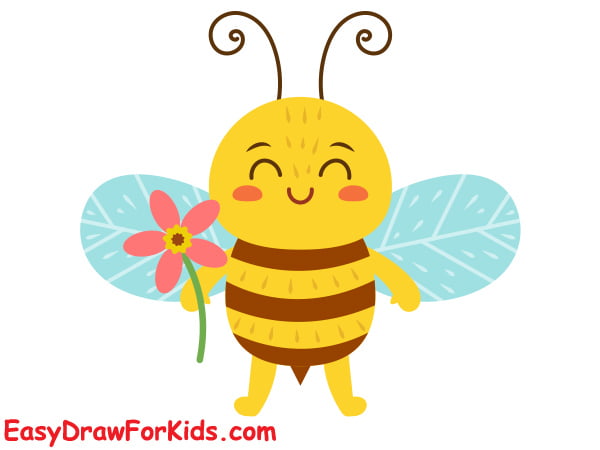 Tips and Tricks for Drawing a Bee
Here are some quick tips for learning how to draw a bee:
Lightly sketch shapes or lines in pencil first to get the right size and placement. Erase and redraw any parts that you need to fix. Once everything looks right, trace over the main outlines with marker.
Look at photo references of bees to help you draw the body, wing, and stripe proportions accurately.
For the wings, leaves gaps in the outline and interior lines to show transparent sections.
Color carefully inside the lines to keep your bee's sections clear.
Add shading and highlights to make your colors pop. Shade black stripes with gray.
Have fun and get creative! Decorate your bee with heart shapes, flowers, spirals or anything you can imagine!
Drawing and coloring is meant to be relaxing, so take your time and enjoy the process. You'll be a bee drawing expert in no time!
Conclusion
Congratulations, you have successfully learned how to draw a bee holding a flower step by step
We hope this easy, step-by-step bee drawing tutorial was helpful for you beginner artists! You now have the skills to draw an adorable cartoon bee with a cute face and striped body.
Drawing bees is great practice for learning shapes, proportions and techniques. It also trains your skills at drawing other insects and animals. Keep practicing your bee drawing to improve even more. Try adding backgrounds, hive details, flowers or more bees.
The simple oval and circle shapes make bees accessible for kids and beginners. Have fun with your bee drawing and be proud of your new artistic skills! Now with a little practice you'll be ready to draw cute bees and other cartoon bugs.
You may also enjoy: