Are you wondering how to draw a bike with precision and accuracy? Look no further!
This article will guide you through the process of drawing a bike step by step, providing expert tips and tricks that will help you bring your artwork to life.
So grab a pencil and paper, and let's get started!
How to Draw a Bike: A Step by Step Guide for Beginners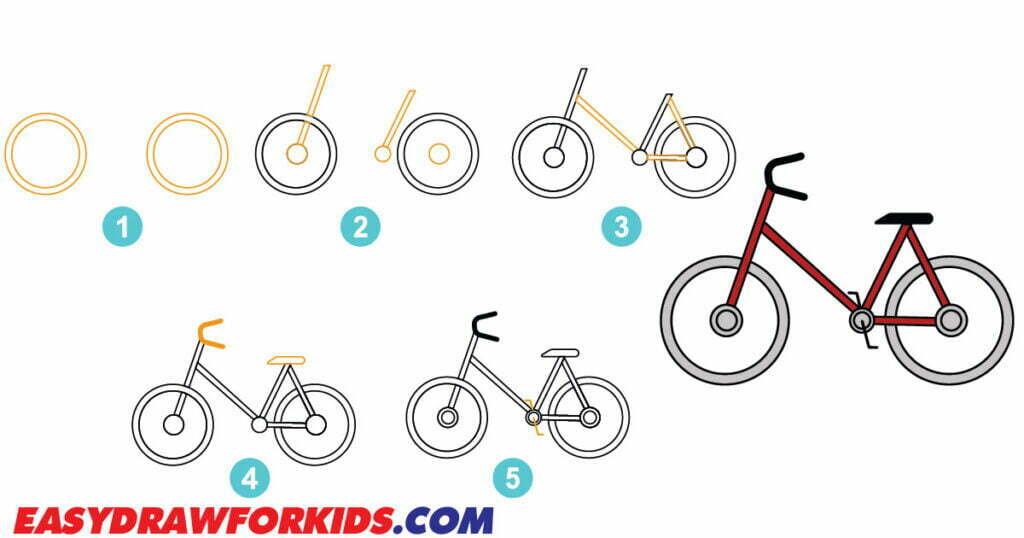 This guide on how to draw a bike in 6 steps to help you drawing a simple bike with ease!
Step 1: Draw the Wheels
In this first step in our guide on how to draw a bike will forcus on the wheels.
Start by drawing two circles side by side. These are the rear wheel and front wheel of the bike. Make sure they are evenly spaced and sized.
On each wheel, draw a smaller circle inside the larger one to represent the tires.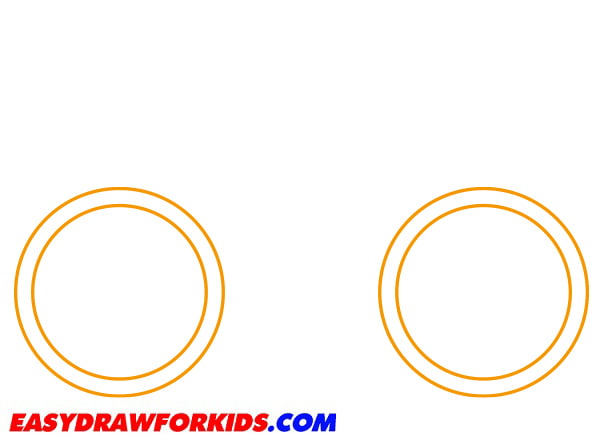 Step 2: Draw the Frame
The second step of this guide on how to draw a bike will focus on the frame of your bike. The frame is the core of the bicycle that all the other parts connect to.
Draw a second smaller circle inside each wheel. These will be the wheel hubs.
Add a long vertical line extending upwards from the circle of front wheel. This is the handlebar stem that attaches to the frame.
Drawing a small circle between two wheel . This will be the center of the pedal.
From this circle, lightly draw a vertical straight line. This will represent the seat tube of the frame.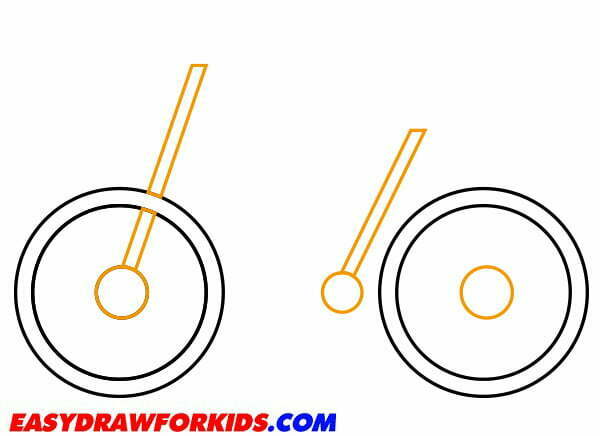 Step 3: Complete the Frame
Connect the two circles with a straight line on the bottom. This will form the base for the frame of the bike.
Connect the end of the top tube to the back circle with a diagonal line. This will form the down tube of the bike frame.
Draw a horizontal line from the seat tube towards the front wheel. This will be the chainstay.
Make sure to draw very lightly at this stage in case you need to erase and adjust parts of the frame. The proportions don't have to be exact yet.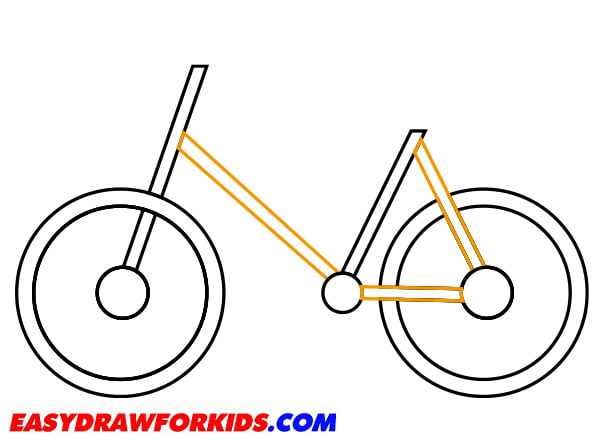 Step 4: Draw the Handlebars and Seat
Now, let's move on to the handlebars:
Draw a small circle at the top of the frame for the base of the handlebars.
From the circle, draw two long, thin lines extending outward and curving slightly upward to form the handlebars.
The next step is to add the seat:
Draw a small rectangle in the center of the frame just above the rear wheel.
Check the proportions of the handlebars and seat compared to the wheels. Adjust anything that looks too large or too small.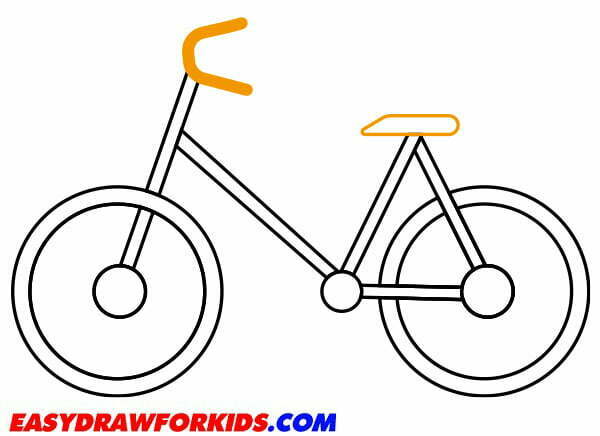 Step 5: Draw the Pedals
This is the most important step in this guide to how to draw a bike to make the bike start rideable.
From the center of the pedal circle, draw two curved lines that extend outward and slightly downward. These lines will form the top and bottom edges of the pedal.
Connect the ends of the curved lines with two straight lines that are parallel to each other. This will form the sides of the pedal.
Erase any unnecessary or overlapping lines and refine the shape of the bike frame and details as needed.
If you wish, you can add additional details to your bike drawing, such as a basket, a bell, or any other features you like.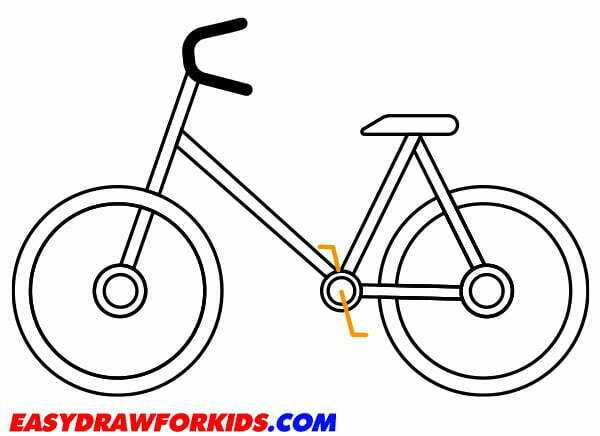 Step 6: Outline with Ink and Add Color
Once you're happy with the pencil shading, you can finalize your bike drawing by outlining it in ink:
Trace over all of the lines with a felt tip or gel pen. Work slowly and carefully.
Erase any remaining pencil once the ink has dried.
Use markers, colored pencils, paint, or other coloring tools to add color to your drawing.
Consider using red and black for a classic bike color scheme. Add textures like metal or rubber to the wheels and frame. Some details can be left black and white.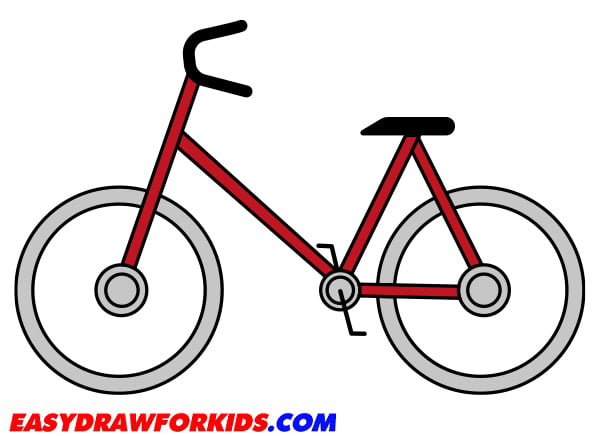 And there you have it – a completed guide how to draw a bike! With practice and patience, these steps can teach you to draw a bike from your imagination. Ride on!
Tips for Drawing Bike
Here are some additional tips on guide how to draw a bike to improve your bike drawing abilities:
Study reference photos – Look at images of different bikes to understand how the proportions vary by style. Analyze the shapes and perspective.
Start with basic shapes – Sketch circles, triangles and lines before adding details. Getting the underlying forms right is key.
Use a rulers – Rulers help position wheels and frame elements symmetrically and keep handlebars level.
Learn bike anatomy – Knowing the technical names for bike parts will help you remember what to draw.
Practice shading – Pay attention to where shadows naturally fall and shade accordingly. This gives depth.
Personalize it – Once you've mastered a basic bike, add custom details like baskets, bells, tassels or decorations.
Have fun – Drawing should be enjoyable. Don't get discouraged if your first attempts need work. Each bike you draw will improve your skills.
With some diligent practice sessions, you'll be sketching cool choppers, slick racing bikes, rugged mountain bikes and whimsical penny-farthings in no time!
Examples of Different Bike Styles to Draw
Once you've mastered drawing a standard two-wheeler, you can start rendering all types of specialty bikes. Here are some other styles to try:
Road Bike – Road bikes have narrow tires, curving handlebars, and lightweight frames perfect for speed. Add some colorful racing stripes for a professional look.
Mountain Bike – Fat knobby tires, straight handlebars, and suspension forks define the rugged mountain bike. Draw one tearing down a dirt trail.
Fixed Gear/Track Bike – A fixed gear bike has no freewheel, so the pedals always move with the wheels. Give it sleek geometry and a unique fork design.
Cruiser – The cruiser bike is ideal for casual riding with its sweeping handlebars and cushioned seat. Accessorize with a basket or bell.
Tandem Bike – A tandem is built for two with seats and pedals for both riders. Make sure to draw proportionally larger wheels and frame.
Recumbent Bike – A recumbent bike has a laid-back reclined seat position. Show an arched over-seat steering system.
Folding Bike – Folding bikes have hinges in their frames and handlebars to collapse for storage and transport. Sketch the joints.
The options are endless when drawing bikes. Research different types online or in bike books. Then choose unique traits to emphasize in your own artistic rendition.
Conclusion
Your drawing is now complete! Congratulations on learning how to draw a bike.
Learning to draw a bike is extremely rewarding. By following the step-by-step guide how to draw a bike, anyone can master sketching bikes.
Drawing bikes helps develop close observation skills and knowledge of structure.
The human-powered bike is a fascinating combination of engineering and design.
Portraying its mix of form and function through art allows you to understand bikes at a deeper level.
Each drawing will reinforce your technical comprehension while developing your artistic talents.
A bike can take you places – and so can the ability to draw one!
So grab your sketchbook and pencils. Then start rolling with ways to draw bikes that get you pumped about the endless creative possibilities. Pedal on!
You may also enjoy: