Are you a fan of capybaras and want to learn how to draw a capybara?
Drawing these cute and unique rodents can be a fun and rewarding experience, especially if you follow some useful tips and tricks.
In this article, we'll be taking a deep dive into the world of capybara drawing, covering everything from the basics to advanced techniques.
By the end of this guide, you'll master the art of capybara drawing and create stunning artworks.
How to Draw a Capybara: A Step by Step Guide
The capybara is the largest rodent in the world and is known for its barrel-shaped body, short head, and blunt nose.
While they may seem intimidating due to their size, capybaras have very sweet, gentle personalities.
Their cute and friendly nature makes them a fun animal to draw.
Here is a step-by-step guide on how to draw this adorable creature.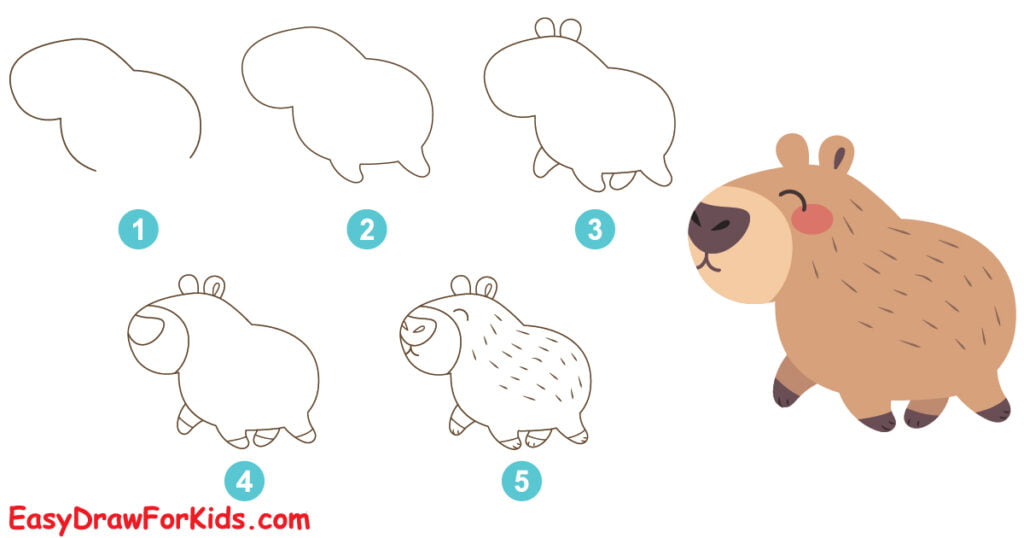 Step 1: Sketch the Basic Shape
In this first step in our guide on how to draw a capybara by drawing a large oval shape in the center of your paper. This oval will serve as the capybara's body.
From the top of the oval, draw a smaller oval shape slightly tilted to one side. This will be the capybara's head.
Connect the head and the body with a curved line to create the capybara's neck.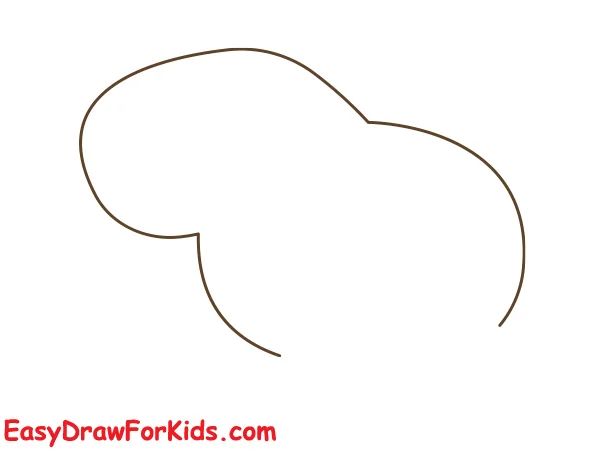 Step 2: Draw the Legs
Then draw two lines extending from the bottom of the oval for the legs. The front legs should be slightly shorter than the back legs. Make sure all four legs are spaced evenly apart.
Connect the legs with a curved line at the bottom to form the capybara's body.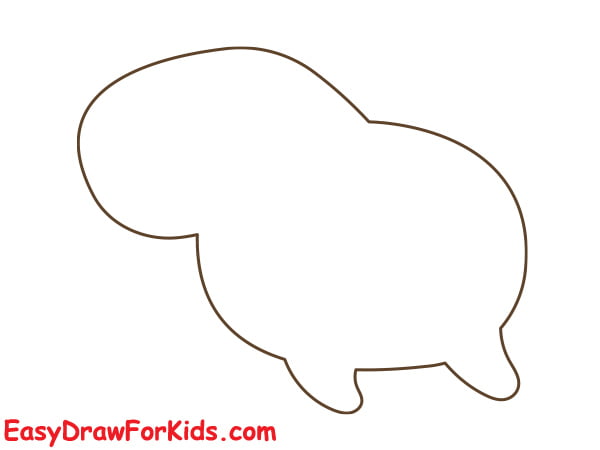 Step 3: Drawing the Capybara's Ears
Repeat the previous step to draw the second front leg and back leg on the other side.
Add two small circles near the top of the head for the capybara's ears. Capybara ears are rounded and sit on the sides of their heads.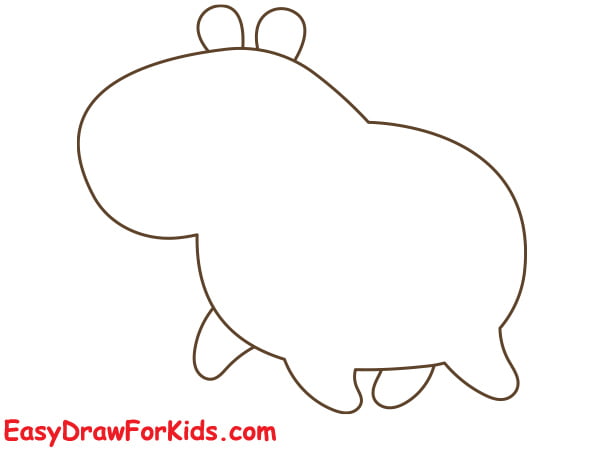 Step 4: Drawing the Capybara's muzzle
The fourth step of this guide on how to draw a capybara will focus on the Capybara's muzzle
Moving up to the head area, draw a small oval for the muzzle/nose, near the center of the bigger oval.
Draw rounded feet at the end of each leg by adding small curved lines.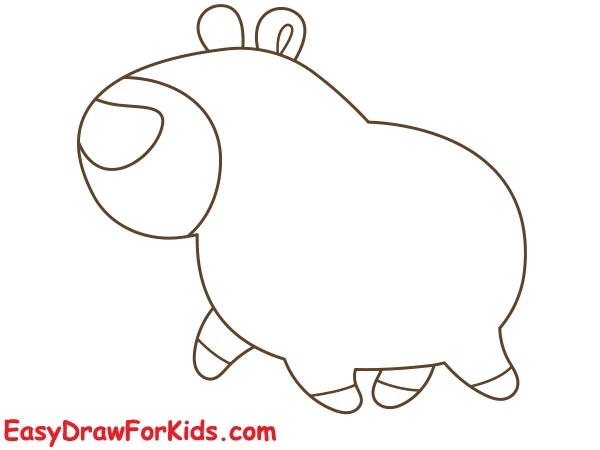 Step 5: Depict the Facial Details and Fur
Once you have the basic outline of the capybara's body, you can start adding details such as fur, ears, eyes, nose, and teeth.
Start by sketching two small curve lines for the close eyes, leaving space for the nose in between.
Below the eyes, draw a small, curved line for the capybara's nose. Add two small dots for the nostrils.
Draw a smiling mouth by adding a curved line below the nose.
To give your capybara drawing a realistic look, focus on adding texture to the fur. Capybaras have a thick and shaggy fur that gives them a unique appearance.
Use small, curvy strokes to mimic the fur's direction and create depth. Gradually build up the layers of strokes to add more dimension.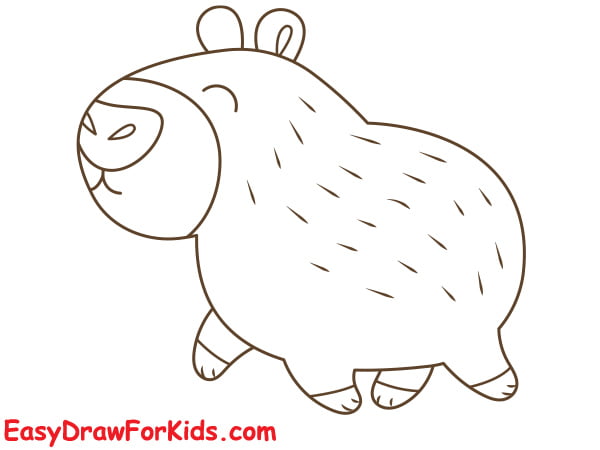 Step 6: Color Your Drawing
If desired, you can color your finished capybara drawing using colored pencils, crayons, markers or other coloring media. Here are some color tips:
Use light brown and tan shades for the fur. Make the muzzle a pinkish tone.
The eyes can be black or dark brown. Color the nose black too.
For shading, use darker browns and grays to show dimension on the body and add depth.
Color the claws and toes a grayish tone. Add grass or ground under the feet.
Take your time coloring and allow your adorable capybara drawing to come to life!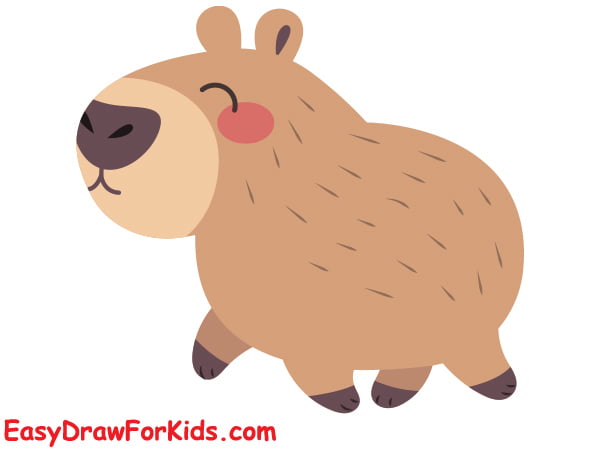 Congratulations! You've successfully learned how to draw a capybara. Now take a step back and admire your creation.
When it comes to drawing capybaras, you might come across different techniques or approaches. Here are a few common comparisons:
Realistic vs. Cartoon: Decide whether you want to create a realistic representation of a capybara or opt for a more cartoonish style. Both have their charm, so choose the one that resonates with you.
Detailed Fur vs. Simplified Fur: Some artists prefer to spend time adding intricate fur details, while others go for a simpler approach. Consider your skill level and desired outcome when deciding how much fur texture to include.
Remember, there is no right or wrong way to draw a capybara. The important thing is to enjoy the process and let your creativity shine through.
Helpful Tips for Drawing Capybaras
Here are some additional pointers to keep in mind when learning how to draw a capybaras:
Lightly sketch guidelines first before pressing down hard. This allows for easy erasing and revisions.
Use ovals and circles for the basic shapes. Capybaras have rounded, barrel-shaped bodies.
Observe photos of capybaras for anatomy and proportion details. Pay attention to the facial features, leg length, etc.
Start with a simpler head and body before adding complexity. The basics are most important.
Practice drawing capybaras in different poses – sitting, standing, laying down, etc. Varying the pose can make your drawings more dynamic.
Be patient and take your time. Drawing animal fur requires many fine pencil strokes.
Have fun! Capybaras are very cute, so enjoy the drawing process and make it your own.
Conclusion
Drawing a capybara can be a fun and challenging experience for both beginners and experienced artists.
By understanding their anatomy, sketching their body, adding details to their face, drawing their fur, using reference images, and practicing regularly, you can create stunning artworks that capture the essence of these unique animals.
Remember to be patient, experiment with different techniques, and don't be afraid to make mistakes.
The more you practice, the better you will become at drawing capybaras.
So, grab your pencils, follow the tips in this guide how to draw a capybara, and start creating amazing capybara art today!
You may also enjoy: