As Halloween approaches, many people enjoy getting into the spooky spirit by decorating their homes, carving pumpkins, and dressing up in costumes.
For those who like to draw, creating a festive Halloween-themed illustration can be a fun way to celebrate the season.
In this article, we will explore how to draw a cat ghost – a cute and simple way to capture the playful essence of Halloween.
How To Draw A Cat Ghost – A Step by Step Guide
Drawing ghostly or supernatural versions of familiar objects and animals is a classic Halloween tradition.
Black cats and pumpkins are two very iconic symbols of Halloween, so combining them into one spooky scene just makes sense.
The image of a cat ghost floating in the air, its ghostly tail curling, as it holds a grinning jack-o-lantern filled with candy can evoke a sense of harmless mischief and fun.
This type of illustration works well for homemade Halloween cards, party invitations, posters, stickers, or any other Halloween-themed art projects.
With just a few simple steps in our guide how to draw a cat ghost, this magical cat ghost can be easy to draw.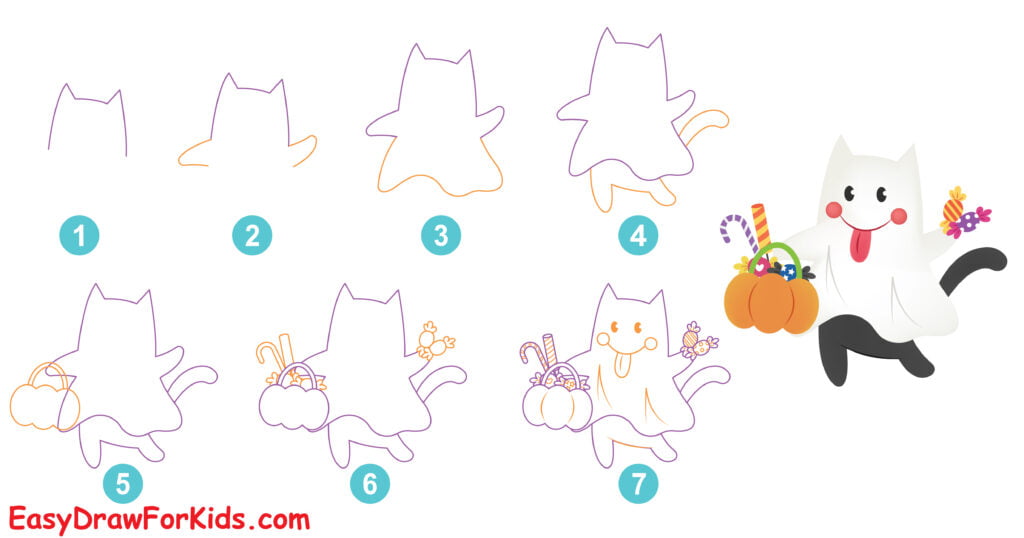 Step 1: Draw the Cat Ghost's Head
Start by drawing an elongated oval shape in the center of your paper. This will be the cat ghost's head.
Add two triangular ears on top of the head. The ears can be pointy or slightly rounded, depending on the desired style.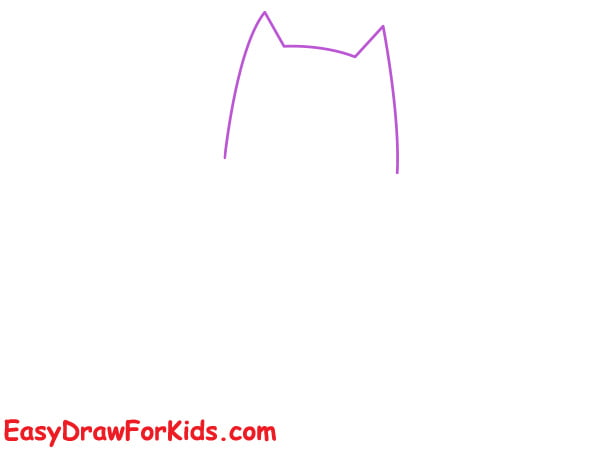 Step 2: Draw the Cat Ghost's Arms
In this step in our guide on how to draw a cat ghost will focus on the arms of cat ghost's.
Extend two curved lines outward from the sides of the body for the cat ghost's arms.
Make the arms bent or irregular for an eerie pose..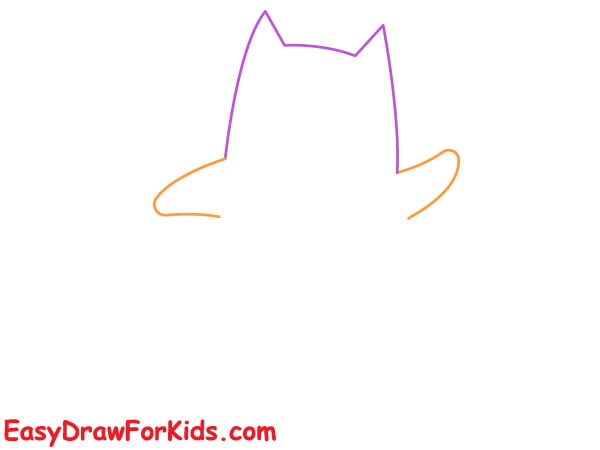 Step 3: Draw the Torso
Now, draw the cat ghost's body. Start from the bottom of the head and create a semi-oval shape extending downward. The body can be slightly elongated or rounded, depending on your preference.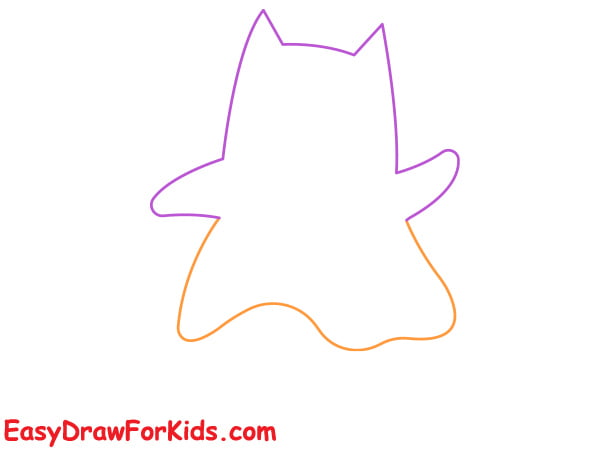 Step 4: Draw the Legs and Tail
Draw two hind legs extending downward from the body. These legs can be slightly angled to give the cat ghost a floating or ghostly appearance.
Add two curved lines extending from the bottom of the body for the cat ghost's tail. Make the tail fluffy or curved, depending on your preference.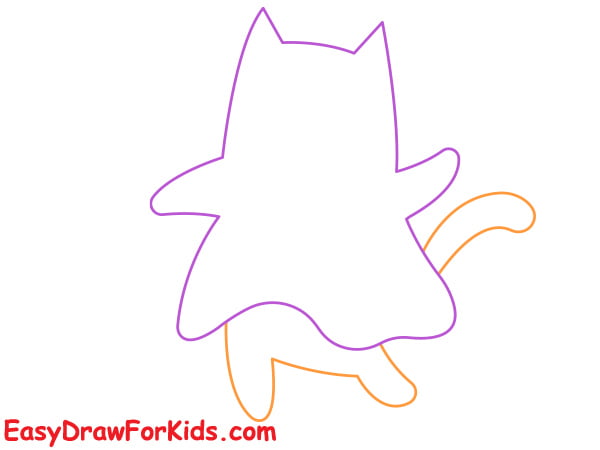 Step 5: Drawing the Pumpkin Bag
In this step in our guide how to draw a cat ghost will focus on the pumpkin bag.
In one "arm", sketch the basic shape of a pumpkin turned on its side.
Add vertical lines to create the creases and folds of the bag, giving it a realistic appearance.
At the top of the bag, draw a curved line to form the handle.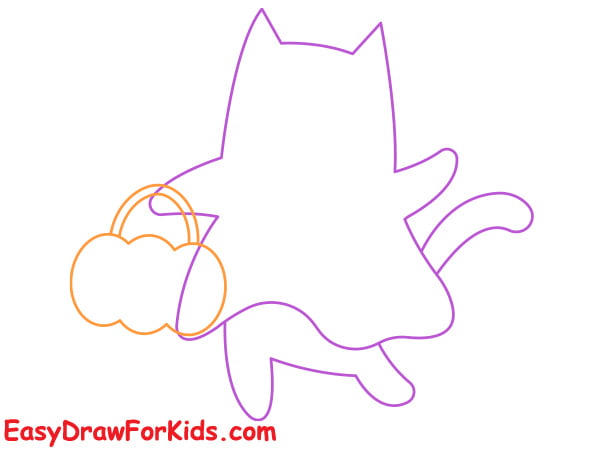 Step 6: Add the Candies
Now it's time to fill your pumpkin bag with candies!
Inside the bag, draw small simple shapes like circles, squares, stars to depict wrapped candies and lollipops tumbling out.
Allow some of the candy to hover around the pumpkin bag, as if the ghost cat has shaken them out.
Draw a variety of different candy shapes in the other "arm" – circles, ovals, rectangles etc. Vary the sizes for visual interest.
Add some details like wrappers to make them look like wrapped candies.
Add details such as stripes or small wrappers to give them a colorful and enticing look.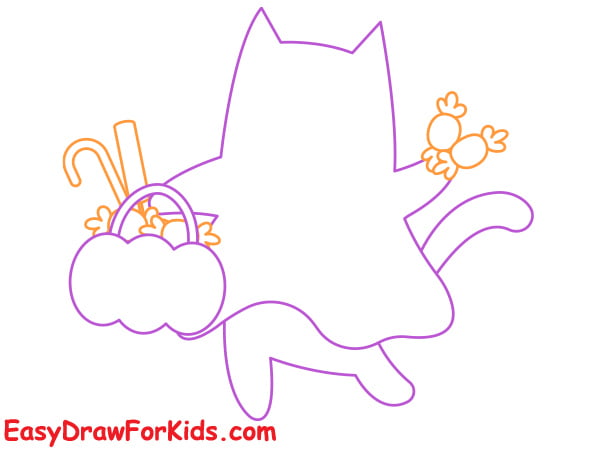 Step 7: Add Facial Features
Next, it's time to bring our cat ghost to life by adding some facial features.
Draw two large round eyes in the center of the head, leaving some space for the nose and mouth.
Add a small triangular nose and a wide smile beneath it. Then draw a long curve line for tongue stick out.
Feel free to experiment with different expressions to give your cat ghost a unique personality.
Add some details to the cat ghost's body, like wispy lines or curves to represent its ghostly form.
Step 8: Color the Drawing
Now that we've successfully this guide how to draw a cat ghost, it's time to bring your cat ghost art to life with color!
You can color the ghostly part of your cat white or a translucent gray. Use orange for the pumpkin bag and a variety of colors for the candies.
Experiment with shading and highlighting techniques to create depth and dimension.
And that's it – you now have an adorably spooky cat ghost to celebrate the Halloween season!
The wavy vapor and friendly expression gives him a playful rather than scary look.
For more fun, you can draw a whole scene with other Halloween themes.
Don't forget to sign your finished art!
Tips for Drawing Cat Ghosts
Here are some helpful tips for drawing cute, whimsical cat ghosts like this one:
Look at photos of real cats for anatomy reference if needed. The ghostly elements can be exaggerated and cartoonish.
Add spirals, dots, zigzags and other doodle textures for visual interest in the eyes, mouth, fur etc. Varying line weights also adds flair.
While cat ghosts are usually drawn white, you can get creative with ghostly colored markers or watercolor for a different look.
Draw the cat ghost floating or hovering above the ground for a more supernatural appearance.
Mixing round cartoonish features with realistic cat anatomy creates an appealing, cute yet slightly eerie effect.
More Halloween Drawing Ideas
Once you've mastered drawing a cat ghost, here are more Halloween-themed drawing ideas to try:
Witch cat stirring a magical potion
Black cat sitting on a crescent moon
Cat vampire wearing a Dracula cape
Skeleton cat playing a trombone
Cat mummy wrapped in bandages
Cat wizard casting spells
Cat Frankenstein with neck bolts
Siamese cat in a pumpkin patch
Let your creativity go wild! Combining cats and Halloween elements results in all kinds of adorable, spooky and funny art perfect for the fall season.
Conclusion
Learning how to draw a cat ghost holding a grinning pumpkin bag full of candy can be an easy and enjoyable way to get in a festive Halloween mood.
With just simple oval and triangular shapes, along with a few key details like glowy eyes, wispy ears and tail, and a heap of floating candies, you can create a sweet, whimsical illustration.
Adapting common Halloween themes like ghosts, black cats, pumpkins and candy into an original composition is a great creative exercise.
And your smiling, mischievous cat ghost can serve as wonderfully seasonal decor for around the house.
Just grab your paper and pencils and see what magical cat ghosts you can conjure up!
You may also enjoy: