How to Draw a Chicken
Are you looking for an easy and fun way to spend some time with your kids?
Why not try out some simple drawing projects together?
Drawing is a great way to encourage creativity and bond with your children.
One fun project you can try is drawing a chicken. This is a great project for kids of all ages.
Here is a simple step by step guide to help you get started.
How to draw a chicken
Chickens are one of the most common farm animals in the world. They are also one of the easiest animals to draw.
In this tutorial, we will show you how to draw a chicken with two styles.
1. How to Draw a Chicken Step by Step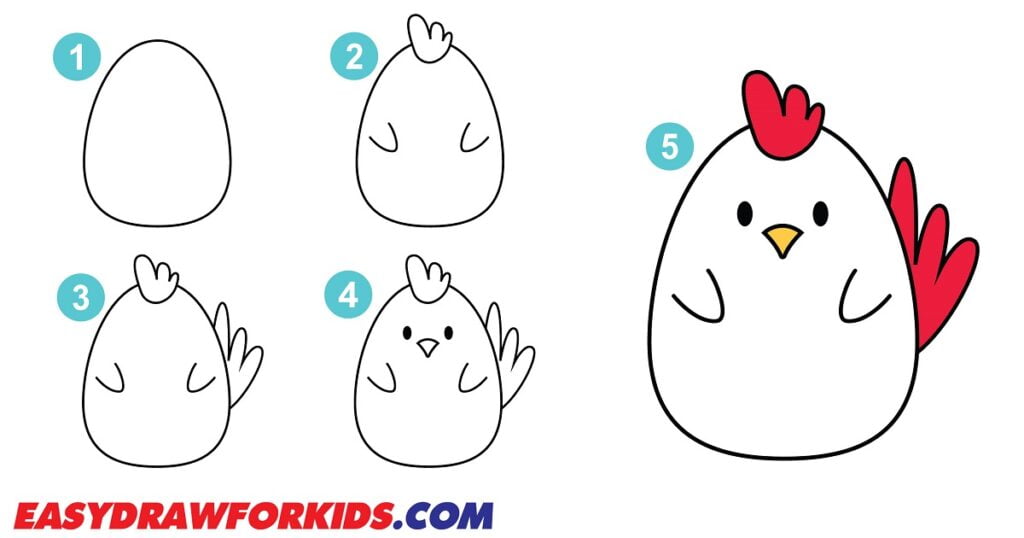 Step 1: Draw head and body
First, Draw a shape like egg for head and body of chicken as show the picture
Step 2: Outline the comb and two wings
Use curved lines to depict these elements on the chicken's head
Then, Add circle as a wing on two side of the chicken
Step 3: Draw a short tail as shown the picture
Step 4: Add the facial features
Make an oval shape for the chicken's eye and add a triangular shape for the beak.
Step 5: Color the drawing.
To color the chicken, use red, orange, and black.
Your chicken drawing is now complete!
Chickens are fun animals to draw and can be drawn in a variety of different styles.
Experiment with different designs and have fun!
2. Chicken Drawing Easy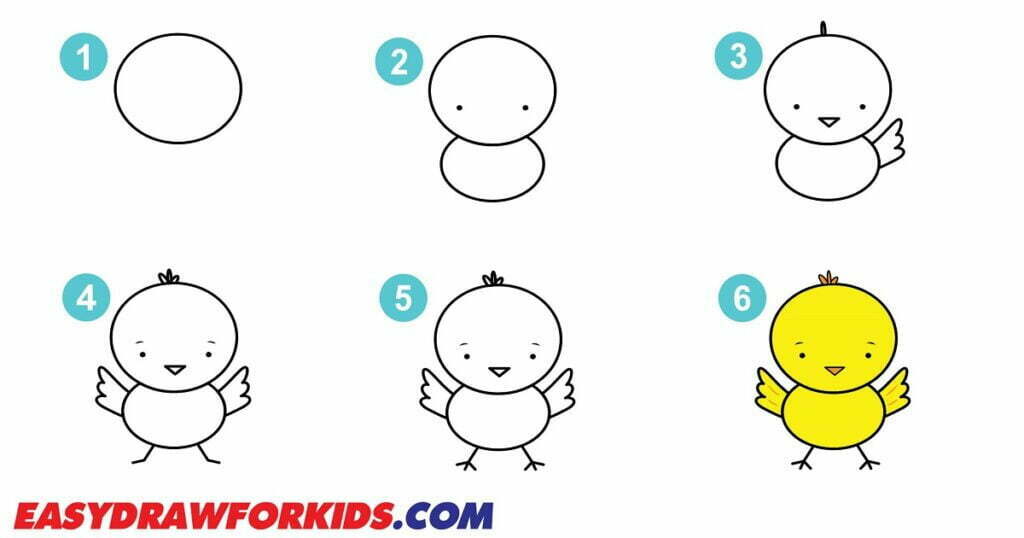 Step 1: Draw the head.
Use the circle to depict the chicken's head
Step 2: Add the body and eyes
Sketch out a smooth rounded line for body
And draw two dot for eyes of chicken
Step 3, Draw the wings, beak (mouth) and pinch of feathers
On the right side, add part of the wing using a rounded line
Draw a small triangle for the beak
Finally, you draw a pinch of feathers on the head of the chicken to add some cuteness.
Step 4: draw the second wing completely and pinch of feathers
Depict the top of the paws
Draw four short lines below the torso
Step 5: Add the bottom of the paws.
On each paw draw three fingers using short lines.
Step 6: Color the baby chicken.
You can add color to your drawing if you like. Chickens are usually white, brown, or black.
Your chicken drawing is now complete!
We hope you enjoyed this tutorial. If you would like to learn how to draw other farm animals, be sure to check out our other tutorials.