Drawing a cute cookie is a fun way to practice your art skills.
With a few simple steps, anyone can create an adorable cookie character.
In this easy tutorial, you'll learn how to draw a cookie in a cute cartoon style that's perfect for beginners.
Let's get started!
How to Draw a Cookie Step by Step – Easy Tutorial for Beginners
Cookies make wonderful subjects for drawing because their basic shape is so recognizable. With the addition of some simple details like chocolate chips, frosting, and a smiling face, a plain cookie quickly transforms into a lovable character.
Drawing a cookie is great way for beginning artists to learn techniques like:
Shaping basic forms
Adding texture and details
Using color
With just a pencil, paper, and some coloring supplies, you'll be able to create a sweet cookie drawing in no time.
The simple, step-by-step instructions in this tutorial break down the cookie drawing process into manageable parts.
Let's start with the basic cookie shape!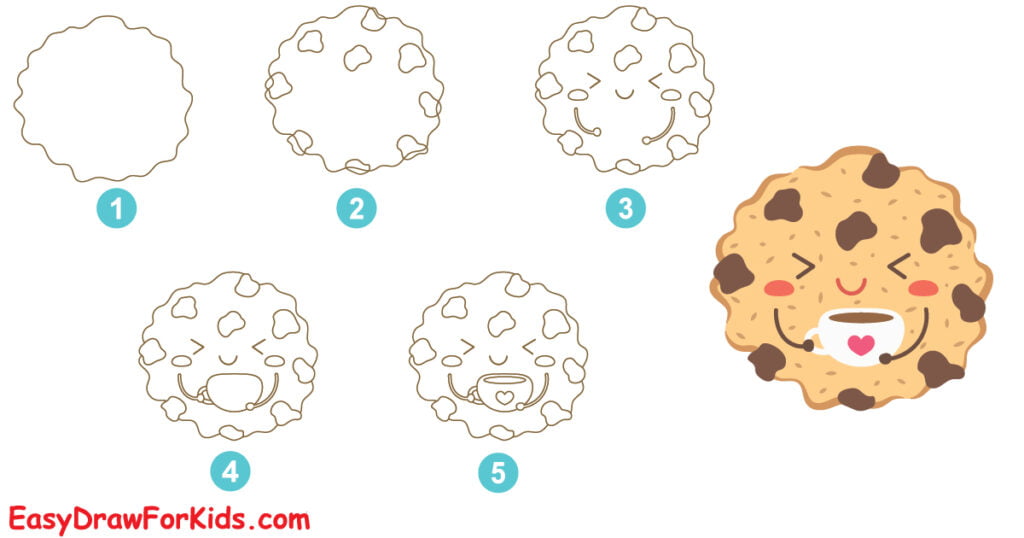 Step 1: Outlining the Cookie
The first step in our guide how to draw a cookie by drawing a slightly irregular oval shape.
This will be the outline of your adorable cookie.
Make sure the oval is not too perfect to give it a cute and playful look.
Step 2: Decorate the Cookie
Let's make the cookie even more adorable by adding decorative elements.
Draw small, irregular shapes on the cookie's surface to represent chocolate chips or candy sprinkles.
You can scatter them randomly or create a pattern.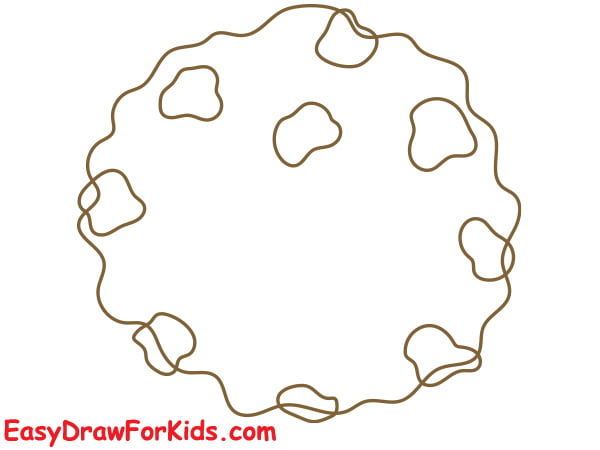 Step 3: Add the Face and Arms
On the top half of the oval, draw two large circular eyes. Leave some space between the eyes for the nose and mouth.
Then, draw a small curved line below the eyes to represent a smiling mouth.
You can add a tiny curve at each end of the mouth to create a cheerful expression.
To give your cute cookie some extra charm, draw two small circles or ovals on the sides of the face, slightly below the eyes. These will represent rosy cheeks.
To give your cute cookie some character, you can add arms holding a coffee cup.
Draw two short curved lines extending from the sides of the oval near the bottom.
You can add small rounded shapes at the end of each line to represent hands.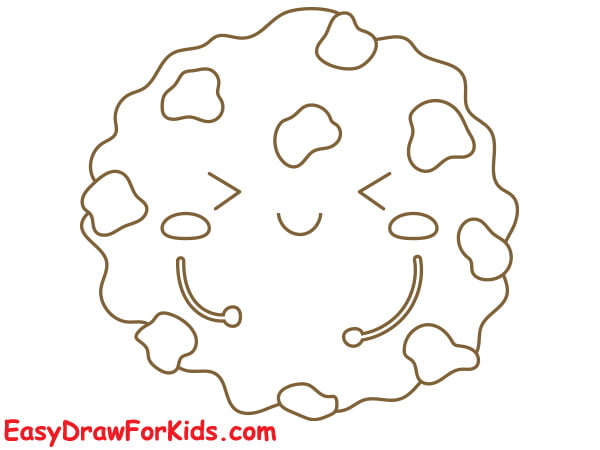 Step 4: Outlining the Coffee Cup
Now it's time to add the coffee cup for our cookie friend to hold in the hands.
Sketch an oval shape tilted at an angle. This will be the cup.
Draw a small rectangle on the lower left for the handle.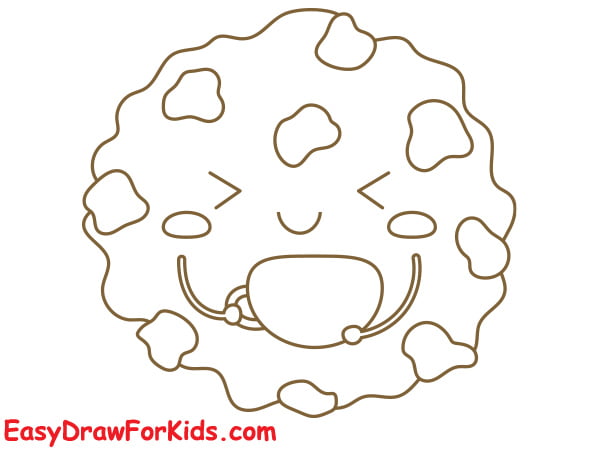 Step 5: Add details to the Coffee Cup
Sketch an oval shape inside the upper portion for the cup opening
Add a curved line under it for the coffee.
Draw a vertical oval on the lower cup for the logo.
The basic cup structure is now ready for the finishing touches.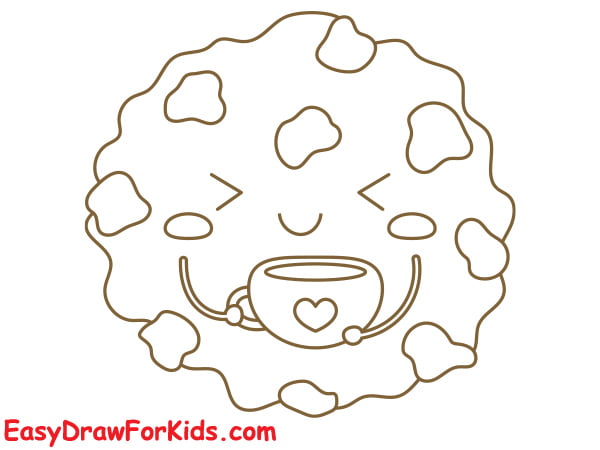 Step 6: Color Your Cookie and Coffee Cup
Now that we've successfully this guide how to draw a cookie, it's time to bring your cookie drawing to life with color
Use light brown or tan shades for the main body of the cookie. Add darker brown or chocolate shades for the chocolate chips or sprinkles.
You can also color the eyes, mouth, and cheeks with any colors you like to make them stand out.
For the coffee cup, choose colors you like, such as brown for the coffee and any other colors for the cup or decorative elements.
That's it! By following these steps on guide how to draw a cookie, you should be able to draw a cute and delicious-looking cookie.
Feel free to get creative with different expressions, decorations, or colors to make your cookie even more adorable!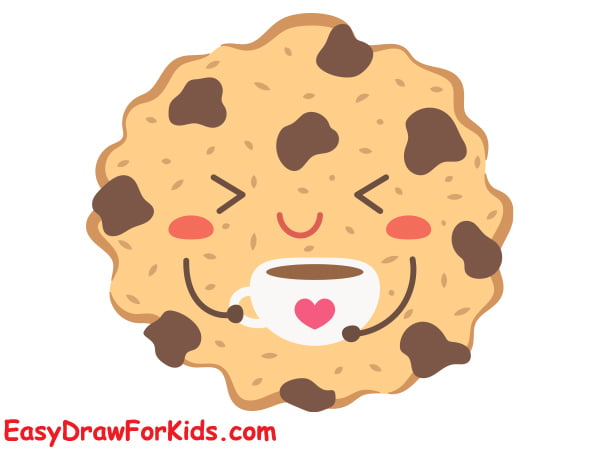 Tips for Drawing a Cute Cookie
Here are some helpful tips to keep in mind for drawing the perfect cute cookie:
Look at cookie photos for inspiration – Study images of real cookies to get ideas for textures, cracks, chips, etc.
Play with different facial expressions – Get creative with the eyes and mouth to give your cookie different personalities.
Use varied coloring techniques – Try blending, shading, highlighting, and splattering for interest.
Make it imperfect – Don't worry about drawing perfect shapes. Imperfections give your cookie charm!
Following the basic step on guide how to draw a cookie, while also letting your creativity run wild, is a recipe for a super cute confection creation.
Conclusion
We hope this tutorial gave you all the steps you need to learn how to draw a cookie from start to finish. Drawing cookies is a playful way to practice your illustration skills. You can take the basics you learned here and get creative embellishing your own unique cookie characters.
The simple techniques of shaping, texturing, detailing, and coloring can be applied to all sorts of artistic styles and subjects. Cookies make perfect friendly subjects – after all, who doesn't love them?
So grab your drawing tools and a sprinkle of imagination. With the help of this step by step guide, you'll be an expert at drawing delightful cookies in no time!
You may also enjoy: