Cows are a classic farm animal that are fun to draw.
While their shape may seem simple, there are some tips and techniques that can help you draw a recognizable cow.
In this article how to draw a cow, I'll walk you through the step-by-step process for drawing a basic cow.
How To Draw A Cow – A Step by Step Guide
Cows come in many different patterns and colors, but the typical black and white dairy cow is what most people visualize.
When starting a cow drawing, it's best to begin with the basic head and body shape. Once you have the underlying form down, you can add the details like the spots, tail, udder, and facial features.
I'll go over how to draw a cow step by step, starting with the basic outline and ending with a completed cow drawing.
With a little practice, you'll be able to draw cute cows of your own!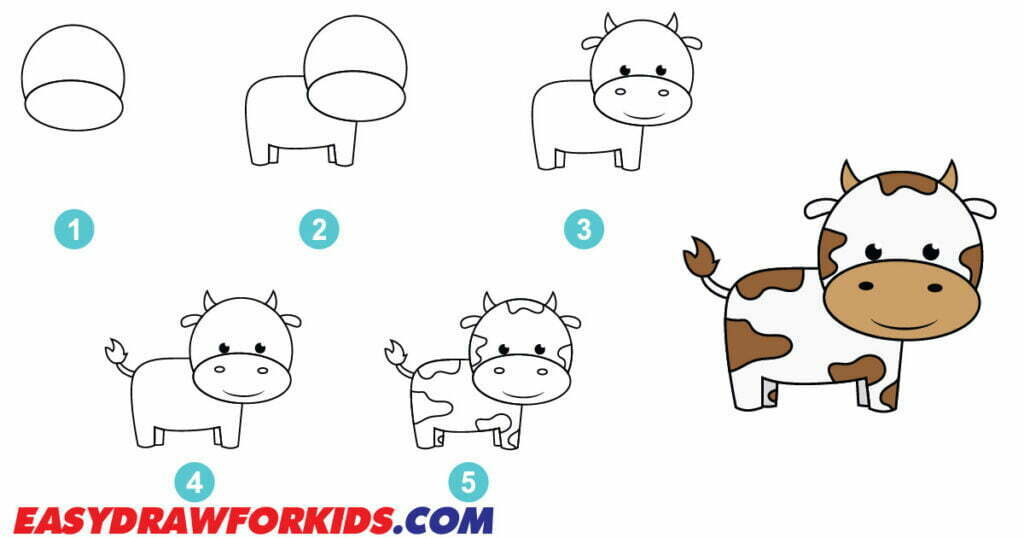 Step 1: Draw the Cow's Head
Start by drawing two small circles in the right of your paper for the cow's head and snout.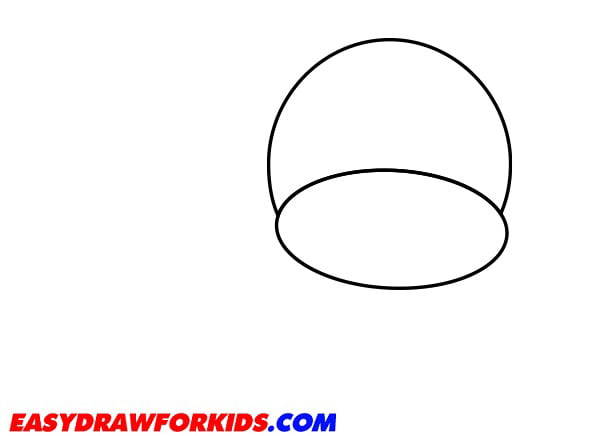 Step 2: Draw the cow's body
Draw a large oval shape for the body. Cows tend to have full, rounded bodies.
Add four legs, with the front legs being slightly shorter than the back legs. The legs should be vertical lines placed at the corners of the oval.
Draw a horizontal line across the bottom 1/3 of the oval for the belly line.
Add a vertical line up from the belly line for the neck. Make it about 1/3 as wide as the body.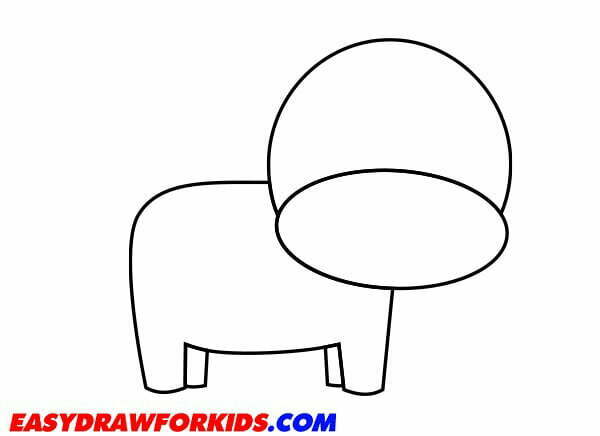 Step 3: Add the Facial Features
To give your cow personality, carefully draw the facial features:
Eyes: Draw two sideways oval shapes on the sides of the head for the eyes. Add pupils and shadows to give them depth. Cow's eyes tend to be large and spaced widely apart.
Nostrils: Add two ovals inside the muzzle/nose area for the nostrils.
Mouth: Draw a curved line under the muzzle for the mouth. You can make it smile or keep it neutral.
Ears: Detail the ear shapes with curved inner lines.
Horns: If drawing a bull, add horns starting from the top of the head and curving upwards.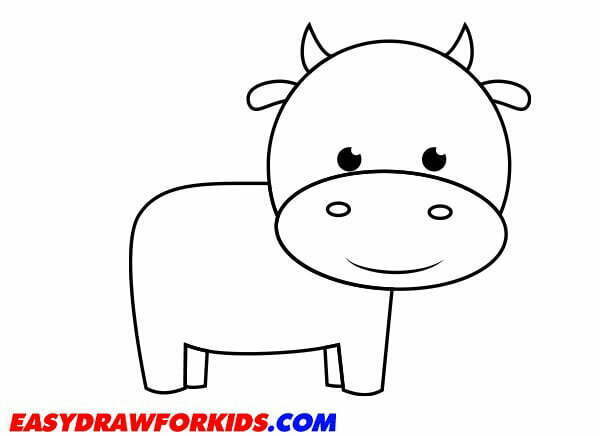 Step 4: Draw the Tail
The fourth step of this guide on how to draw a cow will focus on the tail of your cow
Cows have long, thin tails that switch back and forth to swat flies.
Start with a line extending from the lower back area.
Taper the line so it's wider at the base and narrow at the tip.
Add a tuft of hair at the end by drawing feathered lines.
You can make the tail curve, hang straight down, or arch upwards.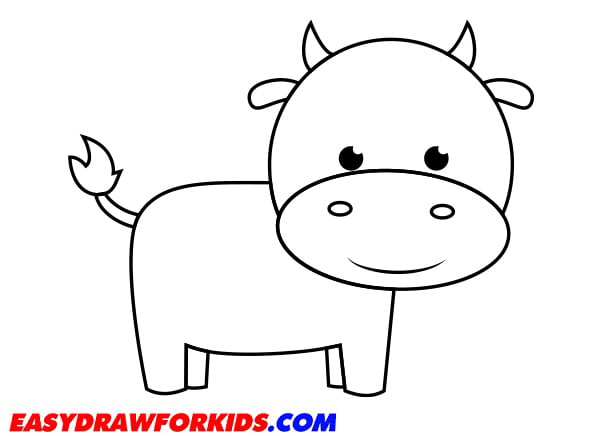 Step 5: Draw Cow Spots
Cows are known for their black and white splotchy pattern.
Scatter irregular shaped spots across the body. Make some spots large and some smaller.
Avoid placing spots in solid rows or regular patterns. Keep them random.
Add a few spots on the face, but leave the belly, and muzzle mostly white.
Make the spots taper thinner towards the edges rather than having hard edges.
Varying the spot shapes and sizes will make your cow drawing look more realistic.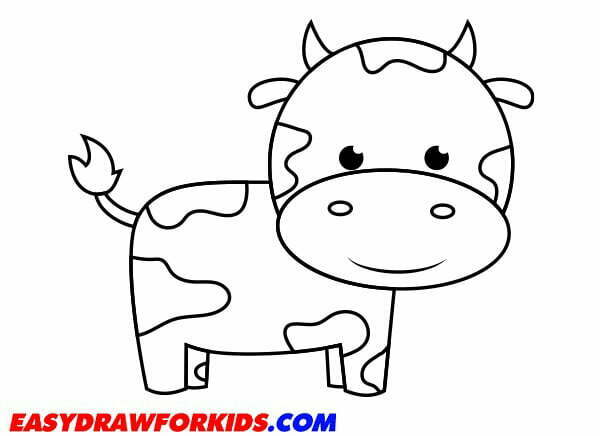 Step 6: Color the Drawing
Now that we've successfully this guide how to draw a cow, it's time to bring your cow art to life with color!
Cows come in a variety of shades, but the most common colors are white, black, and brown. Choose the appropriate colors for your desired cow breed.
Begin by applying a base coat of color to the entire body. Then, gradually build up the layers, adding shadows and highlights to create a more realistic appearance.
Use lighter shades for areas that catch more light, such as the top of the head and back, and darker shades for areas in shadow or undersides.
Tips for a Beautiful Cow Drawing
You've successfully learned how to draw a cow, to create a truly captivating cow drawing, keep the following tips in mind:
Practice Makes Perfect: Drawing is a skill that improves with practice. Don't get discouraged if your initial attempts don't meet your expectations. Keep practicing, and you will see progress over time.
Observe Real Cows: Studying real cows will provide you with valuable insights into their anatomy, proportions, and unique features. Visit farms or watch documentaries to observe these animals up close.
Experiment with Different Styles: Don't be afraid to explore different artistic styles. Whether you prefer a realistic approach or a more abstract representation, let your creativity guide you.
Use References: References are invaluable tools for artists. Collect photographs or use online references to help you understand the intricate details of a cow's appearance.
Enjoy the Process: Drawing should be a joyful and relaxing experience. Embrace the journey and let your passion for art shine through.
Conclusion
Cows may seem ordinary, but they can be rewarding subjects to draw.
The familiar shapes mixed with interesting patterns make them fun to recreate on paper.
With our guide how to draw a cow step-by-step, you can now draw cute, quirky cows of your own.
Feel free to add your personal touches and details to make your cow unique
Enjoy the process and have fun bringing a cow to life on paper!
You may also enjoy: