Are you ready to unleash your artistic skills and learn how to draw a cute devil?
Devils make for fun and playful drawing subjects.
With their horns, tails, and mischievous grins, cute devils can add a touch of whimsy and humor to your artwork.
Drawing a cute devil is easy, as long as you follow some basic steps.
How To Draw A Cute Devil – A Step by Step Guide
Cute devils are classic cartoon characters that have been around for generations. From old cartoons like Casper the Friendly Ghost to modern shows like Gravity Falls, devils continue to capture our imaginations. Though often portrayed as evil troublemakers, cute devils can also come across as impish pranksters. Their designs are simple but full of personality.
Learning how to draw a cute devil is a great way to practice cartooning. Since their features are exaggerated and simplified, they make for accessible subjects for beginning artists. With just some basic shapes and expressive details, you can create your own adorable imp characters.
Below is a step by step guide to drawing a cute chibi devil. With a little practice, you'll be able conjure up a mischievous little demon in your own unique style.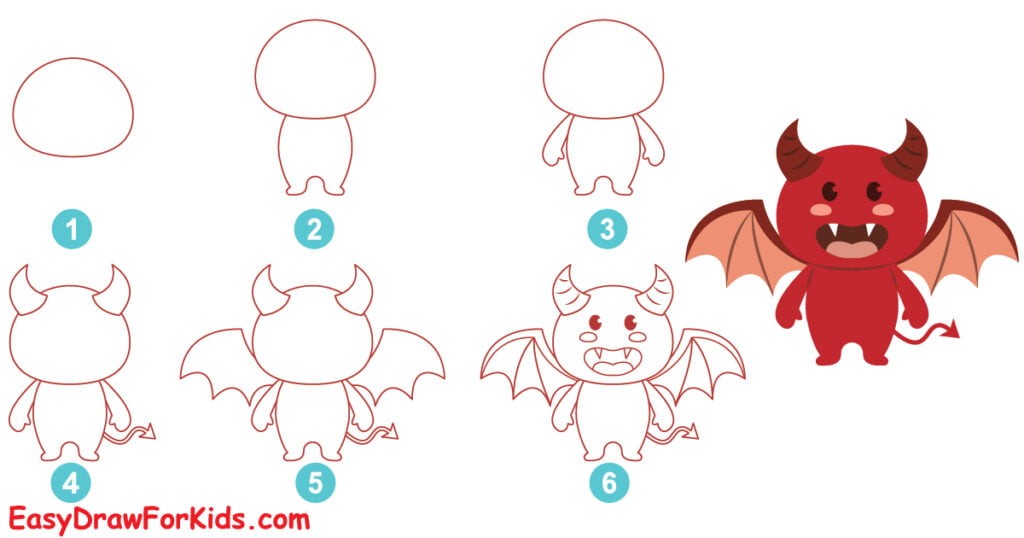 Step 1: Draw a Large Circle for the Head
The first step in our guide how to draw a cute devil by drawing a large circle towards the top of your page. Don't worry about having a perfect circle.
In fact, you want the shape to be a little wobbly to add some character. Leave plenty of room at the bottom for the body.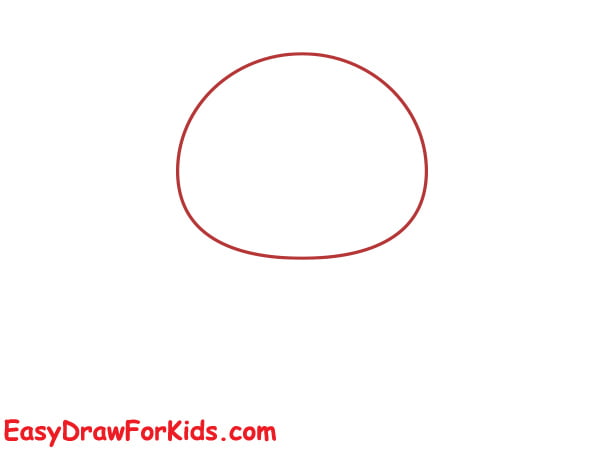 Step 2: Add the Body and Legs
Sketch the devil's body by drawing a curved line extending downward from the head. Make it slightly wider at the bottom, resembling the shape of a pear.
Sketch the devil's legs extending down from the body. Make them short and chubby, with small, rounded feet at the ends. You can add some cute details, such as little shoes or socks.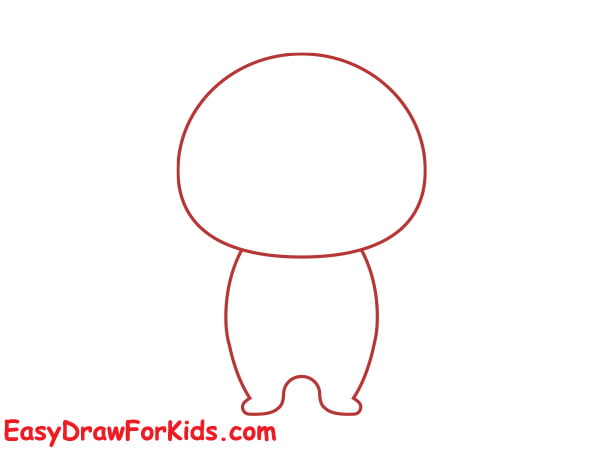 Step 3: Add the Cute Devil's Arms
The third step of this guide on how to draw a cute devil will focus on the arms of your cute devil
Add two arms extending out from the sides of the body. Make them short and chubby, with small hands at the ends.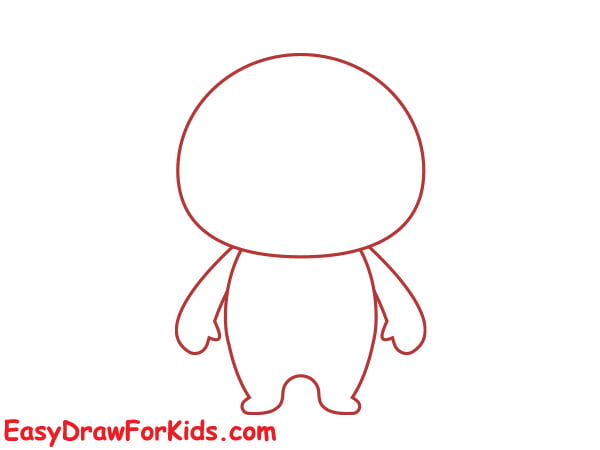 Step 4: Add the Horns and Tail
Add two small curved horns on top of the devil's head. Make them short and stubby, pointing slightly upwards.
Extending from the bottom of the body, draw a long arrow-tipped tail that loops back up. This helps balance out the large head shape.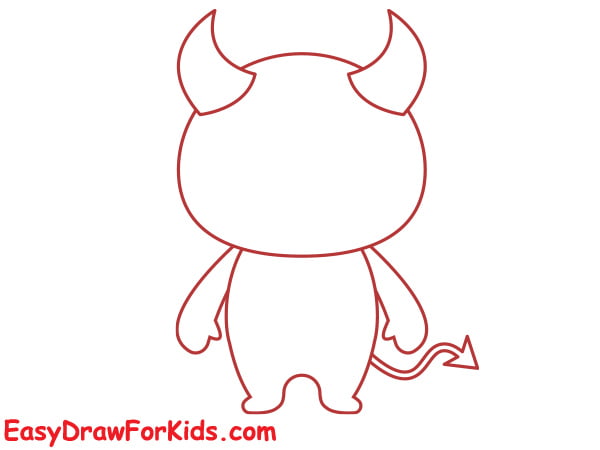 Step 5: Draw the Wings
In this step in our guide on how to draw a cute devil by lightly sketching a shape for the wings extending from the back.
Draw them as wide, webbed shapes. Add details to the wings like curved pointed tips and scalloped edges lining the underside.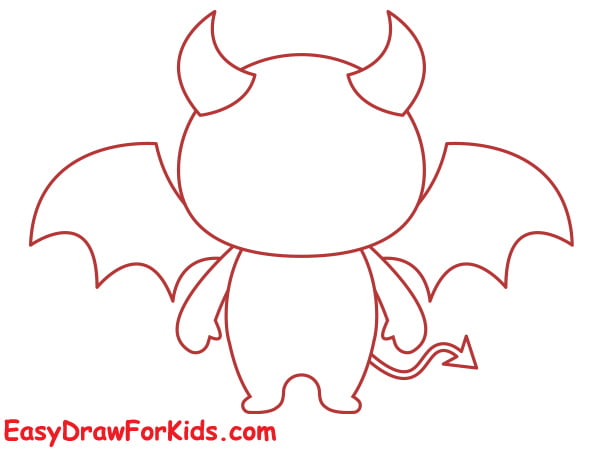 Step 6: Adding Facial Features
Draw two large oval shapes for the eyes. Draw smaller circles inside the ovals for the pupils. You can shade in the pupils or leave them white to denote highlights.
Give your devil an impish expression by making one pupil larger than the other. This makes your devil look extra playful and mischievous.
Draw a small, rounded nose in the center of the face. It can be a simple dot or a tiny heart shape.
Then using the lower guideline, draw a wide upside down U shape for an open mouthed grin. You can add fangs for extra devilish flair.
Now that your devil character has taken shape, it's time to add some unique details and accessories.
Begin by refining the horns on top of the head, making them appear smooth and rounded.
You can also add small spikes or patterns to give them a playful touch.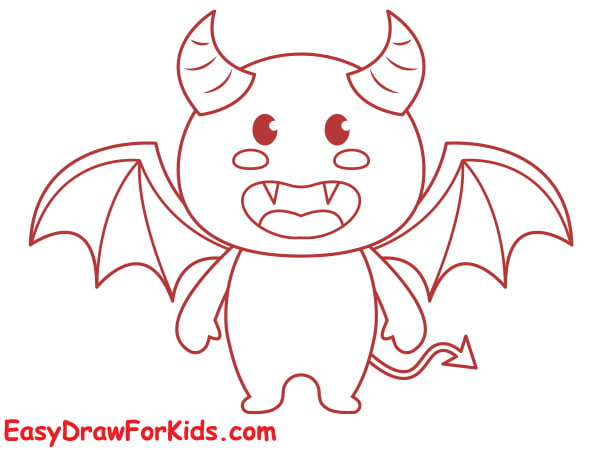 Step 7: Coloring Your Cute Devil
Now that we've successfully this guide how to draw a cute devil, it's time to bring your cute devil art to life with color!
Traditionally, devils are associated with shades of red, but you can experiment with other colors to make your character even more unique.
Start by lightly shading the entire drawing with the base color, then gradually build up the tones and add highlights where needed.
Take your time and blend the colors smoothly to achieve a polished result.
Don't forget to have fun with the coloring process and let your creativity shine through!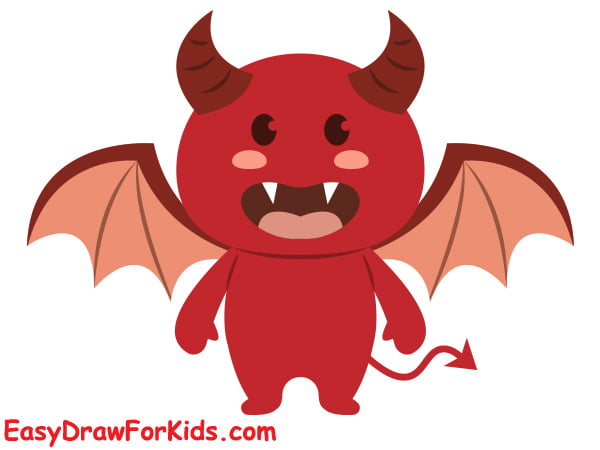 Tips for Drawing Cute Devils
Here are some additional tips to help you master drawing cute devils:
Start with simple shapes – Circles, ovals, triangles and lines form the basic building blocks for a cute chibi devil.
Exaggerate the features – Large heads, ears, horns and grins make your devil more cartoony. Go over-the-top with the proportions.
Add colorful details – Bows, hats, jewelry or whatever accessorizes give your devil more flair. Black, red and purple make classic devil colors.
Use expressive body language – Arms, tails and poses can show your devil's lively personality. Give it energy and pizzazz.
Personalize your devil – Add unique wings, clothing or other creative touches to make your chibi truly your own.
So grab your pencil and paper and start doodling your own cute little devils! Their playful look and mischievous nature make them an absolute delight to draw.
Examples of Cute Devils
Here are some examples of different ways artists depict adorable characters:
Classic red horned devil – These traditional devils feature red skin, a spaded tail, horns and a pitchfork. Their iconic look harkens back to old cartoons and comics.
Chibi anime devil – Big head, small body, and glossy eyes give these Japanese-style devils kawaii appeal. They come in many bright colors.
Baby devil – Mini devils with pacifiers, diapers and tiny horns make for super cute designs. Great for baby shower cards or nursery decor.
Gothic Lolita devil – Mix devils with Victorian inspired Gothic fashion for a darkly cute mori girl character. Frills, lace and bows add gothic nuance.
Cartoon network devils – From Courage the Cowardly Dog's Eustace to Powerpuff Girls' HIM, many kid's shows feature silly devils. Recreate your favorite.
Animal devil – Add animal ears and tails, like a cat, dog or bat, for a devil animal hybrid. Great for furry artists or creature designs.
Conclusion
Drawing a cute devil allows you to explore your artistic abilities while creating an adorable character.
With simple shapes, expressive features and fun details like horns, tails and pitchforks, you can create a fantastic little demon.
Spend time developing your devil's personality through expression and body language.
Use this tutorial how to draw a cute devil as a guide, but don't be afraid to get creative.
Unleash your imagination, and enjoy getting in touch with your playful mischievous side!
You may also enjoy: