Are you fascinated by the eerie and supernatural?
Do you enjoy expressing your creativity through artwork?
If so, then learning how to draw a devil ghost might be just the thing for you.
The devil and ghosts have long been popular subjects in art and illustration.
Drawing these supernatural creatures can be a fun way to create spooky and exciting artworks.
In this article, I'll provide step-by-step instructions on how to draw your own devil ghost.
How To Draw A Devil Ghost – A Step by Step Guide
Devil ghosts are mischievous mythological beings that combine elements of devils and ghosts.
They often have horns, wings, tails and fangs like a stereotypical red devil, along with a ghostly transparent or ethereal quality.
The contrast between their devilish and spooky features makes them an intriguing subject for drawing.
Learning how to draw a devil ghost is a great way to practice sketching supernatural creatures.
It will build your skills in drawing anatomy, using reference images, and creating an imaginative composite character.
With some patience and practice, you can develop your own unique devil ghost art.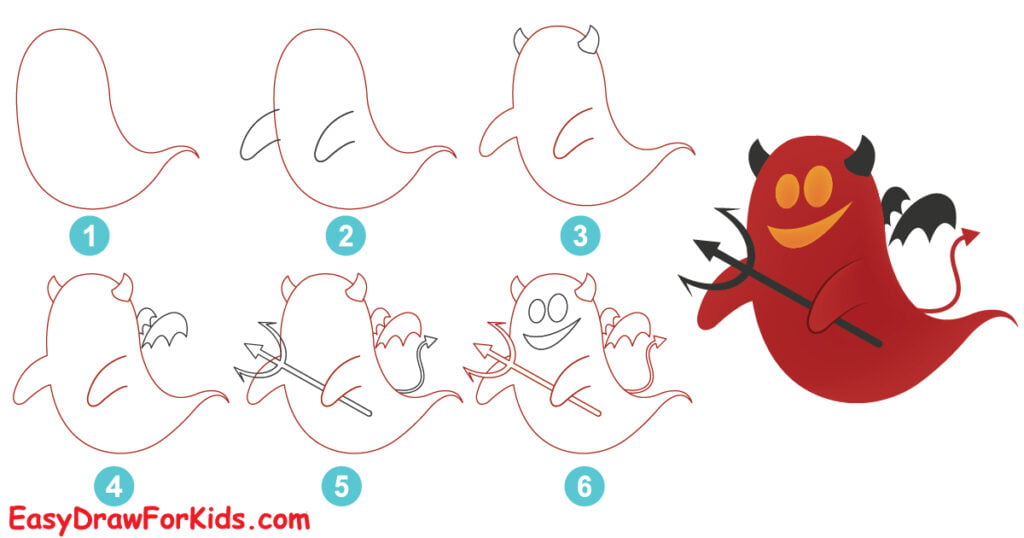 Step 1: Sketch the Basic Shape
Start by lightly sketching a circle or oval shape for the head of the devil ghost and a tapered oval for the body.
These basic shapes will serve as your guidelines throughout the drawing process.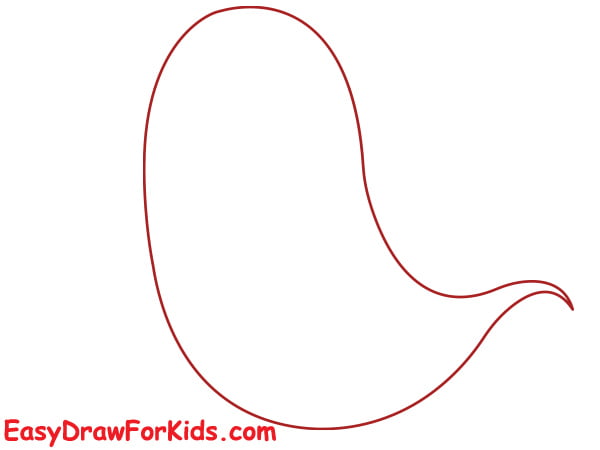 Step 2: Draw the Devil Ghost Arms
The second step of this guide on how to draw a devil ghost will focus on the arms of your devil ghost
Draw the devil ghost's arms extending out from the sides of body. Use curved lines to create the shape of the arms, with the hands positioned as if holding the trident.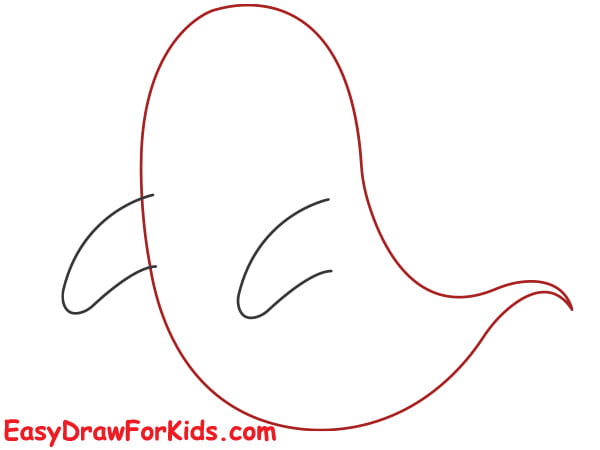 Step 3: Add Devil Horns
Once you have the basic ghost shape, you can start transforming your ghost into a devil.
Draw curved horns protruding from the head. Pointed tips look more threatening.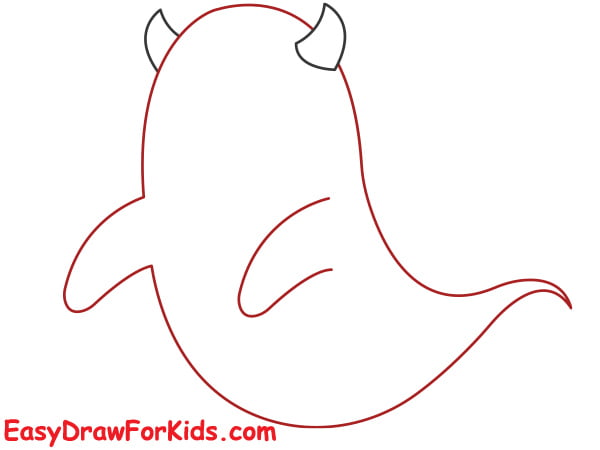 Step 4: Draw the Wings
Begin with a large, slightly curved line in the shape of a domed half-circle for the upper edge of the wings.
From the ends of the first line, draw several long, curved lines that taper towards the bottom. These lines will represent the individual wing bones.
Make sure to vary the length and curve of each line to create a natural and organic look.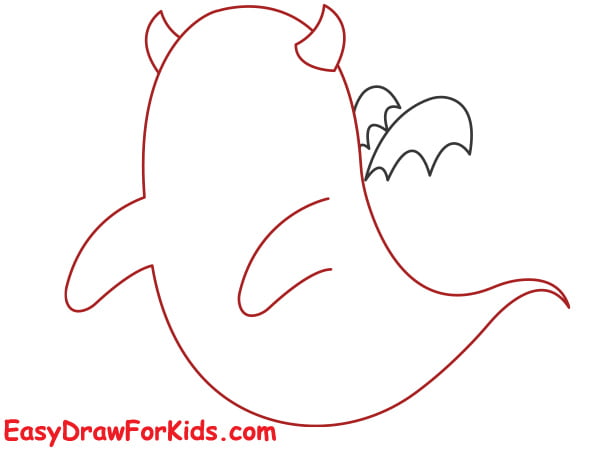 Step 5: Draw the Tail and Trident
The tail is an iconic devil attribute that works perfectly on a ghost.
The tail should be at least as long as the ghost's body and come to a narrow point.
Draw spearhead, arrow, trident or snakehead shapes at the tip for extra flair.
Now, draw the trident in the ghost's hands. Start by drawing a long, vertical line as the trident's handle. Near the top of the handle, draw a horizontal line extending to the right. This will be the crosspiece of the trident.
From the right end of the crosspiece, draw two curved lines that slope downward and outward. These lines will form the outer prongs of the trident.
Connect the ends of the outer prongs with a slightly curved line, forming the inner prong of the trident.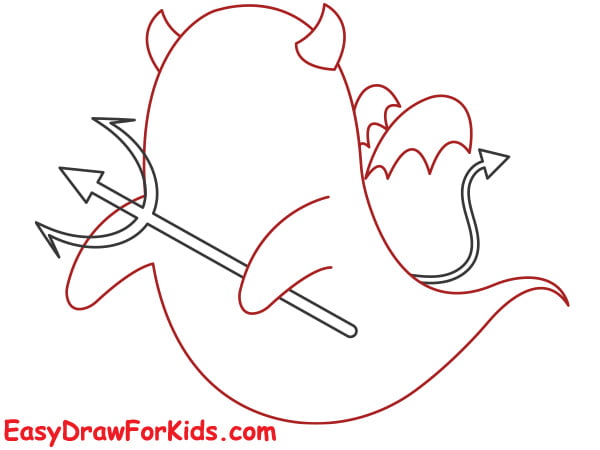 Step 6: Add Facial Features
In this step on guide how to draw a devil ghost, we will add the facial features to bring our devil ghost to life.
Begin by sketching two large oval shapes for the eyes. Inside each eye, draw a smaller circle for the pupils.
Add curved eyebrows above the eyes to give your devil ghost a mischievous expression.
Then, sketch an open mouth with sharp, pointed teeth. Feel free to experiment with the shape and size of the teeth to add your own personal touch.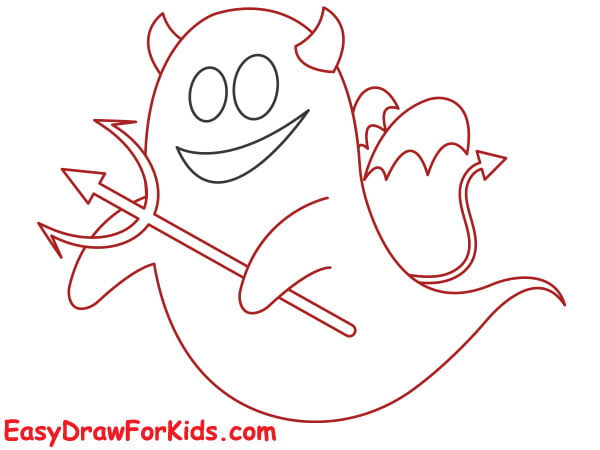 Step 7: Finish With Color
If you want to add some color to your devil ghost drawing, now is the time to do so.
You can go with traditional colors like red and black for a classic devilish look or get creative with other colors to make your devil ghost stand out.
When coloring your devil ghost, remember to use varying shades and tones to create depth and dimension.
Don't be afraid to experiment and try different techniques to see what works best for your drawing.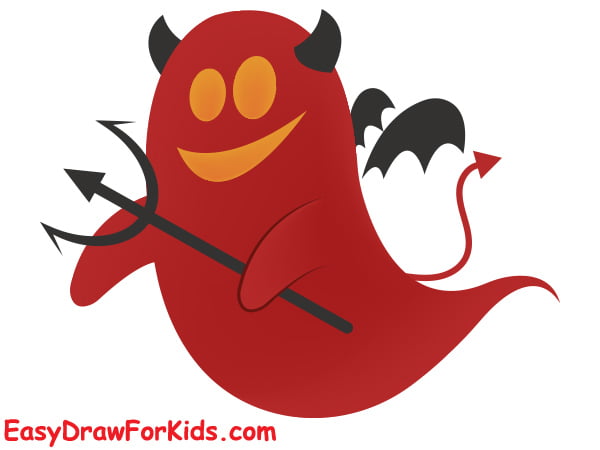 Tips for Drawing Devil Ghosts
Here are some useful tips to help you master learning how to draw a devil ghosts:
Study images of devils, demons, ghosts and specters to inspire your devil ghost's features. Combine favorite elements from various references.
Devil ghosts tend to have exaggerated grimaces, bulging eyes, big horns and claws. Go over-the-top with facial features and anatomy.
Give your devil ghost an extra creepy vibe by making features like mouths, eyes and horns uneven or asymmetry. Add things like blood, chains, bats and other creepy motifs.
Consider the attitude, emotion and personality of your devil ghost. Make facial expressions, poses and props match this character.
With persistence and creativity, you can become skilled at bringing frightening devil ghosts to life on paper.
Referring to photos, exaggerating features, conveying personality and practicing often will help develop your imaginative drawing abilities.
Let your creepy ideas leap from mind to page!
Conclusion
Drawing devil ghosts is an entertaining way to bring supernatural creatures and imaginitive characters to life on paper.
By following basic steps and key tips, anyone can sketch an intriguing devil ghost artwork.
Use exaggerated features, photo references and blending techniques to make your phantoms fun and creepy.
Practice sketching different devil ghost poses, expressions and details.
Customize the horns, wings, claws and other features to create unique characters. Drawing a variety of mythical beings boosts your artistic skills.
So grab your pencils, get inspired by spooky references, and enjoy bringing vivid devil ghosts to the page!