Doctors play a vital role in our lives, providing medical care and keeping us healthy.
Drawing a doctor is a great way to pay tribute to their importance.
With some basic sketching techniques and anatomical knowledge, you can depict a believable doctor figure in your artwork.
Here are some step-by-step instructions on how to draw a doctor.
How To Draw A Doctor – A Step by Step Guide
Doctors play a vital role in society, providing medical care and advice to improve health and save lives.
Their image often conveys compassion, expertise, and authority.
Capturing the essence of a doctor in a drawing can be an engaging artistic challenge.
This tutorial will guide you through the process of sketching a doctor from start to finish using simple techniques.
With a bit of practice, you can develop your skills to draw all kinds of medical professionals.
Learning how to draw people in various professions begins with understanding basic human anatomy and proportions.
When drawing a doctor, focus on details like attire, medical tools, and settings to convey their caring, knowledgeable essence.
With some practice, you can develop skills to depict all kinds of doctors through art.
This guide on how to draw a doctor in 9 steps to help you drawing a doctor with ease!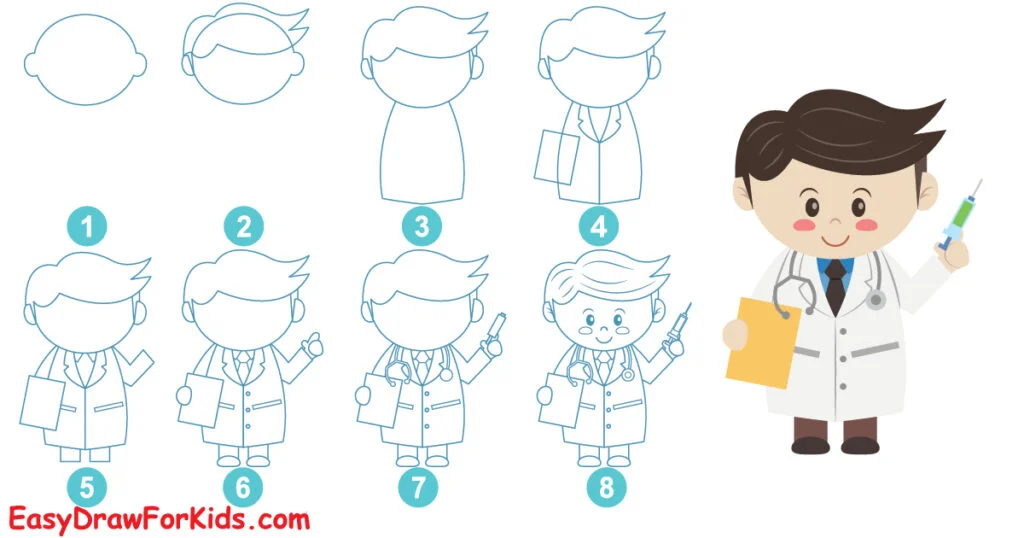 Step 1: Draw the Head
Start by drawing a circle in the center of your paper.
This will be the doctor's head.
Draw roughly circle ears on each side of the head.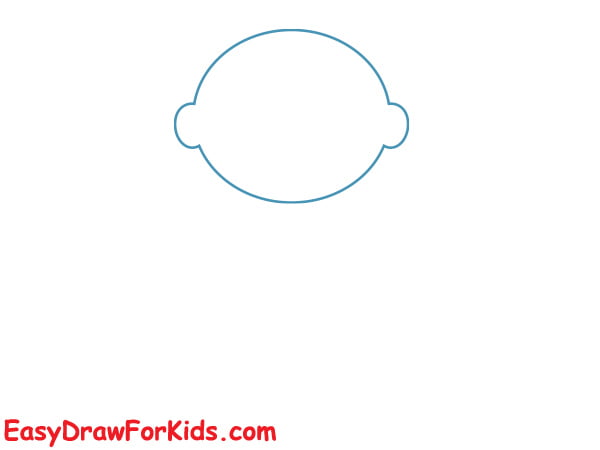 Step 2: Draw the Doctor's Hair
The second step of this guide on how to draw a doctor will focus on the hair.
Draw the doctor's hair by adding short, curved lines or a hairstyle that you prefer.
You can choose to draw the hair visible from under a cap or head covering if you want.
Use an eraser to remove any unnecessary guidelines.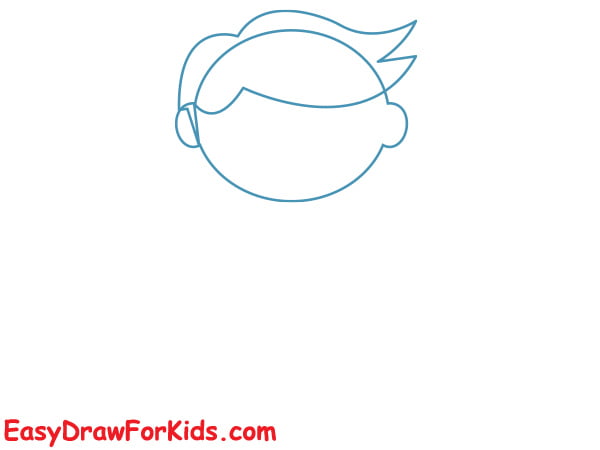 Step 3: Draw the Body
From the bottom of the head, draw a slightly elongated oval shape that will serve as the doctor's body.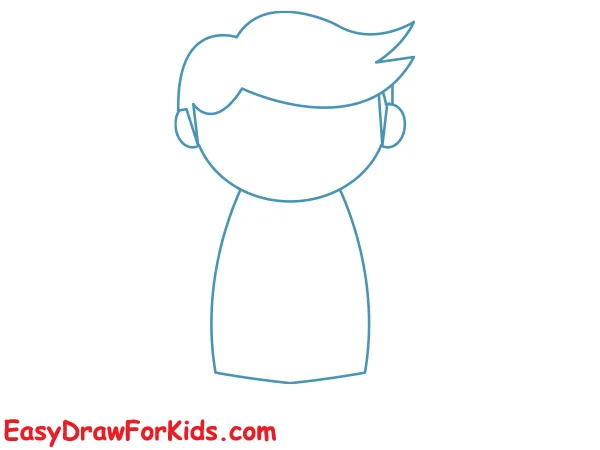 Step 4: Draw the Clothes
In this step of guide how to draw a doctor will focus on the clothes.
Add a collar to the doctor's clothing by drawing a curved line around the neck area.
To indicate the doctor's role, you can draw a lab coat or medical scrubs by adding additional lines and details to the body and arms. This may include pockets, buttons, or cuffs.
Draw a rectangular shape in the hand and a small clip at the top for a clipboard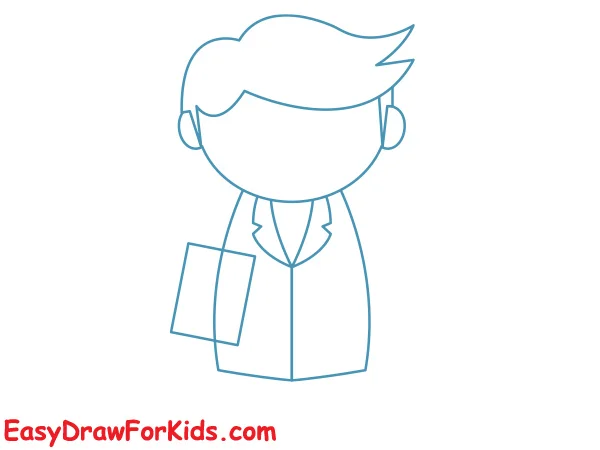 Step 5: Draw the Arms and Legs
Draw two narrower, curved lines extending from the sides of the body to create the arms. One arm can be slightly bent, as if the doctor is holding a medical tool, while the other arm can be straight or slightly bent at the elbow.
Add two straight lines extending downwards from the body to create the legs. Doctors often wear trousers or a lab coat, so you can indicate this by drawing the lines wider at the bottom.
Connect the legs with horizontal lines to create the bottom of the clothing.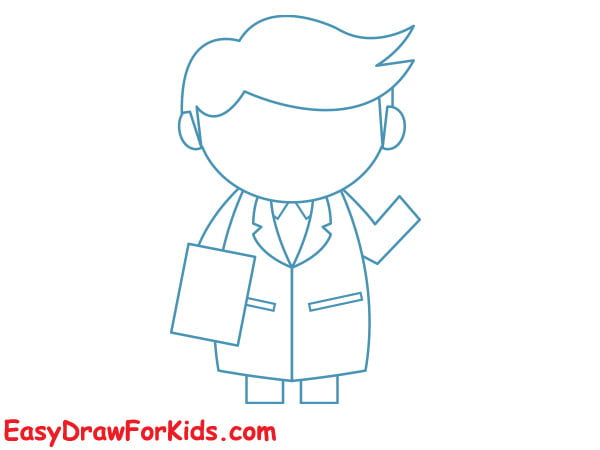 Step 6: Draw the Hand and Foot
At the end of the straight arm, draw a small oval shape for the hand. This hand can be shown holding a medical tool like a stethoscope or clipboard.
Draw two oval shape at the end of the leg for the foot.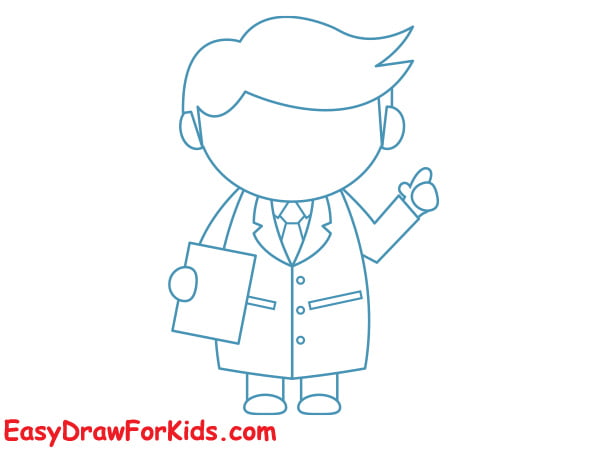 Step 7: Draw the Syringe and Stethoscope
In this step of tutorial how to draw a doctor will focus on the syringe and stethoscope.
To draw the syringe, start by drawing a cylindrical shape for the body. At the bottom of the cylinder, draw a tapering cone shape for the needle. Add a plunger at the top of the cylinder with a small handle.
Position the doctor's hand around the syringe, as if they are holding it. Adjust the fingers accordingly to create a natural grip.
For a stethoscope, draw a curved line on one side of the neck and add circular shapes for the listening end and earpieces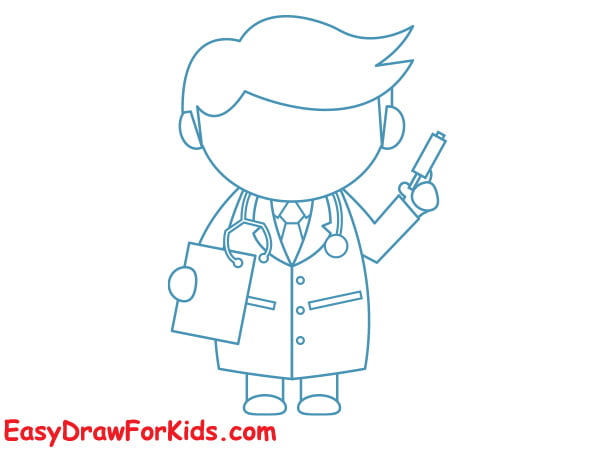 Step 8: Add the Facial Details
Add details to the doctor's face by drawing two oval-shaped eyes, a curved line for the nose, and a smiling mouth.
You can also add eyebrows and other facial features.
Refine eyes, nose, lips, ears, eyebrows to give depth and personality to the face. Add eyeglasses if desired.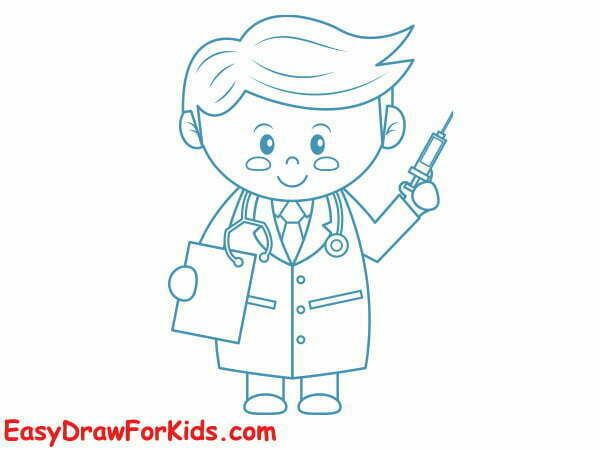 Step 9: Color the Drawing
Now that we've successfully this guide how to draw a doctor, it's time to bring your doctor art to life with color!
Start by coloring the doctor's outfit. Lab coats are typically white, so you can use a light gray or cream color for the coat. Color the collar and cuffs in a contrasting color, such as light blue or light green.
For the syringe, color the body in a light gray or metallic silver color. Use a darker gray or black for the plunger and handle. Add a bright color, such as red or orange, to the tip of the needle to represent the protective cap.
Add any additional details or accents you want, such as colored buttons on the lab coat or a colored stripe on the syringe body.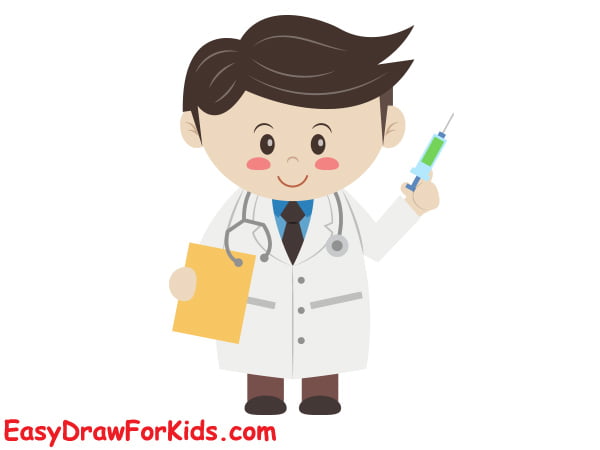 Congratulations! You've successfully learned how to draw a doctor.
Tips for learning how to draw a Doctor
Here are some additional tips to help you master drawing doctor characters:
Use reference photos – Study images of doctors in scrubs or lab coats holding medical tools. Observe posture and proportions.
Start with light sketch lines – Outline the figure lightly at first. Once you have the pose, trace over in darker lines.
Practice doctor tools – Syringes, stethoscopes, charts etc. Draw them separately until you can add them naturally.
Convey personality – Give your doctor drawing a friendly, caring expression. This gives the artwork heart.
Use shading – Add tone with pencil, charcoal or colored pencils. Shadows and highlights bring depth.
Get creative with settings – Place your doctor in a clinic, hospital room or office. Tell a story.
With a little practice, you'll be drawing doctors like a pro. The same techniques can be used to draw any people in a variety of poses, outfits and settings.
Drawing is a rewarding hobby that lets you show appreciation for important careers. Healthcare professionals will undoubtedly enjoy artwork showing their dedication and compassion.
Drawing Exercises to Try
Looking for practice drawing different doctor scenes and activities? Here are some fun ideas:
Draw a doctor looking at an x-ray image
Sketch a doctor giving a patient an injection
Illustrate a doctor wearing a stethoscope and tending to a child
Depict a doctor consulting with nurses at a front desk
Show a smiling doctor handing lollipops to young patients
Draw a doctor waving goodbye to a recovered patient being discharged
Challenge yourself by trying different views – profile, 3/4 angle, overhead etc.
Vary facial expressions and doctor roles like pediatricians, surgeons, family physicians etc.
With a little imagination, you can come up with endless creative scenarios to draw.
Benefits of Drawing Medical Roles
Why teach children learn how to draw a doctors, dentists, EMTs and other healthcare roles? Here are some of the benefits:
Helps them appreciate the importance of medical professionals
Allows them to process experiences like doctor visits through art
Teaches fine motor skills, focus and attention to detail
Boosts creativity and problem-solving as they plan and execute drawings
Encourages interests in science and medicine
Provides a sense of accomplishment when skills improve
Drawing can be an excellent outlet for young patients spending time in clinics or hospitals. It lets them make sense of their healthcare experiences through creativity. And for kids interested in science, it helps strengthen observation and recording skills used in medical fields.
Conclusion
Learning how to draw a doctor may seem challenging at first.
But as you break it down into simple steps of sketching basic shapes and building up the figure, you'll discover that anyone can learn to draw.
With some practice and patience, you can gain confidence in your artistic abilities.
Not only is drawing rewarding as a relaxing hobby, but illustrations of doctors and other healthcare roles have great significance.
These drawings allow us to show gratitude towards the medical professionals who do so much to help keep our communities healthy and safe.
So grab a pencil and paper, study some reference photos, and start sketching your own doctors.
You'll be amazed at what you can create!
You may also enjoy: