Drawing a goat may seem challenging for beginning artists, but breaking down the process into simple steps makes it approachable for anyone.
With some basic sketching techniques, attention to proportions, and finishing details, you can learn how to draw a goat in no time.
This beginner's guide will walk through the key steps of laying out the goat's structure, refining its features, and adding color.
How to Draw a Goat: A Step by Step Guide for Beginners
Before diving into the specifics of constructing a goat drawing, it helps to understand the basic characteristics of goat anatomy that influence its look.
Goats have sturdy yet compact bodies supported by four legs. Their heads connect to a sleek neck, and two horns sprout from the top.
Taking note of key attributes like the shape of the snout, floppy ears, and sometimes potbelly will allow you to capture a goat's charm.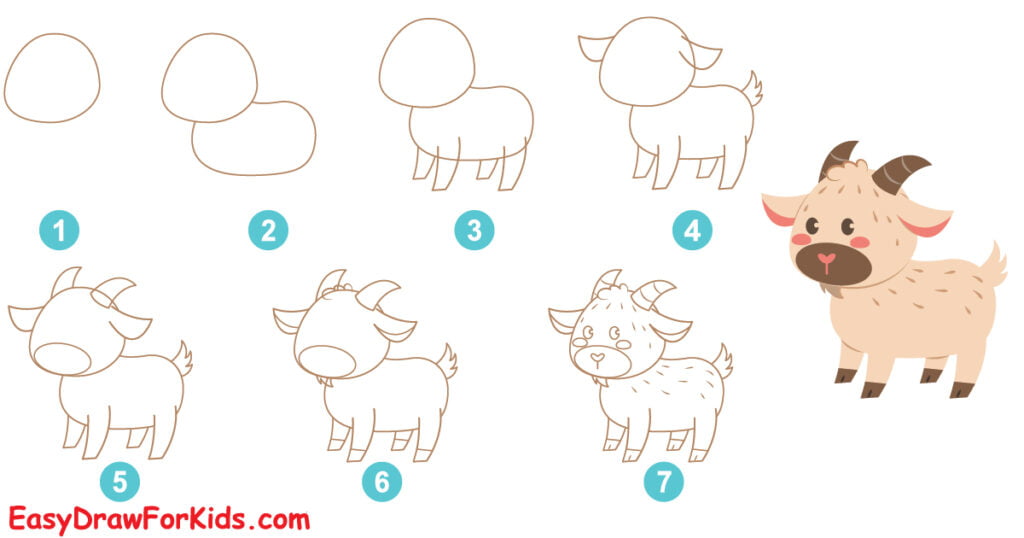 Step 1: Sketching the Goat's Head
In this first step in our guide on how to draw a goat will sketching the goat's head.
The head is at the top of the goat drawing, so logically that's the best place to start.
Start by drawing a circle or oval for the basic shape of the goat's head.
Be mindful of size, as the head should take up about one third of the body.
Place this near the top of your paper with room to draw the body below.
Using light, smooth strokes rather than pressing firmly gives flexibility to perfect sizing and placement as you go.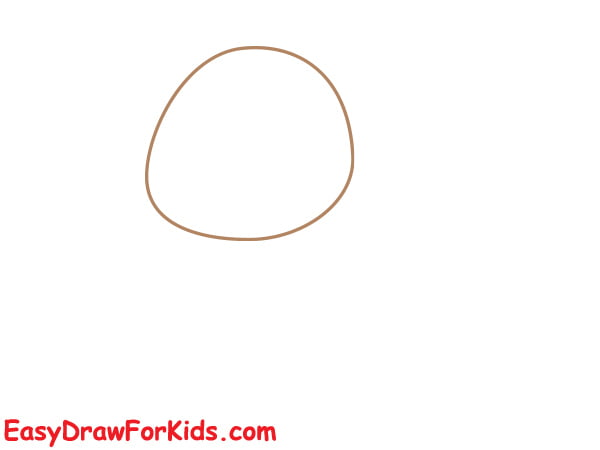 Step 2: Drawing the Goat's Body
Once the head is roughed out, in this step on guide how to draw a goat will focus on the goat's body.
Start by sketching a larger circle or oval shape that extends a little below the head.
This represents the ribcage and chest. Connect that to a more rectangular form for the haunch and hindquarters.
Refine the contour lines of goat's body base, remembering to utilize basic shapes before adding fine details.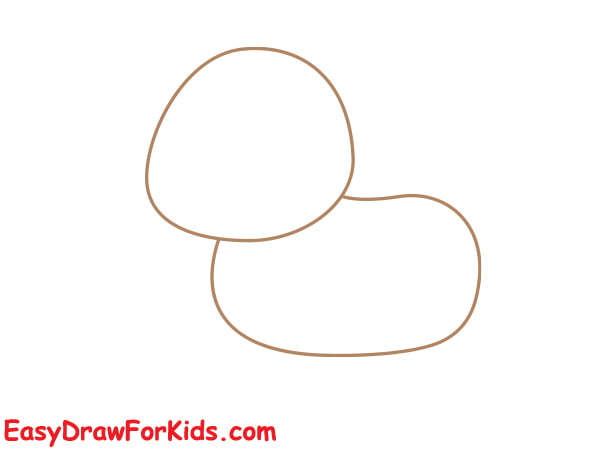 Step 3: Sketching the Goat's Legs
Start by using curve lines to outline the front legs. Refine the top lines coming straight down and then gently bending back at the knee area.
Add slimmer lower leg segments leading to the tiny hooves. Keep lines smooth rather than knobby for fluidity.
The back legs can be trickier, but use the same principles. Begin each at the bottom corner of the body's core, aiming them straight down.
Bend at the knee and complete with slim lower leg and petite hooves.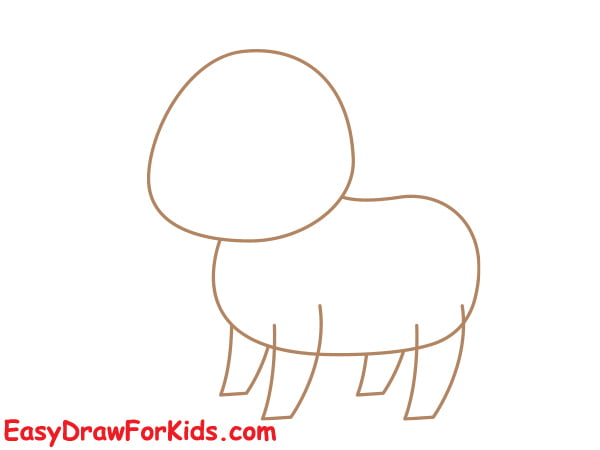 Step 4: Drawing the Goat's Tail and Ears
Goats have signature floppy ears that drape alongside their head rather than sticking straight up.
Start by drawing two leaf or crescent moon shaped outlines on the sides for the ears
Keep them low and relatively flat—more like sideways leaves than tall caricature triangles.
Make sure not to attach them too far back on the skull or too close together either.
Extend a curved line from the back of the goat's body to create the tail. Add some texture to the tail by drawing small curved lines along its length.
Meticulously rendering the ears and tail will give your artwork more dramatic goat authenticity!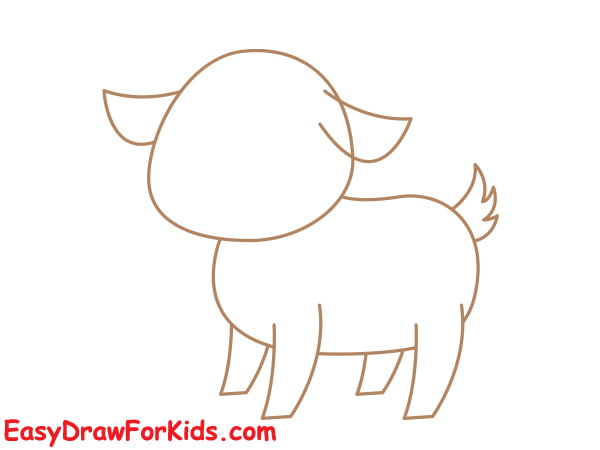 Step 5: Sketching the Horns and Snout
The unique horns and narrow snout is the most iconic goat features.
For horns, extend upward tapered curves behind the ears, aiming slightly back.
Sharpen elongated points on the ends adds realism. Repeat on both sides, angling fronts towards each other.
Below the head, add a curved line for the goat's snout leading down to an oval shape for its jaw and chin.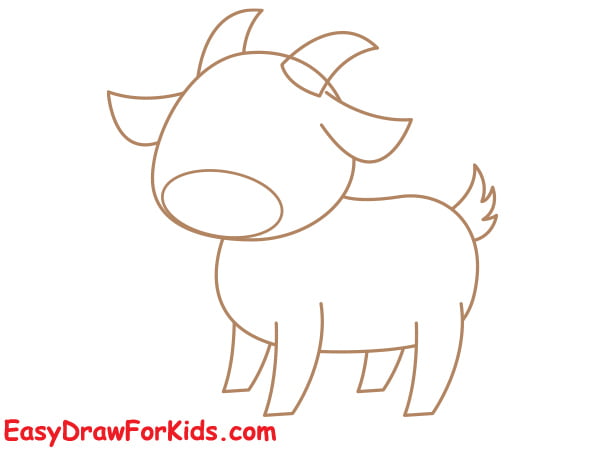 Step 6: Add Fur and Texture
Add some texture and fur to the goat by using short, curved lines throughout its body. This will give your drawing a more realistic and detailed appearance.
Now we've complete this step on of this guide on how to draw a goat, let's move to the next step.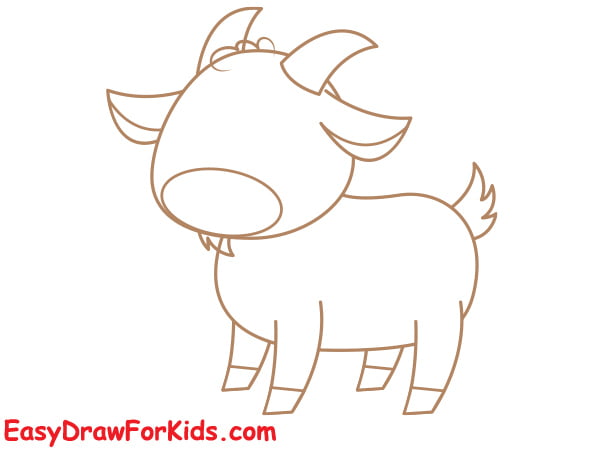 Step 7: Sketch the Facial Features
This is the most important step on this guide on how to draw a goat – much of a goat's personality shines through in the face!
Within the head, draw two large oval-shaped eyes. Place them along the horizontal guideline, slightly above the middle.
Add small circles inside the eyes to represent the pupils. Just below the eyes, draw a small V-shaped nose.
Then, draw a smiling mouth by curving a line beneath the nose. Add a few short lines above the eyes to indicate the goat's fur.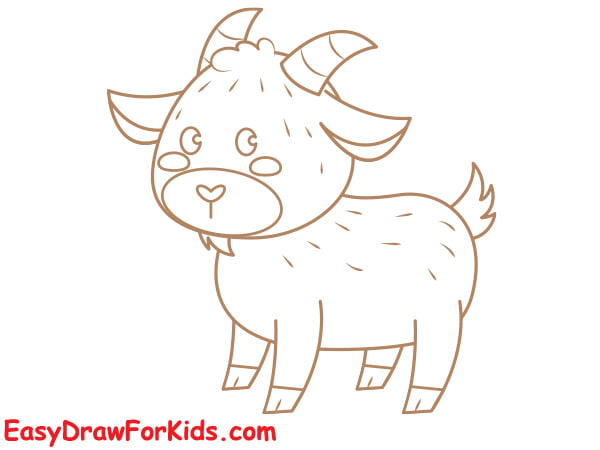 Step 8: Color the Drawing
Out of all the steps in this guide on how to draw a goat, this is the most enjoyable and exciting! Color your goat's drawing.
Neutral earth tones work wonders for realistically rendering fur and hides.
Rich blacks or grays define eyes, hooves, horns and noses as striking accents.
Alternately, embrace imaginative alternatives like purple, blue or rainbow coats to showcase creative flair.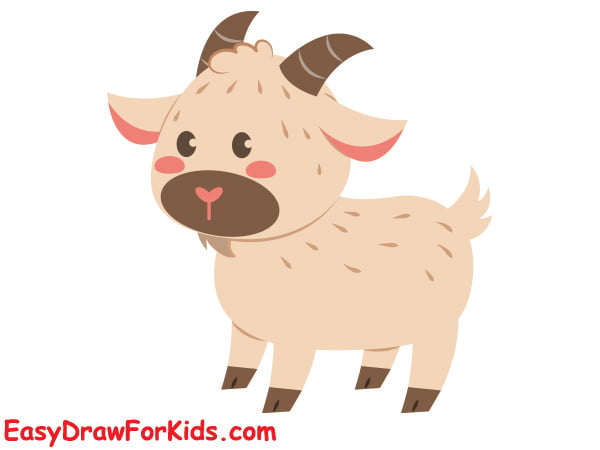 Tips for Beginners on Drawing a Goat
Drawing any animal offers fulfilling challenges for artistic growth. Approaching the process thoughtfully allows continually refining skills. When tackling beginner goat drawings specifically, keep these additional tips in mind:
Use photo references to understand unique anatomical features, especially horns, ears, muzzles and fur textures.
Lightly sketch shapes, building up forms gradually rather than forcing stiff outlines initially. This allows flexibility to continually perfect proportions at any stage.
Doodling goats frequently, even as mini accents, flexes your animal illustration abilities for bigger projects ahead!
Above all, be patient with yourself as skills develop over time through diligent yet playful practice.
Conclusion
Congratulations! You've successfully learned how to draw a goat.
By following the sequential guidance, you now possess core skills for rendering accurate goat anatomy alongside personalized creative embellishment.
This knowledge also transfers to depicting other quadruped mammals. The methods here for building form with basic shapes, structuring proportional anatomy, detailing textures will aid you in drawing any four-legged animal convincingly.
We hope you have found enjoyment and inspiration throughout this tutorial.
Happy drawing, my friend!
You may also enjoy: