Welcome to this easy, step-by-step drawing tutorial on how to draw a honey bee!
Bees are fascinating creatures that play an incredibly important role in our ecosystem.
By following this simple, no skills needed guide, you'll learn how to draw a honey bee in just a few quick steps.
How to Draw a Honey Bee Step by Step – Easy Tutorial
Whether you're doing this for fun, for a school project, or just to pass the time, learning how to draw a honey bee is a rewarding, relaxing activity for both kids and adults.
Once you've mastered the basic shape and form, you can get creative and draw honey bees sitting on flowers, buzzing around beehives, or just happily fluttering their wings through the air.
So grab a pencil and a piece of paper, and let's get started!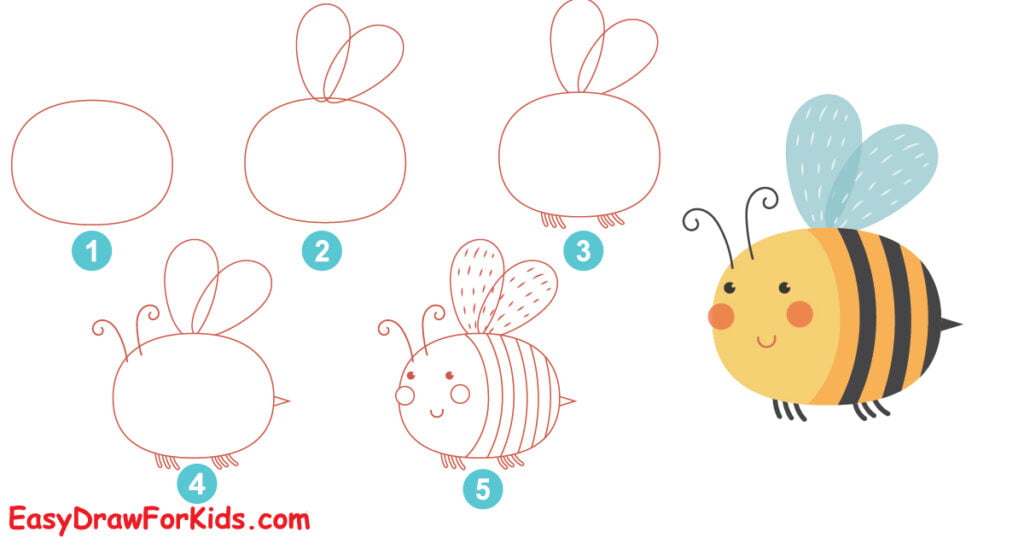 Step 1: Draw the Body
The first step on guide how to draw a honey bee is to sketch out the basic shape of its body
Draw a wide oval shape for the body. This should be a horizontally stretched oval.
Don't worry about perfect symmetry here—bees have round, plump bodies.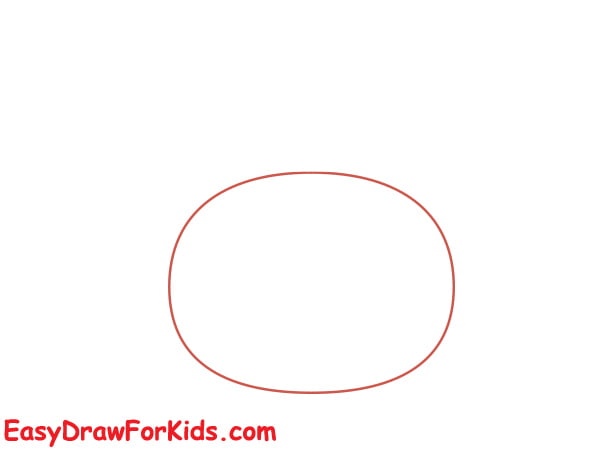 Step 2: Add the Wings
The wings of a bee are transparent and have a delicate, veiny structure.
They are attached to the thorax and are used for flying and hovering.
When drawing the wings, pay attention to the placement of the veins and the overall shape of the wing.
Draw two long, narrow ovals above the thorax for the wings. Make sure they are angled slightly downwards, as if the bee fly is about to take off.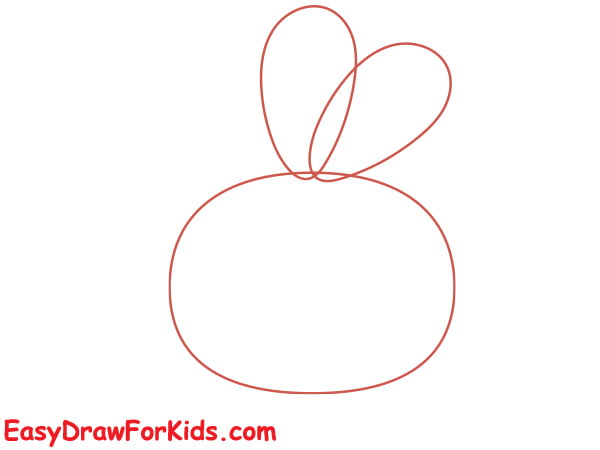 Step 3: Draw the Legs
The third step of this guide on how to draw a honey bee will focus on the legs of your honey bee:
On the lower half of the thorax, draw four lines that extend downward at angles for each leg.
Draw lines across the top of each leg to delineate the bee's six joints. Real bees have six legs!
At the end of each leg, draw a circle split down the middle for the bee's cute little feet.
You can have the bee standing statically, posed mid-walk or mid-flight, or even holding on to something like a flower or hive.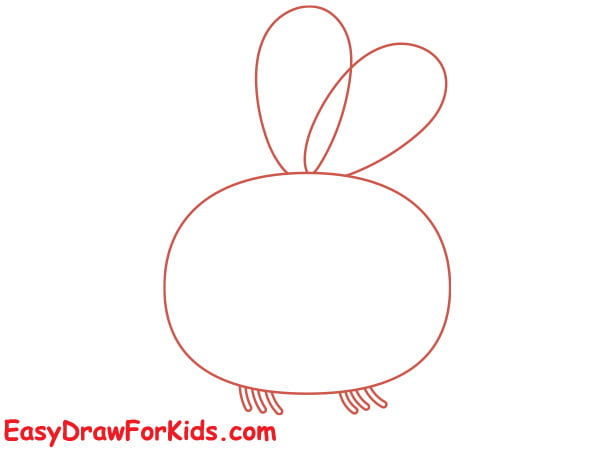 Step 4: Add the Antennae
No bee is complete without antennae, so let's draw those next:
Starting at the top of each antenna joint, draw a long, curved line that extends well above the bee's head.
Draw a second, shorter curved line under each antenna that forms a split shape.
Draw short, angled lines across each antenna segment to add detail.
Curl the end of each antennae into a spiral or loop shape.
The antennae should be symmetrical, and can twist, turn, cross each other, or drift off to the sides—get creative! They are important sensory organs for bees, so make sure to include plenty of detail.
Step 5: Add the Facial details
The bee's head comes next. To draw a cute face, follow these steps:
Make two small circles side-by-side near the bottom for the eyes.
Above each eye, draw a small arc or angle for the eyebrows to give the bee some expression.
Draw an arched line for the mouth. You can make it smile, frown, or keep it neutral.
Take your time on the face so the features look neat, proportionate, and appealing. The eyes, nose, mouth, and other details you add will give your bee personality!
Once you have the basics down, it's time to add finer details:
Draw black stripes across the bee's abdomen section using curved or jagged lines. Leave gaps between them.
Add smaller black stripes along the thorax and head. Vary the thickness.
Add minor details like fuzz, hair, or pollen touches as desired!
Varying the thickness, angles, and shapes of the stripes and details will make your bee more realistic.
But feel free to get creative and decorate your bee any way you want!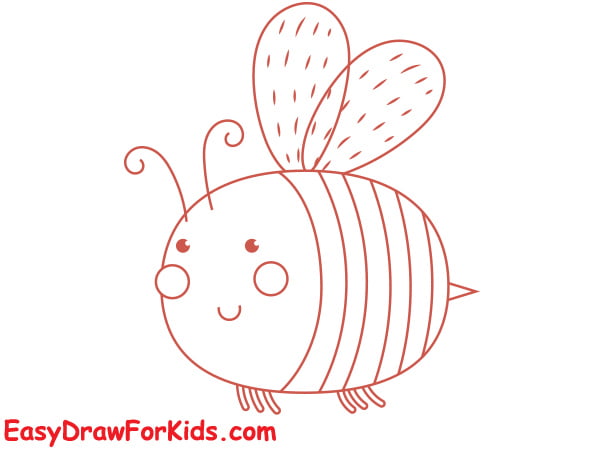 Step 6: Color the Bee
For the final step of guide how to draw a honey bee, let's add some color to bring our bee to life:
Color the abdomen and thorax stripes black. Use shiny yellow, orange or brown for the rest.
Make the wings transparent by coloring lightly or gradient-shading from top to bottom.
Color the eyes blue or purple, and leave the white circles as highlights.
Use black to accent the dark parts like the antenna joints and leg joints.
For the face, use tan, grey, or black, with pink, peach, or tan inside the mouth.
Shade the fuzz or hair details with grey or black. Add rosy cheeks if desired!
Play around with different color combinations like yellow and black, black and yellow-orange, or metallic colors like gold, silver, or iridescent tones. The options are endless when coloring a bee!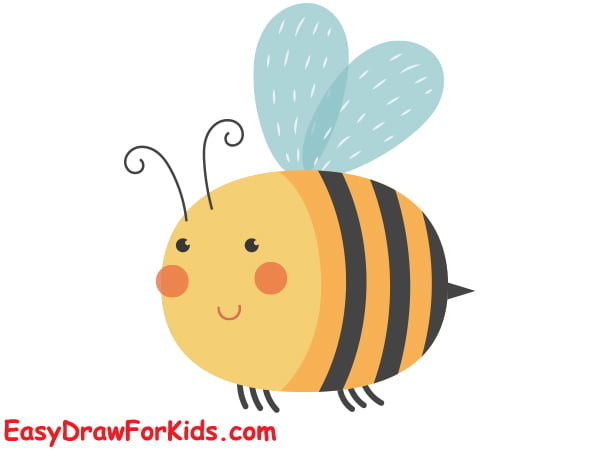 Conclusion
Congratulations, you now know how to draw a honey bee! With a bit of practice, you can quickly sketch a buzzing bee friend to show off your new artistic talents. Drawing bees is meditative and relaxing. Plus, bees are fascinating, essential creatures we should learn to appreciate.
For more bee inspiration, look up photos of honey bees, bumble bees, carpenter bees, and other bee species. Notice the subtle but beautiful differences between them. Then grab your pencil to draw a hive, field of flowers, or other bee habitats.
Drawing should be fun and creative. Don't worry about perfection. The more bees you sketch, the more comfortable you'll get with their basic shape and proportions. Let your imagination soar, and remember—bee creative!
You may also enjoy: