Are you fascinated by the graceful beauty of hot air balloons?
Do you want to learn how to draw a hot air balloon on paper?
Drawing a hot air balloon may seem like a daunting task, but with a step by step approach, it can be an enjoyable and rewarding experience.
In this article, we will guide you through the process of drawing a hot air balloon in simple and easy to follow steps.
How To Draw A Hot Air Balloon – Step By Step For Kids And Beginners
Hot air balloons are a classic symbol of imagination and adventure. Their spherical shape and bright colors make them visually interesting subjects for drawing.
When following the steps on guide how to draw a hot air balloon, feel free to get creative with patterns, shapes, and colors for a unique hot air balloon drawing.
The basic supplies needed are a pencil, eraser, paper, and coloring implements like markers, colored pencils, or crayons.
While simple lines and shapes are all that is needed for an outline, coloring adds life and dimension.
Add some blue sky, green grass, or other scenic elements to place your hot air balloon in an imaginative setting.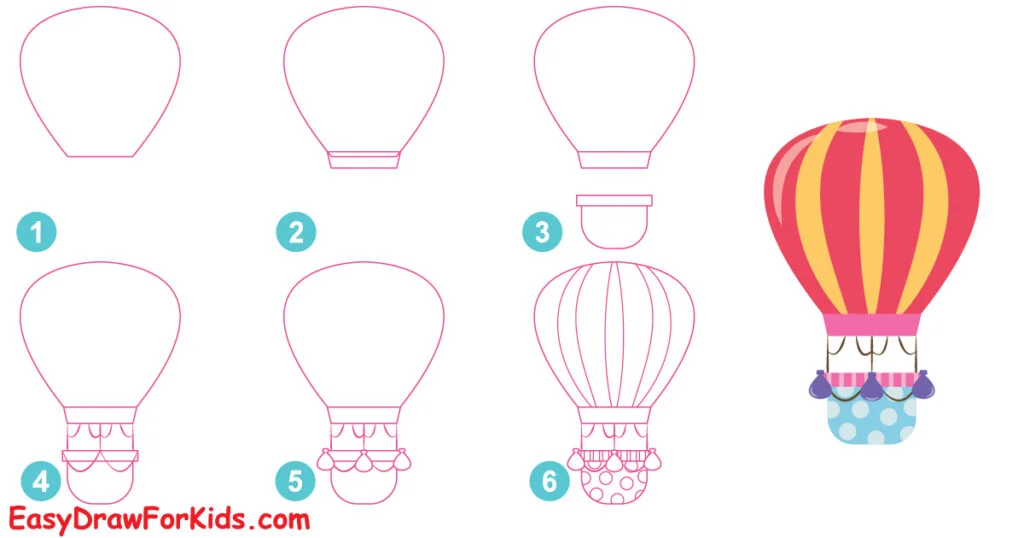 Follow along with the steps below to learn how to draw a hot air balloon. Feel free to get creative and add your own embellishments or backgrounds too!
Step 1: Draw the oval Balloon Shape
First, use your ruler to lightly draw a vertical oval shape near the center of your paper.
This will represent the balloon part of the hot air balloon.
Make sure to leave room at the bottom of the page for the basket.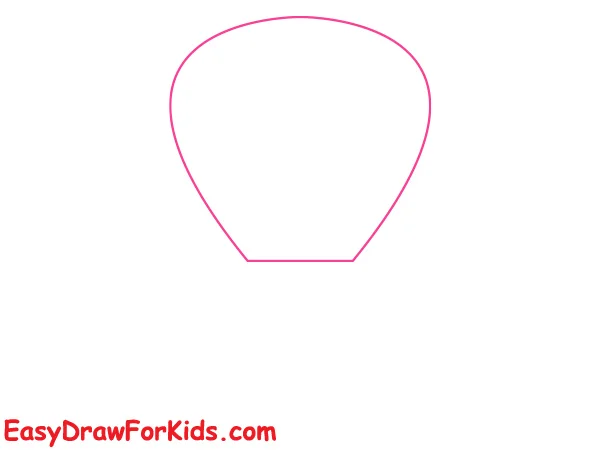 Step 2: Draw Burner
To give your hot air balloon a realistic touch, sketch a horizontal line near the bottom of the balloon.
This line represents the "burner" that produces the hot air.
Add a few small circles or dots above this line to depict the heat source.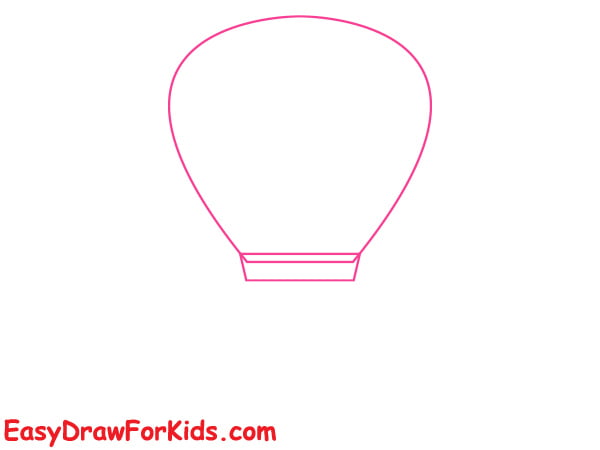 Step 3: Add the Basket
The third step of this guide on how to draw a hot air balloon will focus on the basket of your hot air balloon
Underneath the balloon outline, sketch a square or rectangle shape for the basket.
Make it large enough to visually balance the size of the balloon.
Draw a vertical line down the center of the basket and short horizontal lines across the edges to delineate strips of woven wicker.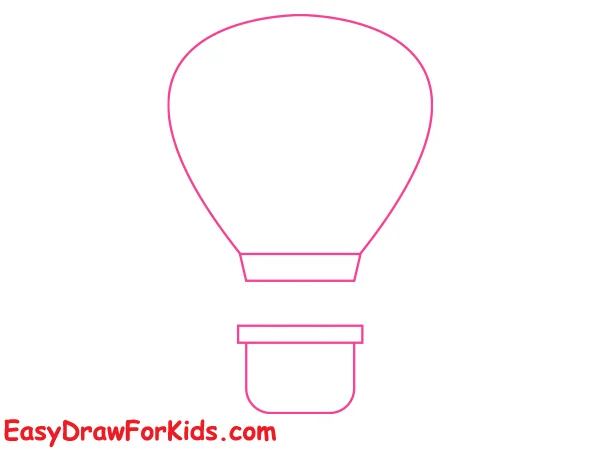 Step 4: Draw the Cable
Connect the basket to the balloon by drawing vertical lines between the corners of the basket and the bottom edge of the balloon circle.
These represent ropes and help establish the basket's three dimensional position underneath the balloon.
Add a few more ropes for additional detail if you prefer.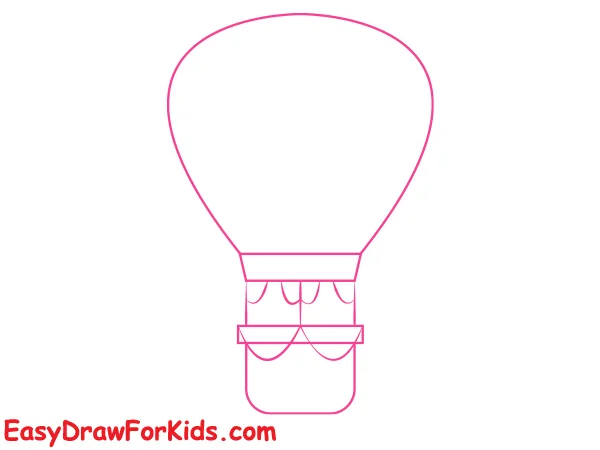 Step 5: Add some Sandbags
Older hot air balloons often have sandbags hanging from the basket to weigh them down a bit.
To do this, draw some small teardrop shapes coming down from the basket of the hot air balloon.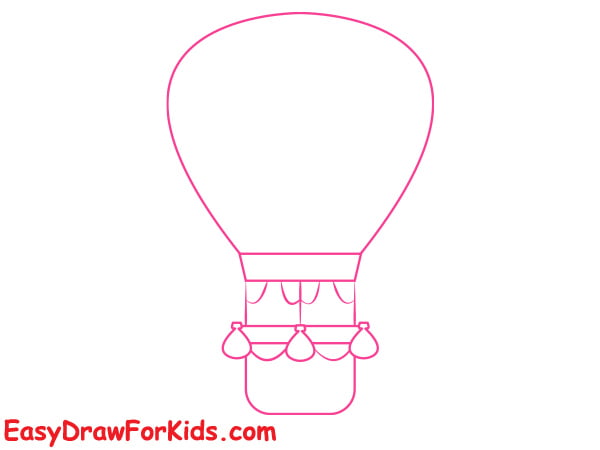 Step 6: Add the Details
Hot air balloons have separate sections divided by vertical and horizontal lines.
Lightly sketch curved vertical lines from top to bottom of the balloon to show its rounded, inflated shape.
Draw smooth curved lines across the center of the balloon to divide it into sections.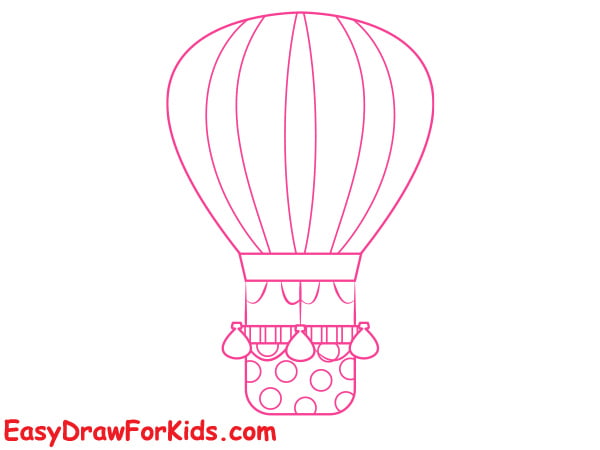 Step 7: Add Color
Now that we've successfully this guide how to draw a hot air balloon, it's time to bring your hot air balloon art to life with color!
Color the balloon with your choice of colors – try red, blue, yellow, orange, etc. You can use solid colors, stripes, or colorful patterns.
Color the basket brown like woven wicker. Add shading along the sides.
Shade the bottom of the balloon with a light gray to show the shadow cast below it.
Draw sky, clouds, and a landscape background. The horizon line should be slightly below the balloon basket.
Add any final details like birds, people looking up in the basket, or the balloon pilot.
And that's it – you now have a full color hot air balloon drawing to decorate and enjoy! With practice, you can develop your own unique hot air balloon style.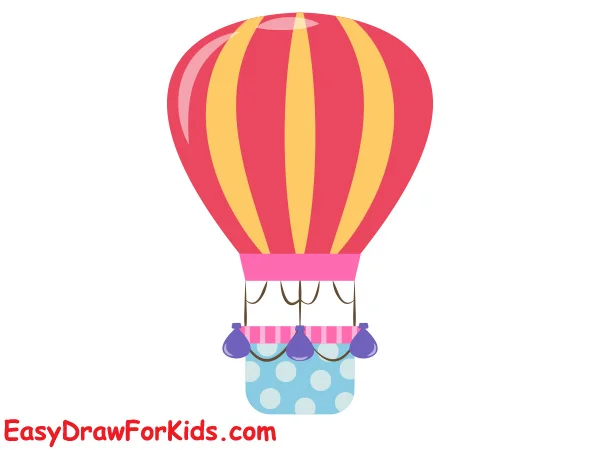 4 Hot Air Balloon Drawing Ideas and Examples
Here are 4 fun and unique ideas to practice drawing hot air balloons:
1. Tropical Scene with Palm Trees
Draw a bright, colorful balloon floating above palm trees and clear blue water. Use warm yellows, oranges, reds, and turquoise blue for a tropical mood. Add beach elements like sand, seashells, or fish.
2. Floating Over Mountains
Illustrate a hot air balloon drifting over snowy mountains and evergreen trees. Use a high, dramatic perspective looking down from the balloon at the peaks below. Add eagles, clouds, and tiny villages in the valleys.
3. Amusement Park Ride
Depict people riding in a hot air balloon over a carnival or amusement park. Show the balloon decorated with the park logo. Draw bright park rides and attractions below like a ferris wheel, bumper cars, and game booths.
4. Night Time City Skyline
Illustrate glowing city lights and skyscrapers at night viewed from a hot air balloon. Use dark blues and purples for the night sky, dotted with stars. Add tiny yellow windows lit up in the buildings below. Position bright moon beside the balloon.
Conclusion
Learning how to draw a hot air balloon is an enjoyable way to practice foundational artistic skills like shape, proportion, perspective, and color theory.
By following the simple step by step process outlined here, anyone can learn to draw a basic hot air balloon.
Add patterns, colors, backgrounds, and other embellishments to make each hot air balloon drawing your own.
Use these tips to start drawing cute, colorful hot air balloons to relax, focus, and express your artistic vision.
You may also enjoy: