Lighthouses have always been captivating symbols of the sea, illuminating dangerous coastlines and guiding sailors safely to harbor.
Their striking architecture and lonely vigilance over the ocean makes them an ideal subject to draw.
If you have a desire to capture the essence of these iconic structures on paper, you've come to the right place.
In this article, we will provide you with a comprehensive step-by-step guide on how to draw a lighthouse.
So grab your pencils, erasers, and drawing pad, and let's embark on this artistic journey together.
How to Draw a Lighthouse – A Step by Step Guide
Lighthouses have been used for centuries to warn ships of dangerous coastlines and hazardous rocks.
Their bright beacons of light help guide sailors safely to shore.
Lighthouses come in all shapes and sizes, but they often share some common features like a tapered cylindrical tower, gallery deck, lantern room, and more.
Drawing a lighthouse is a great way to practice sketching architecture and landscapes.
With just a bit of patience and the right techniques, you'll be creating your own coastal masterpieces in no time!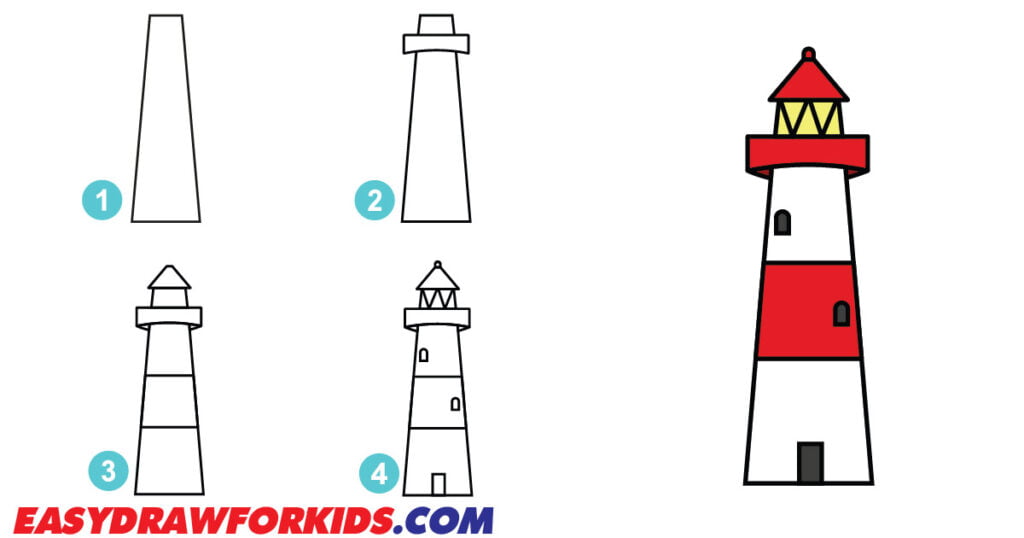 To begin, it's important to have a clear understanding of the basic structure of a lighthouse.
Lighthouses typically consist of three main components: the base or foundation, the tower, and the lantern room.
The base provides stability and support, while the tower houses the staircase that leads to the top where the lantern room is located.
Keep these elements in mind as you progress through each step.
Step 1: Sketch the Tower
In this first step in our guide on how to draw a lighthouse will focus on the tower.
Draw a tall, narrow cylinder shape for the tower of the lighthouse. Taper the cylinder slightly towards the top to give it dimension.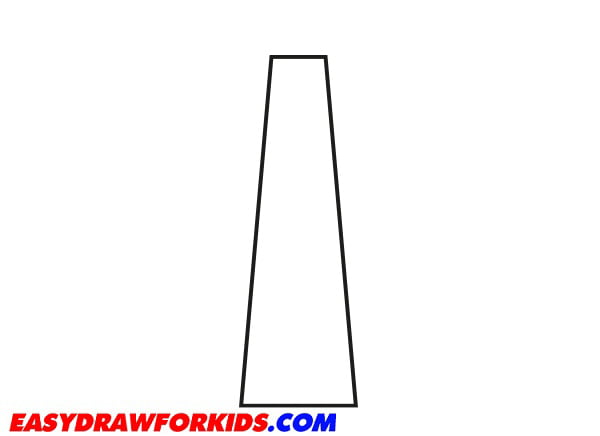 Step 2: Draw the Lantern Room
Draw a smaller rectangle or square on top of the trapezoid to create the lantern room of the lighthouse. This will be where the light is emitted.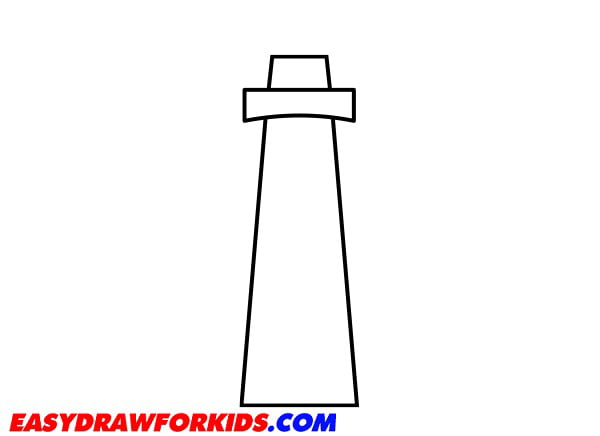 Step 3: Draw the Roof of Lighthouse
Draw a slightly tapered cylinder shape to represent the roof or dome of the lighthouse. The cylinder should be wider at the base and narrower at the top.
Add details to the tower by drawing horizontal lines across the main structure at regular intervals.
These lines will represent the different levels or sections of the lighthouse.
You can vary the thickness or spacing of the lines to add visual interest.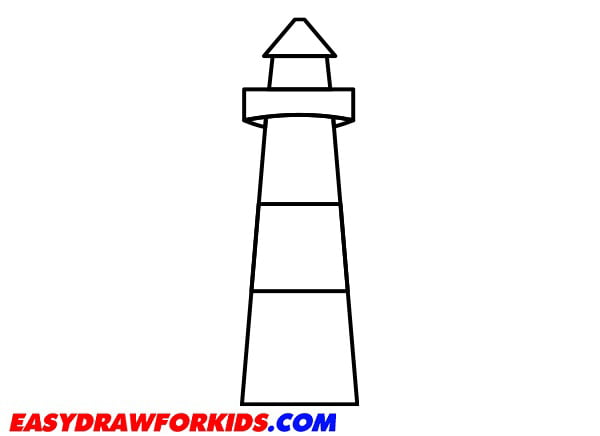 Step 4: Add Windows and Door
Draw crosshatch lines to indicate the glass panels.
Draw a circle at the top of the tower to represent the lantern room.
Sketch a door or entrance at the base of the tower by drawing a rectangular shape with a curved top. You can also add a few vertical lines or a doorknob for additional details.
Add windows to the tower by drawing small rectangles or squares between the horizontal lines. The windows can be evenly spaced or placed randomly.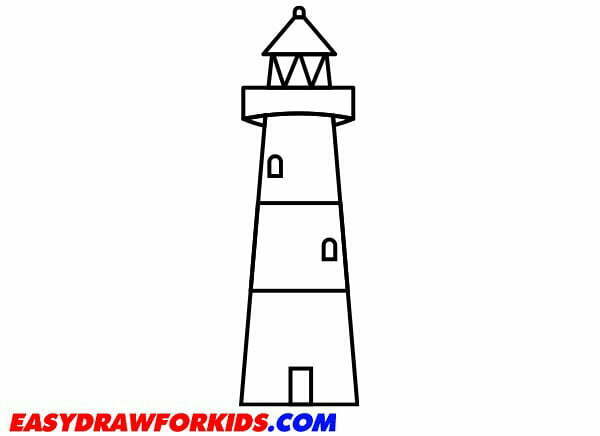 Step 5: Color the Drawing
Now that we've successfully this guide how to draw a lighthouse, it's time for the most exciting part. 
Lighthouses can be painted in various colors, but common choices include white or cream for the main structure, and red, black, or gray for the roof and lantern room.
You can also add shading or highlights to create depth and dimension.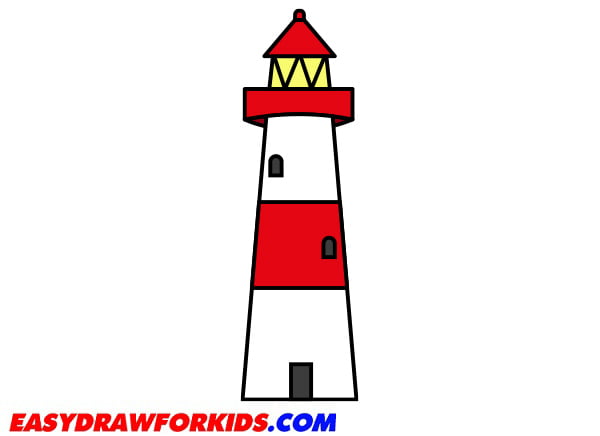 Tips for Drawing Lighthouses
Here are some helpful tips to keep in mind when learning how to draw a lighthouse:
Start with light lines in pencil so you can easily erase and adjust your sketch as needed. Once finalized, go over lines with pen or marker.
Use straight edges like rulers or books to draw clean lines for architectural elements like the tower and platforms.
Pay attention to perspective and make objects smaller the farther away they are in your scene.
Look at photo references of real lighthouses for inspiration on architectural details to include.
Draw squiggly lines for a seascape background and round shapes like clouds in the sky.
Add interesting textures like bricks, rocks, waves, grass, and wood grain.
Get creative with your lighthouse scene and setting! Add boats, birds, islands, coastal towns, and your own unique elements.
Conclusion
Drawing a lighthouse allows you to capture the essence of these magnificent structures, showcasing your artistic talent and appreciation for maritime history.
By following the steps outlined in this article how to draw a lighthouse, understanding the structure, and adding details and textures, you can create stunning lighthouse drawings.
Remember, practice makes perfect, so keep honing your skills and exploring your creativity.
Happy drawing!
You may also enjoy: