Pizza is an all-time favorite food for many people around the world, and it's not surprising that it has become a popular subject for art.
Learning how to draw a realistic and appetizing looking pizza can be a fun artistic challenge
With just a pencil and paper, you can create an appetizing masterpiece.
In this article, we will guide you through the step-by-step process of how to draw a pizza that looks good enough to eat.
How to Draw a Pizza: A Step by Step Guide
Drawing pizza can be a lot of fun, but it can also be challenging for beginners. Here are some examples of different styles of how to draw a pizza and how they compare to each other.
Realistic Pizza Drawing
A realistic pizza drawing looks like an actual pizza that you would see at a restaurant. This type of drawing requires a lot of attention to detail, shading, and texture. It's suitable for experienced artists who want to challenge themselves to create something lifelike.
Cartoon Pizza Drawing
A cartoon pizza drawing is more whimsical and less detailed than a realistic one. It usually has exaggerated features like big eyes, droopy cheese, and wavy sauce lines. This style is perfect for kids or anyone who wants to create a cute and playful pizza drawing.
Minimalist Pizza Drawing
A minimalist pizza drawing is simple and straightforward. It usually consists of just the basic pizza shape, sauce, cheese, and maybe one or two toppings. This style is perfect for those who want to create a quick and easy drawing that still looks good.
Here are two different styles you can try when you learn how to draw a pizza step by step
1. Cute Pizza Drawing Easy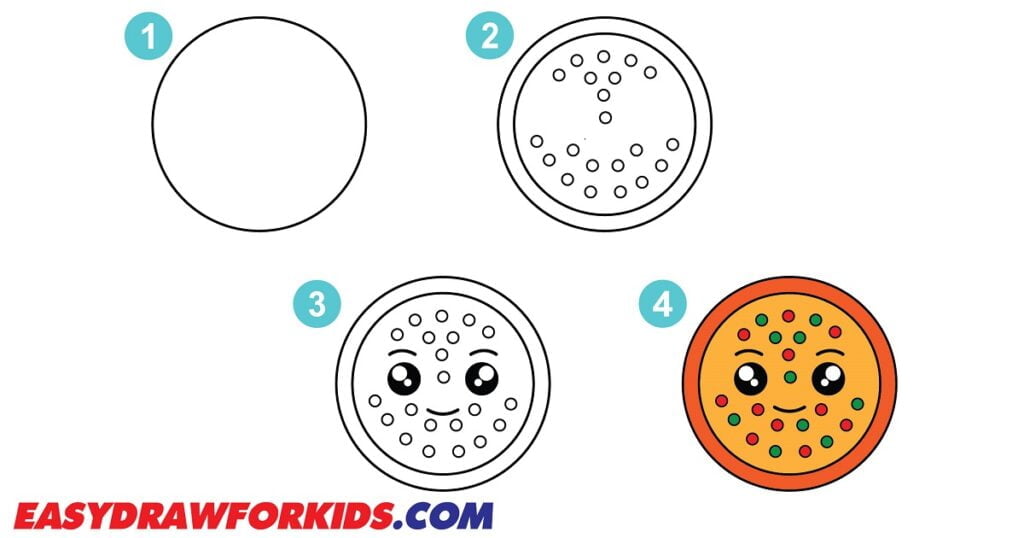 Step 1: Sketch Out the Pizza Shape
Since the base of a pizza is a circle, start by lightly sketching a circular shape near the center of your paper. Make it as large or small as you wish.
To draw the perfect circle, trace around the rim of a cylindrical object like a cup or bottle cap. Or if freehanding, use smooth, consistent lines and avoid pressing too hard on the pencil so you can erase mistakes.
Step 2: Add the Crust and Topping
Realistically, a pizza doesn't just have a circular outline. The crust actually has some thickness and texture to it.
To convey the crust, draw a second layer of outline just inside the original circle you drew. Leave a space of about 1/4 to 1/2 inch between the lines for the crust thickness.
Make this interior crust line a little uneven and imperfect looking. Vary the distance between the outer and inner ring just slightly. This adds realism and indicates handmade imperfections in the crust.
Now for the fun part – choosing and drawing your favorite pizza toppings! Here are some ideas for popular items to scatter across your pizza drawing:
Sausage – Draw small scattered curves and oblong lumps.
Mushrooms – Draw tiny circles and caps in clusters.
Onions – Draw small irregular circles and oval chunks.
Green Peppers – Draw small angular slices and rings.
Olives – Draw tiny circles and ovals.
Pineapple – Draw small circles and oval rings in clusters.
Mix and match multiple toppings how you prefer. Spread them out evenly over the pizza or cluster toppings together. Make sure to leave some bare sauce and cheese showing through for texture.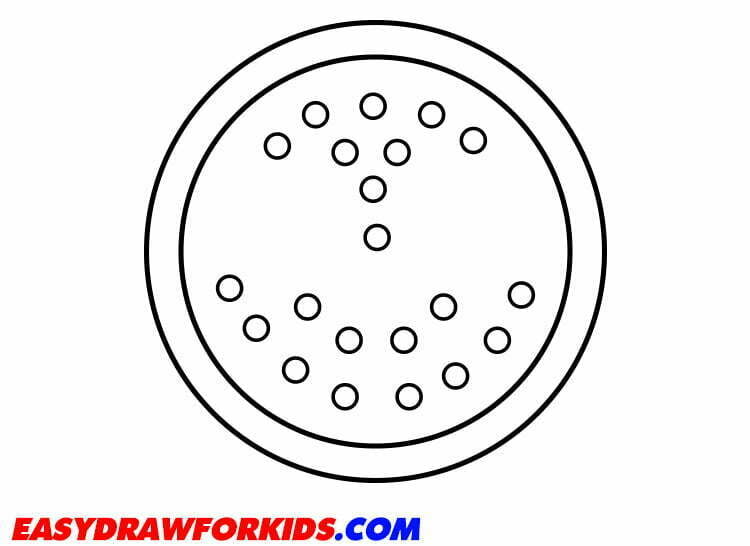 Step 3: Add the Facial
The third step of this guide on how to draw a pizza will focus on the facial of your cute pizza
Draw circles for the eye and small circles inside the eye for the pupils
Then draw the curved line for the smiling pizza's mouth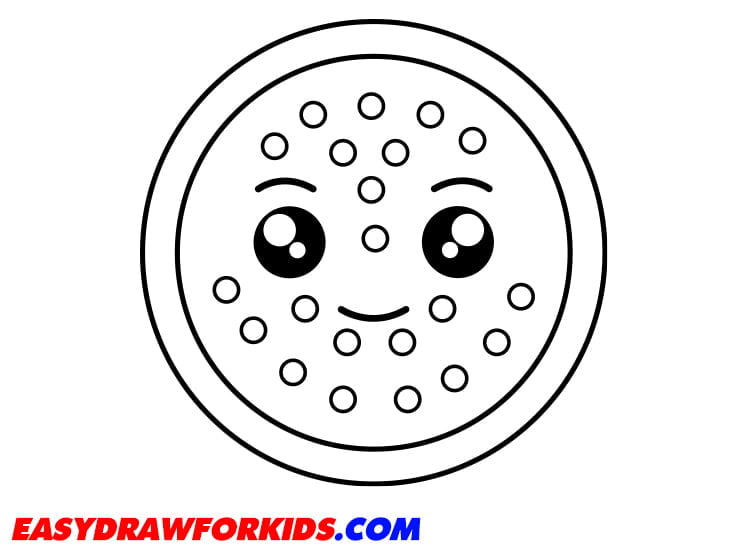 Step 4: Color the Drawing
Now that we've successfully this guide how to draw a pizza, it's time to bring your cute pizza art to life with color!
Use warm colors like red, orange, and yellow for the sauce and toppings.
Use cool colors like blue and green for the veggies. Don't forget to add some brown for the crust!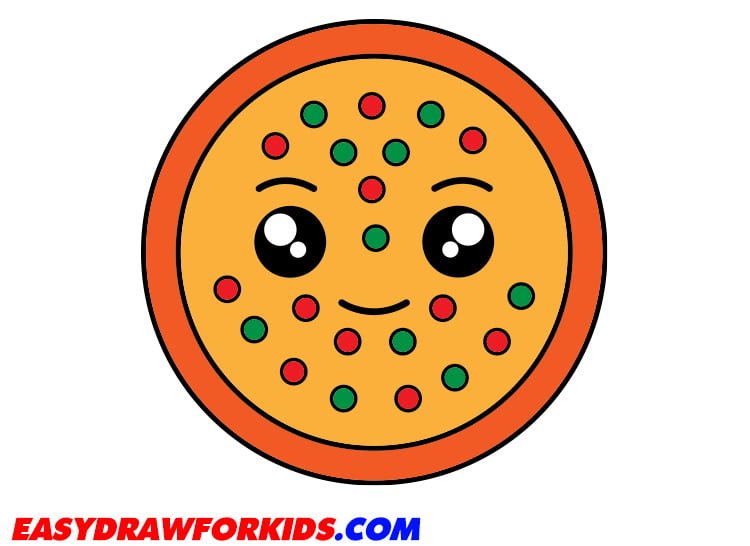 2. Pizza Slice Drawing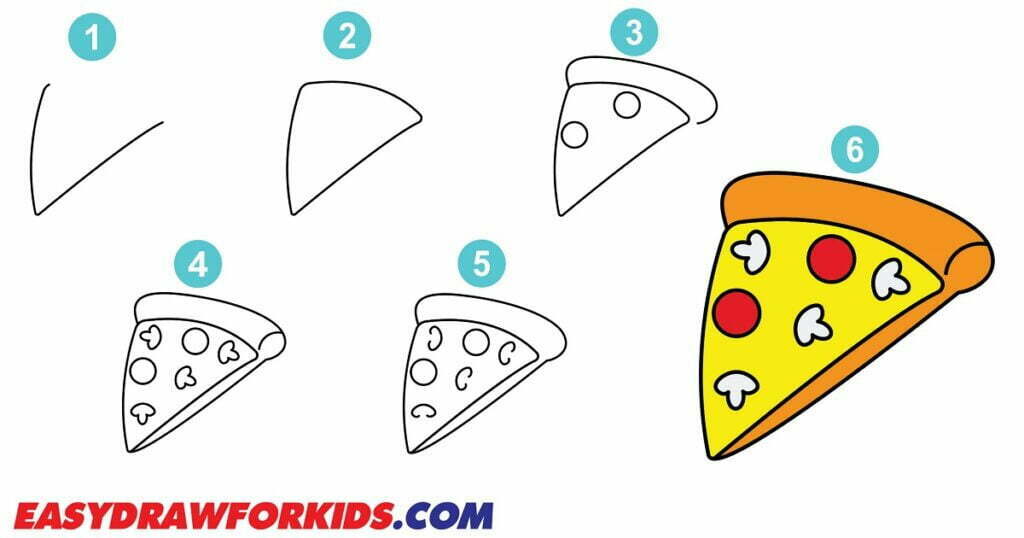 This guide on how to draw a pizza in 5 steps to help you drawing a pizza slice with ease!
Step 1: Depict the Pizza Slice
Using your pencil and ruler, very lightly sketch the basic shape of the pizza slice.
Draw triangle for the pizza slice as shown the picture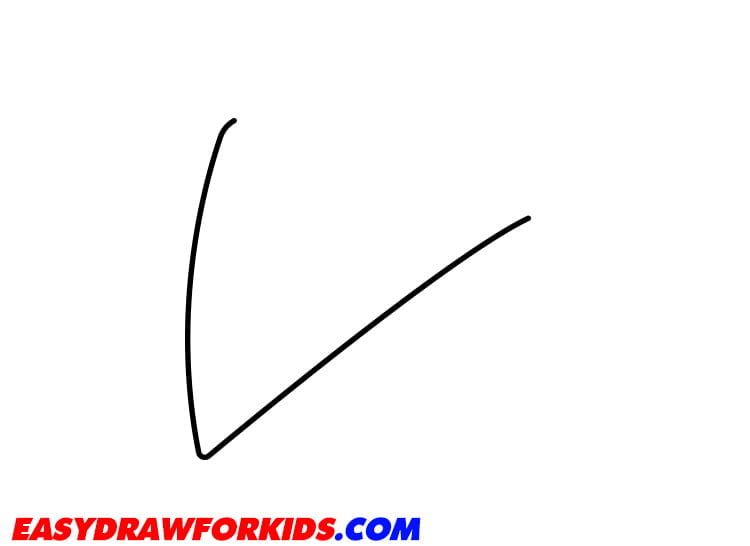 Step 2: Depict the Top of Pizza Slice
To do this, connect the two ends of the previously drawn lines with one curved line.
Step 3: Draw the Crust
Draw an oval shape for the crust
Make sure to leave plenty of room around the slice for details.
Use your kneaded eraser to erase and refine the shape until you have clean lines for the crust and slice.
Now you can artfully scatter your favorite pizza toppings across the slice, feel free to get creative with your drawing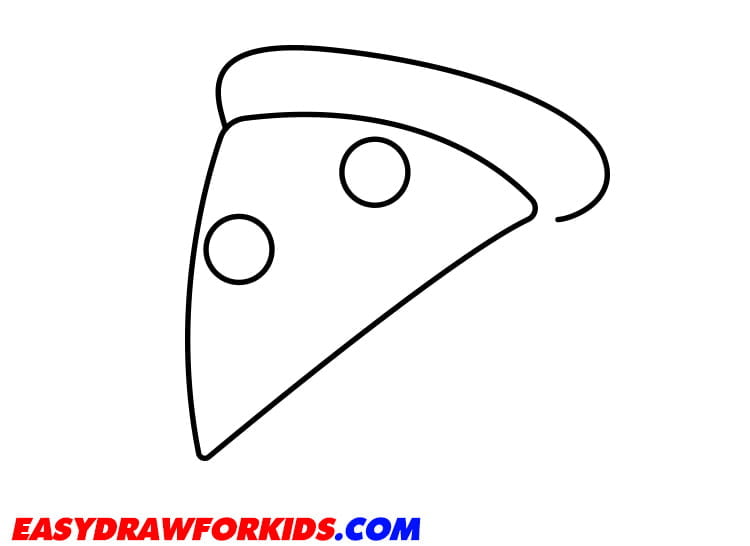 Step 4: Add the Mushrooms
Pizza crusts come in a variety of thicknesses. Decide if you want a thin or thick crust, then outline the bottom and sides accordingly.
Modify the thickness as needed until you're happy with the proportions.
Draw mushrooms using circles and ovals, leaving tiny gaps between them.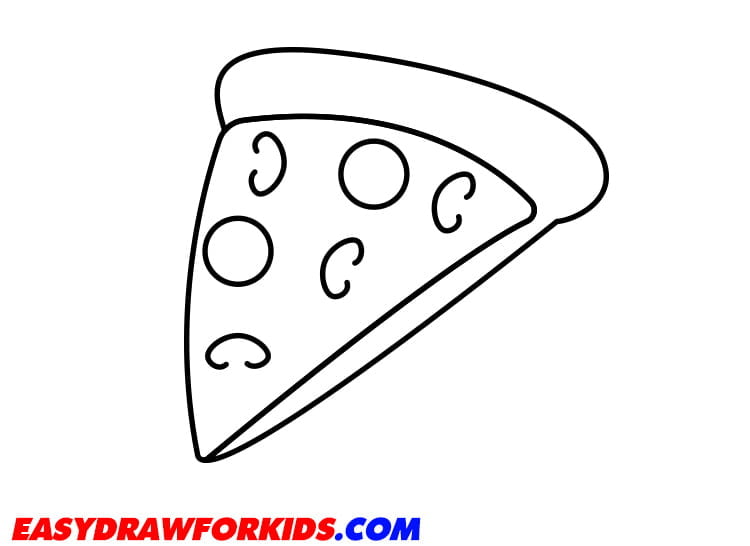 Step 5: Add the Details
The fifth step of this guide on how to draw a pizza will focus on the mushroom of your pizza slice
Draw curved lines for the trunk of the mushrooms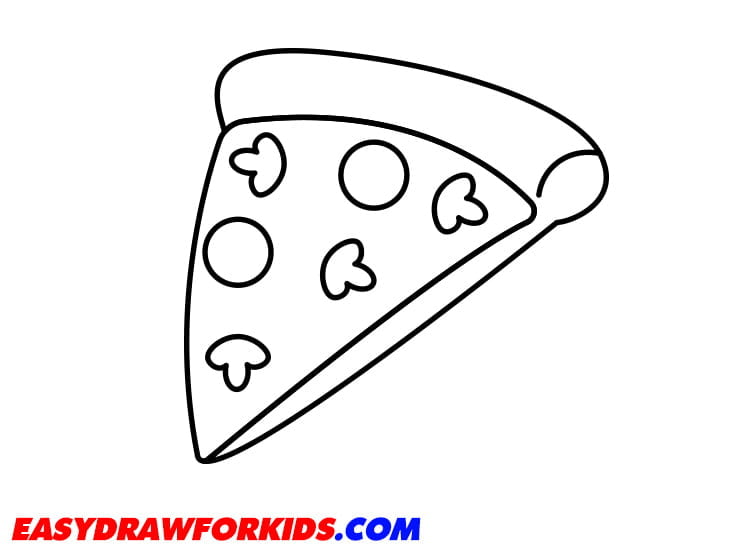 Step 6: Coloring Your Pizza Slice Drawing
If desired, you can leave your drawing in pencil or use coloring supplies to shade in your pizza. Apply varying colors to the crust, sauce, cheese and toppings to make your pizza look even more realistic and yummy.
Use light, smooth strokes for an airbrushed look. Avoid outlining colored areas heavily so they blend softly like real food. The shading you already applied will help define the form when adding color.
Choosing warm shades of brown, red, orange and yellow is an appetizing way to color a pizza drawing. But you can get creative and color your pizza any way you like!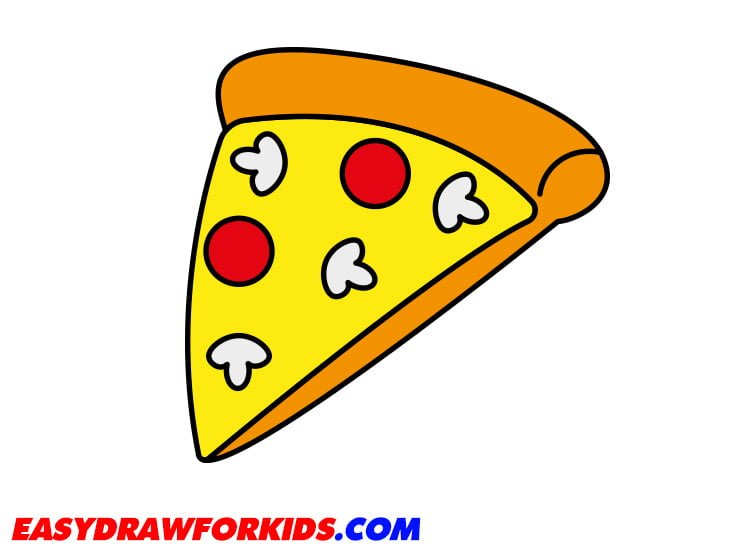 Congratulations! You've successfully learned how to draw a pizza.
Tips for Drawing Pizza
Here are some additional pointers to help you succeed in creating a tasty looking pizza drawing:
Lightly sketch shapes and lines at first, then trace over them darker once you have the placement right.
Use scattered overlapping shapes and variations in sizes for realistic toppings.
Blend shaded areas softly with a tortillon for smooth textures.
Look at photo references of real pizzas for inspiration.
Draw the pizza elements in proportion – the crust should be the largest part.
With a little practice following these steps, you'll be able to draw delicious looking pizzas of your own creation. Artistically rendering pizza and other foods is great practice for improving your still life and observational drawing skills.
Conclusion
In conclusion, learn how to draw a pizza can be a fun way to express your creativity and love for this beloved food.
Whether you prefer a realistic or a cartoon style, the process remains the same.
Start by gathering your materials, sketching out the shape of the pizza, adding sauce and cheese, topping it off with your favorite ingredients, and finalizing the details.
With a little bit of practice and experimentation, you'll be able to draw pizzas that look good enough to eat
However, I want to emphasize that drawing is a skill that takes time and practice to develop.
Don't be discouraged if your first attempts don't turn out the way you envisioned them.
Keep practicing, experimenting with different styles, and seeking inspiration from other artists.
You may also enjoy: