Pumpkin girls are a fun Halloween-themed drawing that can add a spooky yet cute element to your artwork.
With her vibrant orange complexion and hallween-inspired attire, she brings a touch of magic to any artwork.
If you've ever wondered how to draw a pumpkin girl, then you're in luck!
In this tutorial, we'll walk you through the steps of how to draw a pumpkin girl from start to finish using simple shapes and lines.
How To Draw A Pumpkin Girl – A Step by Step Guide
Pumpkin girls feature a round pumpkin for a head and body, with arms, legs, clothing, and other details added on.
The jack-o-lantern face is what really brings a pumpkin girl to life.
These spooky characters are popular for Halloween art, illustrations, and decorations.
Though the concept is simple, you can get creative with adding your own spin to the design through hairstyles, facial expressions, outfits, and accessories.
With just a pencil, paper, eraser, and your imagination, you can easily learn how to draw a pumpkin girl.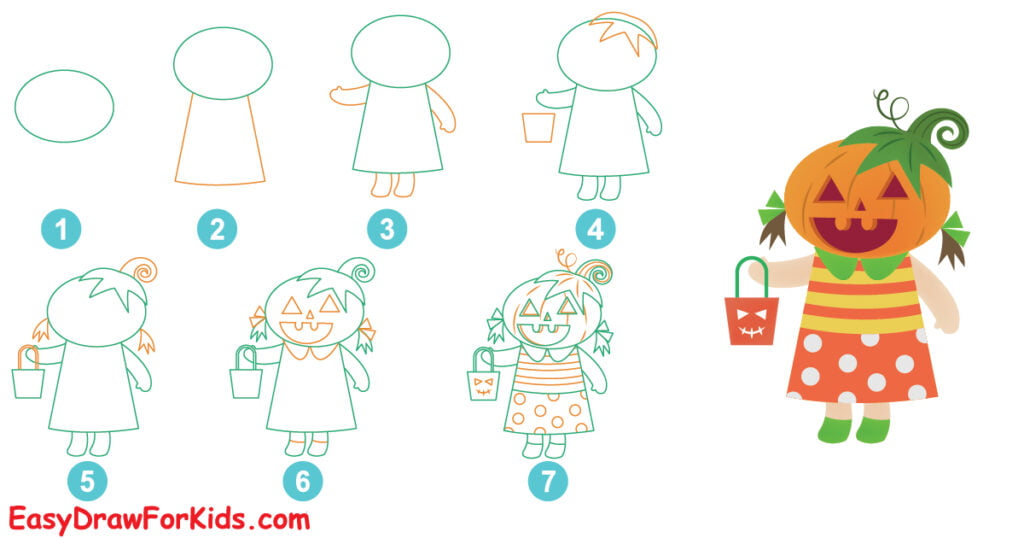 Step 1: Draw the Pumpkin Head
To begin, let's outline the basic shapes that will form the foundation of our pumpkin girl drawing.
Drawing a large circle near the top of your paper – this will be the pumpkin head.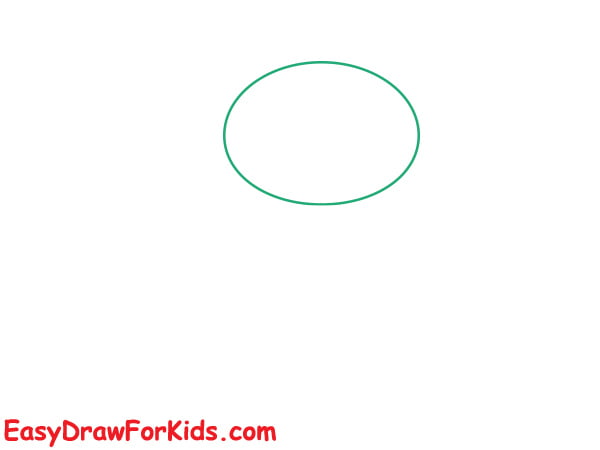 Step 2: Drawing the Body
Once you've perfected your pumpkin girl's head, move on to her body.
Use straight lines below the pumpkin head for her dress.
A simple dress is easiest, but get creative if you want to add more details.
Remember to keep the proportions balanced and ensure that the body complements the size of the head.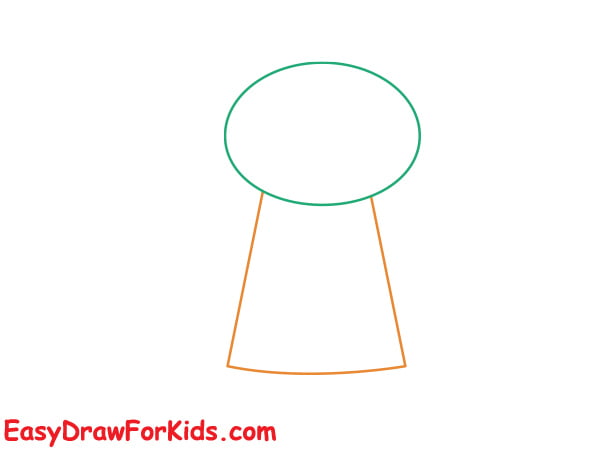 Step 3: Draw the Hands and Legs
The third step of this guide on how to draw a pumpkin girl will focus on the hands and legs of your pumpkin girl.
On each side of the body, draw lines for arms. At the ends, draw small circles or ovals for the hands. You can shape the arms bent or straight, crossed, waving, or holding objects.
In the space below the body, draw two vertical lines for the legs. At the bottom of each leg, draw a small circle or oval for the feet. Position the legs together or apart, at different angles, straight or bent.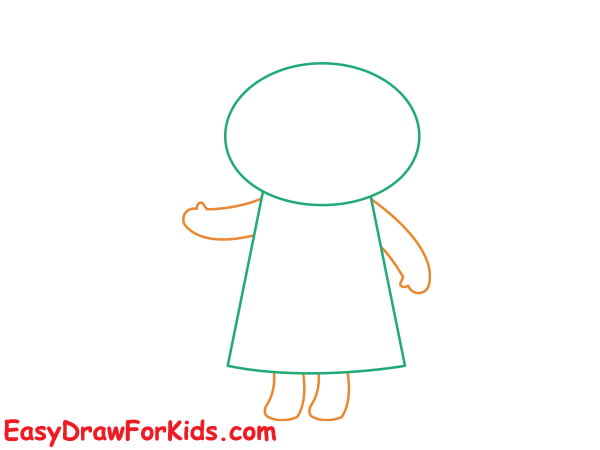 Step 4: Draw the Lantern
From the top of the oval, draw a curved line that follows the contour of the oval shape but with a slight indentation near the top. This represents the pumpkin's crease or where it connects to the stem.
At the end of one arm, draw a rectangle shape to represent the lantern. Slightly elongated vertically to give it a lantern-like appearance.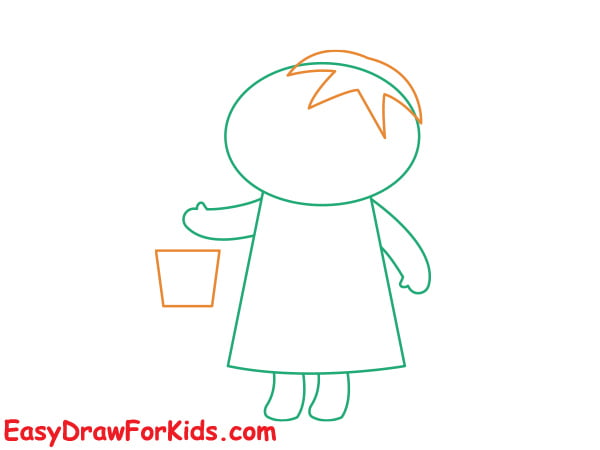 Step 5: Draw Accessories
Draw a stem at the top of the pumpkin girl's head. It should be curved and extend slightly upward.
Now, let's give our pumpkin girl some hair! Draw flowing hair on both sides of the head, using loose and curvy lines to bring movement to the overall composition. Feel free to experiment with different hairstyles and lengths to suit your preference.
Add a handle to the lantern by drawing a curved line extending upward from the top of the circle. Then, draw vertical lines on the lantern to represent the panels or glass sections.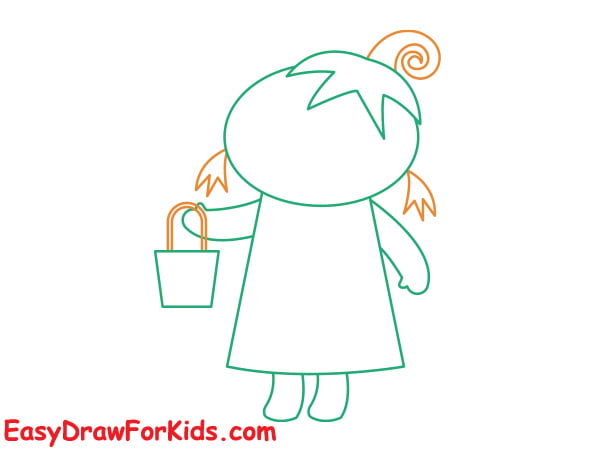 Step 6: Add the Pumpkin Face
In this step on guide how to draw a pumpkin girl, we will focus on adding the facial features to bring our pumpkin girl to life.
Draw two eyes with triangle, near the top half of the head.
Below that, draw a nose in the shape of a smaller triangle.
Finally, add a mouth by drawing a wide upside down U shape.
You can make any kind of jack-o-lantern face you like – try making it look happy, scary, silly or cute.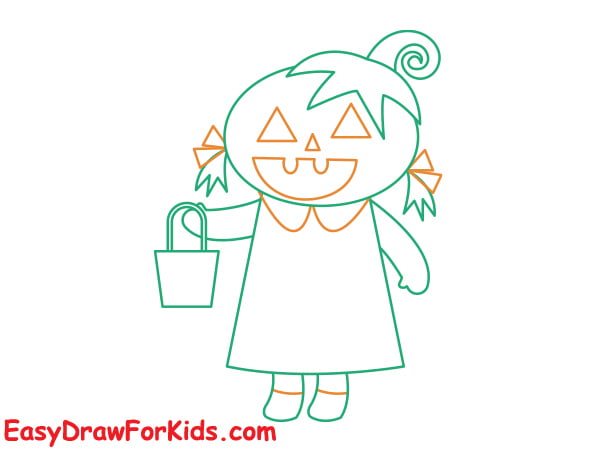 Step 7: Adding Details
To make our pumpkin girl even more charming, it's time to add some details and accessories.
Begin by drawing two curved lines inside each eye to represent the eyelids.
Next, draw eyebrows above the eyes, allowing them to follow the curve of the pumpkin shape.
You can also add freckles or other facial details to enhance her character.
Sketch the pumpkin's dress. You can add frills, ruffles, or patterns to make it look more girlish.
The dress should have a wide and flowing shape, resembling the silhouette of a pumpkin.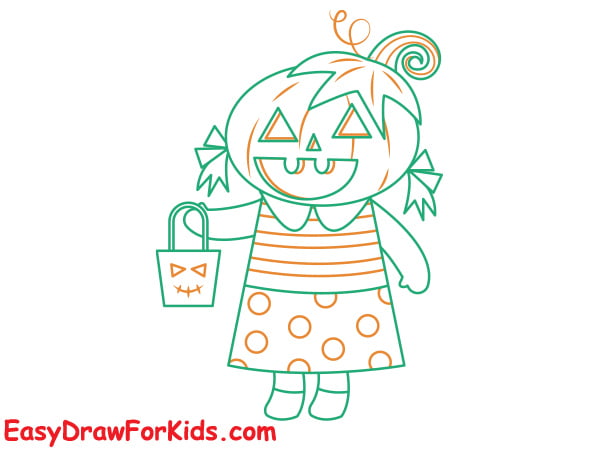 Step 8: Adding Color
Pumpkin girls are even more fun when colored in. Stay traditional with an orange pumpkin head and green dress. Or get creative with other color schemes:
Purple, black, and neon green for a witch or monster
Warm browns and reds for an autumn pumpkin look
Light blues and pinks for a sweet pastel character
Silvers, whites, and greys for a moonlit pumpkin
Rainbow colors for a vibrant patchwork doll
The colors you choose can further express your pumpkin girl's personality. A bright, colorful palette creates a cheerful and cute look. Darker, muted tones make her look mysterious and spooky. Match her colors to a theme, like candy corn, bats, or vampires.
Don't forget to add accents like striped tights, sparkles, or polka dots. These extra details will make your pumpkin girl pop.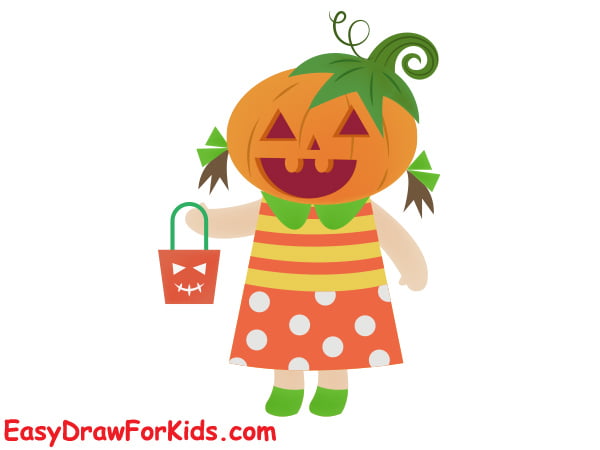 Creating Different Versions
Once you have the basics down, have fun exploring different variations on the pumpkin girl theme. Here are some ideas:
Pumpkin Princess – Draw a fancy crown and scepter. Add a glittery dress and glass slippers. Give her long flowing hair and elegant details.
Pumpkin Witch – Dress her in a witch's hat and cape. Add a broomstick and cauldron accessories. Draw patches and warts on her pumpkin head.
Patchwork Doll – Use different shapes, fabrics, and stitches to make her look sewn together. Include yarn hair, button eyes, and rag dress.
Pumpkin Queen – Create an elegant autumn queen with a pumpkin gown, crown of leaves, and scepter of vines. Surround her with woodland creatures.
Pumpkin Superhero – Design a heroic costume with mask and cape. Give her bold colors and strong pose. Add sidekick ghosts, cats or bats.
Let your imagination run wild! Brainstorm how to make your pumpkin girl into any character that inspires you. The possibilities are endless.
Tips for Drawing Great Pumpkin Girls
Congratulations! You've successfully learned how to draw a pumpkin girl .Here are some pro tips for taking your pumpkin girl art to the next level:
The facial features will bring your pumpkin girl to life. Spend time perfecting the eyes, nose, mouth and getting the expression just right.
Look at photos of real pumpkins, Halloween costumes or dolls for inspiration. Observe how light and shadows look on real pumpkins.
Add interest by drawing lines, stitches, patches and other markings on her pumpkin, clothes and accessories.
Make sure facial features are evenly spaced and arms/legs match to create a pleasing sense of balance.
Master the basics before adding advanced poses, perspectives or detailed backgrounds. Simple solid colors are ideal when starting out.
Keeping these tips in mind will help you create charming, professional looking pumpkin girl art. But most importantly, relax and have fun doodling all kinds of quirky pumpkin girls. Don't be afraid to make mistakes and let your creativity shine!
Conclusion
Drawing cute yet creepy pumpkin girls is an enjoyable way to get into the Halloween spirit and exercise your artistic skills.
Start simple with basic pumpkin shapes. Then add creative details like hair, clothes and accessories to bring your unique pumpkin girl to life.
Explore different themes from pirates to princesses. Use vibrant colors and fun textures.
Follow the above steps and tips on guide how to draw a pumpkin girl, but don't be afraid to experiment and find your own style.
Most importantly, remember drawing should be enjoyable!
Relax, have fun and let your imagination shine, whether creating one quick pumpkin girl doodle or an entire collection of whimsical produce characters.
You may also enjoy: