Discover the Art of Drawing Snails with Ease!
Do you have a fascination for nature's gentle creatures?
Are you looking to enhance your artistic skills and learn how to draw a snail?
You've come to the right place! In this comprehensive guide, we will take you on an exciting journey into the realm of snail drawing.
Whether you're a beginner or an experienced artist, we'll provide you with easy to follow steps, insightful tips, and creative techniques to bring these marvelous mollusks to life on paper.
So grab your pencils and let's get started!
How to Draw a Snail: A Step by Step Guide
Before embarking on your snail drawing adventure, it's essential to assemble the necessary art supplies. Here's a list of items you'll need:
Pencils
Eraser
Drawing paper
Blending stump
Colored pencils or watercolors (optional)
Now that you're ready with your tools, let's move on to the next step!
In this beginner's guide, we'll show you how to draw the snail in easy steps with two styles.
1. Drawing a Cartoon Snail
Snails are gastropods known for their spiral shells and soft bodies.
They possess a head, foot, tentacles, eyes, and a coiled shell.
Take a moment to observe reference images of snails to grasp their distinctive features.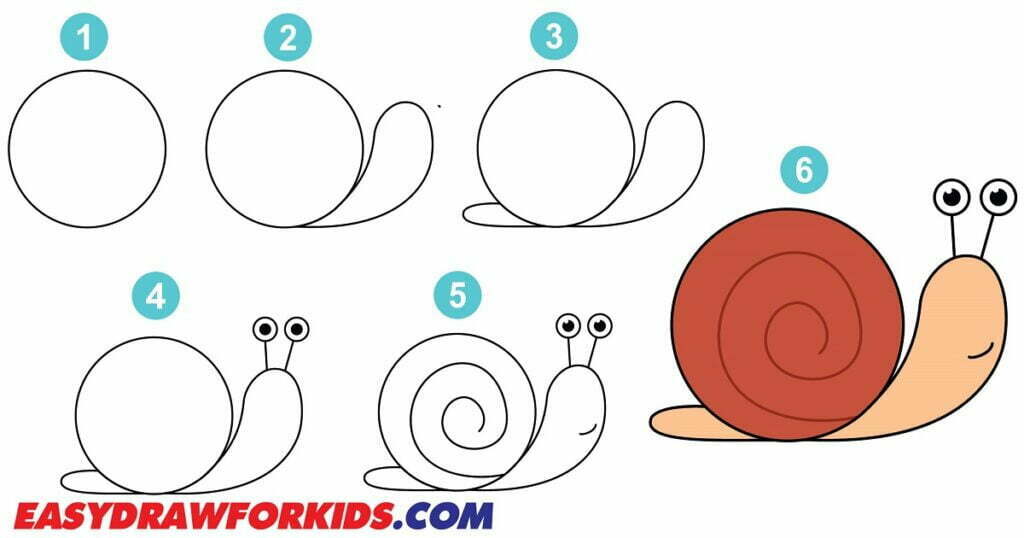 This guide on how to draw a snail in 6 steps to help you drawing a cartoon snail with ease!
Step 1: Sketching the Shell of the Snail
In this first step in our guide on how to draw a snail is drawing a large circle. Take your time and do it carefully.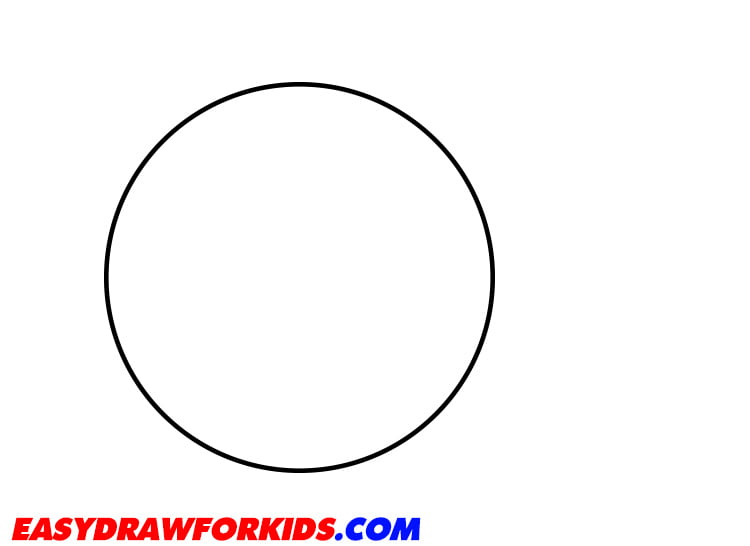 Step 2: Sketch out the Outline of the Snail's Head
Depict the outline of the snail's head by using one rounded line, as shown in the picture.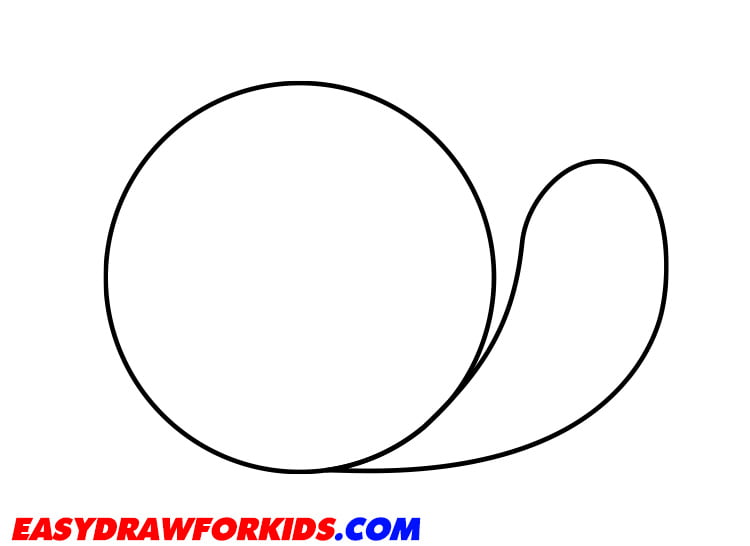 Step 3: Sketch out the Lower Body of the Snail
Continue the drawn line with another curve line, depicting the pointed torso.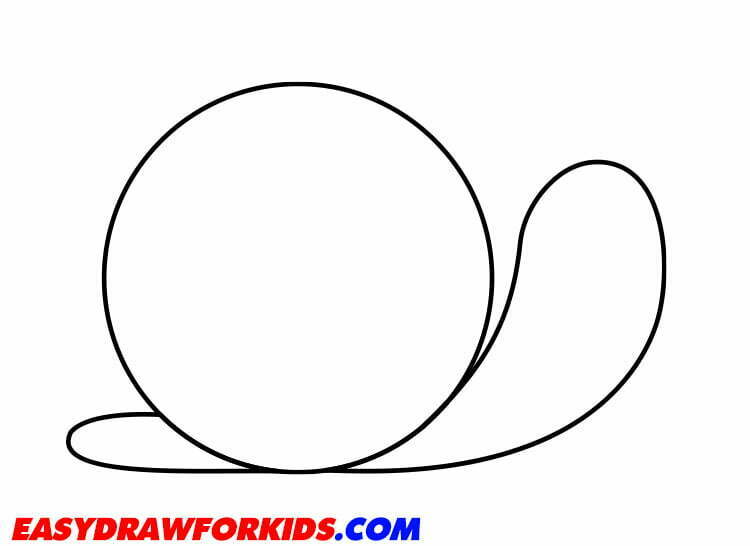 Step 4: Adding Tentacles and Eyes
Snails have a pairs of tentacles on their heads.
Carefully draw these tentacles protruding from the snail's head, ensuring they curve gracefully.
Place small dots at the end of the upper tentacles to depict the eyes.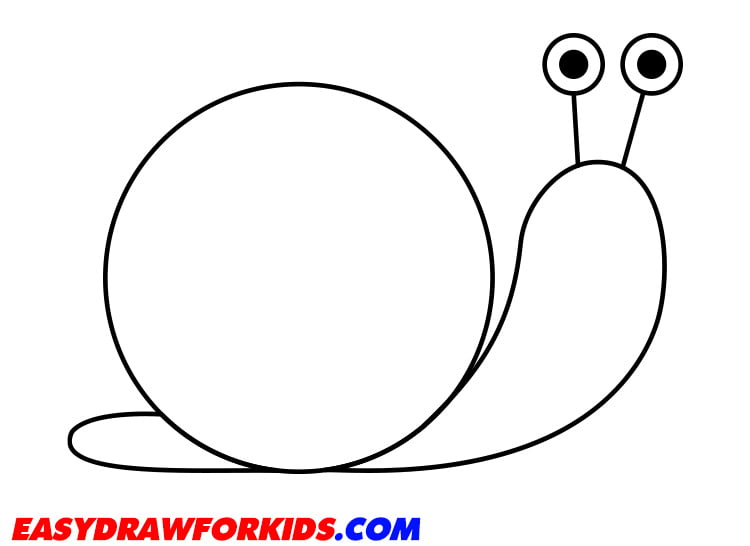 Step 5: Detailing the Shell
Now it's time to focus on the most recognizable feature of a snail the shell!
Enhance the shape you sketched earlier by adding spiral lines that radiate outwards.
These lines should follow the contour of the shell, gradually increasing in size as they approach the outer edge.
Take your time with this step, as it helps create depth and realism in your drawing.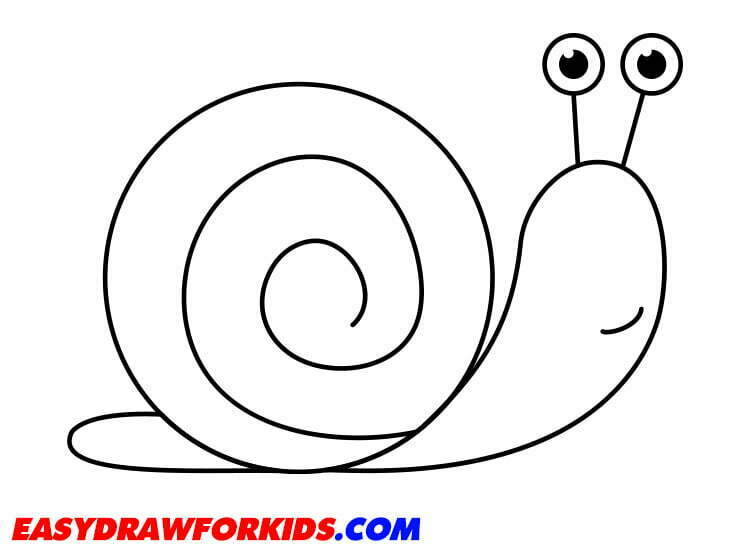 Step 6: Color the Drawing
Color your cartoon snail with bright, solid hues – like purple, green, yellow, or blue. Outline in black ink.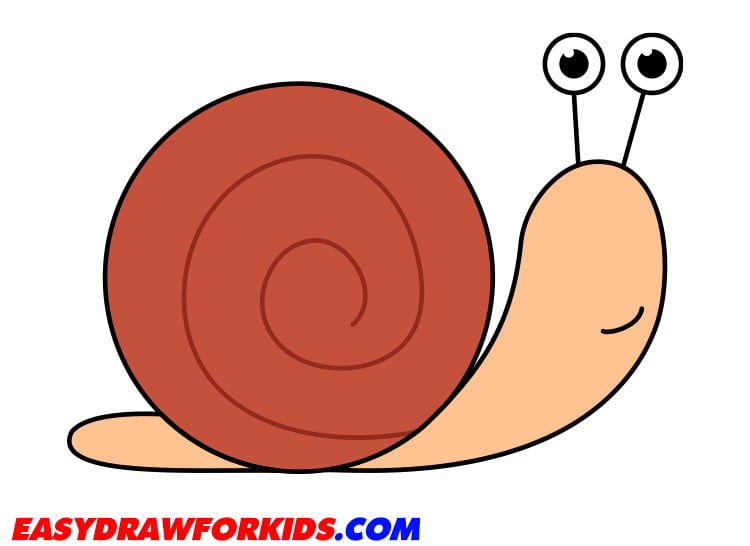 2. Snail Drawing Easy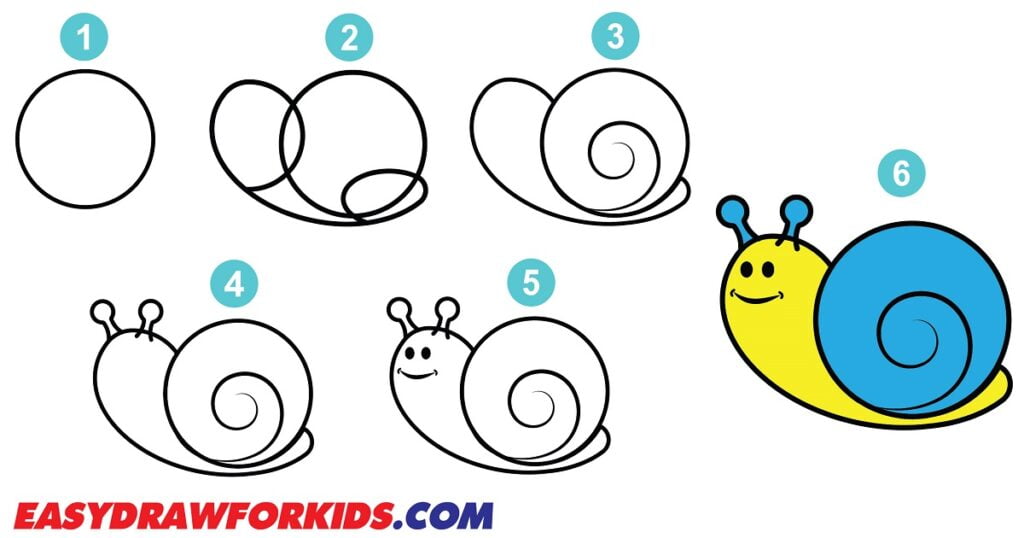 Step 1: Depict the Snail's Shell
To do this, draw a large circle at the center of the paper for the snail's shell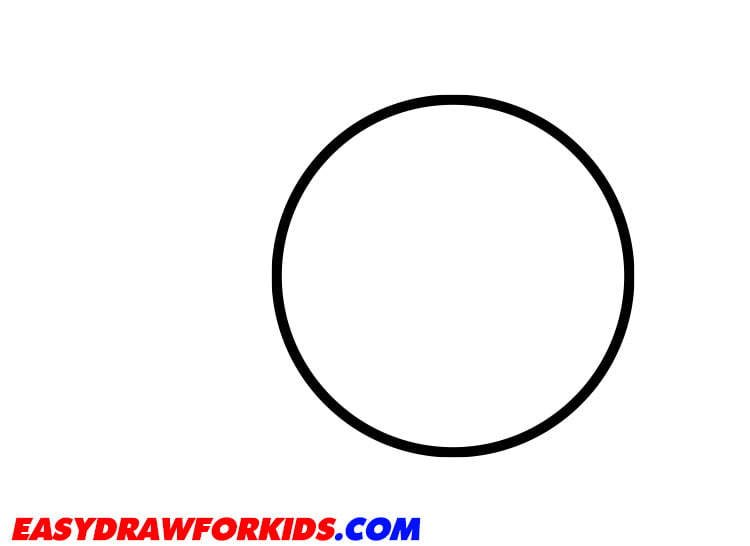 Step 2: Depict the Snail's Body
Begin by lightly sketching a simple oval shape for the snail's body. This will serve as the foundation for the rest of your drawing.
Remember to keep your lines light and loose, as they will be refined later.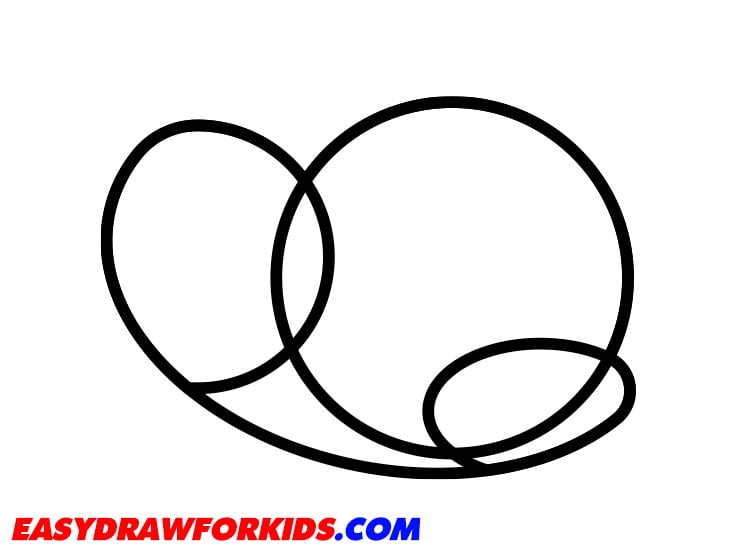 Step 3: Sketch out the inside of the Snail's Shell
Use an eraser to remove any unnecessary guidelines.
Draw spiral lines that radiate outwards.
These lines should follow the contour of the shell, gradually increasing in size as they approach the outer edge.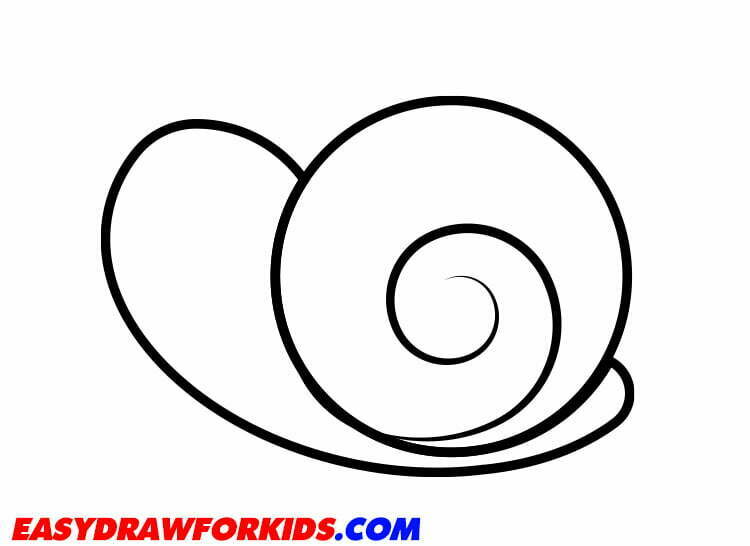 Step 4: Depict the Horns of the Snail
Draw the horns at the top of the snail's head by using arcs and small circles.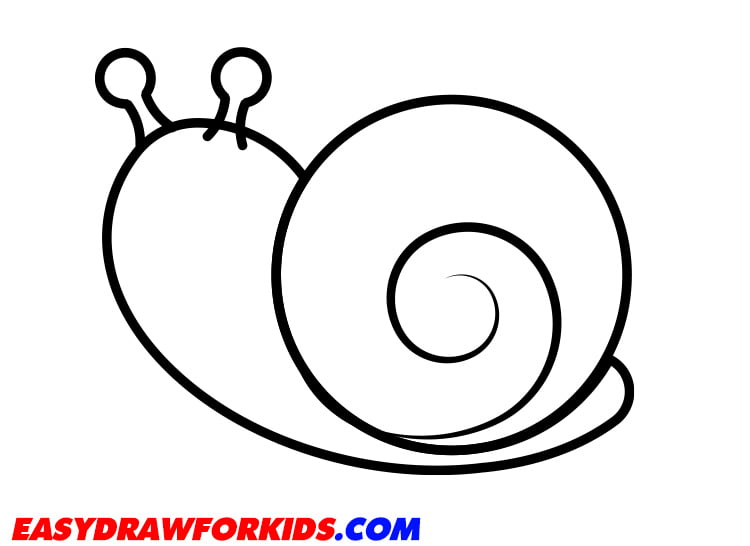 Step 5: Add the Elements of the Muzzle
Draw two small dots for the eyes and a curve line for the smiling mouth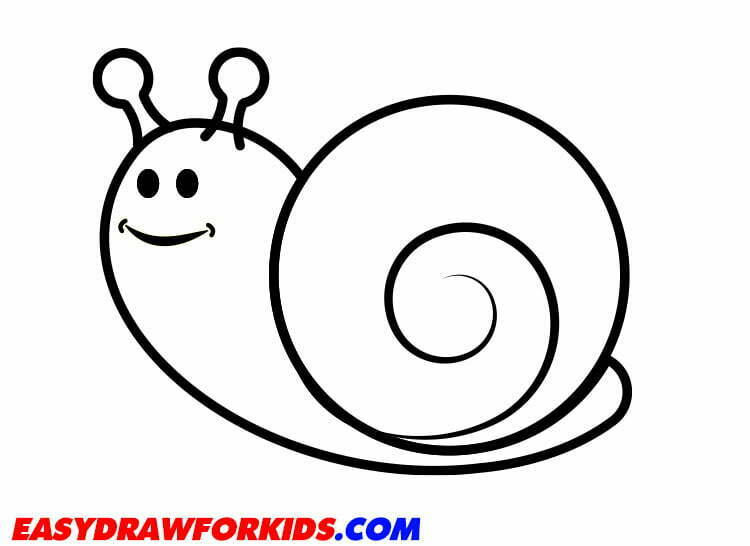 Step 6: Color the Picture
The last step of the lesson about how to draw a snail is coloring your drawing.
You can coloring as shown the picture or by your style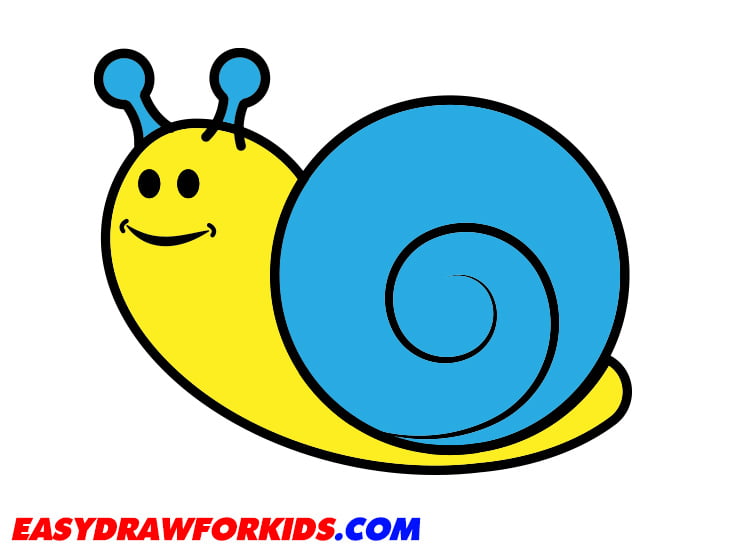 Congratulations! You have successfully learned how to draw a snail from scratch.
With practice, patience, and creativity, you'll continue to refine your skills and develop your unique artistic style.
So keep experimenting, exploring, and expressing yourself through art!
Examples of How to Draw a Snail
Here are some examples of snail drawings that you can use as inspiration:
Cartoon-style snail: This type of snail drawing is perfect for children's books or illustrations. Start with a large circle for the body and add a smaller circle for the head. Then, draw the snail's shell with a spiral shape and add eyes and antennas. For the snail's foot, draw a simple curved line.
Realistic snail: If you want to create a more realistic snail drawing, start by sketching the snail's body and shell with basic shapes. Then, add details such as the texture of the shell and the wrinkles on the body. Don't forget to shade your drawing to give it a 3D effect.
Cute snail: A cute snail drawing can be achieved by making the body and head rounder than usual. Add big, adorable eyes and small antennas. You can also add some blush marks on the cheeks to make your snail look even cuter.
Tips for Snail Drawing
Here are some tips on guide how to draw a snail to help you improve your snail drawing skills:
Practice regularly: The more you draw, the better you become. Set aside time every day to practice your snail drawing skills.
Study references: Look at pictures of real snails or other artists' work for inspiration and guidance.
Experiment with different styles: Try out different styles of snail drawing to find what works best for you.
Use basic shapes: When drawing a snail, try to break down its form into basic shapes, such as circles and triangles. This will help you create a more accurate and proportionate drawing.
Have fun: Drawing should be a fun and enjoyable experience. Don't worry about making mistakes, as they are part of the learning process.
Conclusion
Now you know how to draw a snail.
Drawing a snail may seem like a daunting task at first, but with the right guidance and a little practice, it becomes an enjoyable and rewarding experience.
By following the step by step instructions outlined in this guide, you've discovered the secrets to capturing the essence of these mesmerizing mollusks on paper.
Remember, art is all about self expression, so don't be afraid to add your own personal touches along the way.
Embrace the journey and let your imagination flourish as you embark on new artistic endeavors.
You may also enjoy: