Are you struggling with drawing a realistic strawberry?
Fear not, because in this step-by-step tutorial we will provide you with a comprehensive guide on how to draw a strawberry.
By following these simple steps, you'll be able to create a beautiful and lifelike strawberry drawing.
How to Draw a Strawberry: A Step by Step Guide
Strawberries are a fun, easy fruit to draw and are great for practicing shading and texture.
Before you start drawing a strawberry, it's essential to understand its anatomy.
A strawberry has several parts, including the stem, calyx, seeds, and flesh.
The stem is the green part that connects the strawberry to the plant.
The calyx is the leafy part attached to the stem, and the seeds are tiny yellow dots found all over the surface of the strawberry.
The flesh is the red part of the strawberry that we usually eat.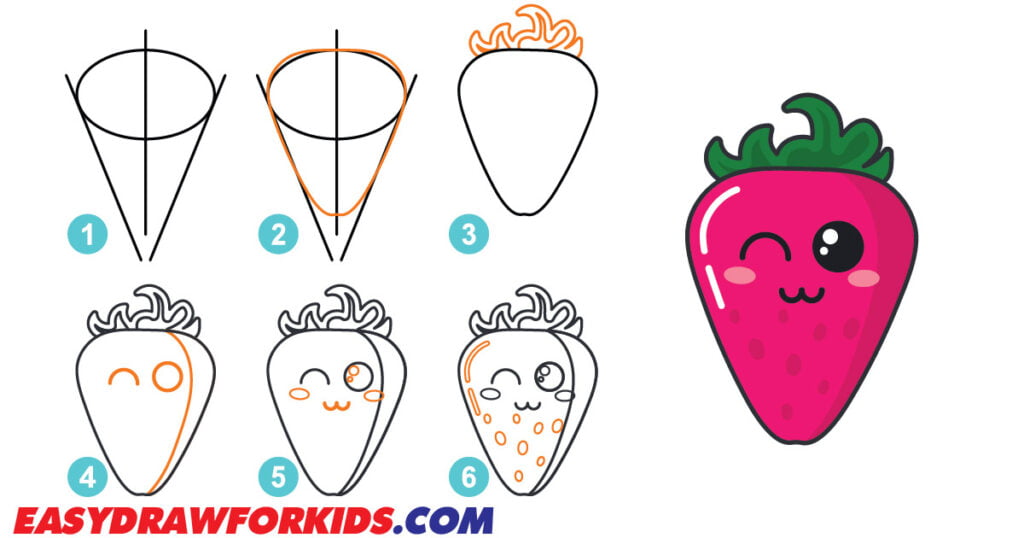 Now that you have an understanding of the anatomy of a strawberry, let's dive into the step-by-step guide on how to draw a strawberry.
Step 1: Draw a line of symmetry
We shall start things nice and simple in this first step of our guide on how to draw a strawberry!
Lightly sketch an oval shape to outline the basic form of the strawberry.
Then draw a vertical line to establish the center.
From the side of oval shape, draw two diagonal lines that extend outward and downward as shown the picture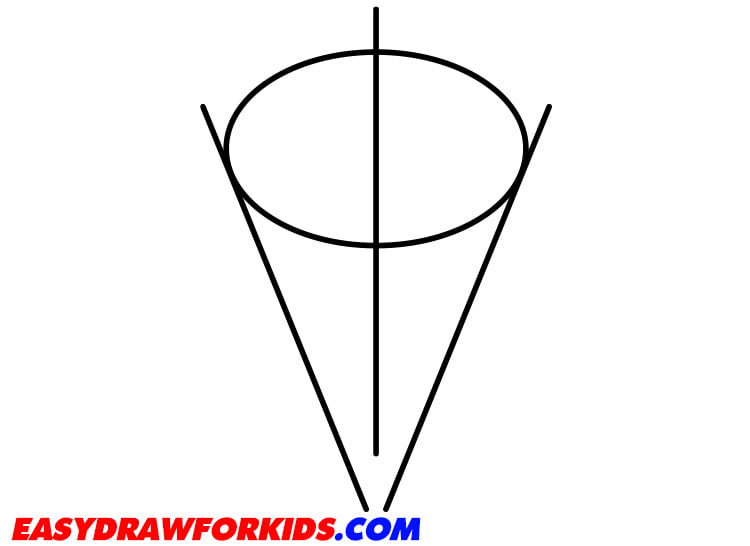 Step 2: Sketching the Basic Shape of the Strawberry
Draw a large teardrop or oval shape for the main body, with a straight or slightly curved line across the bottom for the stem area.
Focus on getting the proportions correct – a typical strawberry is rounder at the bottom and more narrowly tapered at the stem end. Outline the shape, then erase guide lines as needed.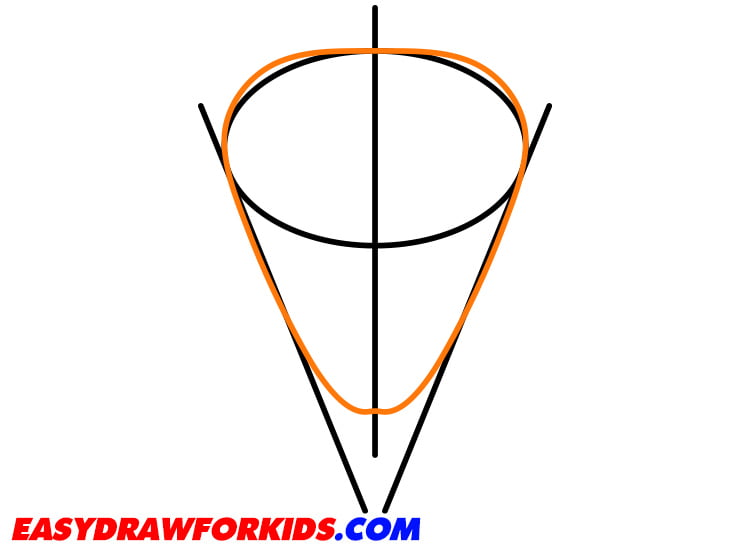 Step 3: Draw the Leafy Crown
The next step of this guide on how to draw a strawberry will focus on the leaf of strawberry
No strawberry is complete without its leafy crown. Sketch the leaves, paying attention to their shape and arrangement.
Use longer strokes for the larger leaves and shorter strokes for the smaller ones to capture their intricate details.
Remember to make them slightly jagged and different in size to give them a natural look.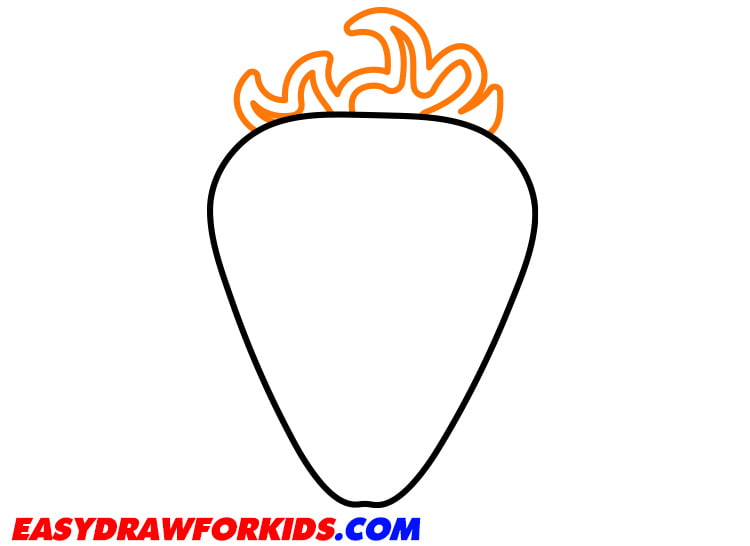 Step 4: Defining the Contours
With the basic shape in place, it's time to add more details and define the contours of the strawberry.
Pay close attention to the curves and bumps on the surface, as they contribute to the fruit's unique texture.
Use light, curved pencil strokes to mimic the natural texture of the strawberry's skin.
Draw a circle and haff-circle below the leaf for the eyes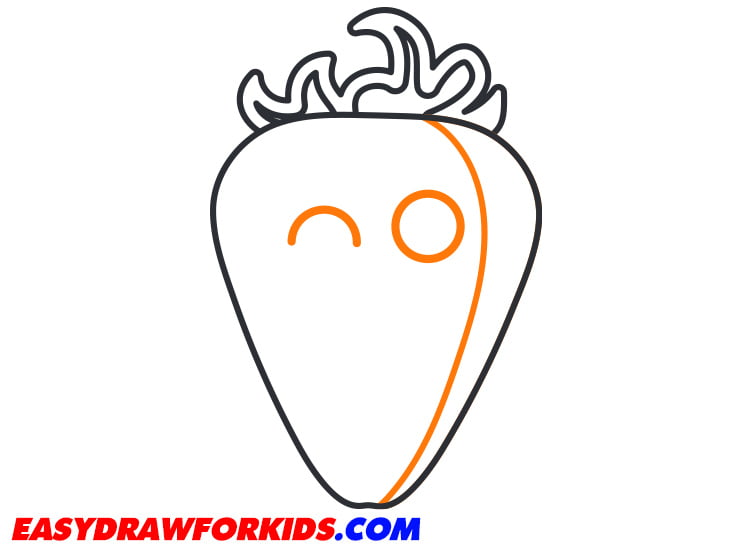 Step 5: Add the Facial Features
Now it's time to add facial to make your drawing come alive.
Draw two small circle inside the eye for the pupil
Underneath each eye, draw two oval shapes to give it rosy cheeks.
Then add an upside-down m-shaped for the smiling mouth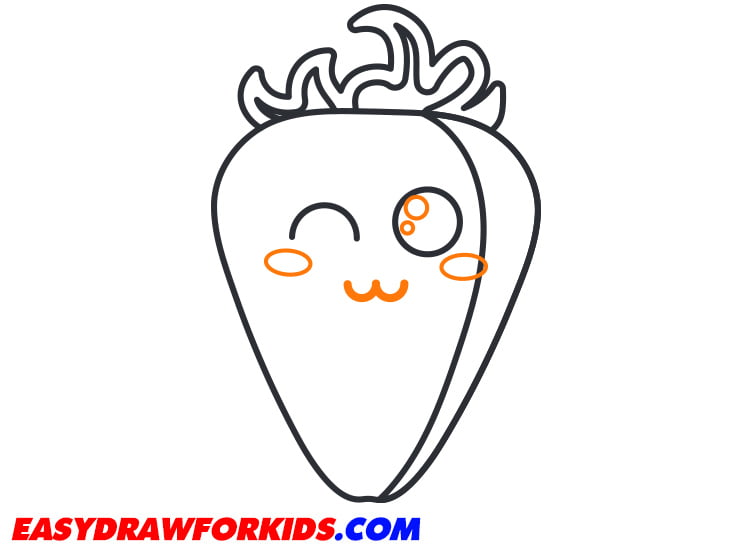 Step 6: Draw the Seeds
Inside the strawberry shape, draw small, curved lines that extend from the top to the bottom.
These lines represent the seed-like texture on the surface of the strawberry.
Use your pencil to apply light, smooth shading across the body of the strawberry. Shade lightly on the highlighted top and sides, and darker on the underside for depth.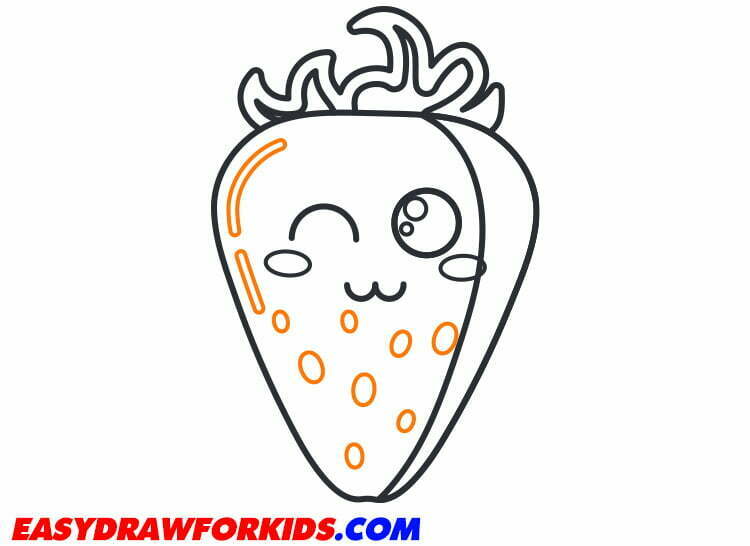 Step 7: Color Your Strawberry
The last step of the lesson about how to draw a strawberry is coloring your drawing.
You can start adding color with colored pencils or markers. Here are some tips for coloring your strawberry drawing:
Apply a base layer – Lightly color the entire strawberry before shading. This helps blend. Use pink and light red.
Deepen the tones – Use darker reds, browns and pinks to shade from light to dark. Shade lightly on raised and lit areas, and heavily in crevices.
Boost vibrancy – Add brighter red and pink layers on top to increase color intensity. Slowly build up colors for a natural look.
Detail seeds and stem – Make seeds tiny circles of yellow, dots of brown, or black. Color the stem from yellow-green at the tip to deep green toward the base.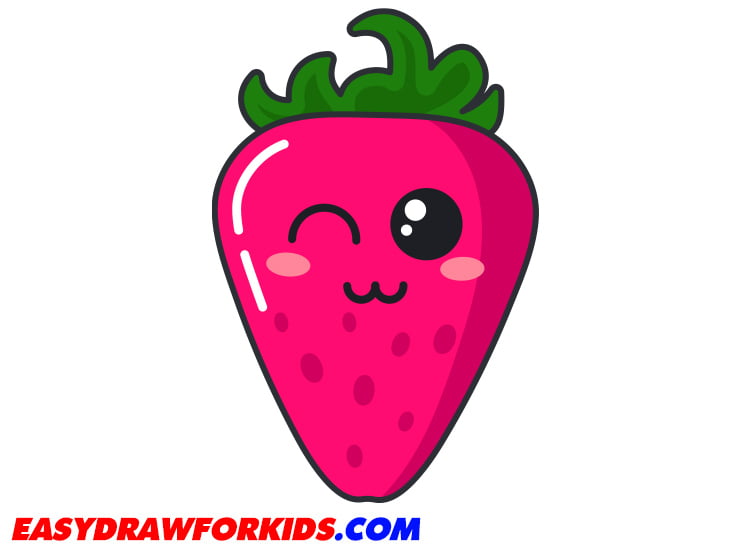 Tips for Drawing Realistic Strawberries
Now that we've successfully this guide how to draw a strawberry. Here are some helpful tips to keep in mind when drawing strawberries and other fruit:
Use photo references – Look at pictures of real strawberries to observe their shape, seeds, colors, and textures.
Start lightly – Always begin your drawing lightly in case you need to erase and make changes.
Shade evenly – Avoid dark outlines. Shade smoothly starting light and progressing to darker values.
Pay attention to textures – Try to capture the rough, bumpy texture of strawberry seeds and skin.
Common Strawberry Varieties to Draw
There are many different types of strawberries you can use for drawing reference. Here are some of the most common:
Chandler Strawberries – Chandlers are a popular variety with large, conical berries and bright red color. They have noticeable seeds and a sweet flavor.
Alpine Strawberries – Alpines are a wild strawberry known for small, intensely flavored berries. They are more oval shaped. Draw them growing in clusters.
Garden Strawberries – Your typical grocery store strawberry. These cultivated berries are medium to large size with plump, rounded shapes and red skins.
White Strawberries – A unique white cultivar where berries lack the red anthocyanin pigment. They are smaller, sweeter, and great to draw as a color study.
Conclusion
Now you know how to draw a strawberry! We hope this overview of how to draw a strawberry step-by-step provides helpful insights and inspiration for your own drawings of beautiful strawberry
Drawing vibrant, juicy strawberries is an enjoyable way to practice fundamental art techniques like shape, value and color theory.
Pay attention to textures, highlights and shadows to make your strawberries look wonderfully fresh and appetizing.
Let strawberries inspire your art, decor projects, gifts, cards, designs, and more.
Start with the basics, add fine details over time, and enjoy watching your strawberry drawing skills progress.
Before long, you'll be naturally drawing strawberries that look good enough to eat!
You may also enjoy: