Have you ever been intrigued by the mysterious and alluring world of werewolves and ghosts?
Are you passionate about art and eager to learn how to bring these supernatural beings to life on paper?
If so, you've come to the right place!
In this article, we'll provide you with a step by step guide on how to draw a werewolf ghost, along with some helpful tips and tricks to make your drawing experience enjoyable and successful.
How to Draw a Werewolf Ghost – A Step by Step Guide
Werewolves and ghosts are both popular supernatural creatures associated with Halloween. Werewolves are humans that transform into wolflike creatures under a full moon. Ghosts are spirits of dead people that may haunt the living. Combining these two creepy creatures into one drawing can result in an exciting mashup.
A werewolf ghost retains some features of a werewolf, like a wolf head, claws, and fur. But it also incorporates ghostly elements like a transparent or fading lower body. This blend of two icons makes for a unique Halloween drawing.
Below we provide a step-by-step guide to drawing your own werewolf ghost. With just a pencil, paper, and eraser, you can create spooky werewolf ghost art perfect for Halloween. Follow along to learn how to draw a werewolf ghost in 6 easy steps.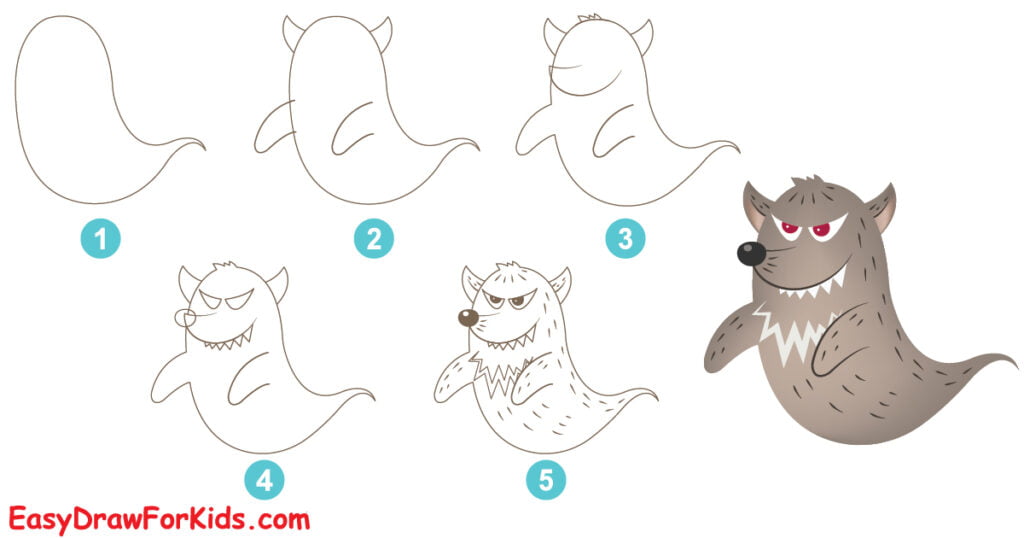 Step 1: Draw the Basic Shape
In this first step in our guide on how to draw a werewolf ghost by drawing a large, slightly elongated oval shape in the center of your paper. This will be the head of the werewolf ghost.
From the sides of the head, extend two curved lines downward to create the neck and body of the werewolf ghost. The lines should taper as they go down.
Below the werewolf body, draw a simple pointed shape to form the bottom of the werewolf ghost body. Make this fade out and transparent compared to the werewolf upper body.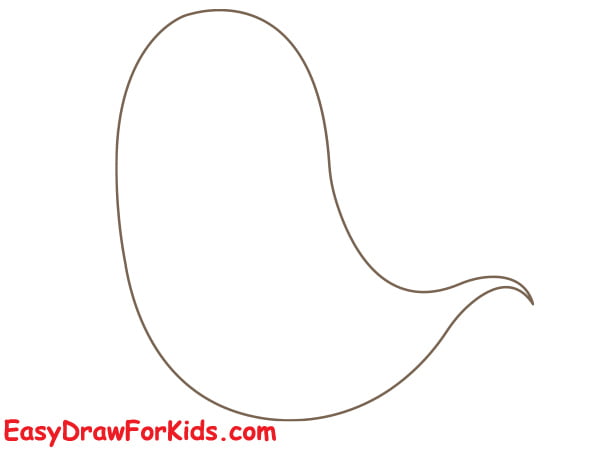 Step 2: Add the Arms and Ears
Add a pair of pointed ears on top of the head, near the sides. The ears can be tall and angular to give them a more wolf-like appearance.
Then on either side of the body, add two diagonal lines for the arms coming out from the body.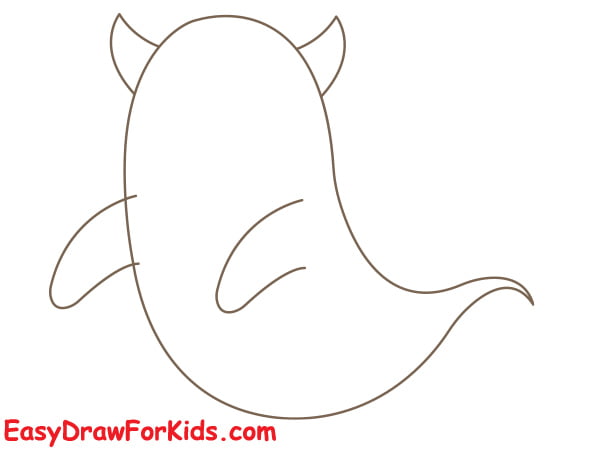 Step 3: Sketch out the Snout
In this step in our guide how to draw a werewolf ghost will focus con the snout.
At the top of the oval head shape, draw an upside down triangle for the snout.
Then at the top of the werewolf ghost head, sketching short, curved lines for the fur texture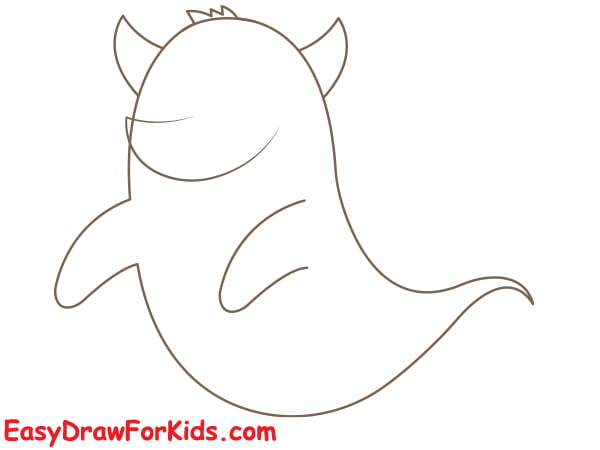 Step 4: Add the Eyes and Mouth
Draw two large eyes, place them towards the upper part of the head and leave some space between them.
Draw a wide, open mouth below the eyes. The mouth should have sharp, pointed teeth and a menacing expression. You can add more detail by drawing a long, forked tongue or a spectral glow within the mouth.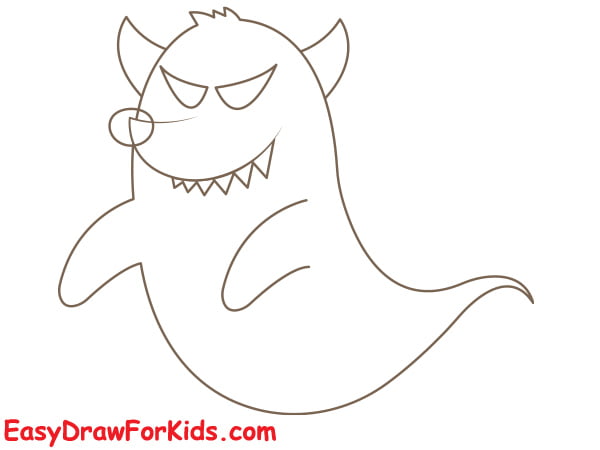 Step 5: Add the Details
Add small, jagged lines within the eyes to represent the ghostly pupils or irises. The lines can be irregular and uneven to create a spooky effect.
Go back to the head and add eyebrows, nose, and ears details. Draw a small nose, and bushy angry eyebrows.
Draw a wavy, fuzzy outline around the head, neck, chest, arms to represent the werewolf fur. Make the fur thicker around the neck area.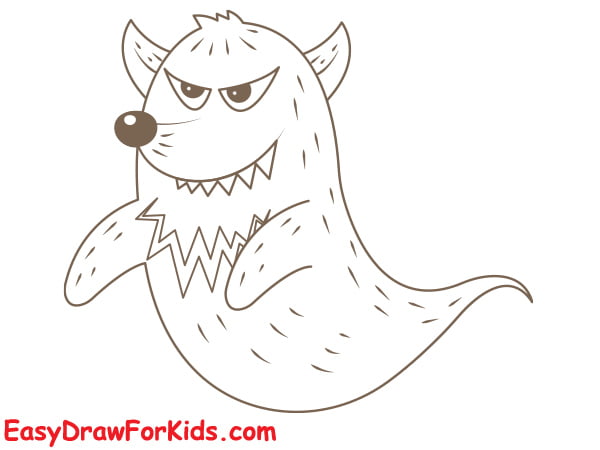 Step 6: Color the Drawing
Once you're happy with the details of your werewolf ghost drawing, it's time to add some depth and dimension by shading and coloring.
You can experiment with different colors to bring your werewolf ghost to life. Consider using blues and purples for the ghostly elements and browns and grays for the werewolf fur.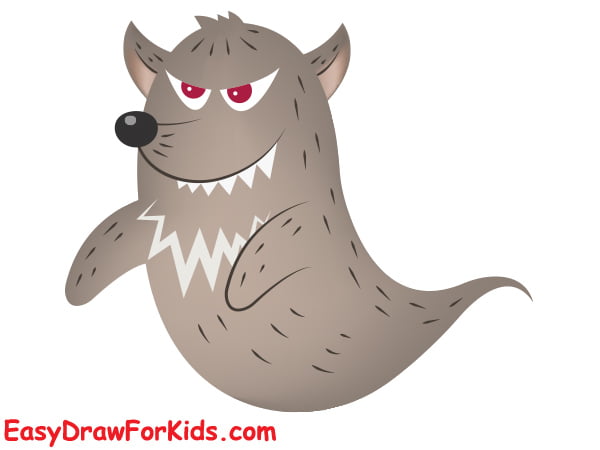 Tips for Drawing a Werewolf Ghost
Here are a few tips and pieces of advice to keep in mind when drawing your own werewolf ghost:
Since it's half ghost, make parts of the body glow or fade using white colored pencils or markers. Focus the glow around the eyes, claws, and ghostly.
Draw the werewolf ghost in an action pose like howling, prowling, or leaping. This creates a more exciting drawing.
Add Halloween themed items like jack-o-lanterns, bats, or a full moon in the background.
Place your werewolf ghost in a setting like a haunted forest, castle, or graveyard.
Have fun with it! Drawing a werewolf ghost should be an enjoyable and engaging activity, so take your time and let your creativity flow.
By following these tips and tricks, you can create a unique and terrifying werewolf ghost drawing that's sure to impress and spook anyone who sees it.
Examples of Werewolf Ghost Drawings
To spark your creativity, here are a few examples of werewolf ghost drawings:
A werewolf ghost howling at a glowing full moon, with ghostly trails drifting from its claws and tail.
A hulking werewolf ghost lurking in the shadows of a decrepit haunted house, illuminated by the light of a jack-o-lantern.
A werewolf ghost leaping across a graveyard, wispy ghost legs trailing behind its muscular wolf body as it pounces off a tombstone.
A snarling werewolf ghost hanging upside down like a bat, blended into the darkness of a night forest scene.
A werewolf ghost peering out from behind a tree, spying on trick-or-treaters with glowing eyes and ghostly ears fading into the bark.
Use these ideas as inspiration when brainstorming your own werewolf ghost drawing. Let the spooky concepts get your creativity flowing!
Conclusion
Drawing a werewolf ghost is the perfect way to combine two classic Halloween creatures into one fun artistic creation.
By following the step-by-step instructions provided, anyone can learn how to draw this spooky mashup.
Take your time, add haunted props and backgrounds, and get creative with glow effects and dynamic posing.
Enjoy exploring how to draw a werewolf ghost and have a howling Halloween!
May you also enjoy: