A witch's hat is one of the most iconic symbols of Halloween and magic.
Drawing a simple but effective witch's hat can be a fun way to get into the spooky spirit or add a magical touch to your art.
With just a few basic shapes and some shading, you can easily sketch a witch's hat that looks like it came straight out of a spellbook.
In this guide, We'll walk you through how to draw a witch hat step-by-step.
How To Draw A Witch Hat – A Step by Step Guide
Before we dive into the step-by-step of guide how to draw a witch hat, let's take a moment to explore history of the witch hat.
The origins of the classic witch hat can be traced back centuries to medieval Europe. During the Middle Ages, formal headwear was required attire in villages and cities. Typical headwear included tall, pointy "hennin" hats that upper class women wore.
As witch hunts began in the 15th-16th centuries, these tall, eccentric hats got associated with witchcraft. The pointed hats set alleged witches apart as strange and mysterious. The hats helped fuel superstitions and stereotypes around witches brewing potions and casting spells.
Over centuries, the 'witch' image solidified in art, literature, and eventually mass media as an ugly, old hag wearing a tall black hat with a wide brim. Early folktale illustrations like 1865's Hansel and Gretel showed witches in these quintessential hats. The witch and her pointed hat became standard shorthand for magic, mischief, and the supernatural.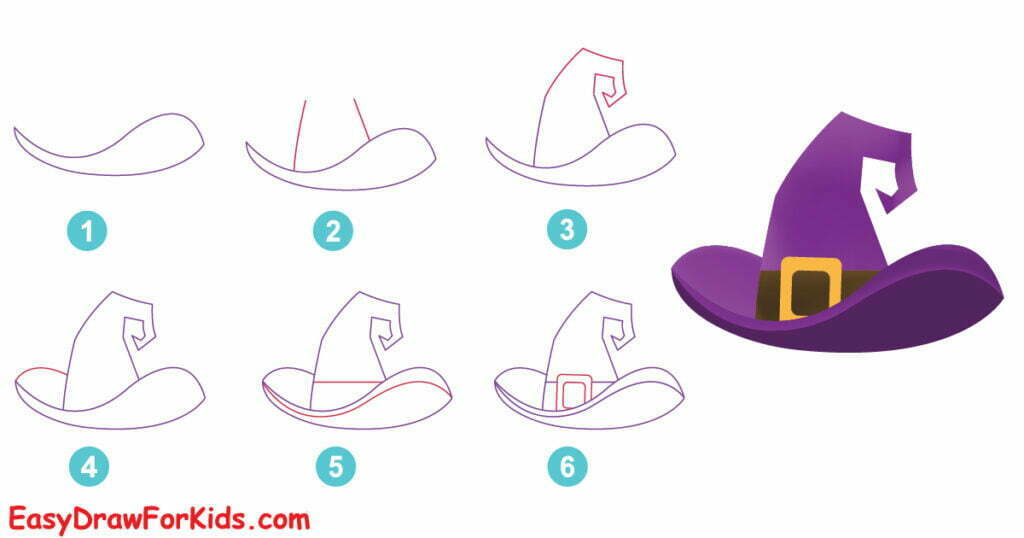 This guide on how to draw a witch hat in 7 steps to help you drawing a cute witch hat with ease!
Step 1: Draw the base of Witch Hat
Start by drawing a slightly curved, horizontal line near the top of your paper. This line will serve as the base of the witch hat.
From the left end of the line, draw a short, curved line that slopes upward and to the right. This line will form the brim of the hat.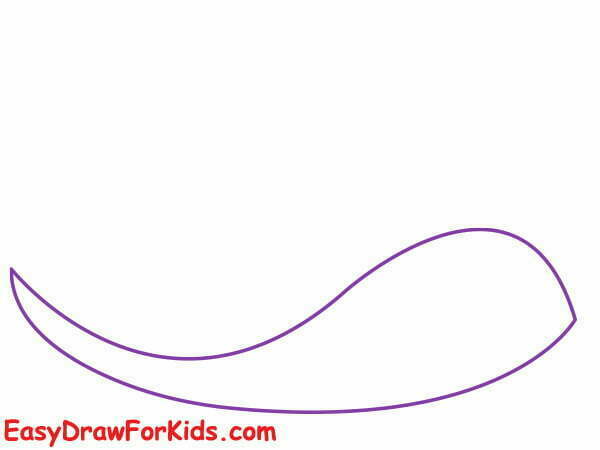 Step 2: Add Angled Lines For the Pointed Top
From the top of each end of the brim, draw two diagonal lines that meet at a point. These lines will form the sides of the hat.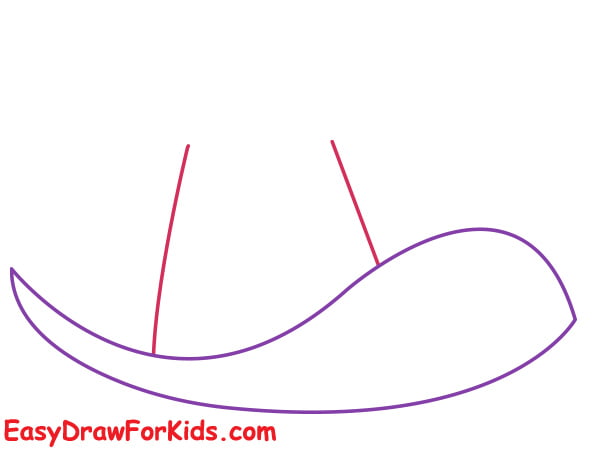 Step 3: Fold or Bend in the Tip
In this step in our guide on how to draw a witch hat by drawing a angled line partway down the tip of the hat to make it look bent over or folded down. This gives it a more dimensional, worn look.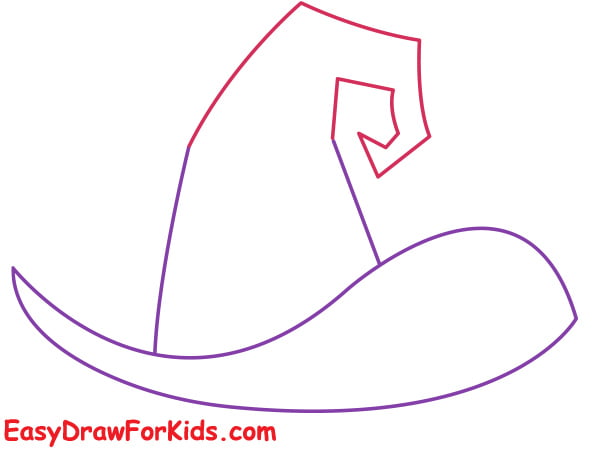 Step 4: Draw the outline of the Brim
From the right end of the base line, draw a symmetrical curved line that mirrors the shape of the first line.
Connect this line to the end of the brim line to complete the outline of the brim.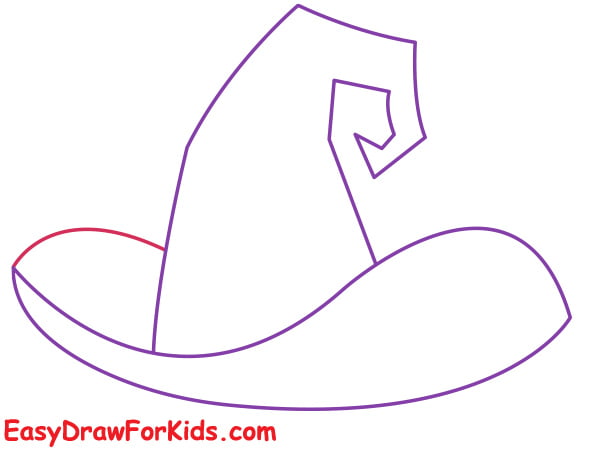 Step 5: Add the Details
Add some details to the hat to give it texture and dimension.
Draw horizontal lines across the brim to represent stitching or folds.
Add a band around the base of the witch's hat. This is a very classic witch hat detail.
You can also add creases or wrinkles to the sides and top of the hat to make it appear more realistic.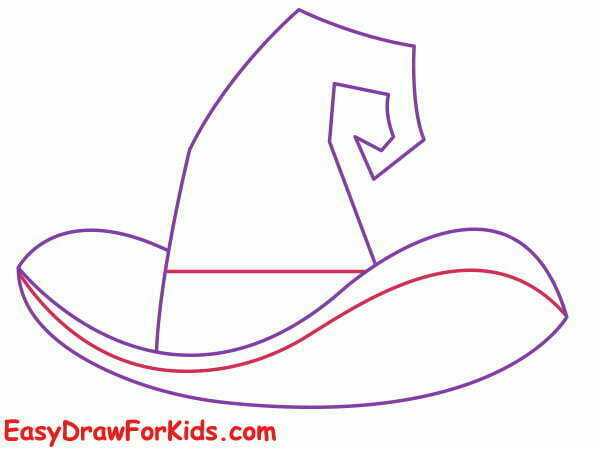 Step 6: Add Embellishments
In this sixth step in our guide on how to draw a witch hat by drawing a small rectangular buckle in the center of the hat's base. To do this, draw a small rectangle with rounded corners.
Add a smaller rectangular shape within the buckle to create the buckle's frame. This inner rectangle should be slightly smaller than the outer one.
Draw a curved line across the center of the buckle to represent the buckle's closure.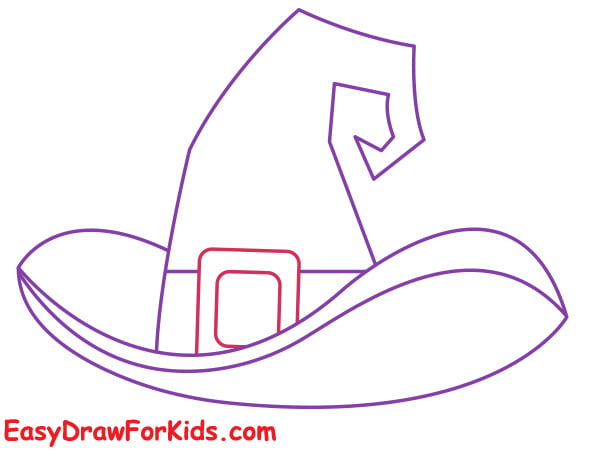 Step 7: Color the Drawing
Now that we've successfully this guide how to draw a witch hat, it's time to bring your witch hat art to life with color!
Classic witch hat colors like black, orange, purple, and green work great. Pick colors that suit your specific design. The textures, colors, and shading you add will take your drawing to the next level.
And that's it – you now have an awesome homemade witch hat drawing to celebrate the Halloween season! Display it proudly or use it as part of a costume. For more fun, try drawing a whole witch or host of hats. Let your imagination run wild and magical.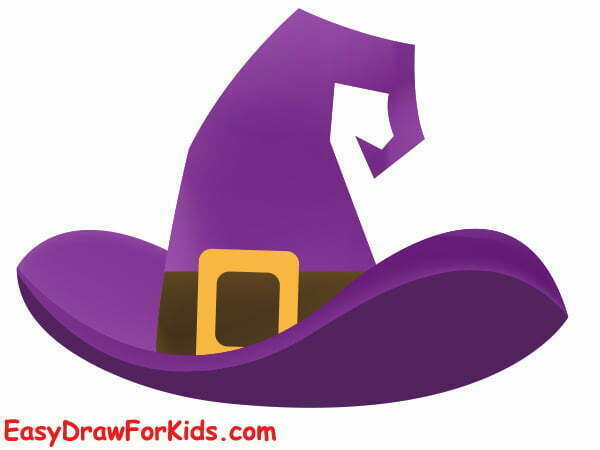 More Tips for Drawing a Great Witch Hat
Here are some additional tips to take your witch hat drawing to the next level:
Use reference images – Look at photos of witch hats to help you draw the shape and details more accurately. Notice the angles, proportions, and common features.
Start light and add heavier lines later – Block in the initial hat shape lightly in pencil before going over the final lines more heavily in pencil or marker.
Play with different shapes and angles – Change up the proportions to draw different styles of witch hats. Try a shorter, fatter cone or a taller, longer one.
Add fun extras – Customize your witch hat further with magical symbols, spiderwebs, potion ingredients hanging off it, or anything else that comes to mind!
Practice shading – Use your pencil to add shading, light and shadows that enhance the shape and give your witch hat more depth.
With a simple conical shape, some clever lines, and a dash of creativity, you can easily draw a witch's hat perfect for Halloween cards, magical art projects, or just doodling for fun.
Example Witch Hat Drawings
To spark some inspiration for your own witch hat drawings, here are a few examples with different styles and details:
Classic Pointed Witch Hat – This is the stereotypical witch hat shape – a tall, pointed cone with a wide brim and bend at the tip. A hatband and some simple shading give it depth and dimension. Ragged edges make it look worn.
Squat, Buckled Witch Hat – This short, squat witch hat has a buckled hatband and a fold over the tip. Shading creates creases and wrinkles that enhance the texture.
Tattered, Patchwork Witch Hat – This hat has tattered patches and jagged seams for a really textured look. Wavy ribbons trail from the tip and edges for added whimsy.
Garden Witch Hat – A cute gardening witch hat! This one has vines, flowers and butterfly embellishments against a striped pattern. The ribbons blow in the wind.
Moon & Stars Witch Hat – This magical hat is brought to life with crescent moons, stars, planets and other celestial decorations. A crystal ball dangles from the bow.
Steampunk Witch Hat – A steampunk twist on a classic witch hat. Gears, chains, monocles and other mechanical adornments make this hat feel inventive and Science-fictiony. The perfect topper for a steampunk witch!
Conclusion
Learing how to draw a witch hat is a fun, easy way to get into the Halloween spirit and explore your creativity.
As we learned, even starting with a simple upside down U shape, you can design amazing hats with special details, textures, and decorations that capture the magical essence of witches.
Beyond just drawing, witch hats have a rich cultural history and importance in film, TV, and fashion.
They remain a visual shorthand for all things supernatural as well as female individuality.
More than just a costume piece, witch hats empower the wearer.
We hope this guide how to draw a witch hat inspired you to pick up a pencil and start doodling your own fabulous witch hats.
Let your inner artist or inner witch run free. Decorate them, customize them, and tell their stories. There are so many possibilities with witch hat art to explore.
Now go grab your paper and draw some magic!
You may also enjoy: