Angels are mesmerizing mythical figures that can make for an enchanting drawing subject.
Their flowing robes, majestic wings, and ethereal beauty captivate viewers.
In this guide, you'll learn how to draw an angel step-by-step from start to finish using easy to follow instructions.
We'll begin with simple shapes for the head, body, and wings. Then we'll add details like dramatic drapery, feathers, and facial features.
With a little practice, you'll be able to create stunning angel artworks to grace your sketches and paintings.
Let's get started!
How To Draw An Angel – Step By Step For Kids And Beginners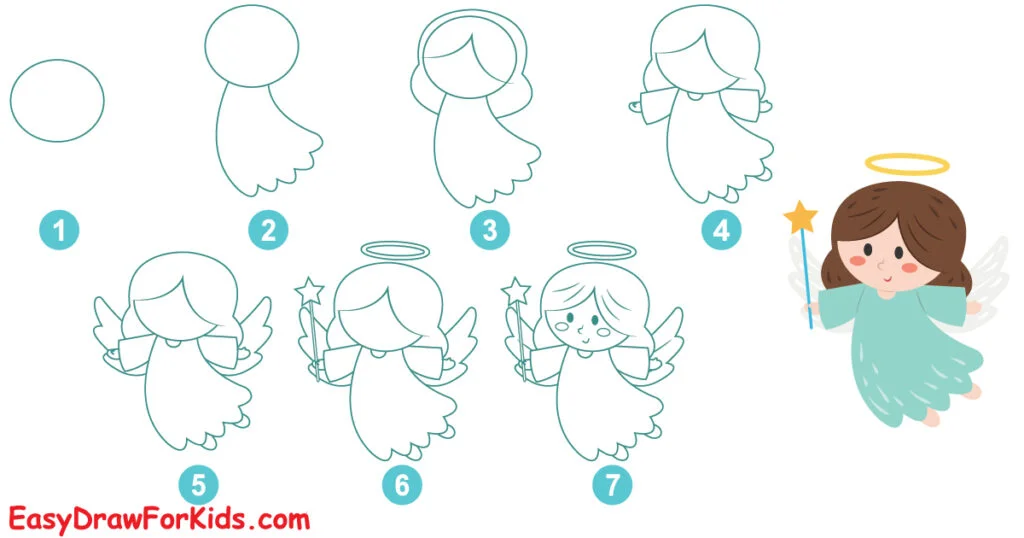 Step 1: Drawing the Head
In this first step in our guide on how to draw an angel by constructing the basic shapes that will form the foundation of our angel.
Draw an oval shape for the head. Place it near the top of your paper with room below for the body.
Make sure to leave enough space on both sides for the wings later on.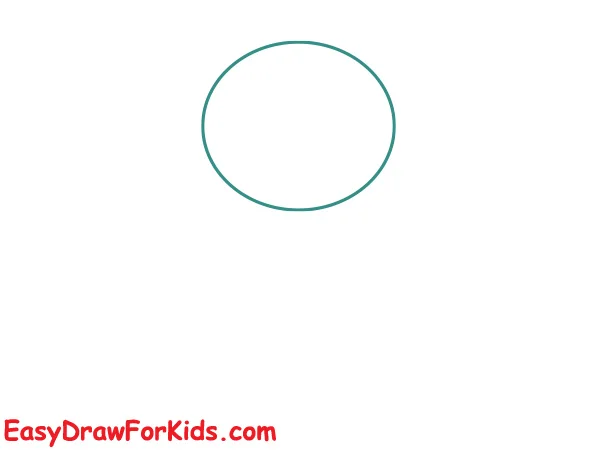 Step 2: Sketching the Body
From the bottom of the head, draw a vertical line downwards to create the body. Make the line slightly curved to give the angel a graceful posture.
Draw a flowing robe or dress around the angel's body. Use curved lines to create folds and give the clothing a sense of movement. You can add additional details like a belt or decorative elements to enhance the angel's attire.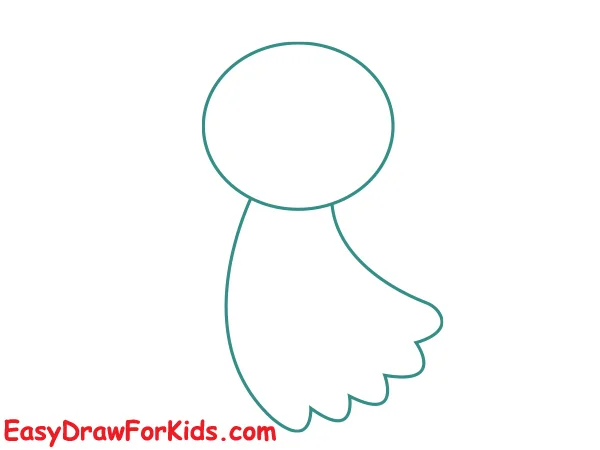 Step 3: Drawing the Hair
The third step of this guide how to draw an angel will focus on the hair of your angel
Above the angel's head, sketch the hair. You can make it flow freely or create a more intricate hairstyle. Add some wavy or curly lines to make the hair look more natural and soft.
Step 4: Sketch the Arms and Legs
Starting from the sides of the body, draw two curved lines to represent the angel's arms.
At the end of each arm, draw small circles for the hands.
You can position the hands in various poses, such as folded or holding an object.
Draw a vertical line from the torso down for the legs. Separate into two legs.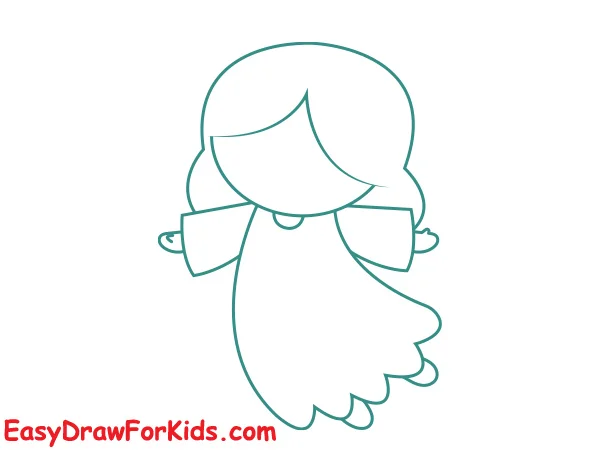 Step 5: Adding Wings
In this step of our guide on how to draw an angel, let's give our angel some wings! Wings are an essential feature of an angel, symbolizing their celestial nature and grace.
First lightly sketch two large oval shapes extending from the upper back, one on each side. Make them slightly curved.
Draw a protruding bump on the top outer edge of each to indicate the joint where the wings attach to the back.
To form the wing feathers, draw a series of long curved lines radiating outward from the upper curve of each oval. Make the lines get gradually shorter as you move downward.
At the bottom of each wing, draw a few curved lines that droop downward to represent the longest feathers. Let some of these lines overlap the body slightly to show the wings wrapping around the form. Keep the lines fluid and natural.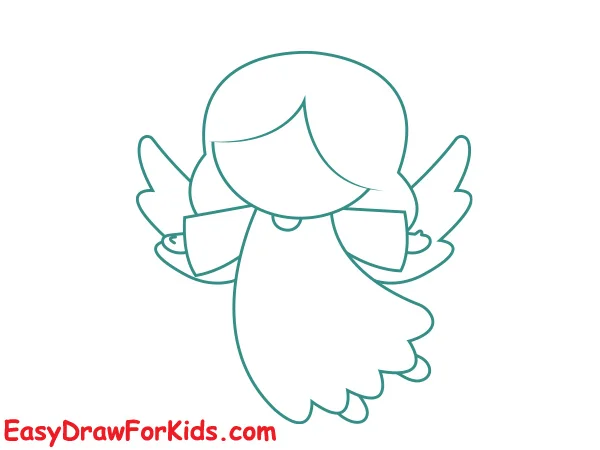 Step 6: Adding Halo and Star
Once you have complete the wings, you can add halo and star for your angel
Draw a tilted oval for the halo, resting it on top of the head.
You can finish off the halo for this part of our guide on how to draw an angel! Outline it with short curved lines to depict its glowing, lit appearance.
Draw a star shape in the hand of the angel. Start by drawing an upside-down "V" shape, then add diagonal lines to connect the points and create the remaining lines of the star. You can make the star big or small, depending on your preference.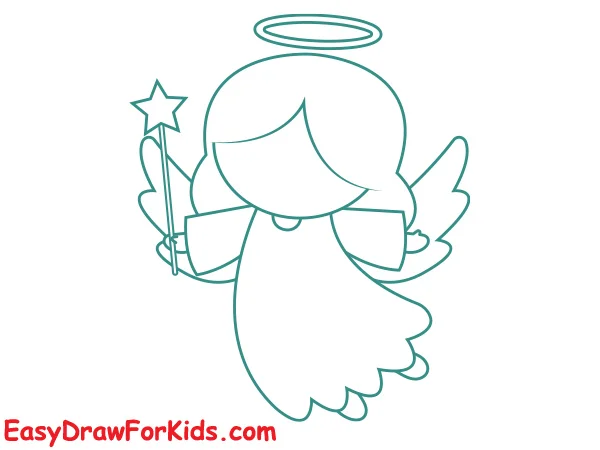 Step 7: Adding Details to the Face
Now we'll begin defining the face by adding the facial features. Use light strokes since you may need to erase and refine shapes.
Draw almond-shaped eyes with oval irises. Add curved lines above for eyebrows.
Sketch a small, straight nose in the center of the face.
Add an open mouth with gently curving lips.
Refine the oval head shape and erase early sketch lines as needed.
Go slowly and work on placing all features in proper proportion to each other. Allow your artistic license to shine through in facial expression!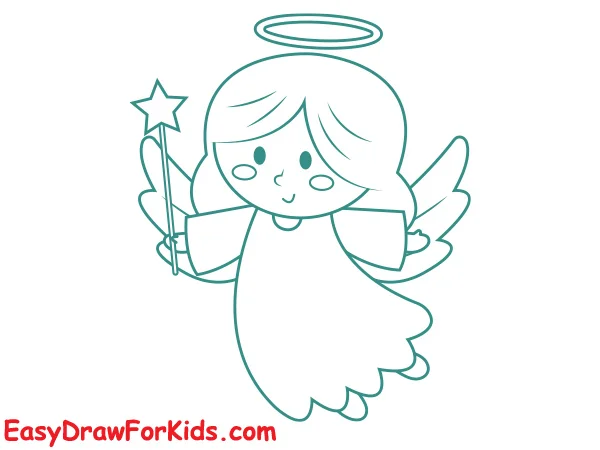 Step 8: Color your Angels
Coloring an angel is the most enjoyable step in this guide on how to draw an angel! This is where you can truly showcase your creativity and bring your creation to life.
Traditionally, angels are depicted with colors such as yellow, gold, and white. However, you have the freedom to use any colors you love and create a unique interpretation of your angel.
For instance, you can opt for watercolor paints to achieve a soft and ethereal look. The gentle washes of color can give your angel a radiant and glowing appearance. Consider using pastel shades or delicate hues to maintain the angelic feel.
To add an extra touch of elegance, you could apply gold glitter paint to the halo and certain elements of the angel's gown. The glitter will add a sparkling effect and enhance the celestial aura of your drawing.
Remember, the choice of colors and mediums is entirely up to you. Follow your artistic instincts and experiment with different techniques to bring out the essence of your angel. We're excited to see how you choose to finish your drawing!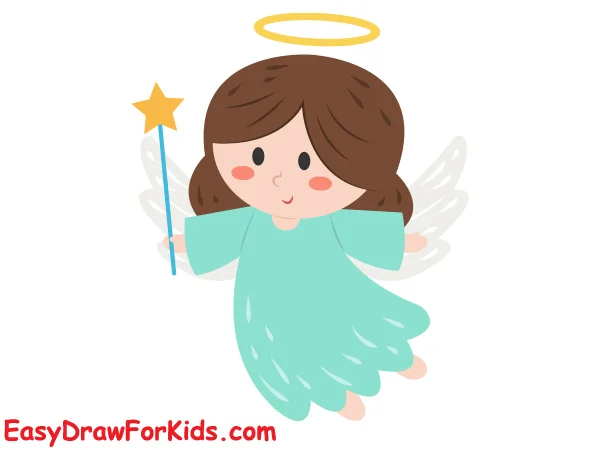 Tips and Tricks for Drawing Angels
Here are some additional tips and tricks when learning how to draw an angel
Study angel poses in classical paintings and sculpture for inspiration
Convey expression through the eyes, mouth, and body language.
Play with different hairstyles like curls, braids, or flowing locks
Study real wings to see how feathers overlap and connect to the body.
Try experimenting with various props like scepters, swords or scrolls
Depict fabric folds using rhythmic, repeating curved lines
With practice, you'll be able to draw stunning angels from your imagination.
Conclusion
Learn how to draw an angels may seem like an advanced skill, but as we've seen, it just takes following a few simple steps. By starting with basic shapes, building up the key features, and refining the details, anyone can create beautiful, divine angel art.
Start by practicing the fundamentals of proportion, positioning, and shading. As you gain experience, you can add your own creative touches through clothing, accessories, and composition. Referencing photos of models, fabric, and wings will help in achieving realism. But even simple, stylized angels have their own charm.
Angels are the perfect subject to increase your drawing abilities. Their blend of human and divine offers artistic challenges and rewards. Mastering their image lends skill for drawing figures, fabric and nature. And their heavenly presence brings joy and inspiration. So grab your pencils and let your imagination take flight!
You may also enjoy: