Have you ever marveled at the beauty of a swaying coconut tree against a picturesque beach backdrop?
It's no wonder that artists and enthusiasts alike are fascinated by these majestic trees.
Learning how to draw a coconut tree takes some practice, but following a few simple steps makes it easy to add these iconic trees to your beach scenes or island illustrations.
So grab your pencil and let's get started!
How to Draw a Coconut Tree – A Step by Step Guide
Coconut trees grow abundantly in tropical regions around the world.
They are well known for producing coconuts, a versatile fruit that can be used for food, oil, and many other purposes.
Coconut trees have distinct features that set them apart from other trees, including their tall, thin trunks and the way their fronds emerge from the top.
When drawing a coconut tree, capturing these distinctive features in simple steps can create a lovely tropical scene.
This guide on how to draw a coconut tree in 7 steps to help you drawing a coconut trees with ease!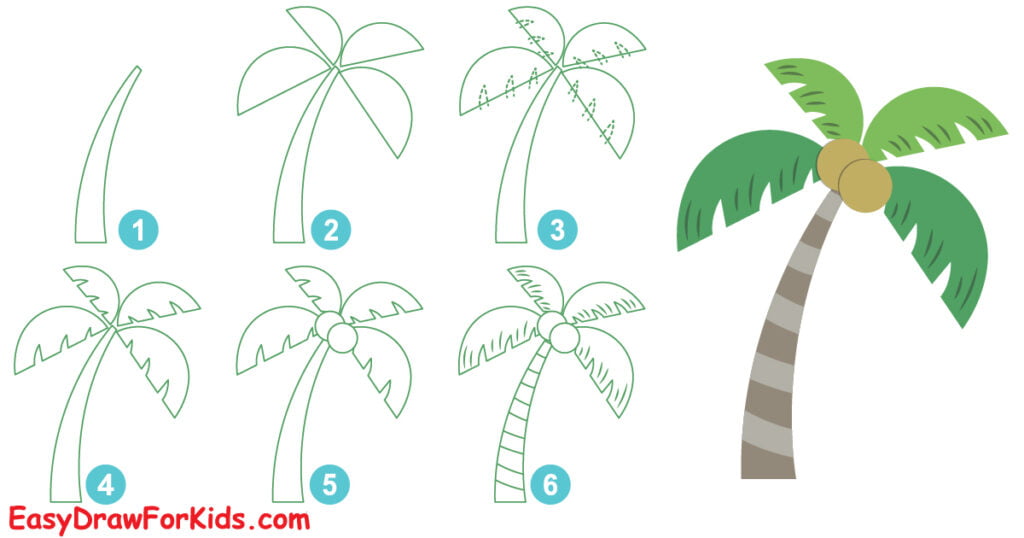 Step 1: Draw the trunk
Start by drawing a slightly curved vertical line to represent the tree's trunk
The trunk should be thin but slightly wider at the base. Leave plenty of space below for roots and ground details.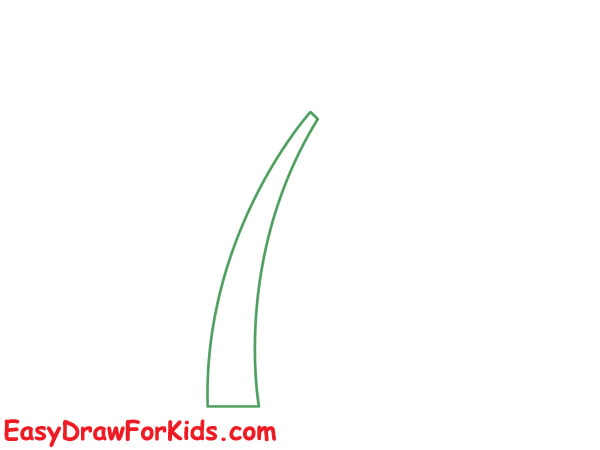 Step 2: Adding the Leaves
The second step of this guide on how to draw a coconut tree will focus on the leaves of your coconut trees
One of the defining features of a coconut tree is its abundant foliage.
To depict this, draw several long, slender shapes radiating from the top of each branch.
These shapes should resemble elongated ovals or teardrops.
Remember to vary their sizes and angles to create a realistic effect.
Coconut tree leaves tend to droop downwards, so angle them accordingly.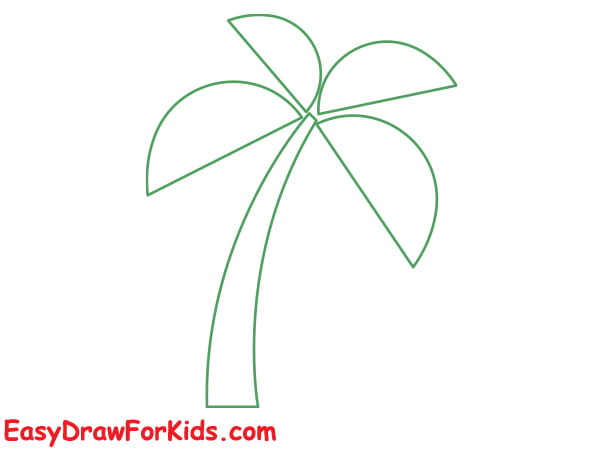 Step 3: Draw the Frond Stem
Draw the leaves along both sides of each frond stem with short strokes. Keep the fronds full and bushy.
Vary the lengths and sizes of the fronds so they don't look too uniform. Let some leaves stick out at different angles.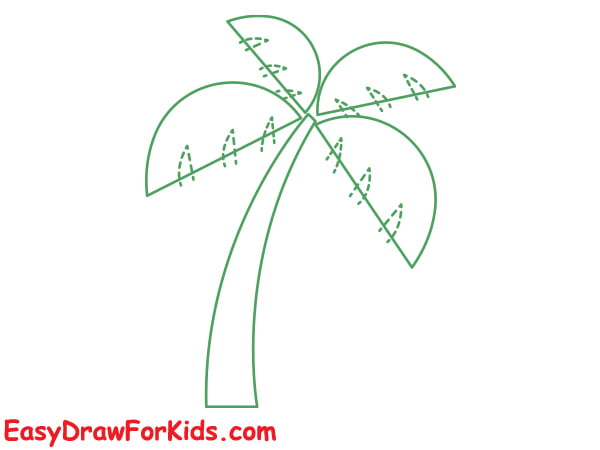 Step 4: Erase extra lines
Erase any extra sketch lines, leaving just the main outlines. Use an eraser to gently blend shading for a smooth look.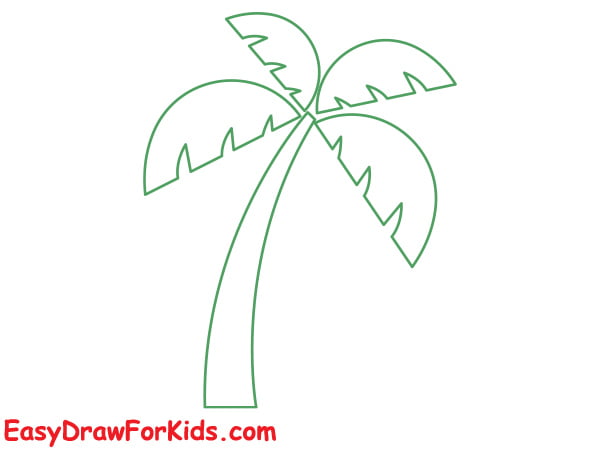 Step 5: Drawing the Coconuts
In this step in our guide how to draw a coconut trees will focus on the coconuts.
To draw coconuts, simply sketch small oval shapes dangling from the ends of the branches.
You can add texture to the coconuts by drawing a series of short, curved lines across their surface.
Remember, coconuts come in various sizes, so feel free to experiment with different proportions and placements.
Step 6: Add the Details
Now it's time to add some detail to the trunk.
Start by drawing a series of horizontal lines across the length of the trunk. These lines will give the appearance of textured bark.
Be sure to make the lines uneven and irregular to mimic the natural imperfections of a coconut tree trunk.
Shading the leaves to create depth and dimension. Use light, vertical strokes along the length of each leaf, gradually building up layers of color.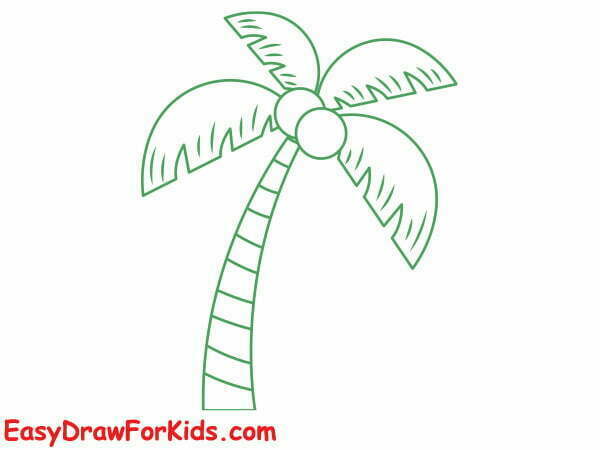 Step 7: Color the Drawing
Once you're satisfied with the outline, you can add shading or color to your drawing.
Coconuts are usually brown, while the fronds and trunk can be shades of green or brown.
Use light strokes or shading techniques to add depth and dimension to your drawing.
You can also add a beach or an island background to complete the scene.
Draw a horizontal line near the bottom of the paper to represent the horizon, and add some waves or sand to give it a coastal feel.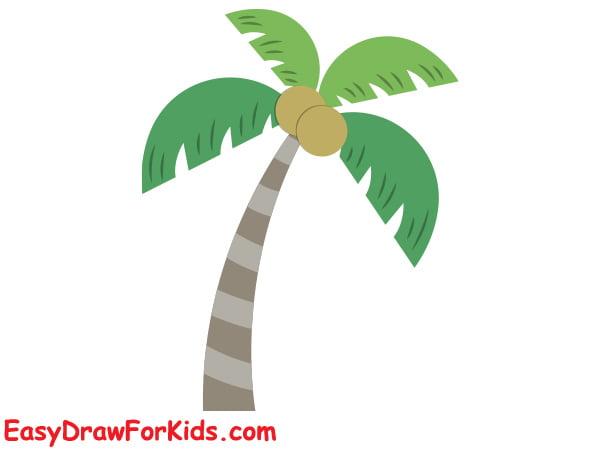 Your drawing is now complete! Congratulations on learning how to draw a coconut trees.
Examples for How to Draw a Coconut Tree
Here are a few examples of how you can incorporate your coconut tree drawing skills:
Create a vibrant beach scene by placing your coconut tree against a backdrop of turquoise water and golden sand.
Design an exotic postcard featuring a sunset silhouette of a coconut tree with vivid colors blending into the sky.
Illustrate a children's book about a daring adventure set in a tropical paradise where coconut trees play a significant role.
Tips for Drawing Coconut Trees
Observe photos of real coconut trees to note small details in the trunk, fronds, and coconuts. Capturing the right shapes and proportions will lend a realistic look.
Start with a simple outline shape, then add details. Drawing the basic trunk and fronds first provides a guide for detailing.
Use smooth, fluid lines when sketching to capture the natural curves of fronds and coconuts. Avoid jagged lines.
Shade the underside of fronds and tree canopies to show depth and form. Refine shading with blending.
Draw thin trunks but vary the width. Trunks should be narrow at the top and slightly wider at the base where they meet the ground.
Keep your pencil strokes light at first, then trace over the main lines darker once you finalize the sketch.
Conclusion
Drawing coconut trees allows you to capture their signature tropical features in a styled, artistic way.
With simple outlines, curved frond shapes, and clusters of coconuts, anyone can enjoy creating coconut tree art.
Use photos for guidance, take a minimalist or creative approach, and add color to take your coconut tree drawings to the next level.
By following the step-by-step process outlined in this guide how to draw a coconut tree and incorporating your own creative flair, you can create stunning renderings of these iconic tropical trees.
With time and practice, you'll be able to draw a coconut tree like a pro.
You may also enjoy: