Have you ever looked at a beautiful drawing of a dog and thought, "I wish I could do that"?
Dogs are man's best friend, and they come in all shapes and sizes, making them a fun and challenging subject for artists of all skill levels.
Drawing a dog may seem like a daunting task, especially if you're new to the world of art. But fear not!
In this article, we will guide you step-by-step on how to draw a dog, helping you unleash your artistic talent and creating stunning canine masterpieces. So grab your pencil and let's get started!
How To Draw A Dog – A Step by Step Guide
To begin, it's helpful to familiarize yourself with the basic structure and proportions of a dog.
Dogs typically have a head with eyes, ears, and a snout, followed by a neck, body, four legs, and a tail.
However, keep in mind that different breeds have distinct features and body shapes, so it's important to observe references or specific breeds to capture their unique characteristics.
Now that you have an understanding of the anatomy of a dog, let's dive into the step-by-step guide on how to draw a dog.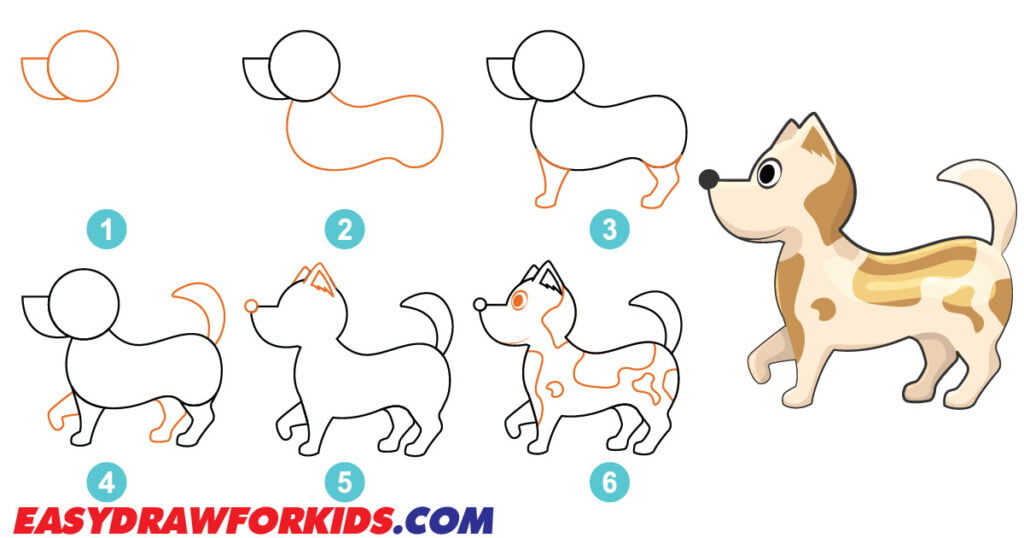 Step 1: Draw the Dog's Head
Start by drawing a circle slightly tilted to the side. This will serve as the dog's head.
From the bottom of the circle, extend a curved line downward and then slightly curve it back up to create the dog's snout.
The length of the snout can vary depending on the breed you want to depict.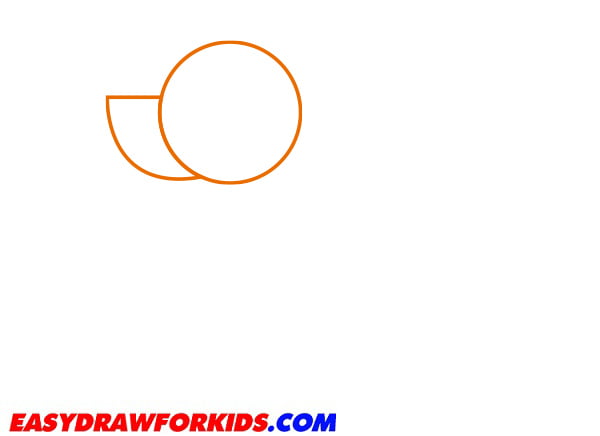 Step 2: Sketch the Neck and Body
From the bottom of the head, draw two curved lines that meet at a point to create the dog's neck.
The neck should be about 1/3 the width of the head where it meets.
Extend a larger curved line from the neck to form the back of the dog.
Draw an oval body, with the chest wider than the hindquarters.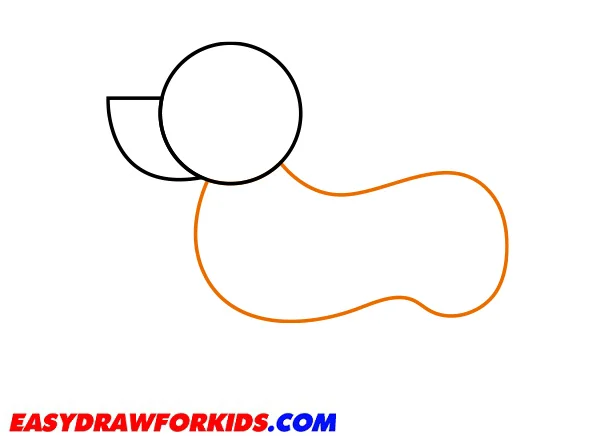 Step 3: Draw the Legs
The third step of this guide on how to draw a dog will focus on the legs of your dog
From the back, draw a curved line that slopes downward and slightly outward to create the first front leg.
Then, draw a curved line that slopes downward and slightly inward to create the first back leg.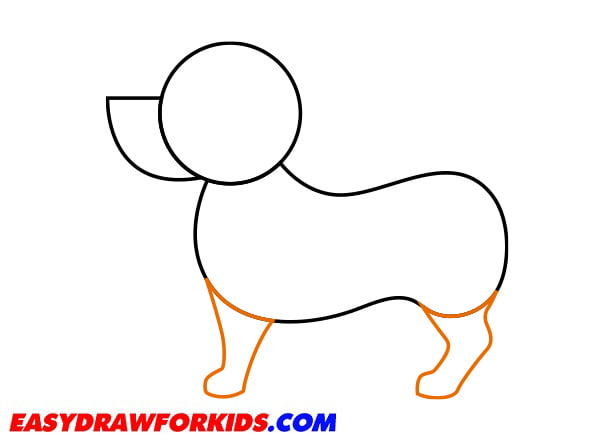 Step 4: Depict the Tail
Repeat the previous step to draw the second front leg on the other side. The front legs should be angled forward to show the dog's running motion.
Repeat the previous step to draw the second back leg on the other side.
Add paws to each leg by drawing small ovals or rounded shapes at the end of each leg.
Draw a curved line that extends from the back, behind the dog, to represent the tail. The tail can be curved or straight, depending on the breed or the desired look.
Erase any unnecessary or overlapping lines and refine the shape of the dog as needed.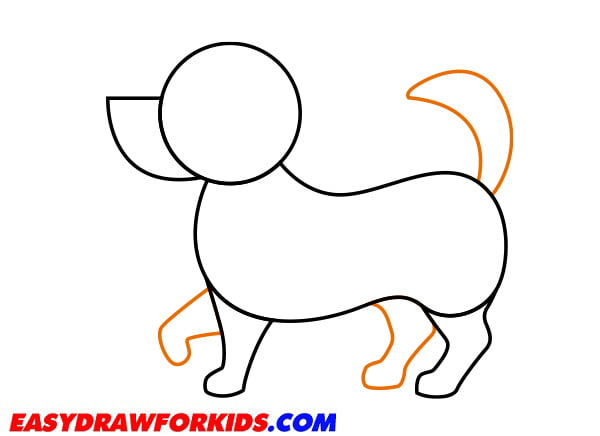 Step 5: Draw the Ears and Nose
The fifth step of this guide on how to draw a dog will focus on the nose and ears.
Add a small oval shape at the end of the snout for the dog's nose.
Dogs' ears come in many shapes. For floppy ears, draw elongated curves, while pointy ears can be represented by triangular shapes.
Draw two curves sweeping up from the top of the head. Make them about as wide as the head is tall.
Add some curved lines inside the ear for definition.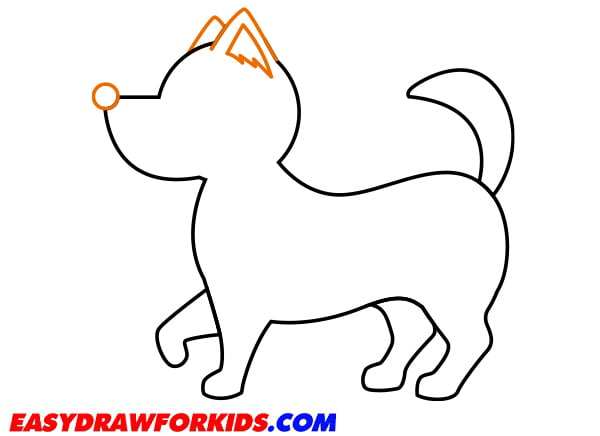 Step 6: Add the Details
Position the eyes with the bottom of the eye above the middle of the muzzle. Draw almond shapes tilted at an angle. Draw circular irises inside and add a curved line above for the brow.
Refine the muzzle shape using straight lines to define the upper and lower jaw. Add the nose at the end of the muzzle as an upside down Y shape. Draw a curved line for the mouth.
Dogs have a variety of fur types, from short and sleek to long and fluffy. Use quick, short strokes to mimic the direction and texture of the dog's fur, creating depth and dimension.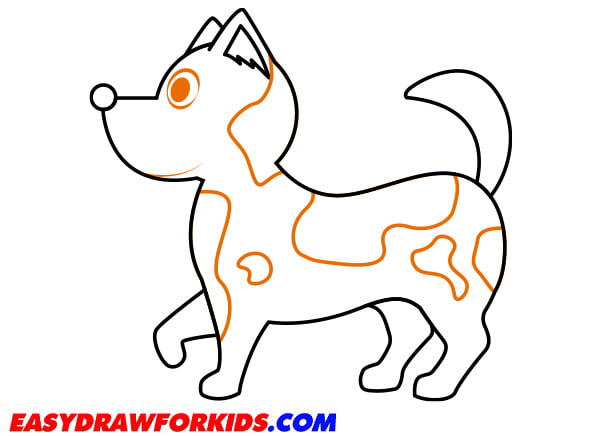 Step 7: Color the Drawing
To create dimension and realism, add lighter shades for highlights and darker shades for shadows.
Observe reference images or real dogs to see where the light hits and where the shadows fall.
Apply these lighter and darker shades accordingly to make the dog's features and body stand out.
You can also add shading or color to your drawing. Dogs come in various colors and patterns, so feel free to use different shades or experiment with different coat patterns.
Consider adding a background to your drawing. It can be a simple solid color, a textured pattern, or a scene that complements the dog.
Once you're satisfied with the coloring, you can also add any final details or highlights to enhance your drawing.
Your drawing is now complete! Congratulations on learning how to draw a dog.
Comparisons: Different Approaches to Dog Drawing
While there is no right or wrong way to learn how to draw a dog, artists often have different approaches and styles. Let's compare two popular methods:
Realistic Approach:

Focuses on capturing intricate details and textures.
Emphasizes accurate proportions and lifelike features.
Utilizes shading techniques to create depth and dimension.

Cartoonish Approach:

Simplifies the dog's features into basic shapes and lines.
Exaggerates certain characteristics for a more playful or humorous look.
Uses vibrant colors and bold outlines to enhance the cartoon effect.
Both approaches have their own charm and appeal, so choose the one that suits your artistic style or experiment with a combination of both!
Tips and Tricks for Drawing Dogs
Drawing dogs can be challenging, but with these tips, you'll be well on your way to creating stunning canine artwork:
Study Dog Anatomy: Understanding the basic anatomy of dogs will help you accurately depict their proportions and movements. Study different breeds and observe how their bodies are structured.
Practice Gesture Drawing: Gesture drawing involves capturing the essence and movement of a subject in quick, loose strokes. This technique will improve your ability to draw dogs in various poses and expressions.
Use Reference Photos: Having reference photos of dogs can greatly assist you in understanding their unique features and characteristics. Use them as a guide for your own drawings.
Experiment with Different Mediums: Don't limit yourself to just pencils. Try using watercolors, colored pencils, or even digital tools to add variety and explore different artistic styles.
Join Art Communities: Connect with fellow artists who share your passion for drawing dogs. Online communities and forums provide valuable feedback, resources, and inspiration to help you grow as an artist.
Mastering how to draw a dog takes patience and persistence. But the joy of capturing man's best friend on paper makes it all worthwhile. Follow these steps and tips to develop your artistic talents one dog portrait at a time. Woof!
Conclusion
Learning how to draw a dog is a fun and rewarding experience that allows you to express your creativity and love for dogs.
Whether you're a beginner artist or have been drawing for years, these tips and techniques will help you improve your skills and create beautiful works of art.
Remember to start with a simple sketch, add details gradually, and incorporate shading and texture for a realistic touch.
Explore different breeds, styles, and techniques to develop your own unique approach to dog drawing.
So grab your pencil and paper, and get ready to draw some dogs!
You may also enjoy: