The pug is one of the most charming and unique looking dog breeds.
With their squished faces, curled tails, and big puppy dog eyes, it's no wonder pugs have become so popular in recent years.
Though their distinctive features can seem daunting to draw at first, illustrating these adorable dogs is quite simple once you understand the basics.
If you want to learn how to draw a pug, just follow these steps.
How to Draw a Pug: Step-by-Step Guide for Pug Lovers
Pugs are known for their distinctive features such as their wrinkled faces, bulging eyes, and curly tails.
By mastering the key elements of their anatomy and understanding their unique characteristics, you can create artwork that truly reflects their charm and personality.
In this article on how to draw a pug in 7 steps to help you drawing a cute pug with ease!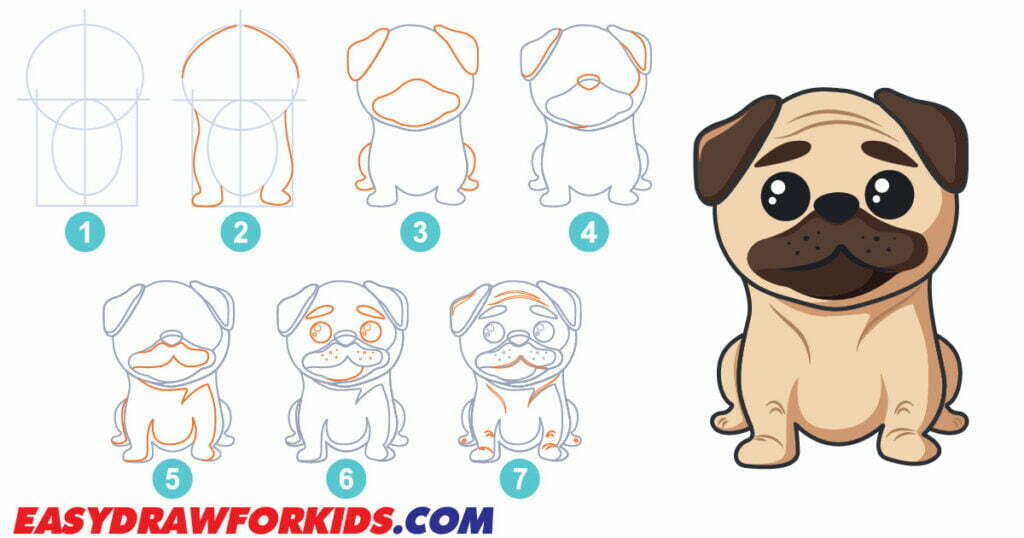 Step 1: The Initial Sketch
The first step in drawing any object is to create a basic outline or sketch.
This initial sketch will serve as the foundation for your pug drawing.
Start by drawing two intersecting lines inside the oval, one horizontal and one vertical. The horizontal line will help you place the eyes evenly and the vertical line will establish the center.
Then drawing a large oval shape for the body, followed by smaller circle for the head .
These initial shapes act as a foundation for your drawing and will help you establish proper proportions.
Don't worry about making it perfect at this stage; focus on capturing the overall proportions and posture of the dog.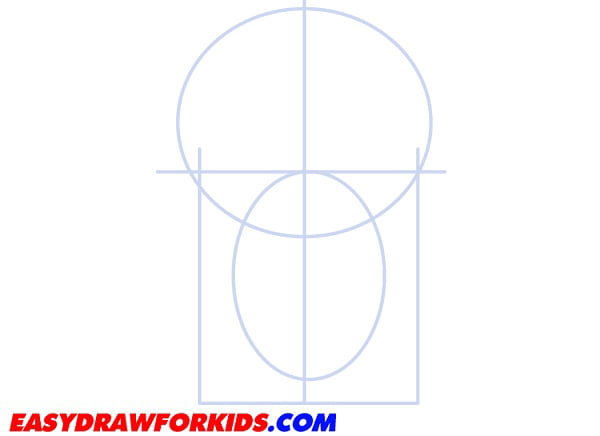 Step 2: Refine the Body
Refine the head shape by adding curves and contours.
Just below the head, draw a curved line extending horizontally to create the pug's neck.
From the bottom of the neck, draw two curved lines that slope slightly outward to form the pug's chest.
Connect the chest with a curved line to create the pug's body. Pugs have a compact and sturdy build, so keep the body relatively round and close to the ground.
Add short, stubby legs to the body by drawing small curved lines with rounded shapes at the ends. Pugs have a distinct body shape with compact legs.
Erase any unnecessary or overlapping lines and refine the shape of the pug as needed.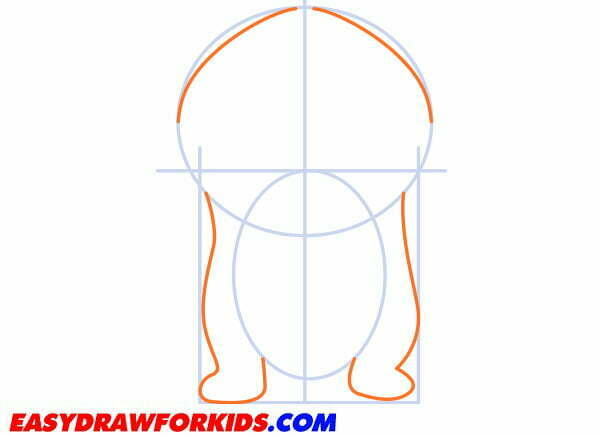 Step 3: Sketch out the Ears, back Legs and Snout
On the sides of the head, draw two small, rounded triangle shapes for the pug's ears. Pug ears are usually soft and floppy, so keep that in mind when drawing their shape.
From the bottom of the head, extend a slightly curved horizontal line to create the pug's snout.
Use curve lines for draw the back legs with small, rounded paws. Pug legs are fairly short compared to the body.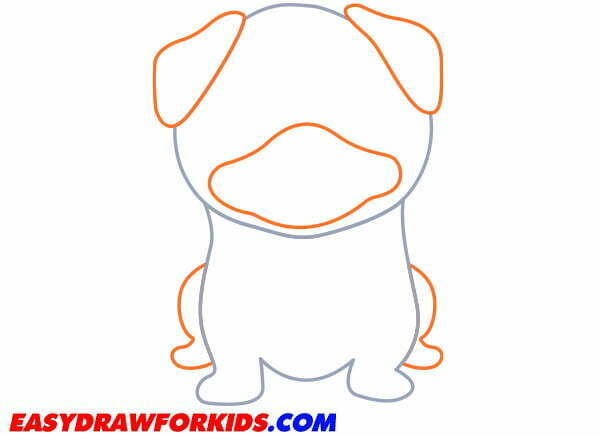 Step 4: Drawing the Nose
The fourth step of this guide on how to draw a pug will focus on the nose of your pug
Add a small rounded shape at the end of the snout for the pug's nose.
Pugs have a unique nose shape that is flat and broad. Add a few wrinkles around the nose for added texture.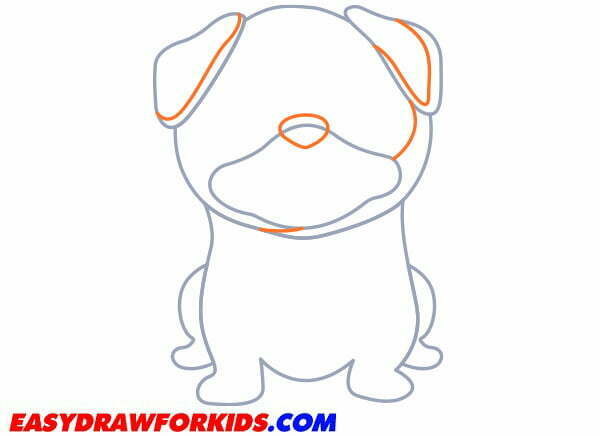 Step 5: Work on the Body and Fur Details
For the mouth, draw a curved line that starts from the bottom of the nose and ends at the center of the circle. Then add a tongue inside the mouth by drawing a small oval shape.
Now it's time to bring the pug's body to life. Refine the body shape by adding curves and contours.
Pay attention to the wrinkled skin around the neck and chest area. Pugs have short, dense fur, so use short, gentle strokes to create a textured effect.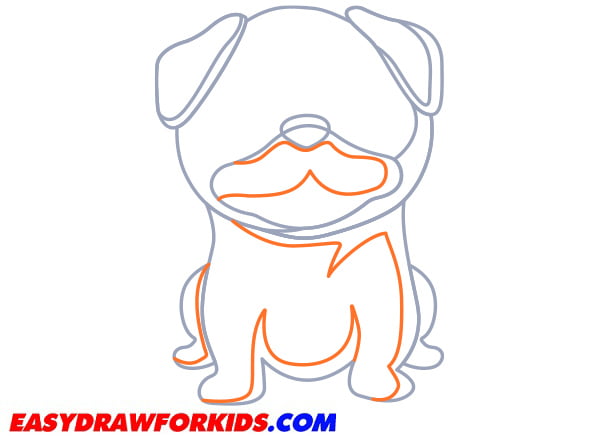 Step 6: Draw the Pug's Eyes
Just above the snout, draw two large, round eyes. Position them on either side of the head.
Within each eye, draw a smaller circle for the pupils. Add a tiny dot of light in each pupil to indicate a reflection.
Above the eyes, draw two curved lines to depict the pug's eyebrows.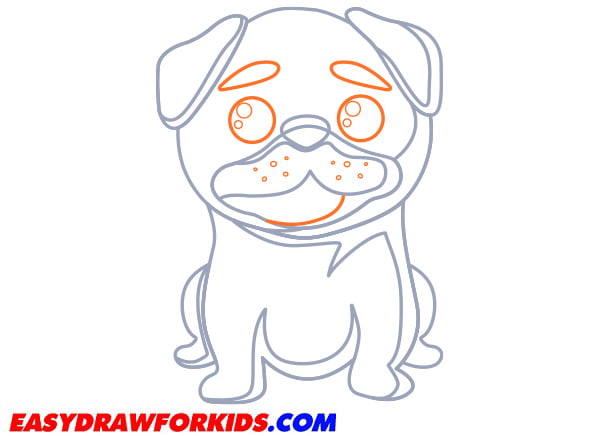 Step 7: Add Details
Now it's time to add some details to your pug drawing.
Start by adding the wrinkles and folds on the pug's forehead, cheeks, and neck to capture the pug's characteristic features.
Pugs have a lot of wrinkles, so don't be afraid to go overboard with these.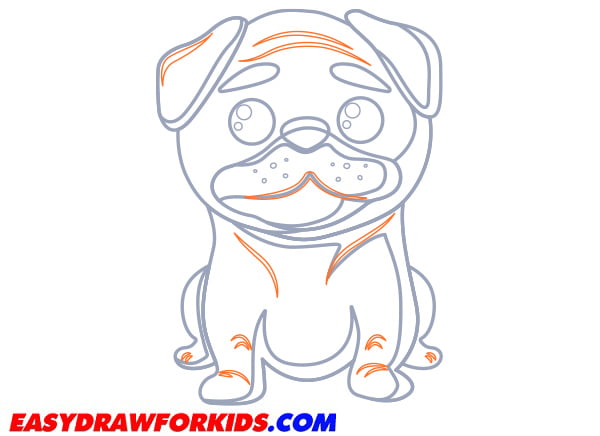 Step 8: Coloring Your Pug
Now that we've successfully this guide how to draw a pug, it's time to bring your pug art to life with color!
You can color your pug using colored pencils or markers. Pugs come in a variety of colors such as fawn, black, and silver. Choose whatever color you like and shade in your drawing to make it pop.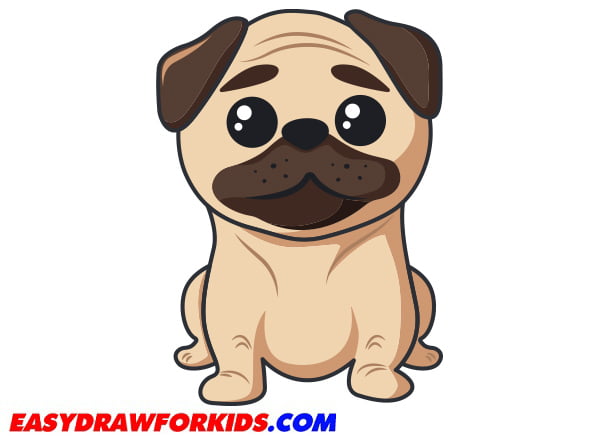 Congratulations! You've successfully learned how to draw a pug.
Examples of Pug Drawings
Here are a few examples of pug drawings to inspire you on your artistic journey:
Realistic Pug Portrait: Capture the intricate details of a pug's face, emphasizing their expressive eyes and adorable wrinkles.
Cartoon Pug Character: Create a whimsical and playful pug character with exaggerated features and vibrant colors.
Pug in Different Poses: Experiment with various poses such as running, sitting, or playing to showcase the versatility of pug drawings.
Comparisons: Pug Drawing Styles
When it comes to drawing pugs, artists have different styles and preferences. Some may prefer a realistic approach, capturing every detail meticulously.
Others might enjoy a more cartoonish or abstract representation. Explore various styles and find one that resonates with your artistic vision.
Tips for Drawing Pugs
Here are some additional tips for learning how to draw a pug:
Look at photos of individual pugs. They have some variability in proportions and markings. Drawing specific dogs is more realistic than trying to create a generic pug.
Pay special attention to wrinkles. The characteristic facial folds are essential for capturing a pug's personality.
Study images of pugs from different angles. Their faces look very different head-on versus in profile. Practice both views.
Use an eraser to lift out whiskers and lighter fur textures. This adds realism to the drawing.
Draw the eyes protruding and the nose strongly receding to accentuate the pushed-in pug face.
Sketch lightly at first and start with the basic head shape before adding details. This allows for easy changes.
Take your time! Pugs have lots of charming details that are worth patiently perfecting.
Conclusion
Learning how to draw a pug allows you to combine your love for art and these adorable dogs.
Their cute pushed-in faces require careful attention to proportions and value contrasts.
By following the step-by-step guide how to draw a pug, studying pug anatomy, and practicing regularly, you can create stunning pug drawings that capture their unique charm.
So pick up your pencil, let your creativity flow, and enjoy the process of bringing pugs to life on paper!
You may also enjoy: