Do you find yourself captivated by the eerie charm of Dracula ghosts?
Have you ever wondered how to recreate their hauntingly beautiful image on paper?
Look no further, as we delve into the world of artistry and guide you on how to draw a Dracula ghost.
With this step by step tutorial, you'll unleash your inner artist and create a masterpiece that will give others goosebumps.
Let's get started!
How To Draw A Dracula Ghost – A Step by Step Guide
Before we dive into the art of drawing a Dracula ghost, let's understand what exactly it represents.
A Dracula ghost is a fictional character often depicted as an ethereal figure with pale skin, sharp fangs, and flowing black robes.
Inspired by the legendary vampire Count Dracula, this ghostly creature embodies mystery, darkness, and a touch of gothic allure.
Drawing a Dracula ghost can be a fantastic way to celebrate Halloween or express your love for the macabre throughout the year.
Whether you're creating spooky decorations, designing a tattoo, or simply enjoying the process of drawing, there's never a wrong time to explore your artistic abilities and bring a Dracula ghost to life on paper.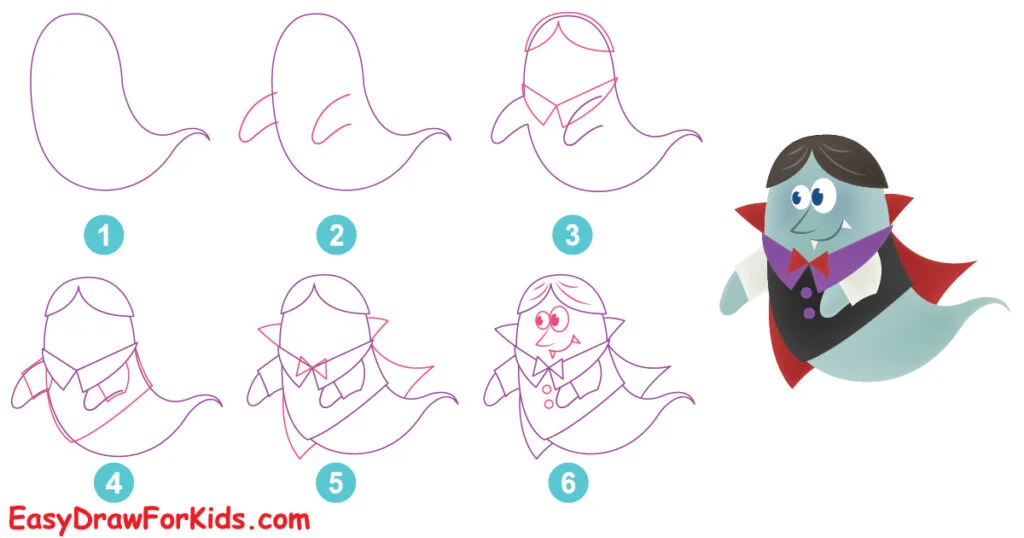 Step 1: Draw the Basic Ghost Shape
In this first step in our guide on how to draw a dracula ghost by sketch the basic shape of the ghost.
Draw a circle for the head and then an oval shape for the body beneath it.
Extend the bottom of the oval into a wispy point to create the ghostly tail.
Step 2: Draw the Dracula Ghost Arms
Start from the sides of the body and draw two curved lines that extend outwards.
At the end of each arm, draw small oval shapes for the hands of the ghost.
These hands can be slightly elongated and pointy to add to the Dracula theme.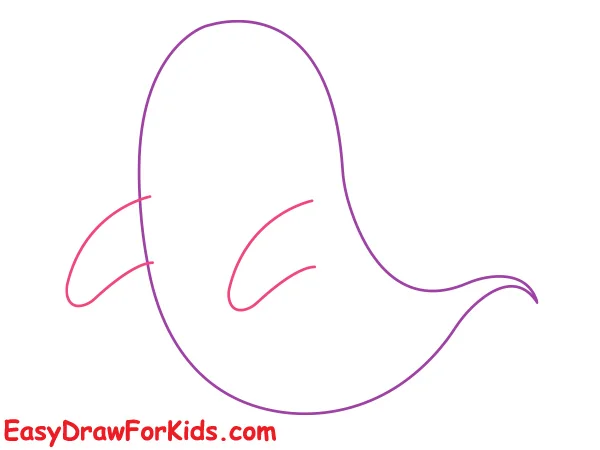 Step 3: Creating the Hair and Collar
To draw the hair, use quick, flowing strokes that extend outwards from the sides of the head.
Make them uneven and jagged to give the hair a wild and spooky look.
Don't forget to leave some areas empty to create highlights and add depth to the drawing.
To form the collar, draw a "V" shape on top of the body, like a folded over shirt collar.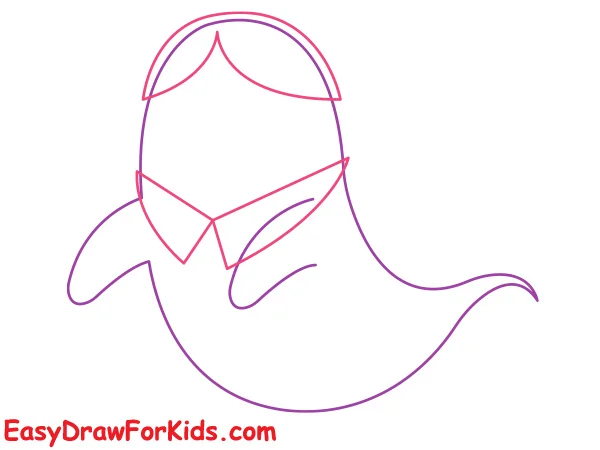 Step 4: Add the Shirt's
The fourth step of this guide on how to draw a dracula ghost will focus on the shirt of your dracula ghost
Draw a curved line extending from the sides of the neck. This will form the collar of the shirt. Make the collar wider towards the shoulders of the ghost.
Extend two curved lines from the sides of the body, just below the neck. These lines will serve as the sleeves of the shirt. Make the sleeves slightly wider at the ends to create a loose, flowing appearance.
Draw two curved lines that extend downwards from the sleeves. These lines will form the sides of the shirt. Connect them at the bottom with a curved line to complete the body of the shirt.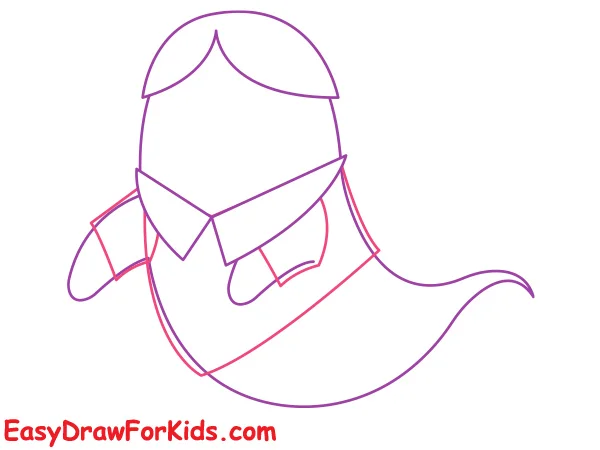 Step 5: Draw the Dracula Ghost Cape
Draw a bowtie shape on the body near the neck.
Moving on to the cape, start by drawing a high collar around the neck of the ghost. Make the collar pointy and extend it slightly beyond the head to give it a dramatic look.
Then draw two curved lines that connect at the base of the head.
These lines will form the sides of the cape. From there, draw a series of curved lines that flow downwards, creating a voluminous and billowing effect.
Add some more jagged edges along the bottom of the cape to enhance its ghostly appearance.
Remember, Dracula ghosts are known for their dramatic capes, so make sure yours looks as eerie as possible.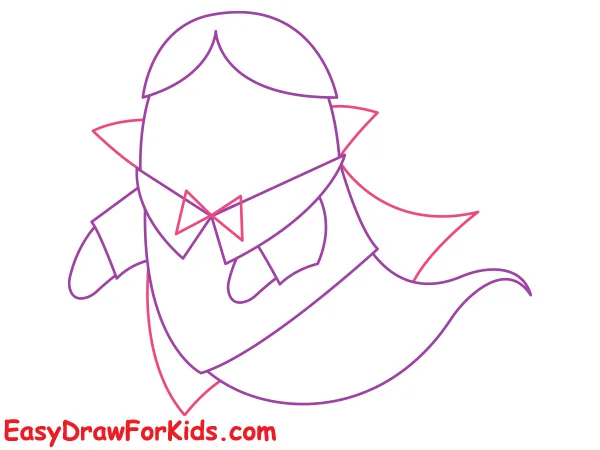 Step 6: Adding Facial Features
Once you have the basic outline, it's time to add the facial features.
Draw two large oval shapes for the eyes. Make them slightly slanted and add a small curve at the inner corner of each eye to give them a sinister appearance.
Add two curved lines above the eyes to create the eyebrows, angling them downwards towards the center.
For the nose, draw a small triangle shape just below the eyes. Keep it simple and sharp to maintain the ghostly vibe.
Then, draw a slightly curved line for the mouth, extending it upwards at the ends to form a devilish grin. Add two small fangs on the upper and lower lips to give your Dracula ghost those trademark vampire teeth.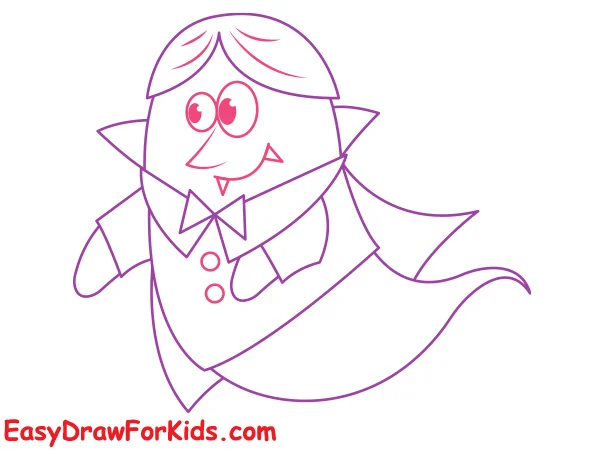 Step 7: Color Your Dracula Ghost
The final step on guide how to draw a dracula ghost is color your Dracula ghost.
You can use shades of gray or black for the ghost and add some red for the eyes or fangs to make them stand out.
Be creative and experiment with different colors and textures to make your Dracula ghost truly unique.
And that's it – you now have an easy How To Draw A Dracula Ghost masterpiece! With a bit of practice, you can draw this from memory and add your own creative twists.
Tips for Drawing Dracula Ghosts
Here are some extra tips to help you master drawing Dracula ghosts:
Play around with different facial expressions – try making your ghost look angry, silly, scared etc.
Give your ghost a fun background like a haunted house, full moon, or spooky forest.
Draw ghosts of different sizes – try a tiny ghost, giant ghost, or whole ghost family!
Look at ghost drawings online for inspiration on poses, details, and styles.
Be creative with your colors! Try glow-in-the-dark paint or glitter pens.
Expanding On Your Drawing
Once you get comfortable drawing the basic Dracula ghost, consider expanding on your artwork with these ideas:
Tell a Story – Turn your single ghost drawing into a multi-panel comic strip or storyboard. Show your Dracula ghost interacting with other characters or acting out a haunting story. This is also a great way to practice drawing your ghost in different poses and from multiple angles.
Draw a Whole Scene – Take your skills to the next level by drawing an entire graveyard scene featuring your Dracula ghost. Include tombstones, trees, gates, and other spooky elements to set the scene. Play around with perspective and shading to add depth and dimension.
Make It a Costume – Finally, translate your Dracula ghost drawing into a Halloween costume you can wear. Create a t-shirt featuring your artwork or print it large enough to make an iron-on transfer for a costume cape. Get creative with glowing eyes, detached ghost tails and other spooky costume effects.
Conclusion
As you can see, drawing an ominous Dracula ghost is a fairly straightforward process that anyone can do. With the step-by-step guidance, and a dash of creativity, you can produce eerie Dracula ghosts perfect for Halloween fun.
The key is taking it slow, practicing often, and not being afraid to make mistakes. Reference pictures of vampires and ghosts to infuse your drawing with classic spooky elements. And don't forget the all-important fangs and cape that help bring Dracula to life!
Follow the tutorial how to draw a dracula ghost above, avoid common errors, and you will be amazed at the scary cool Dracula ghosts you can create. Before you know it, you'll have a freaky ghostly horde ready to haunt your Halloween.
So grab a pencil and marker, get your creativity flowing, and happy drawing!
You'll get the hang of drawing Dracula ghosts in no time.
You may also enjoy: