Are you fascinated by the elegance and beauty of lotus flowers?
Do you want to learn how to draw a lotus flowers with finesse and precision?
Look no further! In this step-by-step guide, we will walk you through the process of drawing a lotus flower, unraveling the techniques and tips that will help you bring this symbol of purity and enlightenment to life on paper.
So grab your sketchbook, sharpen your pencils, and let's dive into the art of creating stunning lotus flower drawings.
How To Draw A Lotus Flower – A Step by Step Guide
The lotus flower has been an important symbol in Asian cultures for thousands of years. In Buddhism, the lotus represents purity, spiritual awakening, and faithfulness.
The flower grows in muddy waters but surfaces to bloom clean and beautiful above the water. Because of this, the lotus is associated with rising above difficult circumstances with grace.
The lotus flower is also significant in Hinduism, where it represents beauty, fertility, prosperity, spirituality, and eternity. In Chinese culture, the lotus stands for summer, elegance, and love. With its many meanings, it's no wonder the lotus remains an inspiration for artists.
Learning how to draw a lotus flower can be a fun challenge. Once you understand the basic steps, you can start drawing your own unique lotus flowers for art projects or gifts. The versatile lotus can be drawn in many different styles.
With practice, you'll be able to create simple, elegant line drawings or vivid, realistic colored pencil or paint drawings of lotuses.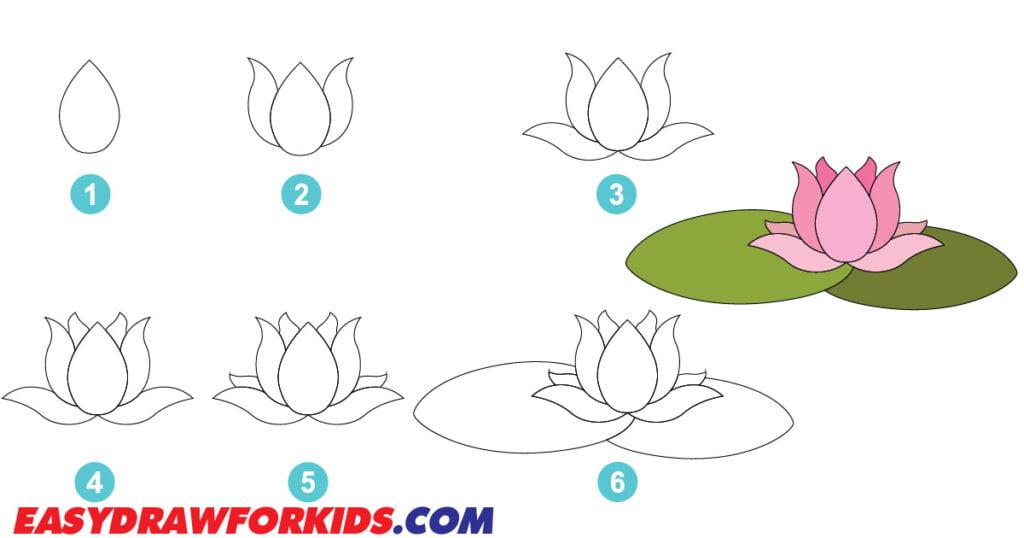 This guide on how to draw a lotus flowers in 7 steps to help you drawing a beautiful lotus flowers with ease!
Step 1: Draw the first Layer of Petals
Every great drawing starts with basic shapes, and drawing a lotus flower is no exception.
Begin by lightly sketching an oval shape like water droplet as the first petals of lotus flowers.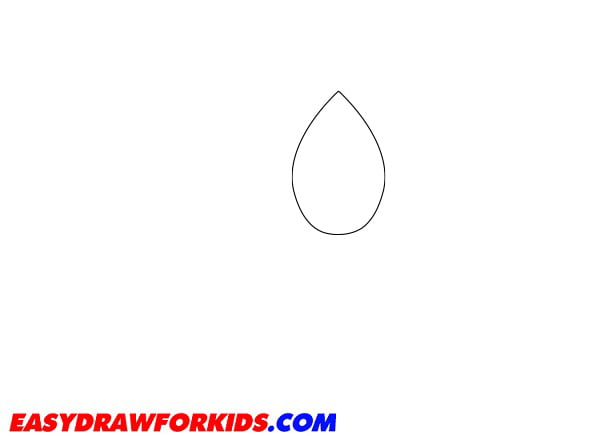 Step 2: Adding Petals
The second step of this guide on how to draw a lotus flower will focus on the petals of lotus flowers.
From the top of the oval, draw a gently curving line that extends outward and then slightly downward. This line will form the second petal of the lotus flower.
Repeat the previous step to draw another curving line that starts from the top of the oval but extends in a different direction, creating a third petal. The petals should overlap slightly at the base.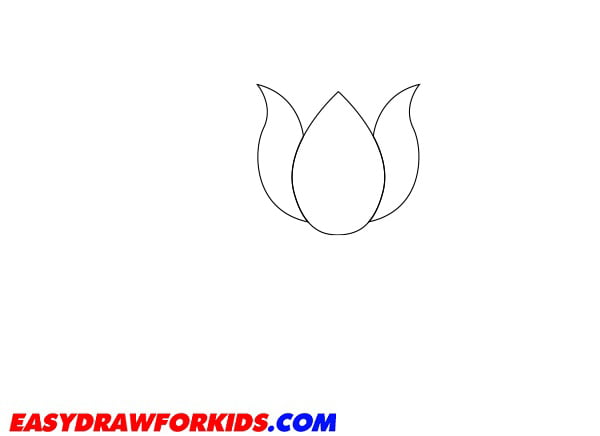 Step 3: Drawing Additional Petals
Continue drawing additional petals around the oval, using the same curving lines to create a symmetrical and balanced composition.
Lotus flowers typically have multiple layers of petals, so you can add as many petals as you like.
Aim for an odd number of petals, such as 5, 7, or 9, for a more aesthetically pleasing look.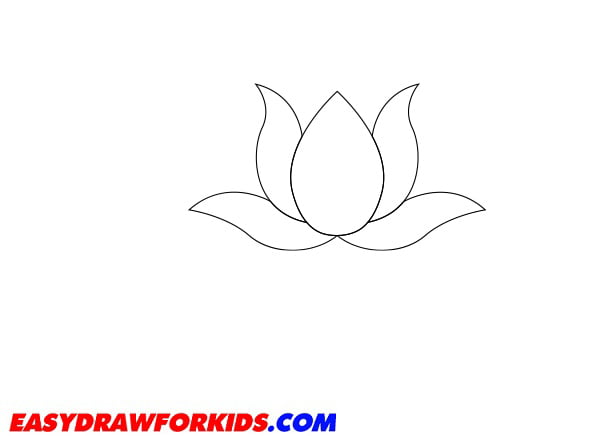 Step 4: Draw Petals inside
Once you have drawn the outer layer of petals, start adding a second layer of smaller petals inside.
These petals should be shorter and narrower than the outer ones. Again, aim for an odd number of petals to maintain balance.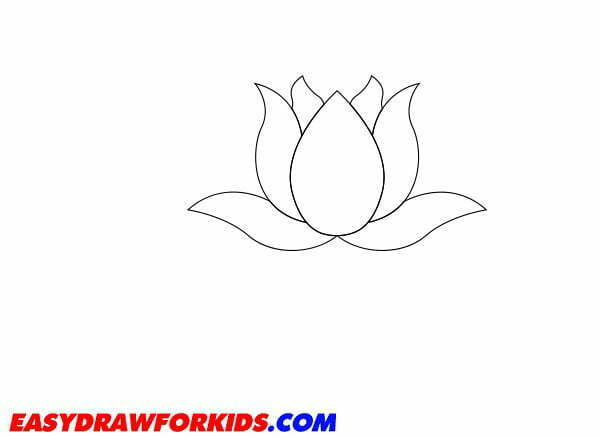 Step 5: Adding Petals and Details
Once the basic petal shapes are complete, start adding more intricate details like the veins on the petals.
This can be achieved by lightly drawing lines curving from the base of each petal towards the outer edge.
Take your time and pay attention to the graceful curves and contours of the petals.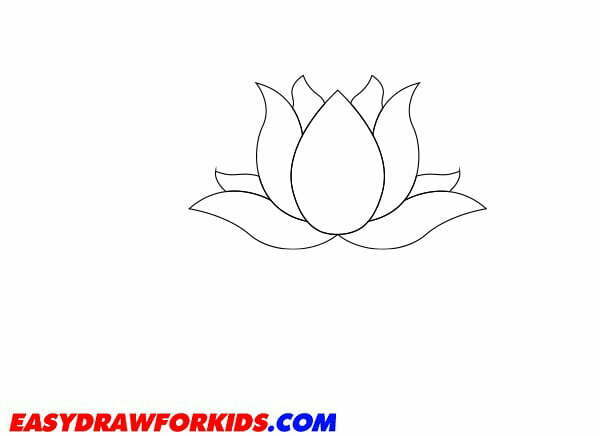 Step 6: Drawing the Leaves
The sixth step of this guide on how to draw a lotus flowers will focus on the leaves of lotus flowers
Draw two large oval shapes, one on each side of the flower. The leaves should be slightly curved, resembling a heart shape. Add a minor vein pattern in each leaf.
Erase any unnecessary or overlapping lines and refine the shape of the lotus flower as needed. Adjust the proportions or angles to achieve the desired appearance.
Step 7: Color the Drawing
If working with graphite pencils, lightly shade some areas of overlap between petals to push them into the background.
You can also add watercolors or colored pencils to bring vibrant color to your lotus flower artwork. Observe the subtle color gradations of the petals.
Experiment with different shades and techniques to bring your lotus flower to life.
Your drawing is now complete! Congratulations on learning how to draw a lotus flowers.
Tips for Drawing Realistic Lotus Flowers
Here are some tips to refine your lotus drawing skills to create more realistic, intricate flowers:
Focus on smooth, flowing contours and lines to capture the delicate nature of the petals. Avoid harsh edges.
Overlap the petals to show depth. Those nearer the center should increasingly obscure those behind them.
Use varied line weights and tighter detail towards the center of the flower. The edges can fade softly.
Shade the petals on a side that receives less light. This adds volume and form.
Look for subtle color changes in the petals, such as lighter tips, pink blushing, or yellow-orange spots.
Observe reference photos to portray the stamen and stigma accurately. The stigma has distinctive ridges.
Note how light affects the leaves' colors and edges. Position leaves logically connected to the flower's stem.
Conclusion
Drawing a lotus flower is a delightful journey that allows you to explore artistic expression and capture the essence of this remarkable blossom. By following the step-by-step guide how to draw a lotus flower, you'll be able to create stunning lotus flower drawings that embody grace, beauty, and symbolism.
Remember, practice is key to honing your skills. Don't be discouraged if your initial attempts don't meet your expectations. With time and dedication, you will master the art of drawing lotus flowers and unlock endless possibilities for creative expression.
So, grab your sketchbook, unleash your imagination, and immerse yourself in the serene world of lotus flowers through the power of your artistry.
You may also enjoy: