Mummies and ghosts are classic Halloween icons that can be combined to create a fun and spooky mummy ghost drawing.
Drawing a mummy ghost is easy and makes for a great Halloween decoration or party activity.
In this article, we will walk through the steps of how to draw a mummy ghost.
How To Draw A Mummy Ghost – A Step by Step Guide
Mummy ghosts are a creative mashup of two popular Halloween themes.
Mummies originate from ancient Egypt, where the dead were embalmed and wrapped in linen bandages.
Ghosts represent spirits or souls, often depicted as transparent figures under a sheet.
Putting them together results in a unique monster that looks like a ghostly mummy wrapped in tattered bandages.
Drawing a mummy ghost is easy, even for beginning artists. All you need is a pencil, paper, and your imagination.
The basic steps include sketching a ghost form, adding mummy bandages, and drawing an expressive ghost face.
Customize your mummy ghost drawing by choosing spooky colors, adding background details, or using markers, colored pencils, or paint.
Follow along below to learn how to draw a mummy ghost in 6 easy steps.
Once you understand the basics, have fun getting creative with your own ghostly mummy art!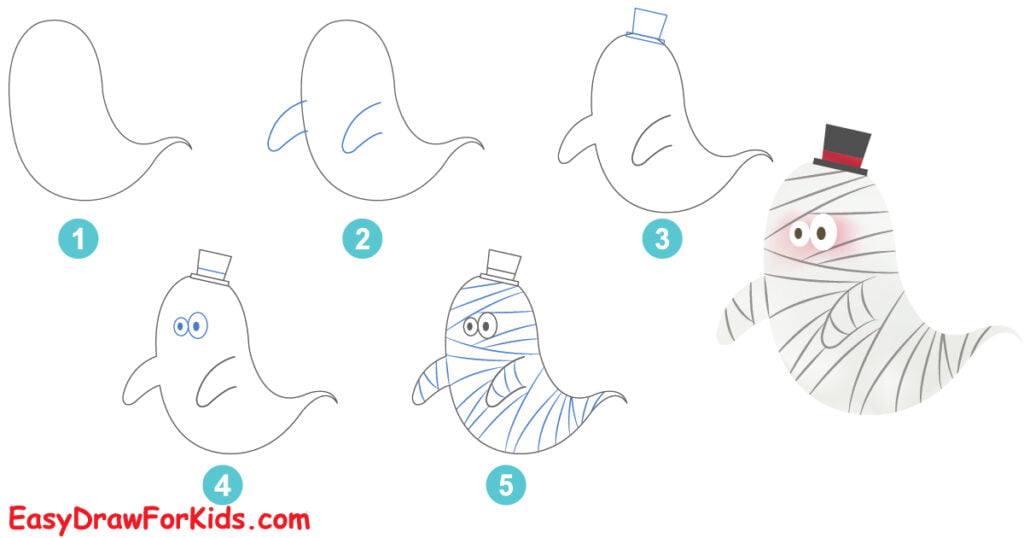 Step 1: Sketch the Basic Ghost Shape
Start by very lightly sketching out a basic ghost shape. Draw a circle or oval for the head, a tapering cone shape for the body, and add a wispy tail that curves up behind it.
To give it a sense of movement, make the body elongated and flowing. Ghosts don't have static forms – they drift and swoop through the air. Keep your initial ghost outline subtle and light at this stage.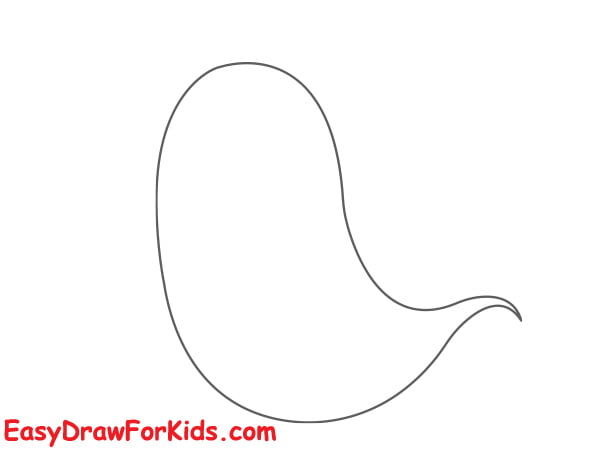 Step 2: Add the Arms
The second step of this guide how to draw a mummy ghost by drawing the arms
On either side of the body, draw curved lines outward for the mummy's arms.
Make them bent at different angles, one raised and one lowered, for a more dynamic pose.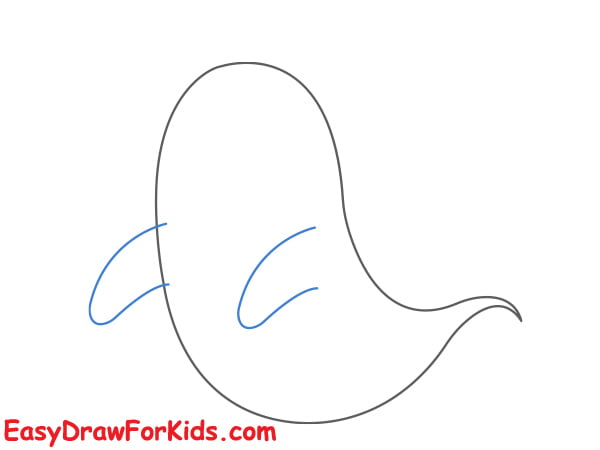 Step 3: Draw the Magic Hat
Start by drawing a rectangle at the top of the head. This will be the main body of the hat.
From the top of the recangle, extend two curved lines upward and slightly outward to create the brim of the hat. These lines should curve gently to form a wide, rounded shape.
Connect the ends of the curved lines with a slightly curved line to complete the brim of the hat.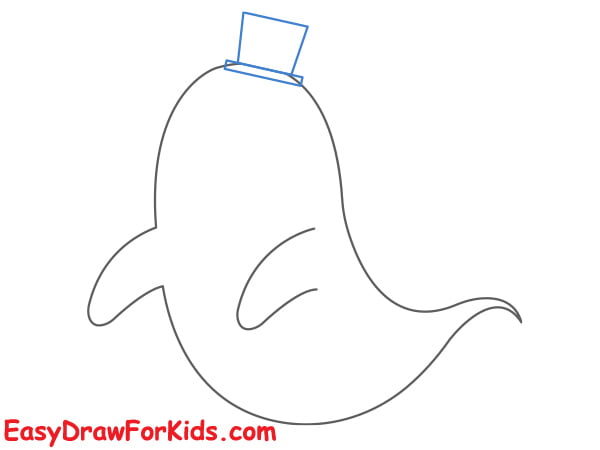 Step 4: Draw the Eyes
Your Mummy Ghost is really taking shape! Next up is adding the facial detail
The face is one of the most crucial aspects of your mummy ghost, as it conveys emotion and character.
Start by shaping the eyes, draw large, round eyes with two small dot for pupils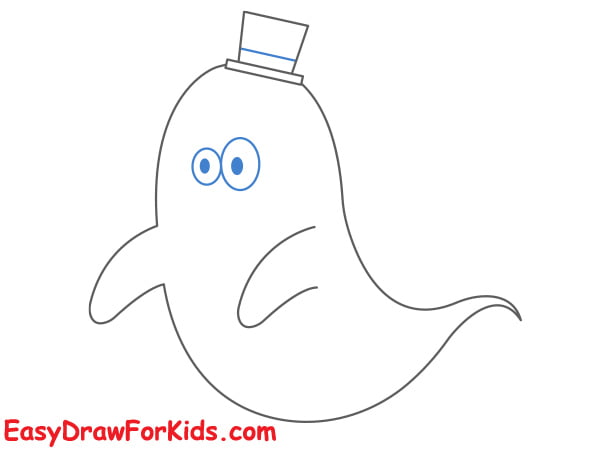 Step 5: Add the Mummy Details
Now it's time to morph your ghost into a mummy. Start adding rectangles across the body to represent mummy wrapping.
Make some sections have clean horizontal bandages and others appear more frayed and unraveled.
Let some of the wrapping droop down as if it's slowly unwinding.
Add vertical wraps around the bottom portion of the body to further the mummy effect.
Leave gaps between some of the bandages to show a hint of the ghost underneath.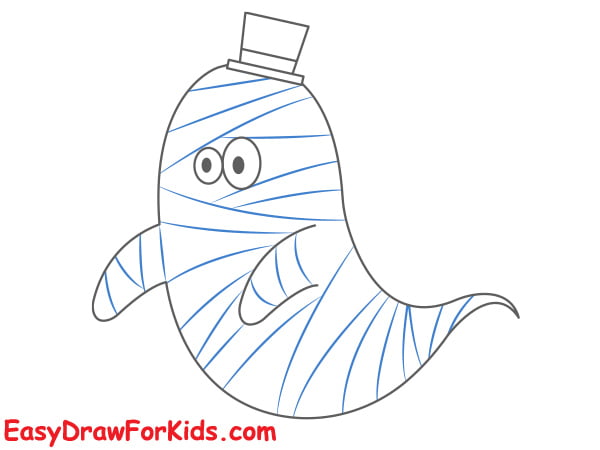 Step 6: Color the Mummy Ghost
Now that we've successfully this guide how to draw a mummy ghost, it's time for the most exciting part. 
For an extra spooky effect, consider adding some color to your mummy ghost!
Use colored pencils, markers, or paint to make the bandages an aged tan or brown.
Add eerie green, gray, or purple tones to the background. Just be sure to leave the ghost form white for a nice contrast.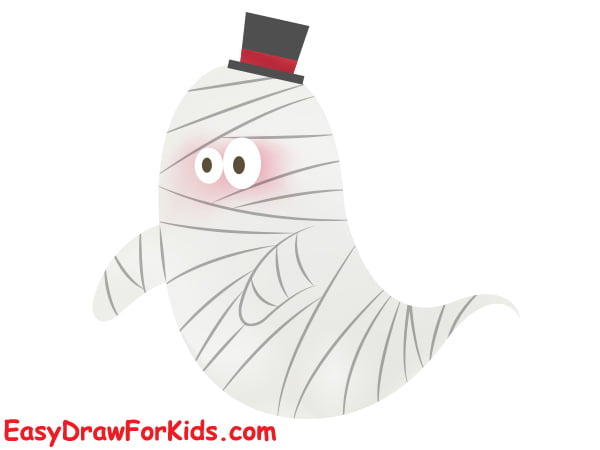 Tips for Drawing an Expressive Mummy Ghost
Here are some tips to give your mummy ghost more personality and character:
Draw the mummy ghost in an active, flowing pose instead of just floating stiffly.
Draw the mouth open with jagged teeth showing for a scary mummy ghost.
Widen the eyes and draw the brows lowered to make an angry or sinister expression.
Add a tongue hanging out of the mouth for a sillier, cartoony mummy ghost.
Give your mummy ghost something to hold like a jack-o-lantern, skull, or spell book. This adds context.
Draw the setting around your mummy ghost – tombstones, abandoned houses, creepy forests, and moonlit skies help tell an eerie story.
Why Draw a Mummy Ghost?
Drawing a fun mummy ghost is a great Halloween activity for both kids and adults. Here are some of the benefits of creating mummy ghost art:
Lets you combine two classic Halloween themes in one spooky character.
Is an easy way to create cute, not-too-scary monsters perfect for Halloween parties, crafts, or decorations.
Helps build cartooning and character design skills.
Can inspire kid's creativity, storytelling, and imagination.
Conclusion
Learning how to draw a mummy ghost is easy with these simple steps.
Start with basic shapes, build up the mummy wrapping, add expressive eyes and mouth, and finish with shading and details.
With just basic shapes and a dash of creepy details, you can conjure up all kinds of frightening phantoms.
Drawing spooky mummy ghosts is a creative Halloween activity to do alone or to share with friends.
Display yourfinished mummy ghost drawings around the house for a festive, frightening decoration!
You may also enjoy: