The majestic polar bear is one of the most iconic and beloved animals in the world.
Though they appear in numerous logos, films, and picture books, you rarely get to see them in person, since they live in Arctic areas that few of us will ever travel to.
But you can get to know them a bit better by learning to draw them!
By following a few simple steps guide on how to draw a polar bear, you can create your own artistic polar bear portraits and share their beauty with others.
How to Draw a Polar Bear: A Step by Step Guide
In this article on how to draw a polar bear in 7 steps to help you drawing a polar bear with ease!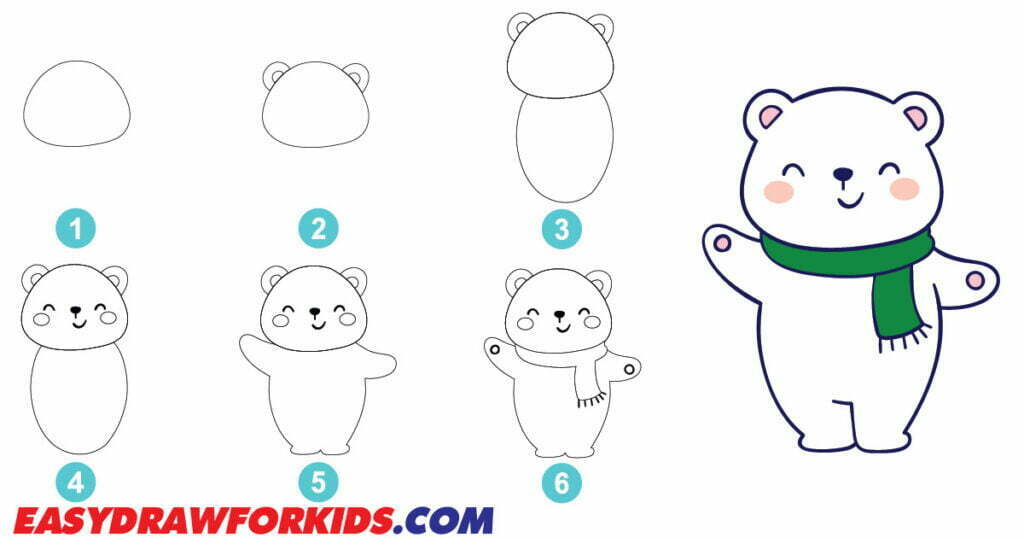 Step 1: Sketch the Basic Shape
The first step in drawing a polar bear is to create the basic outline.
Start by lightly sketch the basic shape of the polar bear's head in the center of your paper.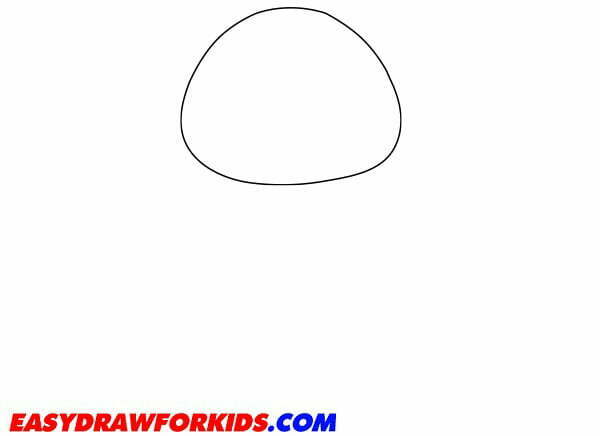 Step 2: Depict the Polar Bear's Ears
The second step of this guide on how to draw a polar bear will focus on the ear of polar bear
On either side of the head, draw two rounded triangle shapes to represent the polar bear's ears.
In each ear, add an inner outline using curved lines.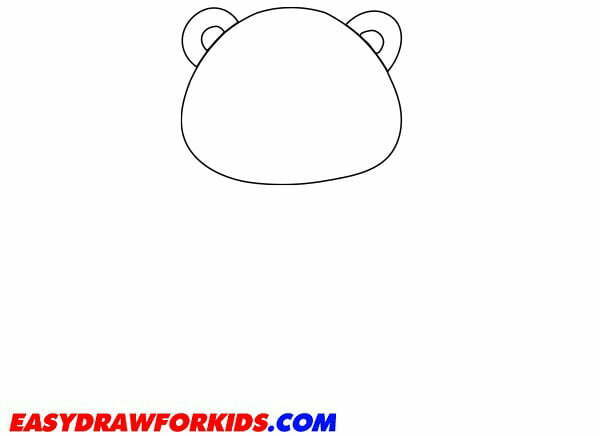 Step 3: Depict the Torso
From the bottom of the head, draw a slightly curved line that extends downward.
This will be the polar bear's torso.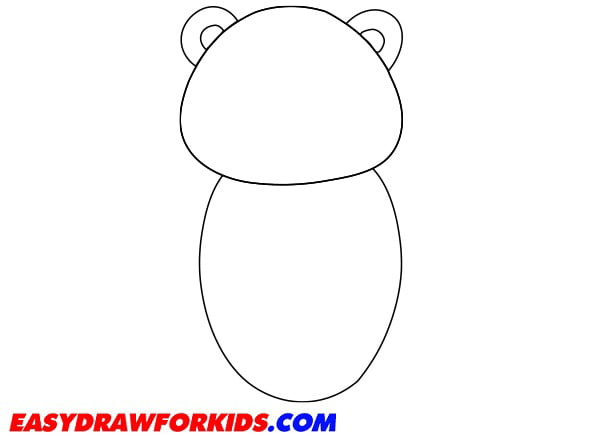 Step 4: Add the Facial Features
In this step of this guide how to draw a polar bear will focus on the facial
Start with the smiling eyes by drawing two upside-down "U" shapes.
Make sure they are evenly spaced and aligned.
Underneath each eye, draw two oval shapes to give it rosy cheeks.
Then add a C-shaped line for the mouth. You can taper the ends down slightly if desired.
For the nose, draw a small irregular shape – polar bears have broad noses.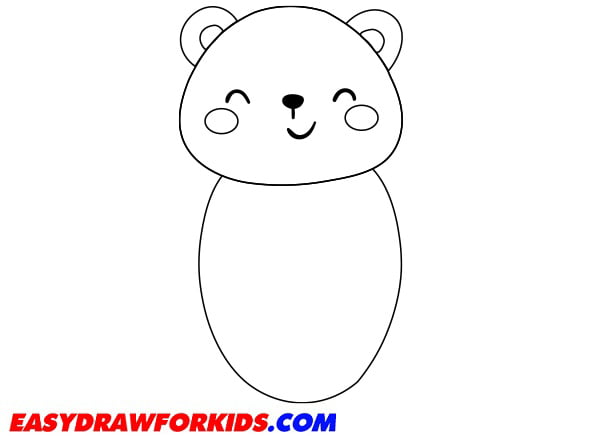 Step 5: Draw the Limbs
The limbs come next.
Draw a two curve lines below the head for the front limb
Draw a tapered oval for each leg, extending them wider at the shoulders and narrower at the paws.
Add a curved line over the front legs to indicate folds and fur.
Sketch lightly so you can easily adjust the proportions and shapes later.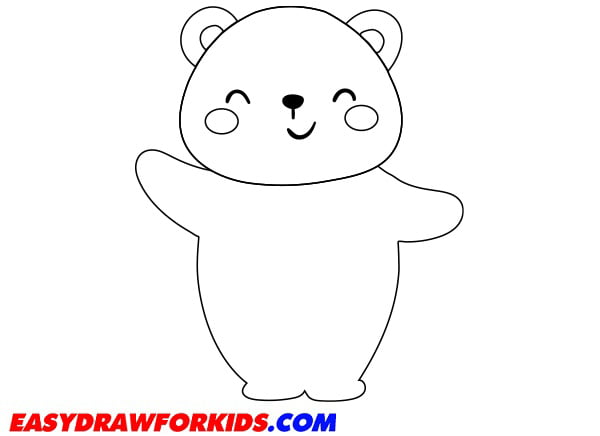 Step 6: Depict the Scarf
Below the head, draw a curve line around the neck for the scarf as shown the picture
Erase any unnecessary or overlapping lines and refine the shape of the polar bear, making sure the proportions and curves look balanced.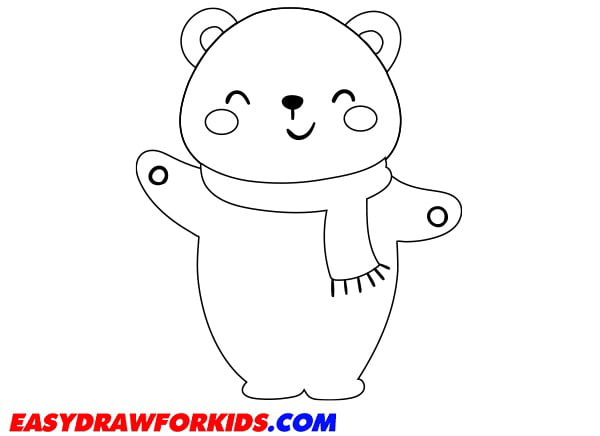 Your polar bear is complete! Now you can draw a simple background scene.
For a snowy habitat, add snowflakes falling and drifts of snow on the ground.
You can also draw ice chunks or snow-capped mountains in the distance.
Step 7: Color The Drawing
Now that we've successfully this guide how to draw a polar bear, it's time for the most exciting part.
When you're satisfied with your drawing, go over all of the lines with a black pen or marker to make them darker and more defined.
If desired, use crayons, colored pencils, markers or paint to color your polar bear creation!
Add white for the fur, black for eyes and nose, and blue for the background.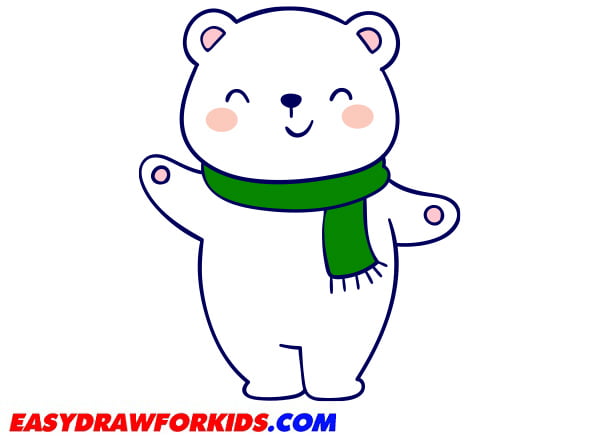 And that's it – you now have an adorable polar bear drawing to show off!
Sign and date your artwork! Then find a nice frame to display your one-of-a-kind polar bear portrait.
Tips for Drawing Polar Bears
Here are some helpful tips to keep in mind when drawing polar bears:
Lightly sketch the shapes first so you can easily erase and make changes.
Pay close attention to the face and facial features like the eyes, nose, and mouth. Details like highlights in the eyes will make your polar bear come to life.
Look at photos of real polar bears for reference on body proportions and how the fur looks. Notice how the fur parts at the chest and stomach.
Use clean, confident lines when you go over your final sketch with pen or marker. Don't press too hard or your lines will be shaky.
Vary your line weight – use thinner lines for the whiskers and snowflakes, and thicker lines for the outline.
Keep the background simple so the focus stays on the polar bear. Avoid adding too many details.
Have fun and let your creativity shine! Add little details like a fish in the bear's mouth or icicles hanging from its fur.
Conclusion
Now you know how to draw a polar bear.
Drawing polar bears is an enjoyable way to practice animal art and your artistic skills.
Start with the basic head and body shape, refine the features, and add your own creative touches.
The key is to slowly build up from basic shapes to detailed fur textures.
Remember to convey the polar bear's powerful essence through expressive eyes and overall form.
Let your creativity run wild in depicting polar bears fishing, swimming, walking on ice, caring for cubs, or in other active poses.
With some practice and patience, you can master drawing beautiful polar bears.
Enjoy bringing these magnificent creatures to life on paper!
You may also enjoy: