Halloween is right around the corner, and what better way to get into the spooky spirit than learning how to draw a witch ghost?
Ghosts and witches are classic symbols of Halloween that can be a lot of fun to draw.
With just a bit of practice, you'll be able to sketch your own unique witch ghost to decorate cards, posters, or to use as part of a Halloween costume.
So grab your drawing supplies, turn on some Halloween music, and let's get started!
How To Draw A Witch Ghost – A Step by Step Guide
When learning how to draw a witch ghost, start with basic shapes and build up the form. Follow these steps: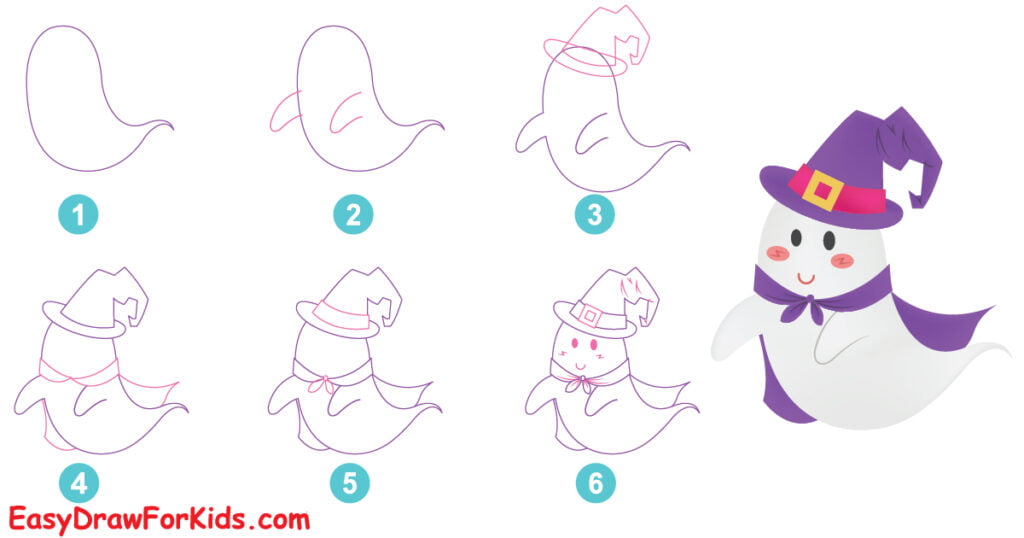 Step 1: Draw the Ghost Head and Body
Start by drawing a large, slightly elongated oval shape in the center of your paper. This will be the ghost's head.
From the bottom of the oval, extend two curved lines downward to create the ghost's body. The lines should taper and become narrower as they go down.
Draw a curved line under the oval, with a pointed bottom, to form the ghost tail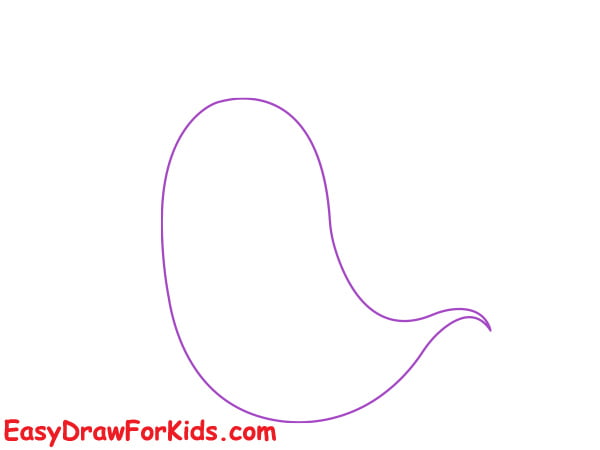 Step 2: Draw the Ghost Arms
Extend two long, wavy lines outward from the sides of the ghost's body to create the ghostly arms.
The lines should be slightly curved and taper towards the ends.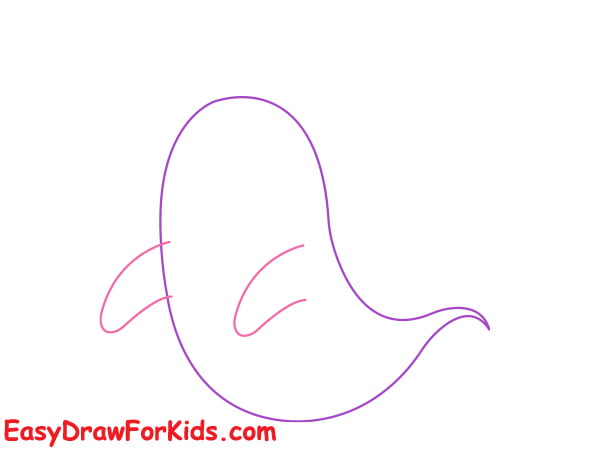 Step 3: Add the Witch's Hat
In this step of guide how to draw a witch ghost will focus on the witch's hat
On top of the ghost's head, draw an elongated triangle shape for the witch hat
Draw a wide brim on the bottom of the hat
Add a bumpy, uneven line across the hat for folds and texture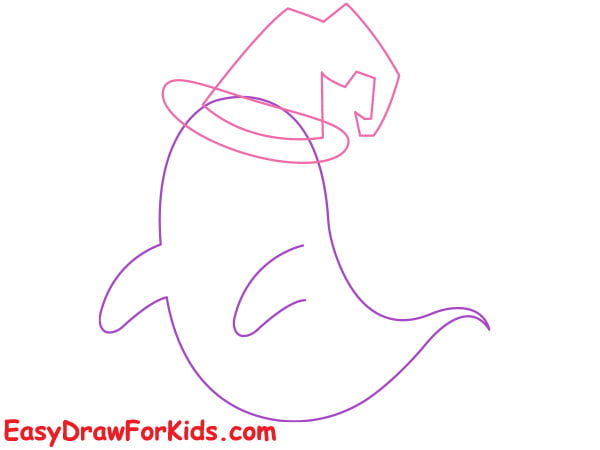 Step 4: Add the Robe
Add a flowing tattered cloak or robe to the ghost's body.
Draw irregular, ragged lines along the sides and bottom of the ghost to represent the cloak's edges.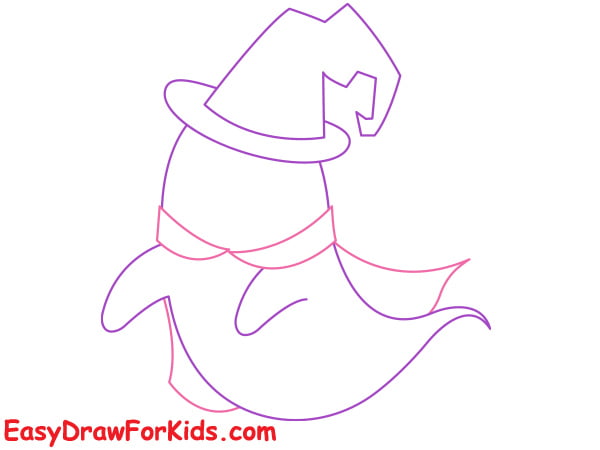 Step 5: Add the detail
Start by drawing a small circle or oval shape on the robe. This will be the main body of the button.
From the top and bottom of the button body, draw two short, straight lines extending outward. These lines will serve as the button's shank, which is the part that attaches it to the fabric.
Draw a band around the base of the hat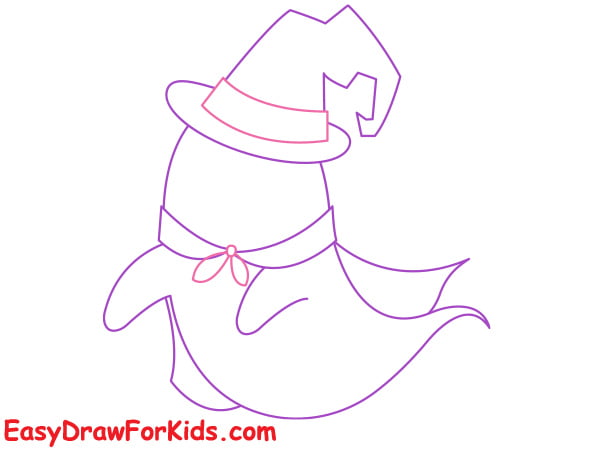 Step 6: Add the Ghost Face
The sixth step of this guide how to draw a witch ghost by drawing two large oval shapes inside the head for eyes
Add a curved, open-mouthed smile with pointed teeth showing
Shade lightly around the mouth and other areas for depth
Now that you have the basic shape down, it's time to start adding in some details. Begin by refining the shape of the body and adding more curves and contours to make it look more like a ghost.
Add wavy, flowing lines on either side of the ghost's body for a floating appearance
Use lighter strokes for the hat and clothing folds for a subtle look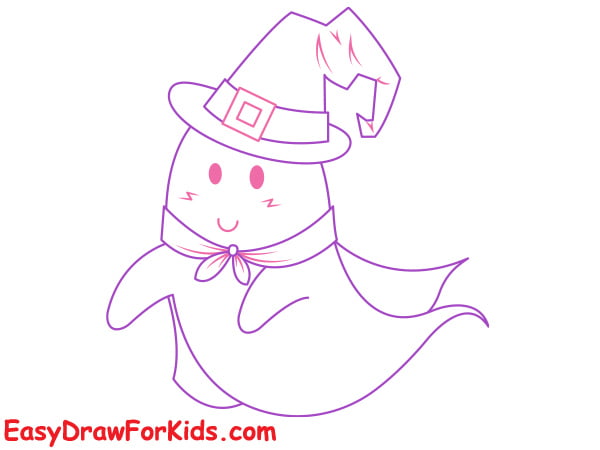 Step 7: Add Color (Optional)
For a more finished witch ghost drawing, consider adding color with colored pencils, markers, or paints. Some color options include:
Light purple, blue, or green for the ghostly body and dress
Neutral colors like grey or beige for the face and arms
Black hat, shoes, and other accents
Orange or yellow for props like a broomstick or crystal ball
Play around with color combinations and shading to make your witch ghost pop off the page. But a black and white drawing has an elegant, spooky look too.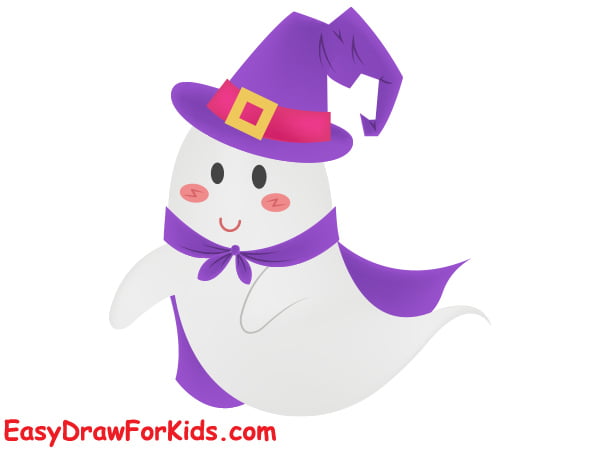 And there you have it – a fun and spooky witch ghost drawing!
Feel free to get creative and add your own details and personality to make your ghost unique.
You can add things like a broomstick, potion bottles, or a black cat.
The possibilities are endless!
More Spooky Drawing Ideas
Learning how to draw a witch ghost is just one of many fun Halloween-themed items you can draw. Here are more spooky ideas to try:
Jack-o-lanterns – Practice drawing pumpkin faces with triangles for eyes, toothy grins, and high eyebrows
Bats – Use simple oval bodies, wing shapes, and pointed ears
Skeletons – Draw skulls, bones, top hats, and canes for a boney look
Zombies – Show missing limbs, bloody wounds, empty eyes, and torn clothes
Vampires – Draw capes with tall collars, sharp fangs, and slicked hair
Black cats – Use oval heads, triangular ears, arched backs, and puffy fur
Gravestones and cemeteries – Create an eerie scene with gates, statues, mausoleums, and more
Haunted houses – Draw jagged rooflines, broken windows, creaky doors, and dead trees
You can find reference photos online or let your creativity run wild. Drawing Halloween themes is a fun way to get into the spirit of the season.
Tips for Drawing a Witch Ghost
If you're new to drawing or just looking to improve your skills, here are a few tips to help you create the perfect witch ghost:
Start with a rough sketch to get a feel for the basic shape and layout of your drawing.
Use curved, flowing lines to achieve a supernatural, ghostly look
Draw messy, uneven lines for the hair and clothing for texture
When adding shadows and highlights, think about where light would naturally hit your subject.
Draw inspiration from Halloween decor, witches in pop culture, or your imagination!
With practice and patience, you'll steadily improve your witch ghost drawing abilities. Don't be afraid to experiment and find a style that works for you.
Conclusion
Learning how to draw a witch ghost is the perfect way to get into the Halloween spirit and practice your artistic skills. With simple supplies, step-by-step guidance, and a dash of creativity, you can easily create your own spooky ghost drawings.
Use light outlines and pencil shading first before adding bolder marker lines. Customize your ghosts with colorful clothing, hats, and other fun details that show off your personality. You can also try drawing other Halloween themes like jack-o-lanterns, vampires, and haunted houses.
Drawing should be an enjoyable activity, so have fun with it! Don't worry about mistakes as they just provide room for growth. With each witch ghost you draw, you'll keep improving your technique and developing your own artistic style.
So grab your sketchbook and drawing tools and get ready to create some spellbinding works of art. Just in time for Halloween 2023, your witch ghost drawings will look hauntingly good!
You may also enjoy: