Do you wants to learn how to draw island landscapes?
The lesson on how to draw an island is ready for you.
In this comprehensive guide, we will take you through the step by step process of drawing a beautiful island scene.
In this article, we'll cover everything from basic shapes and perspective to color theory and composition.
By the end, you'll have all the knowledge you need to create a beautiful and realistic island scene.
How to Draw an Island: A Step by Step Guide
When drawing any landscape, it's important to have good references to work from.
Look for photos of islands from different angles and perspectives.
Study the shapes and look for key details like cliffs, beaches, vegetation, etc.
Good references will give you an accurate guide for lighting, proportions and scale.
In this article on how to draw an island in 10 steps to help you drawing an island with ease!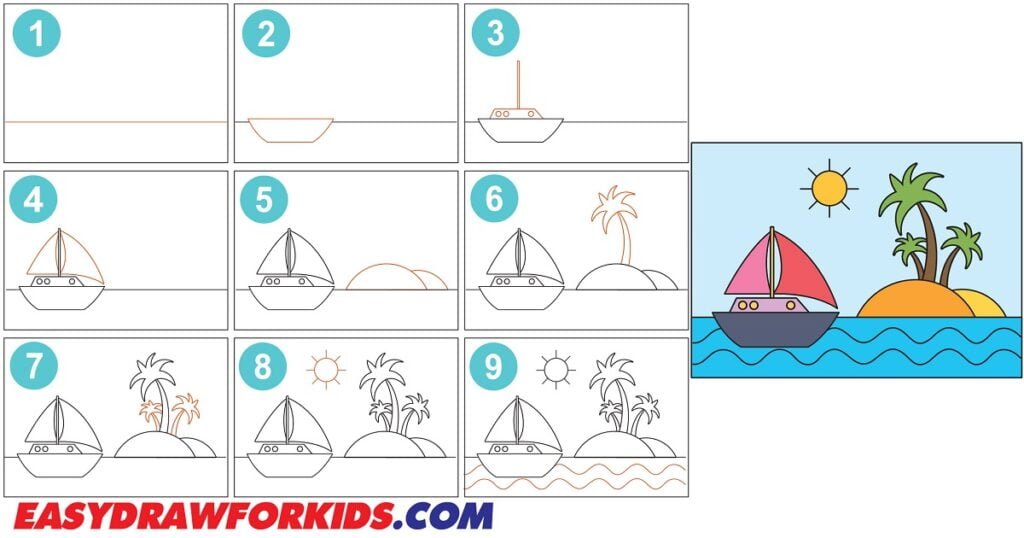 Step 1: Sketching the Basic Shapes
The first step in this guide how to draw an island is to sketch out the basic shapes. We'll start by drawing a horizon line
Draw a horizontal line across your page, about a third of the way down. This line will represent the horizon.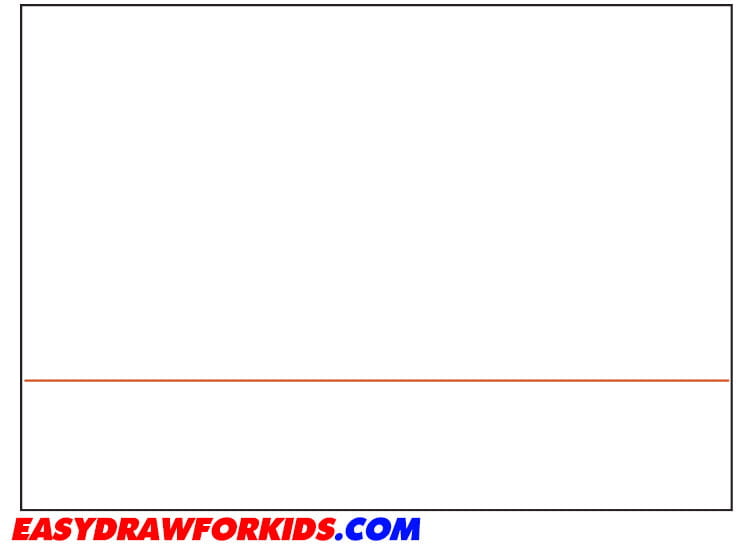 Step 2: Draw the Main of the Ship
Use straight horizontal and oblique lines to draw this detail on the horizontal line.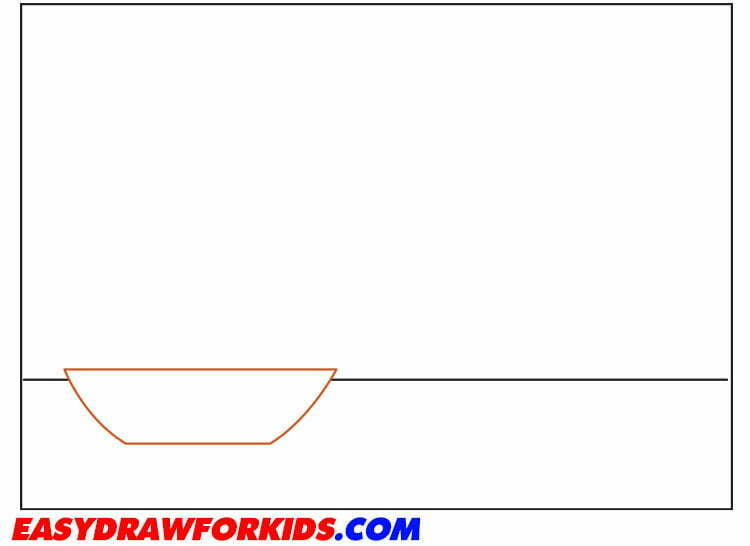 Step 3 Depict the Mast and Top of the Ship
Add a small rectangular shape at the back of the ship to represent the cabin or deckhouse.
Above the previously drawn detail, draw two obliques and one horizontal straight line, then draw three small circle for the window
Draw two straight vertical lines and connect their ends at the top.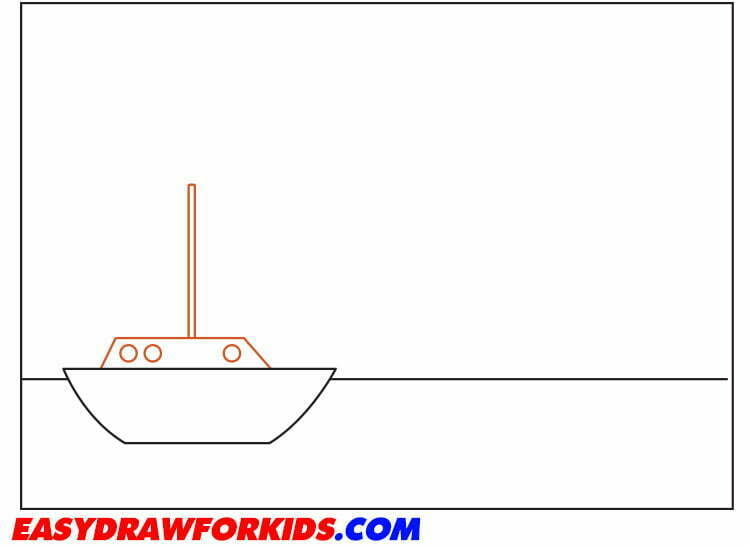 Step 4: Depict the Outline of the Sail
The fourth step of this guide on how to draw an island will focus on the sail of the ship
Draw two inclined straight lines, as well as one arc on the sides of the mast.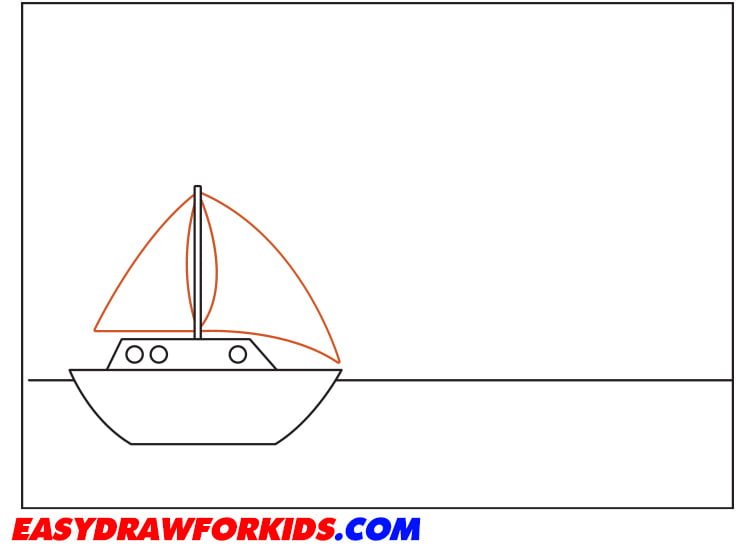 Step 5: Depict the Island
Begin your island drawing by lightly sketching the basic overall shape and outline. Since islands have rugged natural shapes, don't make yours too perfect.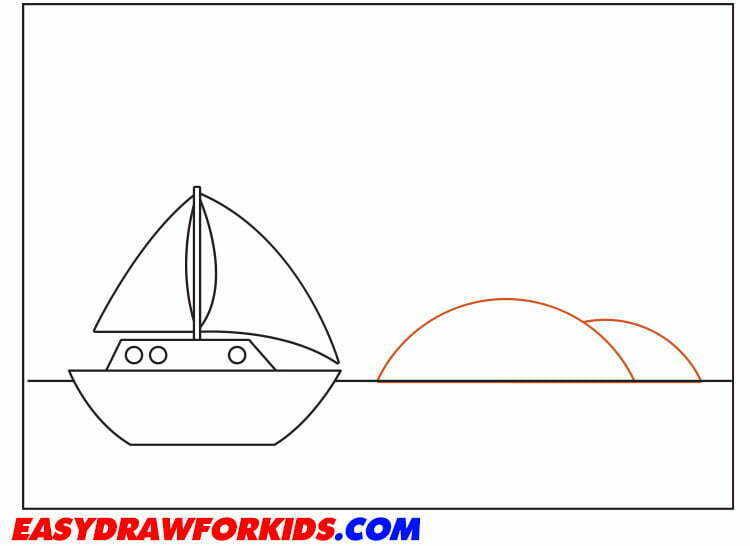 Step 6: Depict the Palm Tree
At the top of the island, draw the palm tree by using the curved lines as shown the picture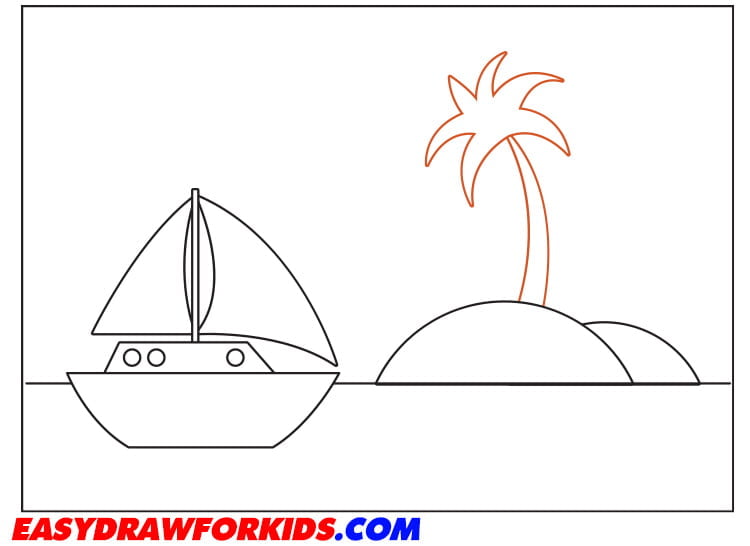 Step 7: Continue Draw the Palm Trees
Draw two small palm trees on the sides of the previously drawn detail.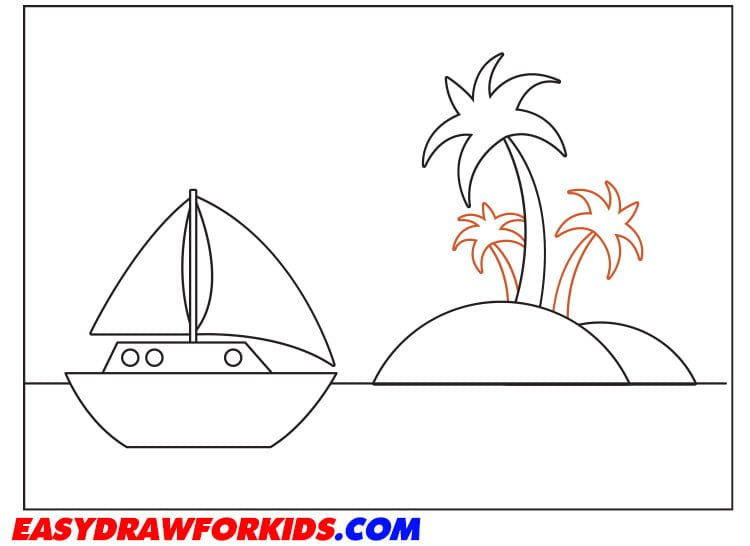 Step 8: Depict the Sun
The eighth step of this guide on how to draw an island will focus on the sun
Draw a circle for the sun and straight lines of the same length for the sun rays.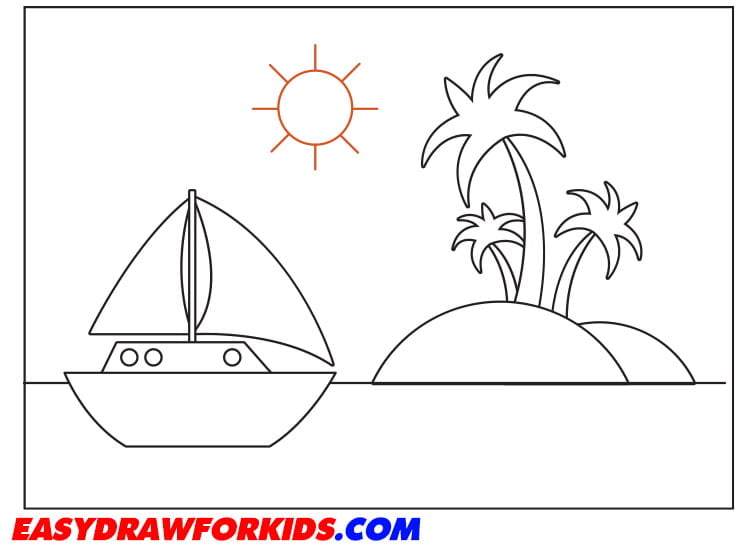 Step 9: Depict the Waves
The ocean surrounding the island is just as important for creating a realistic scene.
Draw small waves radiating out from the island using curved parallel lines.
Shade the water darker at the shoreline and lighter towards the horizon.
Add some white flecks and foamy texture for waves washing onto shore.
You can draw shadows on the water cast by the island for added realism. Extend the ocean all the way to the horizon line.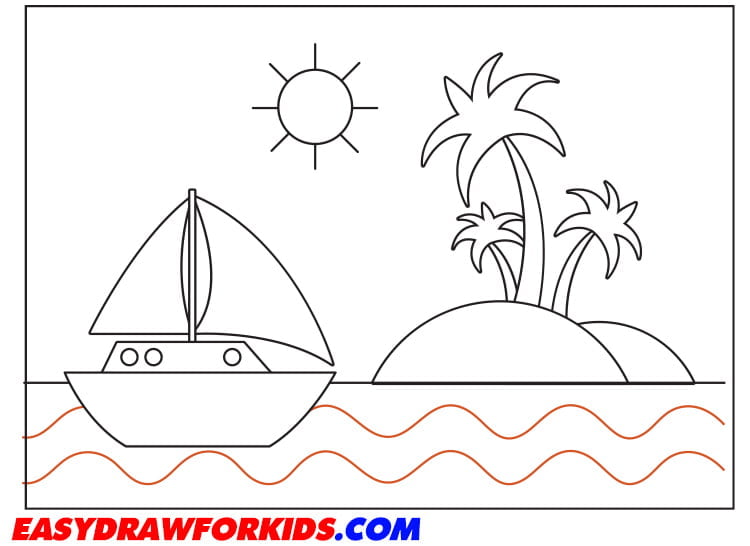 Step 10: Adding Color to Your Drawing
Now that we've successfully this guide how to draw an island, it's time to bring your art to life with color!
Color is an important part of any drawing, and it's especially important when it comes to creating a seascape.
Choose colors that reflect the mood and atmosphere you want to create.
For example, if you're going for a tropical vibe, you might use bright greens and blues for the vegetation and water.
When choosing colors, think about how they complement each other. You might use complementary colors (colors that are opposite each other on the color wheel) to create contrast and visual interest.
Alternatively, you might use analogous colors (colors that are next to each other on the color wheel) to create a more harmonious color scheme.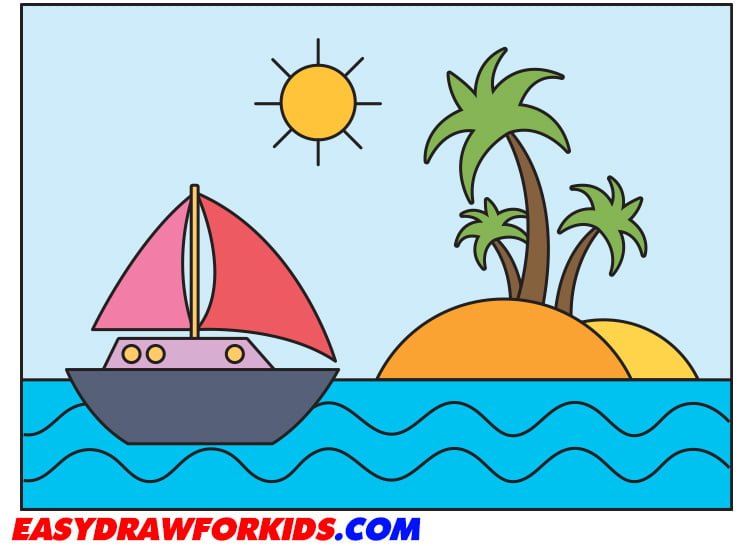 Tips and Advice for Drawing an Island
If you're just getting started learn how to draw an island, here are a few tips to keep in mind:
Practice perspective: Perspective is key to making your drawing look realistic. Take some time to practice drawing vanishing points and getting the placement of objects right.
Use reference images: It can be helpful to use reference images when you're first starting out. Look at photos of real islands or other artists' work to get a sense of what you want to create.
Focus on composition: Good composition is essential for creating a visually appealing drawing. Try experimenting with different compositions to see what works best.
Don't be afraid to make mistakes: Remember, drawing is a learning process. Don't worry too much about making mistakes – just focus on enjoying the process and experimenting with different techniques.
Conclusion
Drawing islands and seascapes takes observing small details and practicing techniques like perspective, scale, and texture.
Have patience with the process and work slowly from large shapes to finer details.
Use quality references and don't be afraid to experiment with different compositions, styles and mediums.
Mastering how to draw an islands will give you skills to tackle all kinds of nature landscapes.
Just remember the fundamentals and enjoy bringing these scenic places to life on paper.
You may also enjoy: