If you're someone who loves art and wants to try their hand at drawing scenery, then this guide how to draw scenery is for you.
Drawing scenery can be a lot of fun, and it's a great way to express your creativity.
In this article, we'll take you through a step-by-step guide on how to draw scenery.
We will cover everything from selecting your subject to adding the finishing touches to your artwork. So, let's get started!
How to Draw Scenery: A Step by Step Guide for Beginners
Here are some examples of beautiful scenery drawings to inspire you:
A mountain range with a lake in the foreground
A beach scene with crashing waves
A cityscape at dusk with skyscrapers and streetlights
A forest with trees of different sizes and colors
A desert landscape with cacti and rock formations
Now that you have all the necessary ideas, it's time to start your drawing. Here are some steps on guide how to draw scenery you can follow: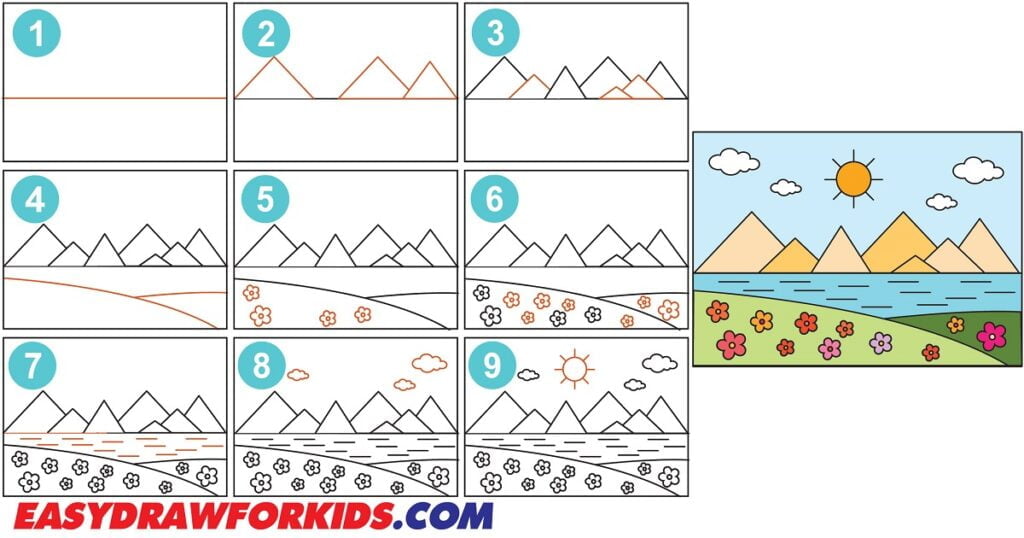 Step 1: Sketch the Outline of Your Drawing
Determine the size of the drawing, and use straight lines to draw an even rectangle.
Draw the surface of the earth by using a straight line at the middle of the frame.
Start with the basic shapes and forms, and then add more details as you go along.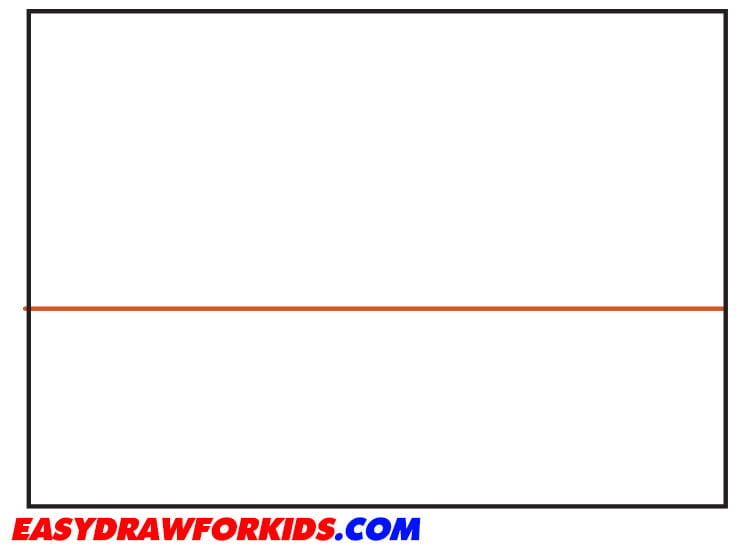 Step 2: Depict the Moutains
From the ends of the base line, draw two diagonal lines that meet at a point above the line. These lines will form the sides of the mountain.
Connect the top ends of the diagonal lines with a curved line to create the peak of the mountain. The shape of the peak can vary depending on the style and type of mountain you want to draw.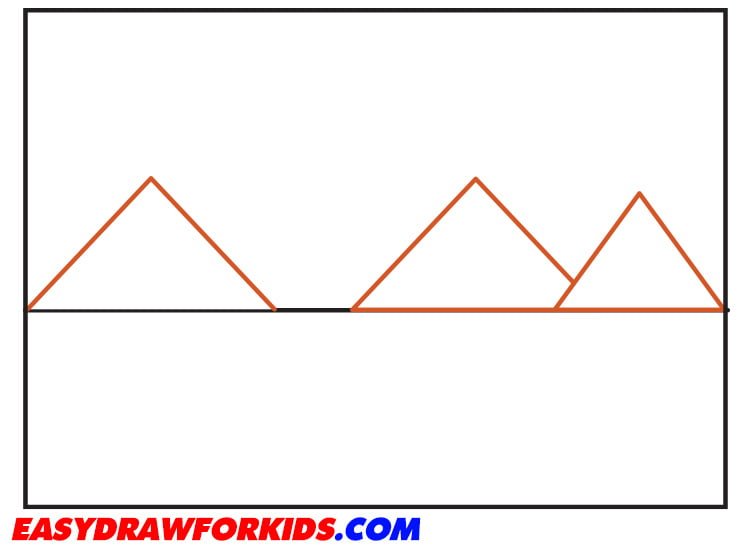 Step 3: Complete the Moutains
Add additional peaks or smaller mountains in the background by repeating steps 2. You can vary the sizes and shapes to create a mountain range.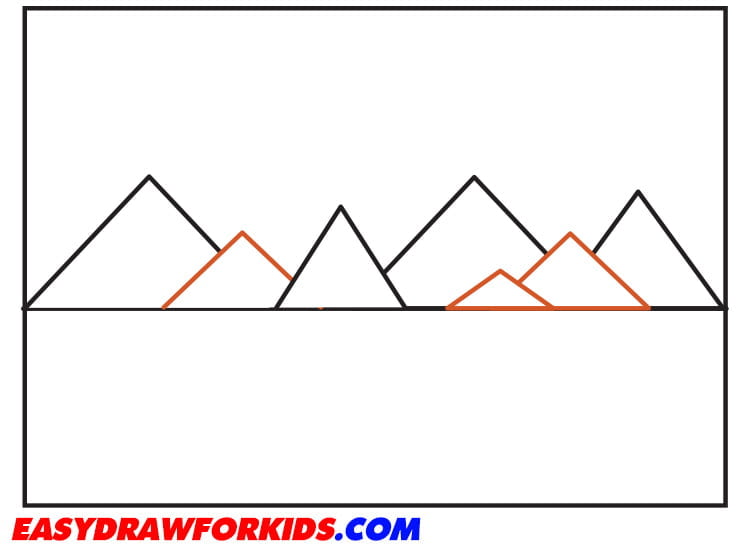 Step 4: Depict the Land
From the dot on the horizon line, draw lines that extend upward or downward to represent the slopes or hills of the land. These lines should radiate from the focal point to create a sense of perspective.
Vary the size, height, and arrangement of the landforms to make the landscape more interesting.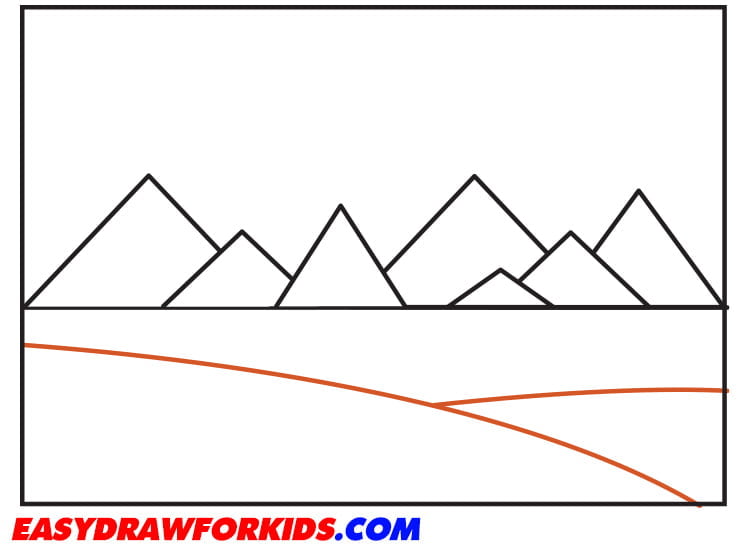 Step 5: Depict the Flowers
Draw flowers to your landscape and keeping in mind the principles of perspective and scale.
For example, objects that are closer to the viewer will appear larger, while those farther away will appear smaller.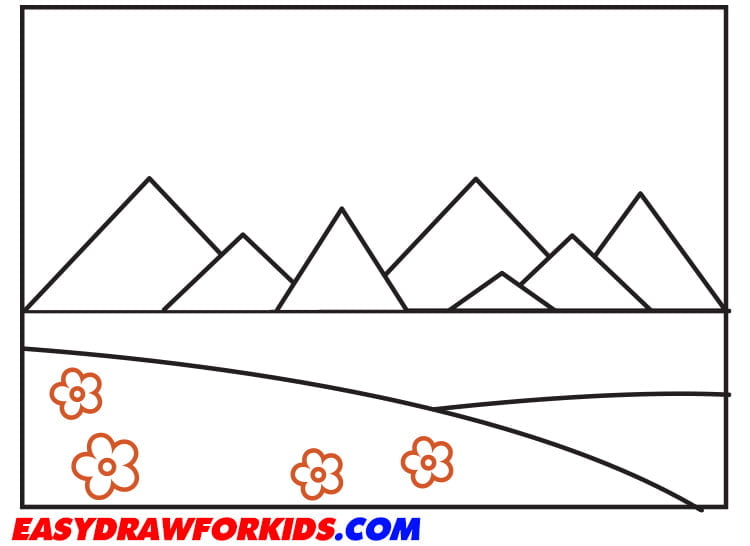 Step 6: Complete depict the Land
In this step on guide how to draw scenery, continue draw other flowers with different size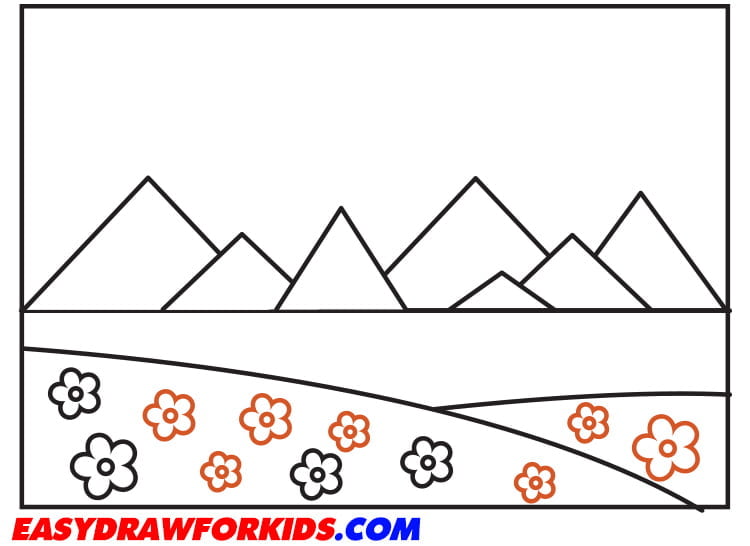 Step 7: Depict the Surface of the Water
In this step of this guide on how to draw scenery will focus depict the surface of the water
Below the mountain outline several straight horizontal lines of different lengths.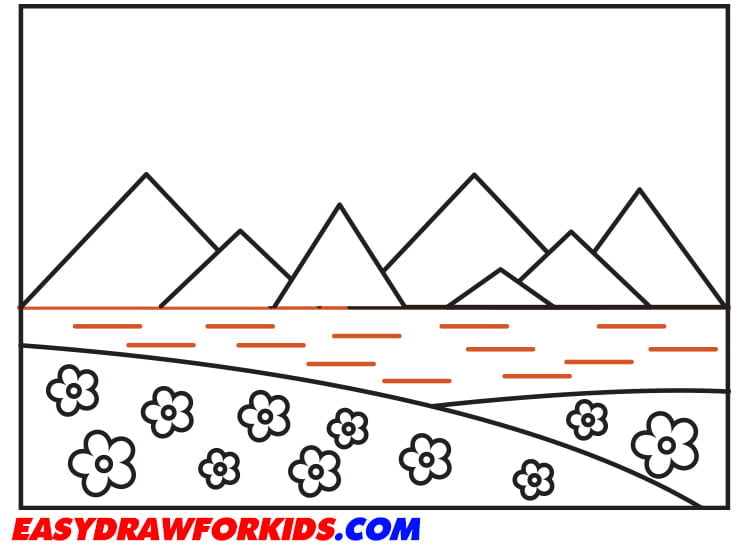 Start by drawing a fluffy, irregular shape. Clouds are often puffy and have soft edges, so you can use curved lines to create a shape that resembles a cloud.
It can be circular, oval, or even elongated depending on the type of cloud you want to draw.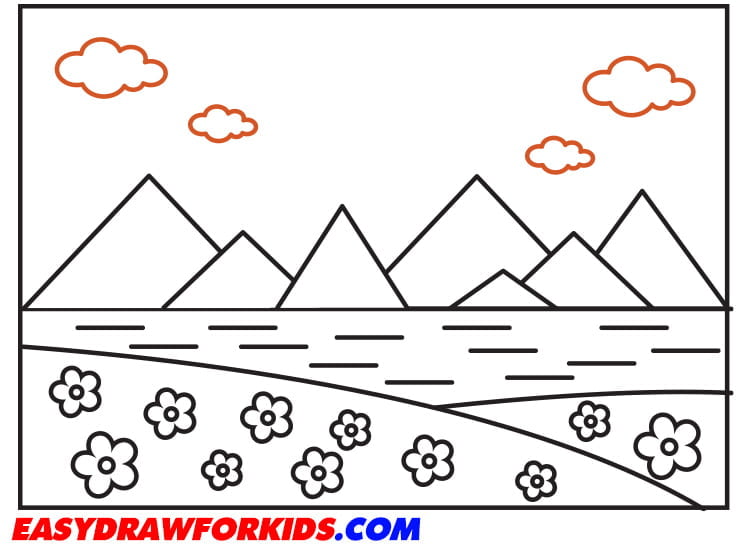 In this step of this guide on how to draw scenery will focus on the sun
Start by drawing a large circle in the center of your paper. This will be the main shape of the sun.
Extend multiple straight lines outward from the outer edge of the main circle. These lines will be the sun's rays.
You can make them short or long, thin or thick, and vary their angles to give the sun a dynamic appearance.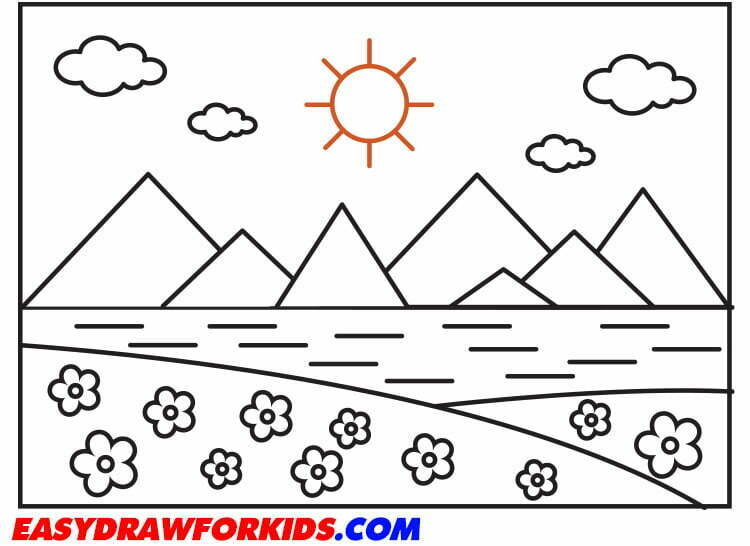 Step 10: Refine Details and Add Color (Optional)
Reinforce outlines and refine details like leaves, clouds, rocks, etc.
Add light color with pastels, colored pencils or watercolor over your pencil drawing.
Soften edges with a blending stump or tissue paper to make colors blend together naturally.
Double check that values properly convey depth and lighting. Darker = closer/shadowed.
Ensure important elements are emphasized through contrast, details or color intensity.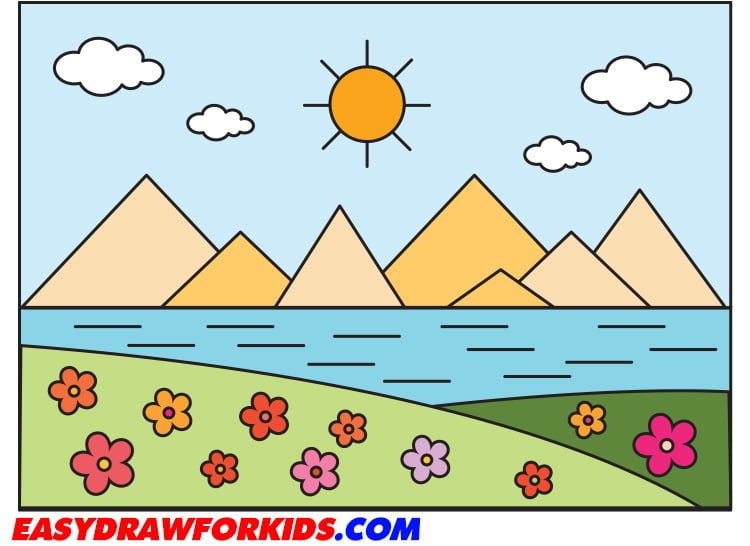 Tips for Drawing Better Scenery
Choose a Focal Point Identify the area of most visual interest and make it stand out in your composition. Use contrast, details and sharp focus to draw attention.
Use Perspective Use linear perspective to add depth. Converging lines give the illusion of distance. Objects shrink and overlap as they recede into space. Add atmospheric perspective by making distant objects blurrier with less contrast.
Learn Basic Proportions Study proportions to sketch buildings and other structures accurately. Use basic shapes like cubes and cylinders to construct manmade elements before adding details.
Mind the Lighting Determine where your imaginary light source is and add appropriate shadows and highlights. This creates the illusion of form and depth on flat paper.
Sketch Loosely Avoid stiff outlines and overworking your drawing early on. Build up slowly with simple blocks of value and detail. Let the drawing evolve organically.
Conclusion
Drawing scenery may seem daunting as a beginner, but having a methodical approach makes the process manageable.
By following the steps outlined in this guide how to draw scenery and practicing regularly, you'll soon be able to create stunning landscapes and cityscapes that will impress your friends and family.
Landscape drawing takes patience and intuition, but these fundamental techniques will start you off on the right foot.
Remember to take your time, use reference photos as needed, and experiment with different media to find what works best for you.
With hard work and dedication, you'll be well on your way to becoming a master at drawing scenery.
You may also enjoy: