Drawing a spooky black cat ghost is a fun way to get into the Halloween spirit!
With just a few simple steps, you can create an easy black cat ghost drawing that looks great.
In this article, I'll walk you through how to draw a black cat ghost step by step.
How To Draw A Black Cat Ghost – A Step by Step Guide
Around Halloween, black cats and ghosts are classic symbols that represent the season. What better way to combine them than drawing a black cat ghost?
This simple drawing is easy enough for beginners, but with the right shading and details, more advanced artists can make the black cat ghost drawing their own.
The steps are straightforward, making this a fun art project for Halloween parties, classroom art lessons, or just drawing at home for yourself or to give as a gift.
Add some spooky style to your Halloween season with this easy black cat ghost drawing tutorial.
Grab your drawing tools and let's get started!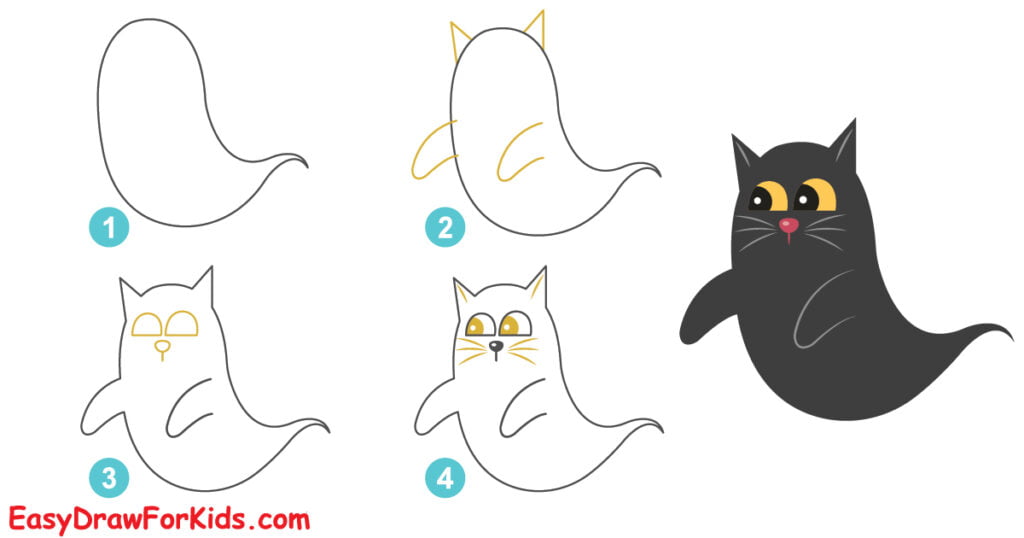 Step 1: Draw the Basic Cat Ghost Shape
In this first step in our guide on how to draw a black cat ghost by drawing a large oval shape for the cat's head.
Extend a slightly curved line from the bottom of the oval to create the body.
To turn your black cat into a ghost, start by drawing a long, curved line from the cat's back that will become the ghost tail.
Make it as long as you want and add bumps or waves in the line to give it shape and movement.
This flowing line makes the tail look supernatural and ghost-like. It will help differentiate the black cat ghost from a regular black cat when colored.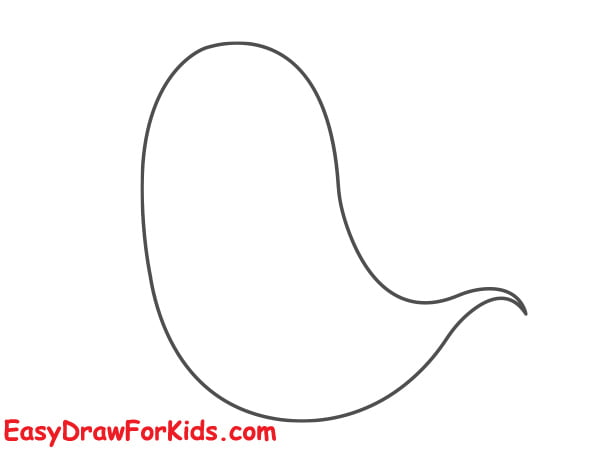 Step 2: Sketch the Ears and Legs
Draw two legs extending from the body. You can make the legs slightly bent to give the impression that the cat is floating in the air.
Next, draw two pointy ears on top of the cat's head.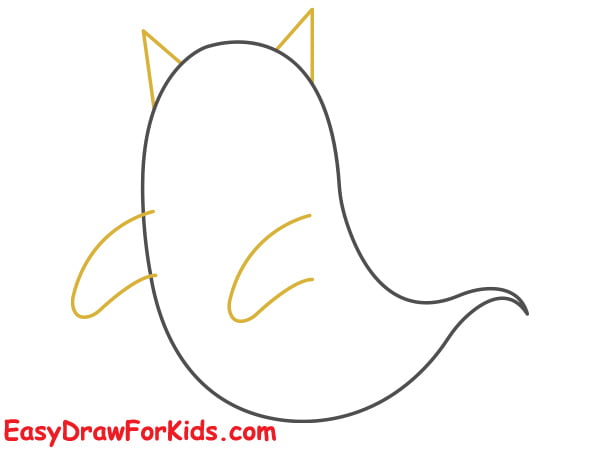 Step 3: Add the Facial Features
The third step of this guide on how to draw a black cat ghost will focus on the facial of your black cat ghost.
Draw two circles for the eyes. Make sure to leave some space between the eyes and the ears.
Leave a small area inside the eyes unshaded to draw pupils later.
A upside-down triangle nose, and a small dot for the mouth.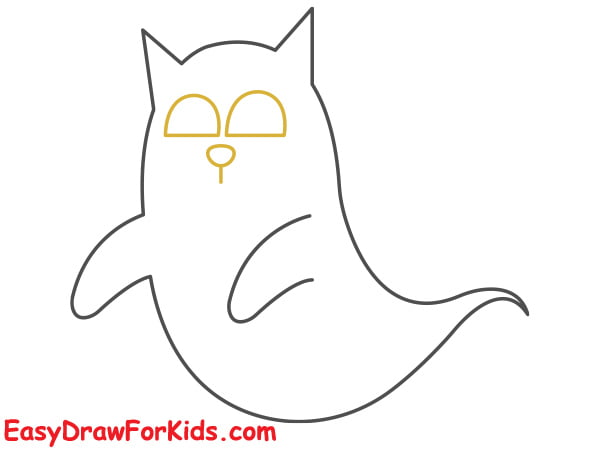 Step 4: Refine the Cat's Features
Draw some whiskers extending from either side of the nose. Add some shading to the inside of the ears and around the eyes.
You can give it glowing eyes, whiskers, or a collar to make it your own. Consider adding a witch hat or other Halloween accessories if you want.
Also take time to refine the shapes and erase any remaining sketch marks for a clean black cat ghost outline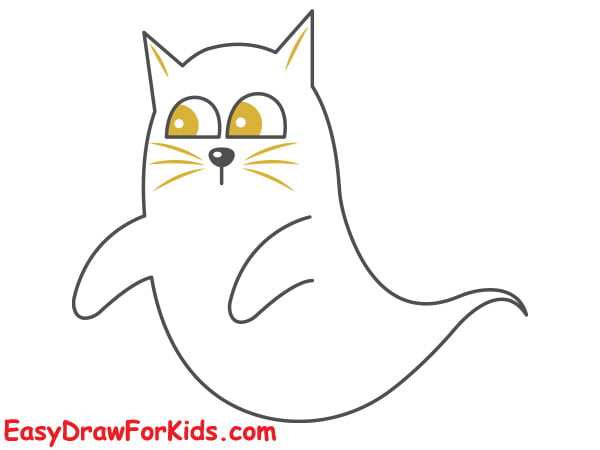 Step 5: Color Your Black Cat Ghost Drawing
Now that we've successfully this guide how to draw a black cat ghost, it's time for the most exciting part. 
Once your outline is complete, it's time to color! Use a black marker or black colored pencil to fill in the cat's head, body, legs, and tail. Leave the ghost tail white for transparent spirit effect.
Add any other spooky colors like orange, green or purple to make your black cat ghost drawing pop. Shading with darker values in certain areas can also add depth and dimension.
And that's it! In just 5 easy steps, you can create a cute, whimsical black cat ghost drawing. It's a fun Halloween art project for all skill levels. Customize the details to make it unique.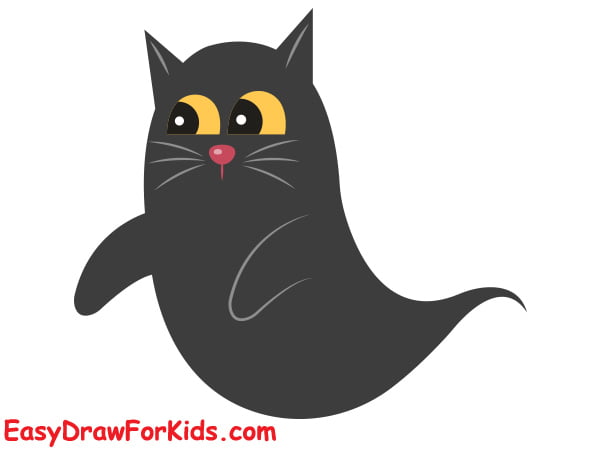 Tips for Drawing Black Cat Ghosts
Here are some extra tips to help you succeed in learning how to draw a black cat ghosts:
Consider the cat's posture – Sitting, jumping, or arching its back can add personality.
Look at cat anatomy photos for realistic proportions. Be sure to draw the eyes, nose, ears, and whiskers in the right spots.
View examples of other black cat drawings and ghosts online for inspiration on styles.
Draw a background related to Halloween like a haunted house, full moon, cemetery, or jack-o-lantern.
Get creative with expressions – a hissing cat, silly kitten, or scary fangs can be fun.
Practice makes perfect! Draw multiple black cat ghosts to improve your artistic skills.
With some time and technique, you can master drawing cute black cat ghosts for Halloween. The simple instructions make it easy to get started. Unleash your creativity by making each black cat ghost unique!
Why Draw Black Cat Ghosts for Halloween?
There are many reasons why drawing black cat ghosts is a fun activity for the Halloween season:
Black cats and ghosts are icons of Halloween that pair well together.
The simple style is easy for kids and beginners to draw.
Step-by-step instructions make it a fun beginner art lesson for school or home.
Drawing black cats helps reinforce animal anatomy, form, and techniques.
You can get creative coloring them with markers, watercolors, glitter, etc.
Black cat ghosts make cute, whimsical Halloween decorations and gifts.
Drawing them helps you get in a festive spirit for trick-or-treating, parties, and more.
Black cats have a spooky mystique that works well for Halloween themes.
You can draw them in any pose – sitting, jumping, arching their back, hissing, and more.
Anytime you want to get in the Halloween mood, spend some time doodling black cat ghosts. They are an easy way for both kids and adults to celebrate the season through art.
Conclusion
Drawing a black cat ghost is simple using basic shapes and step-by-step instructions. By following the how-to tutorial above, anyone can create a cute, whimsical black cat ghost artwork perfect for Halloween. This fun artistic activity allows you to showcase your creativity through spooky-themed drawing.
The simple concept pairs classic Halloween symbols of black cats and ghosts into one adorable scene. Customize each black cat ghost with unique details, shading, colors, poses, backgrounds and more. Both novice and experienced artists will enjoy this seasonal project.
So get into the Halloween spirit and grab your sketchbook and colored pencils. Follow the easy steps to draw a black cat ghost today! This cute artwork will enhance any haunted decorations or cards for the season.