Are you ready for pumpkin season?
Nothing says fall quite like a beautifully carved pumpkin on your doorstep.
But before you can carve your pumpkin, you need to know how to draw a pumpkin.
In this step by step guide, we'll show you just how draw a pumpkin easy.
With some basic drawing techniques, you'll be able to create a stunning pumpkin drawing that will impress your friends and family.
How to Draw a Pumpkin: A Step by Step Guide
When it comes to guide how to draw a pumpkin, there are several different techniques and styles you can use. Here are a few comparisons to help you decide which approach is right for you:
Realistic vs. Cartoonish: Do you want your pumpkin to look like a realistic fruit or a fun cartoon character?
Textured vs. Smooth: How much texture do you want to add to your pumpkin drawing? Smooth pumpkins can be simpler to draw, while textured pumpkins can add more visual interest.
Traditional vs. Creative: Will you stick to a traditional Jack-o'-lantern face or design something completely original?
Here are two different styles you can try when you learn how to draw a pumpkin step by step!
1. Simple Pumpkin Drawing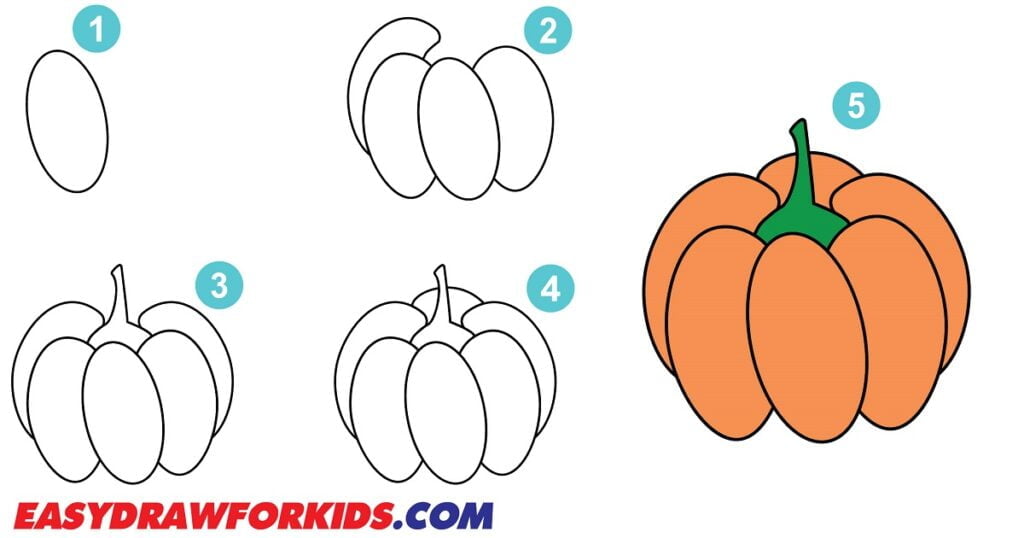 Step 1: Depict the Front of Pumpkin
Start by drawing an elongated oval in the center paper. This will become the natural segments of the pumpkin.
Make sure to leave enough space at the top and bottom to add the stem and bottom later.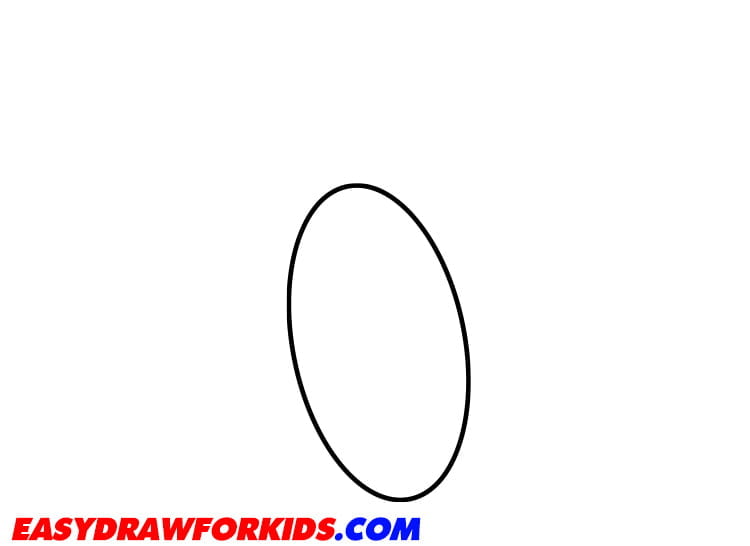 Step 2: Sketch out the Relief to the Sides
Draw a smooth rounded line on each side.
As you continue drawing the curve, start to bring it inward so that it meets the smaller circle at the top.
Once you've reached the top, continue the curve back down the other side of the pumpkin.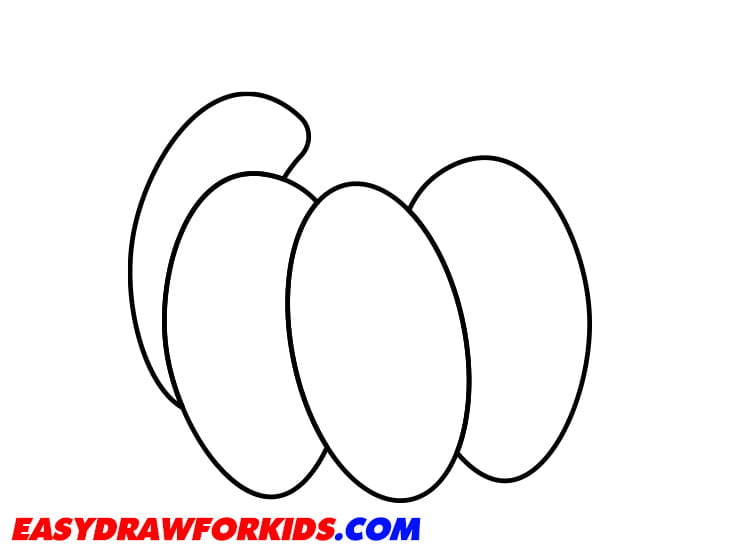 Step 3: Depict the Stem
At the top of the pumpkin, draw a circle to represent where the stem will go.
Then add a curved line down the middle of the circle and a few curved lines coming off the sides for the stem detail.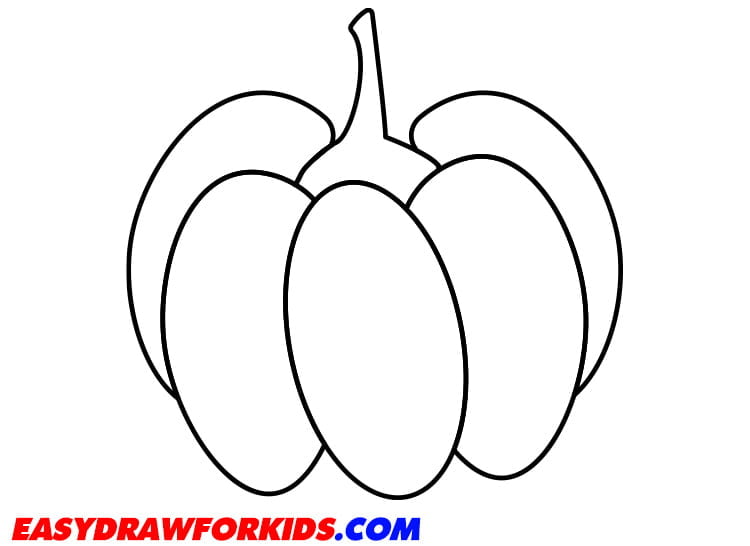 Step 4: Complete the Pumpkin
Add rounded line along the top edge of the pumpkin.
Once you are happy with the pencil sketch, trace over all of the lines with a black pen or marker. This will help define the pumpkin and make it pop off the page.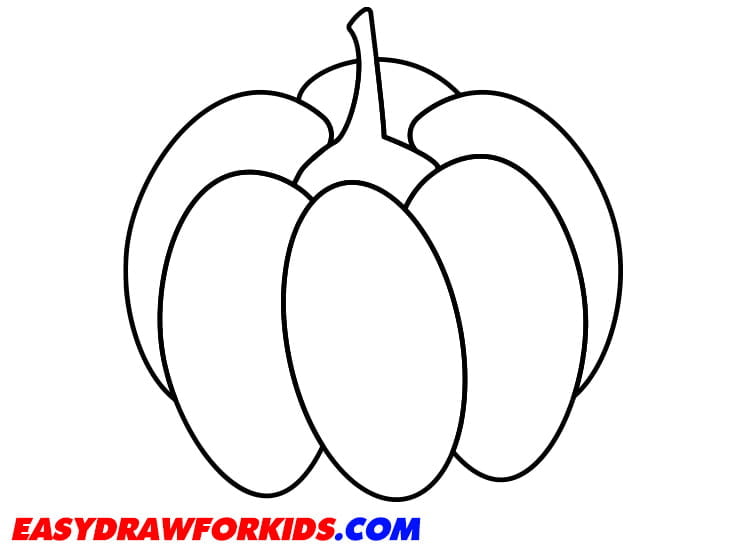 Step 5: Color the Drawing
Now that we've successfully this guide how to draw a pumpkin, it's time for the most exciting part. 
Using a dark orange pencil or crayon, start coloring in your pumpkin.
Be sure to color evenly so that there are no light or dark areas.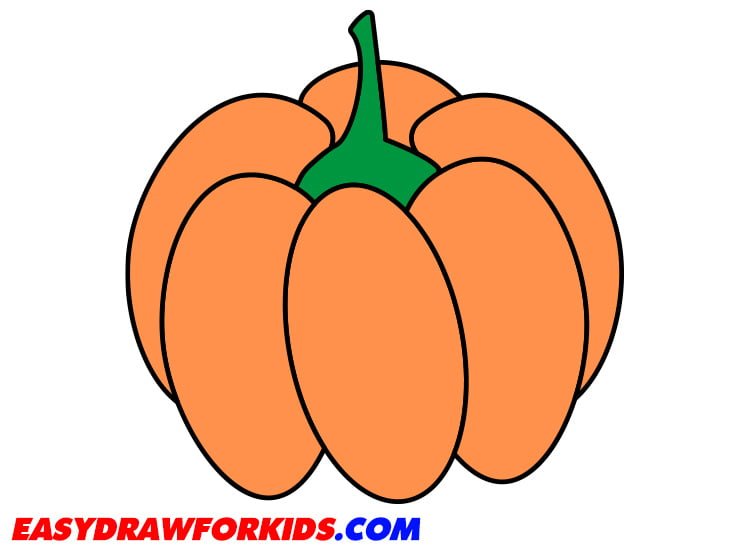 Follow along with the steps below to learn how to draw a pumpkin. Feel free to get creative and add your own details and flourishes!
2. Cartoon Pumpkin Drawing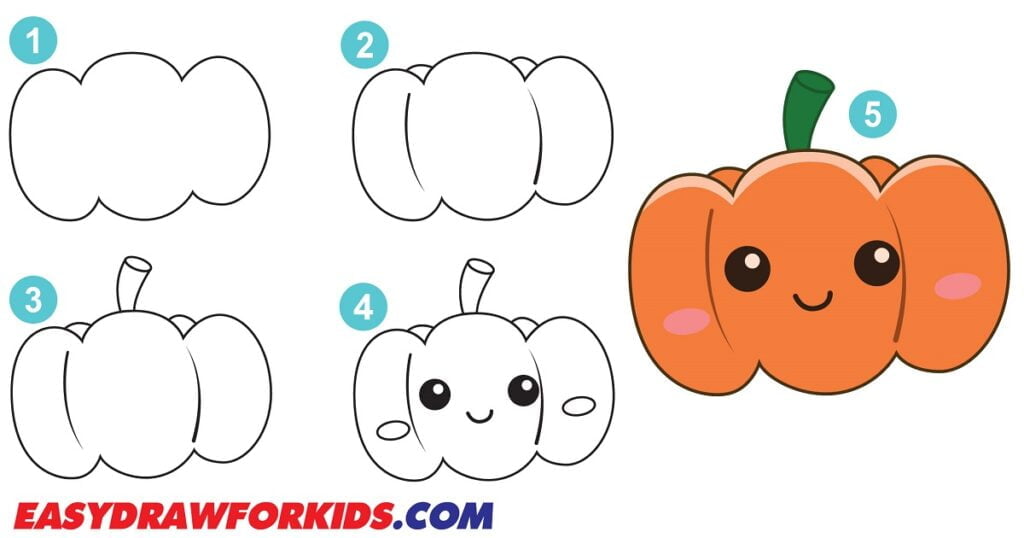 In this article on how to draw a pumpkin in 5 steps to help you drawing a cartoon pumpkin with ease!
Step 1: Draw the Basic Shape of the Pumpkin
To start, draw an oval shape for the main body of the pumpkin.
Next, add ridges to the pumpkin by drawing curved lines across the oval.
These ridges will give the pumpkin its characteristic shape.
Make sure the lines are not too uniform and vary in size and shape.
This gives the pumpkin a more natural and realistic look.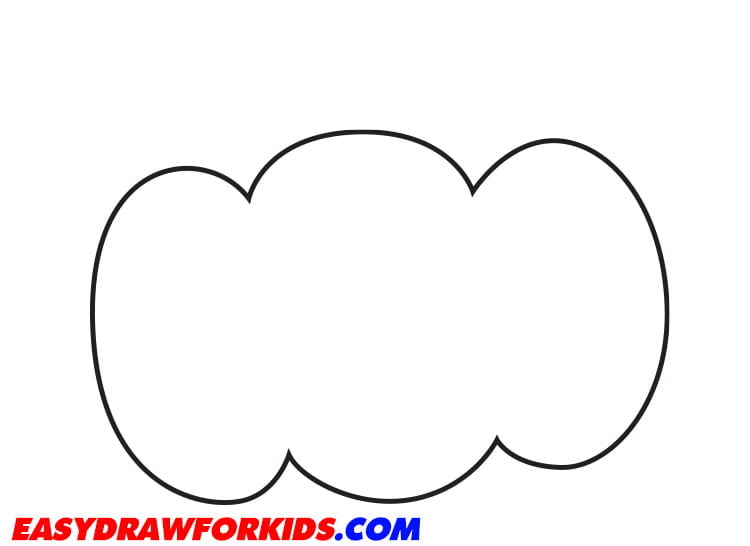 Step 2: Draw Curved Lines Across the Pumpkin
Now, draw curved lines across the pumpkin.
These lines will be the sections of the pumpkin.
Don't worry if they're not perfect, as pumpkins often have uneven sections.
The curved lines should start at the top and follow the contour of the pumpkin down to the bottom.
Then, add two rounded lines along the top edge of the pumpkin.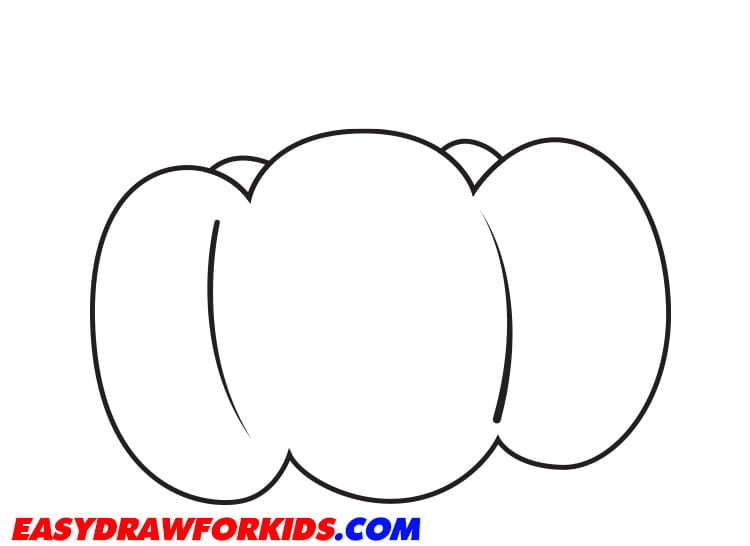 Step 3: Depict a Stem coming out of the Top of the Pumpkin
At the top of the pumpkin, add the short stalk using a curved line.
Make it as long or short as you like.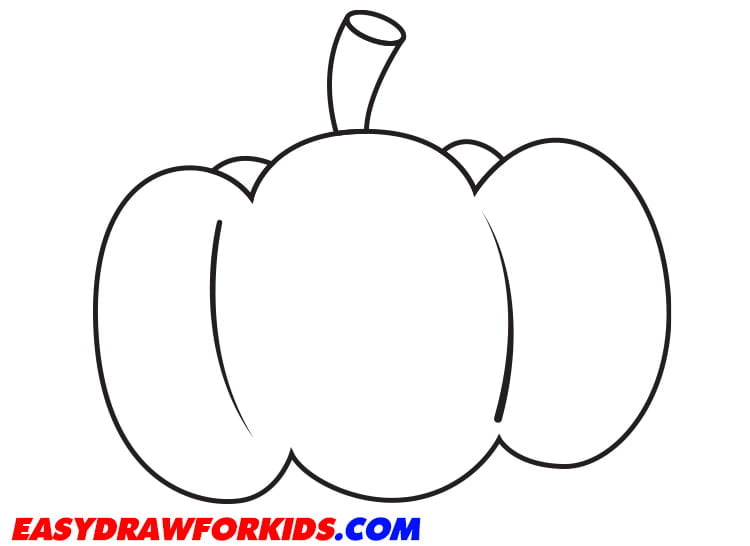 Step 4: Depict the Facial of Pumpkin
Add two smaller oval shape for the pumpkin's eyes, and a curved line for the mouth.
That's it! Your pumpkin is now complete. If you want, you can go over your drawing with a black marker.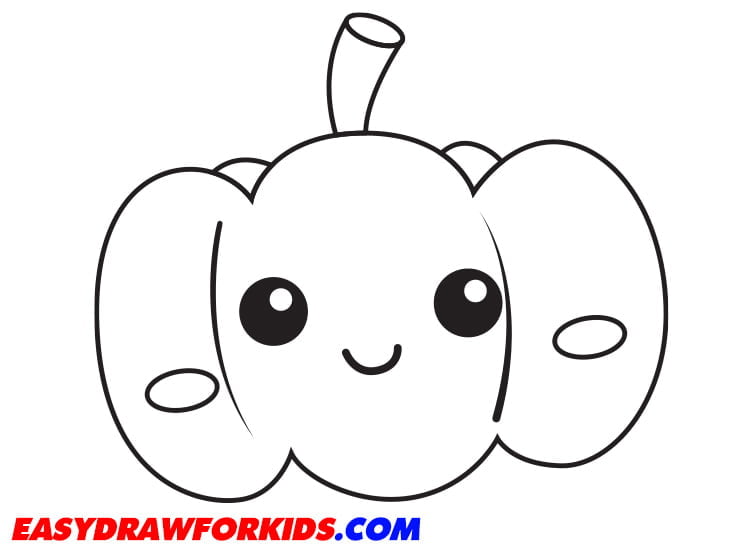 Step 5: Color your Pumpkin (optional)
If desired, go over the completed outline with orange, black, and green colored pencils to make a bright, festive jack-o-lantern.
Add highlights, shadows, and textures with your coloring.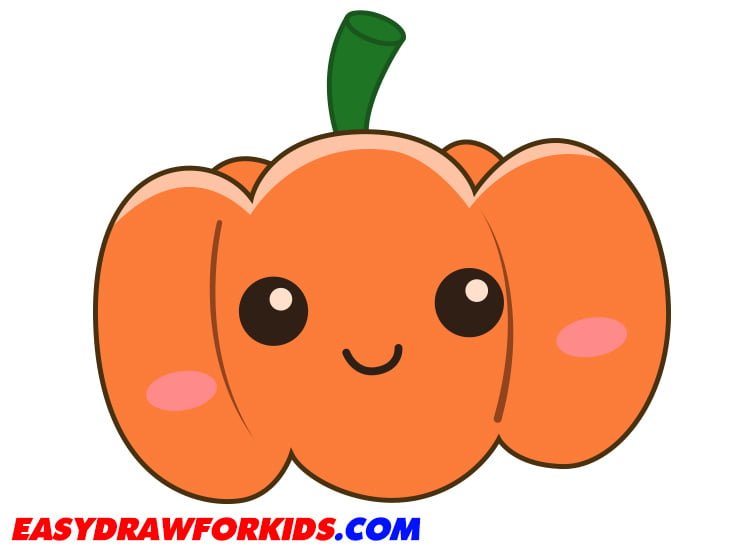 And that's it! Just follow these simple steps on guide how to draw a pumpkin to draw a cutelittle pumpkin perfect for fall crafts and decorations.
Tips for Drawing Pumpkins
Here are some additional tips and tricks for taking your simple pumpkin sketch to the next level:
Add facial features – Draw eyes, nose and a mouth to turn your pumpkin into a jack-o-lantern. Get creative with different expressions!
Include pumpkin guts – Draw some seeds, pulp and goop oozing out of your pumpkin for an extra fun, messy look.
Make a pumpkin patch – Draw a whole patch of pumpkins in different sizes and stages of being carved. Add vines, leaves and flowers.
Use patterns and textures – Try crosshatching, dots, stripes or other patterns to texture your pumpkin. Look at real pumpkins for inspiration.
Decorate – Add embellishments to your pumpkin like glitter, sequins, yarn for the stem, feathers, buttons and more to make it sparkle.
Conclusion
Drawing pumpkins is an enjoyable fall activity for artists of all skill levels.
With the simple techniques described in this tutorial, anyone can create charming, harvest-themed pumpkin art.
Pay attention to the basic shape, textures, shading and facial details that make pumpkins so recognizable.
And as you keep practicing, continue looking for ways to add your own creative flair.
Soon you will be able to draw cute, unique pumpkin drawings from memory.
The next time you carve pumpkins or decorate for Halloween, put your artistic skills to use. Draw some seasonal masterpieces and spread the fall fun!
We hope this tutorial how to draw a pumpkin give you ideas and inspiration for your next pumpkin drawing. Happy Halloween!
You may also enjoy: