Halloween is just around the corner, and one of the most iconic symbols of this spooky holiday is the pumpkin.
Carving pumpkins is a classic Halloween tradition, but if you want to kick things up a notch this year, try your hand at drawing a pumpkin instead.
Whether you want to create a jack-o'-lantern or simply draw a Halloween-themed picture, learning how to draw a Halloween pumpkin can be a fun and rewarding experience.
In this article, we will provide you with step-by-step instructions and helpful tips to guide you through the process.
So, grab your pencils and let's get started!
How To Draw A Halloween Pumpkin – A Step by Step Guide
The Halloween pumpkin is an iconic symbol of the Halloween season. It is a carved pumpkin, often with a spooky face, which is illuminated from within by a candle or a light source. These carved pumpkins, also known as jack-o'-lanterns, are a popular decoration during Halloween and are often displayed on doorsteps, porches, or windows to create a festive and eerie ambiance.
The tradition of carving pumpkins for Halloween originated from an Irish folktale about a man named Stingy Jack, who tricked the devil and was not allowed into heaven or hell. Jack was given a burning coal by the devil that he placed inside a carved-out turnip to light his way as he wandered the earth.
This gave rise to the tradition of carving faces into vegetables to ward off evil spirits, and the turnip was eventually replaced with pumpkins in North America due to their abundance and larger size.
Drawing a Halloween pumpkin is a classic and fun activity.
This guide on how to draw a halloween pumpkin in 6 steps to help you drawing a halloween pumpkin with ease!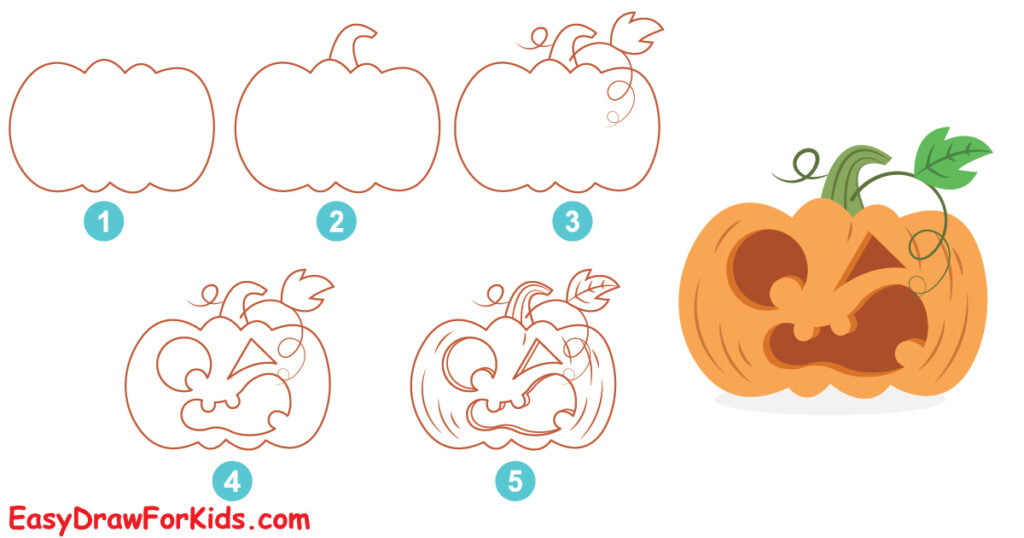 Step 1: Sketch the Basic Shape
Start by lightly drawing a large circle on your paper. This will serve as the basic shape of the pumpkin. Make sure to leave enough space around the edges for adding the pumpkin's details later.
Next, begin sketching lines from top to bottom of the circle to create the pumpkin shape. These should look like pie slices converging in the center of the circle. Add as many lines as you'd like – more lines will create a more round, plump looking pumpkin.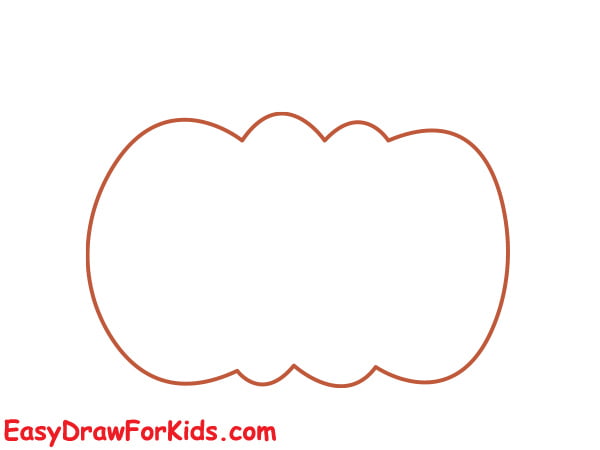 Step 2: Draw a Pumpkin Stem
The second step of this guide on how to draw a halloween pumpkin will focus on the pumpkin stem
Add a small curved line at the top of the oval to create the stem of the pumpkin.
Make it slightly crooked to give it a more natural look.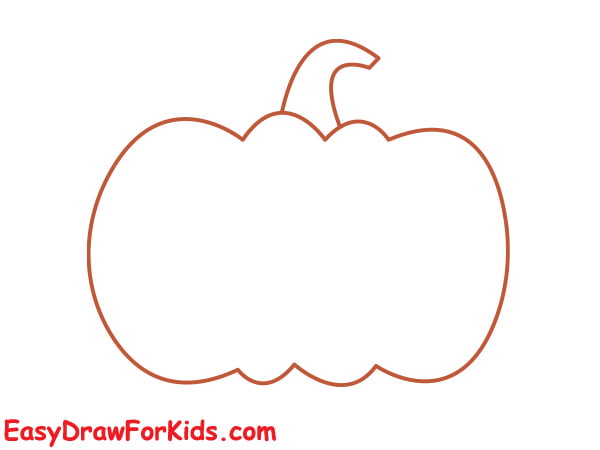 Step 3: Draw a Pumpkin Leaves
Start by drawing a long curved line that will serve as the branch of halloween pumpkin.
Draw a pumpkin leaf is generally ovate or heart-shaped, with a pointed tip and a slightly rounded base. The edges of the leaf can be slightly jagged or irregular to give it a more natural appearance.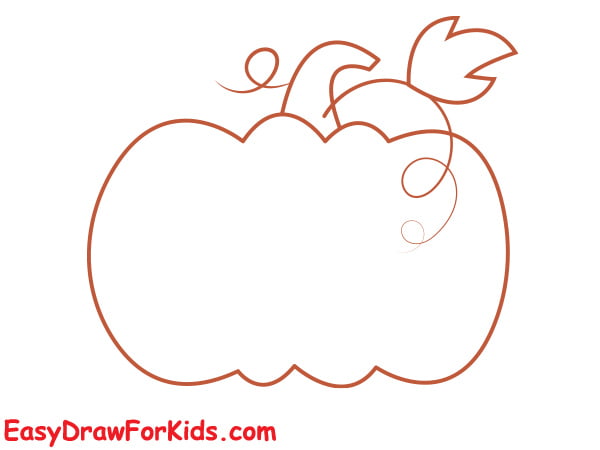 Step 4: Draw the Facial Features
Toward the top half of the pumpkin, draw a triangle and a circle for the eyes. Position them on either side of the stem. Make sure they are pointing up and are slightly tilted toward each other.
Below the eyes, draw a curved line to create the pumpkin's nose. You can make it triangular or shaped like a small oval.
Halloween pumpkins are known for their distinctive grinning expressions. You can opt for a traditional toothy smile or get creative with zigzag teeth, ghoulish fangs, or even a mischievous smirk.
Start by drawing the outline of the mouth using curved lines. Then, add the teeth or other unique features you have in mind.
Don't worry about perfection at this stage; you can always make adjustments and erase any unwanted lines later.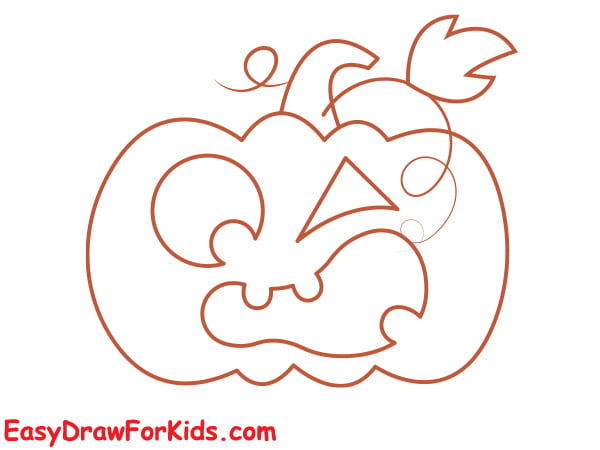 Step 5: Add the Details
Now it's time to add some details to your pumpkin. Start by drawing vertical curved lines along the pumpkin's body to create its ridges. These lines should follow the shape of the oval.
Add some curved lines around the stem to give it texture and depth. These lines can be irregular and go in different directions.
Next, draw some irregular shapes or lines on the pumpkin's face to create the illusion of texture or wrinkles. Feel free to get creative with these details.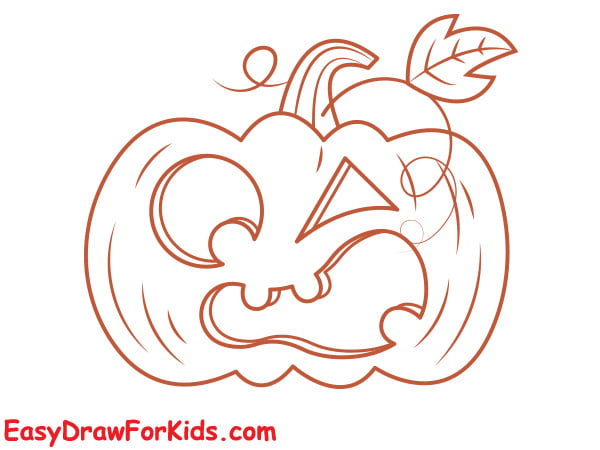 Step 6: Color Your Pumpkin
Now that we've successfully this guide how to draw a halloween pumpkin, it's time for the most exciting part.
Go for orange and black for a traditional Halloween palette. Use lighter and darker shades to create depth and dimension.
Add shadows under the eyes, nose and mouth. Make the stem a dark green and don't forget to color the backgound too!
With just these 6 easy steps on guide how to draw a halloween pumpkin, you can now draw a fun, festive Halloween pumpkin!
Customize your jack-o'-lantern's expression and details to create a pumpkin that's uniquely you.
Your completed pumpkin drawing can serve as inspiration and a stencil for carving the real thing.
Get creative and get in the Halloween spirit with your hand-drawn jack-o'-lantern.
Happy haunting!
Tips for Drawing Pumpkins
Follow these tips for taking your pumpkin drawing skills to the next level:
Study reference photos of real pumpkins and jack-o-lanterns to understand how shadow and light affect their shape and dimensions.
Use goofy expressions and funny elements like spider legs or vampire teeth to give your pumpkin some personality.
Set your pumpkin in a full Halloween setting. Add other spooky elements like ghosts, haunted houses, or witches.
With a little practice, you'll be able to create amazing pumpkin drawings to get in the spirit for Halloween.
Let your creativity run wild and use different colors, faces, and settings to make each jack-o-lantern drawing unique.
Conclusion
Drawing festive pumpkins is a fun way to get in the Halloween spirit and practice your artistic skills.
With a few simple supplies, you can create whimsical jack-o-lantern art to use for holiday decorations, cards, a seasonal display, or just for enjoyment. P
ay attention to shape, texture, color, and fine details like facial features to make your pumpkin drawings stand out.
And don't be afraid to get creative with your pumpkin's expression.
With bold colors and creative style, you'll have a unique piece of Halloween art in no time.
Have fun drawing pumpkins and happy Halloween!