Crows are interesting birds with unique shapes and textures that make for great drawing subjects.
Their jet black feathers and loud cawing make them easily recognizable.
While crows may seem simple in appearance, drawing them can actually be quite challenging due to their unique proportions and subtle details.
However, with some basic knowledge of crow anatomy and the right techniques, anyone can learn to draw realistic crows.
In this article, we will provide you with a detailed guide on how to draw a crow, from start to finish.
How To Draw A Crow – Step By Step For Kids And Beginners
Whether you want to sketch cartoon crows or render detailed scientific illustrations, the principles are the same.
We will cover creating the basic crow outline, adding the key features like feathers and eyes, using shading to add depth, and techniques for drawing crows in different poses like flying or thirsty crows.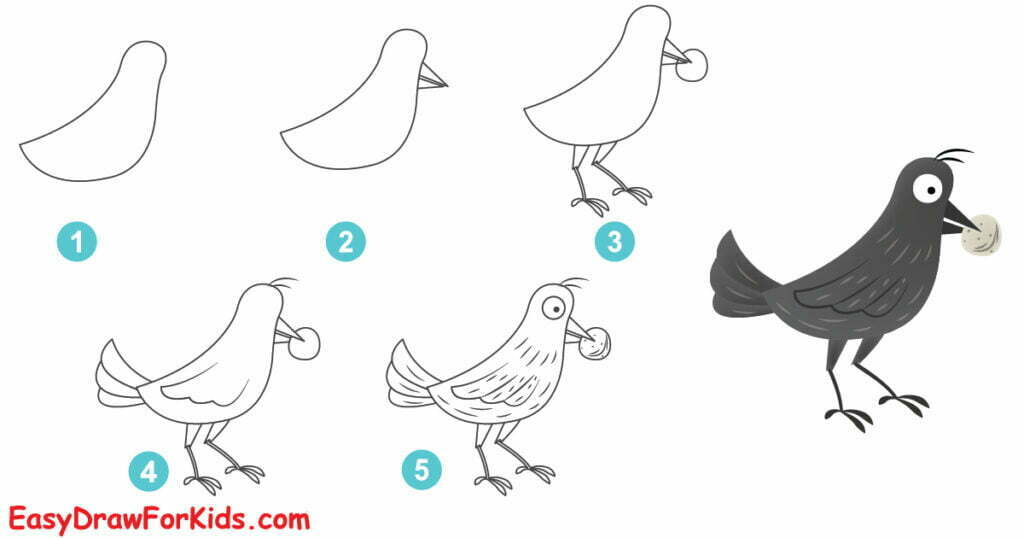 Let's start from the beginning and go through each step on this guide how to draw a crow
Having an understanding of the underlying structure and proportions is key to making your crows look authentic.
Step 1: Drawing the Body
In this first step in guide how to draw a crow by lightly sketching an oval shape to represent the body of the crow.
Next, add a smaller circle towards the front of the oval to depict the head.
Once you're satisfied with the size and placement of these shapes, connect them with a curved line to form the neck.
Remember to keep your pencil strokes light and easily erasable at this stage.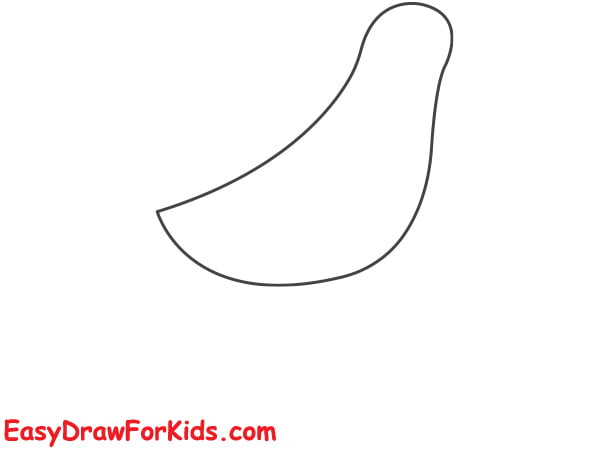 Step 2: Draw the Beak
Crows have triangular-shaped beaks that curve slightly downward.
Their beaks are also shaper than many other birds.
Draw an upside down triangle in the middle of the head for the beak. Make the beak slightly open to accommodate the stone.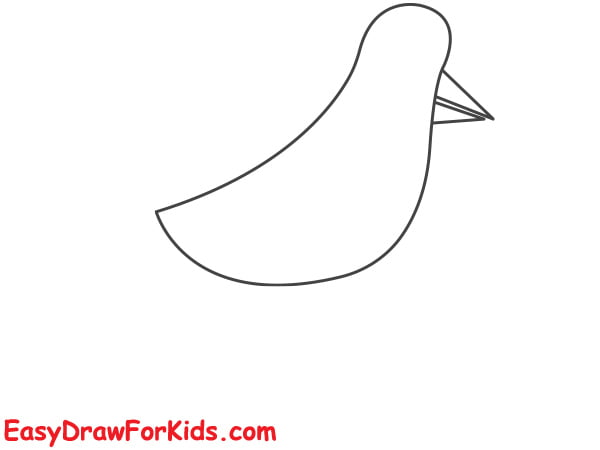 Step 3: Sketch out the Legs and Stone
Draw the crow's legs by extending two lines downward from the bottom of the body. At the end of each leg, draw three small, curved lines to represent the crow's toes.
Within the beak, draw a small oval shape to represent the stone. The stone should fit comfortably within the beak.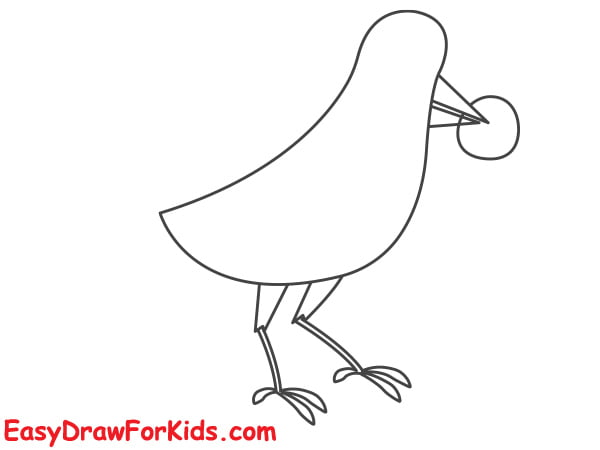 Step 4: Outlining the Wings and Tail
In this step of this guide how to draw a crow will focus on the collar wings and Tail
Start by drawing elongated teardrop shape on the side of the body to represent the wings.
Ensure that the wings are proportionate to the body size and angle them slightly downwards.
For the tail, sketch a fan-like shape extending from the back of the body. You can make it as long or as short as you desire, depending on the pose you want to portray.
To add more realism, observe reference images of crows to get an idea of their wing and tail structure. This will help you capture their natural elegance accurately.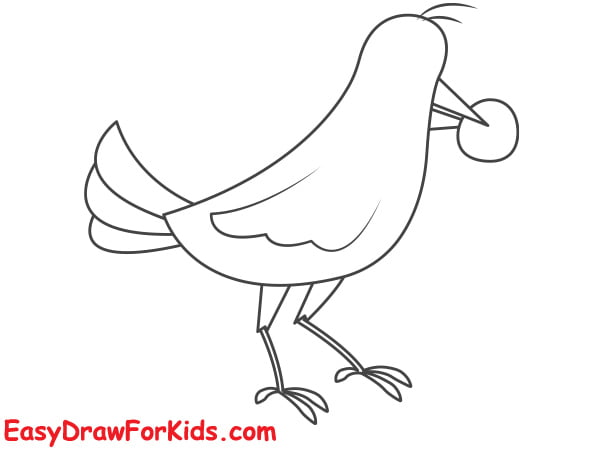 Step 5: Illustrating Feathers and Eyes
One of the defining features of crows is their beautiful plumage.
To capture the texture and patterns of their feathers, start by lightly shading the body with your pencil.
Use light, feathery strokes in the direction of the feathers to create a sense of depth.
Next, focus on the eyes of the crow. Draw two small circles within the head, leaving a tiny white spot to represent the reflection of light.
Then, carefully shade around the eyes to emphasize their depth and add a touch of realism.
Step 6: Color the Crow
Now that we've successfully this guide how to draw a crow, it's time to bring your crow to life with color!
Crows are generally black, so begin by filling in the body of the crow with a dark shade of black or gray.
Crows often have a dark-colored beak, such as black or dark gray.
Color the beak accordingly, and consider adding a touch of shine or gloss to make it stand out.
For the eyes, choose a contrasting color like yellow or white for the iris and add a small black dot for the pupil.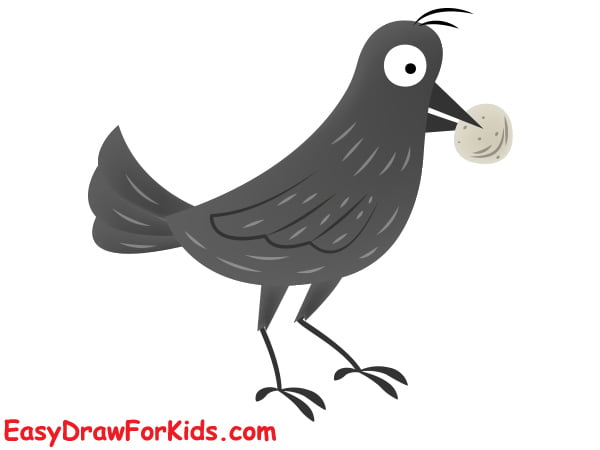 Tips for Drawing Crows
Here are some helpful tips to keep in mind when learning how to draw a crow:
Note key traits like the wedge-shaped bill, strongly hooked upper bill, rounded head, and short tail.
A crow's body is about the size of its wingspan. The tail is quite short compared to other birds. The legs are disproportionately long compared to the body.
Get these proportions right or your crow could end up looking like a different bird!
Crows have lustrous black feathers. To portray this correctly, shade patiently using long strokes and building up layers of graphite. Leave some areas lighter to convey sheen and muscle structure beneath the feathers.
How to Draw Crows in Different Settings
Crows are highly adaptable birds found in diverse environments. Placing your crow drawing in an appropriate setting can enhance the overall composition. Here are ideas for learning how to draw a crow in different settings:
Natural Settings – Draw crows perched high up in leafy trees in a forest scene. Or sketch them wading through water along the shoreline. Place them amidst reeds in a marsh or field for a wild, natural look.
Urban Settings – Depict crows strutting across pavements, pecking trash in alleyways, or perched on street lamps or power lines. Urban environments evoke their resourceful scavenging nature.
Farm Settings – Show crows side by side with livestock in barns or open pastures. Draw them stealing grain from feed sacks or peeking out from hay bales on farms. This suits their opportunistic food habits
Winter Settings – Bare tree branches covered in snow make striking backdrops for glossy black crows. Position them leaving tracks on crisp white ground for graphic contrast. Capture their resilience to cold weather
Mystical Settings – Use moonlit scenes, foggy forests, or derelict buildings to create an air of mystery around crows. This pairs well with their reputation as omens or messengers.
Conclusion
Learning how to draw a crows requires carefully observing these clever birds.
By following the step-by-step process outlined here, you can create accurate crow drawings that capture their distinctive details, from feathery plumage to glinting eyes.
Pay attention to the reference images or real-life observations, as they will guide you in creating an authentic representation of a crow.
Whether perched or in flight, crows make fascinating drawing subjects.
Let your imagination take flight!
You may also enjoy: