Are you interested in learning how to draw a devil boy?
Drawing a devil boy can be a fun way to get into the Halloween spirit.
Whether you're looking to draw a mischievous imp or a more ominous demon, having an understanding of anatomy, proportion, and shading techniques can help you create an eye-catching devilish character.
In this comprehensive guide, we'll walk through the entire process of how to draw a devil boy from start to finish.
How To Draw A Devil Boy – A Step by Step Guide
Drawing a devil boy allows you to explore your creativity while developing your artistic skills.
This fun and exciting subject offer endless possibilities for customization and expression.
By following the step-by-step instructions outlined in this guide how to draw a devil boy, you will be able to create a captivating devil boy illustration that reflects your unique style and vision.
Step 1: Sketching the Devil Boy's Head
Start by lightly sketching the basic shape of the devil boy's.
Draw a large oval shape at the top of paper for the devil boy's head.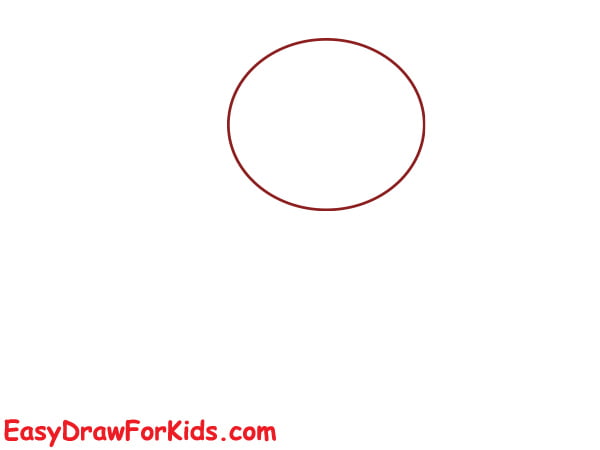 Step 2: Draw the Devil Boy's Body
Drawing a rough outline of the devil boy's body by using a smaller oval below head for the torso
Add two curved lines extending downward from the body to create the legs. At the bottom, draw two small ovals for the feet.
Draw two curved lines extending outward from the sides of the body for the arms.
Bend the lines at the elbows to create the arms' shape.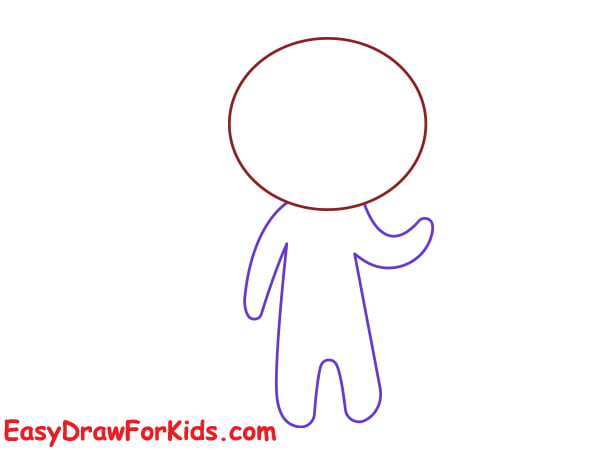 Step 3: Draw the Devil Boy's Hair
You can make it wild and spiky, or give it a slicked-back appearance.
Draw jagged, spiky lines radiating from the top of the head to represent disheveled hair.
Add any other details you like, such as earrings or piercings.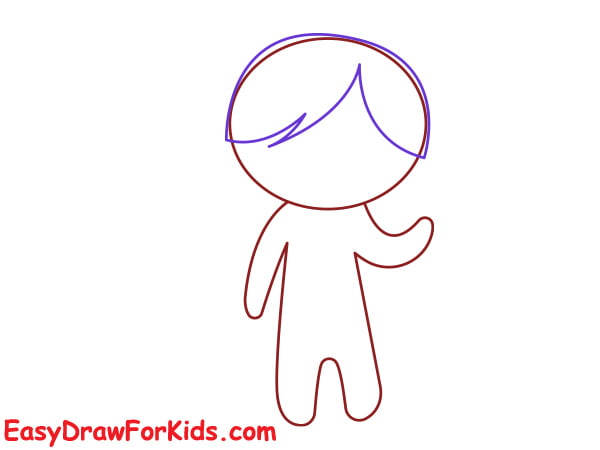 Step 4: Draw the Pumpkin Bag, Tail and Horns
Draw two curved lines high on the head for horns.
Add a pointed tail coming from the lower back.
Draw a pumpkin-shaped bag in the devil boy's other hand.
Start with a large oval shape. Then, add a curved line near the top to represent the bag's opening.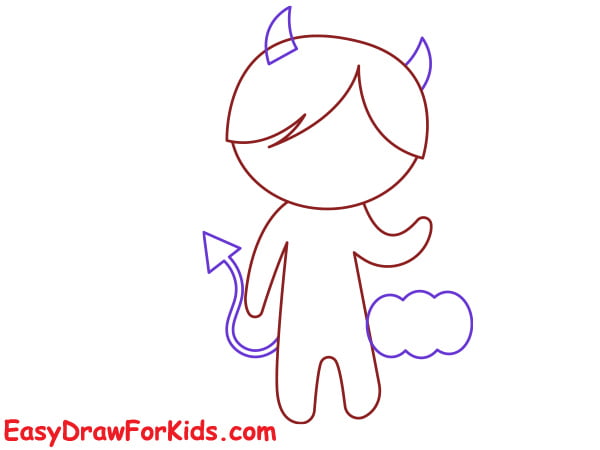 Step 5: Sketching the Trident
In this step in our guide on how to draw a devil boy will focus on the trident.
Start by drawing a long, vertical line in the devil boy's hand, extending downward.
Then, draw two diagonal lines coming out from the top of the vertical line, forming a "V" shape.
Connect the ends of these lines with a horizontal line.
Finally, add three prongs at the end of each diagonal line, forming the trident's points.
On the other side, draw the outline of a pumpkin bag with a curved handle.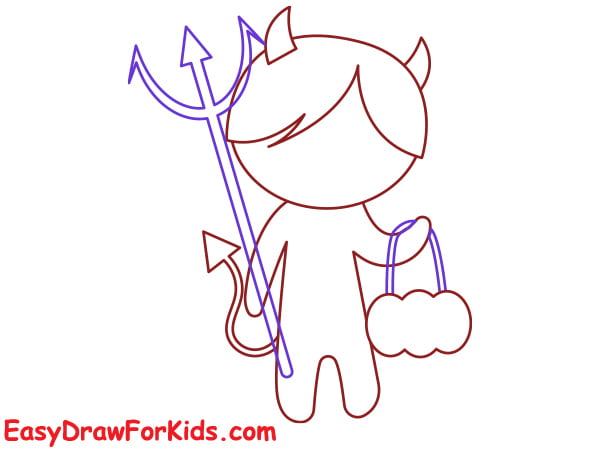 Step 6: Add the Facial Features
The sixth step of our guide on how to draw a devil boy will focus on the devil boy's face.
Add two circles for eyes, then drawing the iris, pupils, eyebrows, and lids. Add shadows around the eyes for dimension.
Draw a smiling mouth with pointed teeth to give him a devilish look.
Once the basic form is complete, go back in and darken all the lines.
Trace over your initial sketches, adding texture and details. Give some lines variable thickness by pressing harder in some areas.
Add scales or spikes on the tail, horns, and trident. Draw scales and wrinkles on the pumpkin bag as well.
Add other details like jewelry, tattoos, or scars to personalize your devil boy.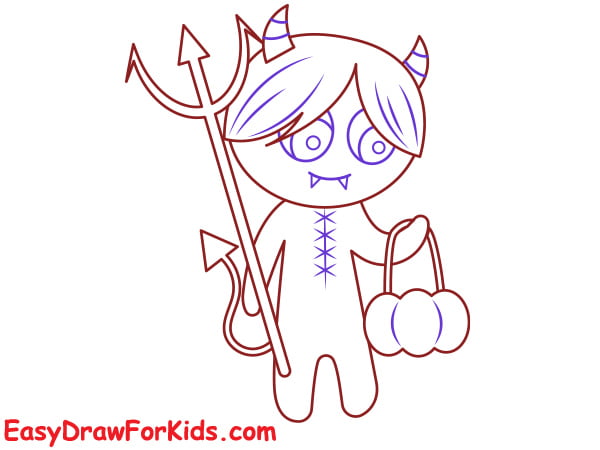 Step 7: Color the Drawing
For extra dimension, consider adding some color to your devil boy. Red, orange, yellow, and black are classic devil colors. Color the eyes, horns, trident, pumpkin bag, shoes, and other accents. Use your imagination to create your own color scheme.
Leaving the drawing in black and white is another stylish option. Use shading to show forms and add depth.
And that's it! After adding color or shading, you now have an original devil boy ready for Halloween festivities.
With practice and using these simple steps on guide how to draw a devil boy, you can create a devil boy in no time!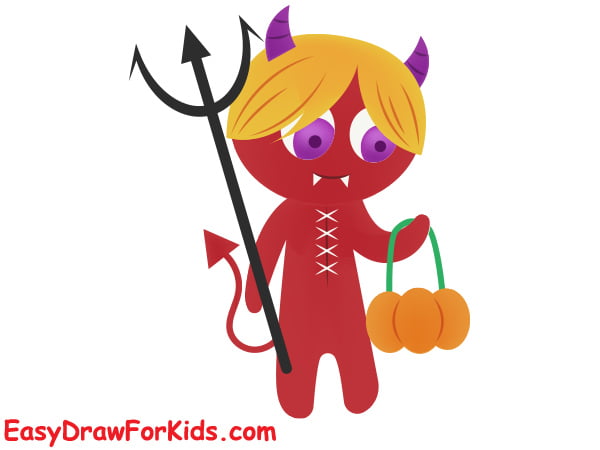 Tips for Drawing a Convincing Devil Boy
Here are some additional tips to keep in mind to help you draw a dynamic, realistic-looking devil boy:
Begin by sketching basic shapes like circles and ovals to outline the head, body, and limbs. This will serve as the foundation for adding details later.
Focus on unique devilish traits, such as horns, fangs, and a pointed tail. Experiment with different shapes and sizes to find the perfect balance for your devil boy.
Facial expressions can convey different emotions and personalities. Experiment with various eye shapes, eyebrow positions, and mouth styles to bring your devil boy to life.
Use light and shadow to add depth and dimension to your illustration. Pay attention to the light source and determine how it affects different parts of the devil boy's body.
Consider adding symbolic elements like pentagrams, tridents, or pitchforks to enhance the devilish theme. Accessories such as earrings or necklaces can also add personality and uniqueness.
With some practice and patience, you can create imaginative devil boy characters that seem to leap off the page. Have fun exploring how to draw in your own signature devilish style!
Conclusion
Drawing an imaginative devil boy allows you to try out new artistic techniques while creating a fun, dark character.
By following the steps outlined in this guide how to draw a devil boy, you can learn techniques for drawing original characters.
Build up shading across the entire form to make it look three-dimensional and lifelike.
Customize your devil boy with creative hair, clothing, accessories, and poses.
Embrace the devilish charm and enjoy the process of bringing your devil boy to life on paper or digitally.
Happy drawing!
You may also enjoy: