Rivers are a fundamental part of landscapes and environments. Learning how to draw a rivers can help bring your scenes to life.
Drawing a river can be challenging, but with the right techniques and tools, you can create a stunning and realistic representation of this natural wonder.
In this article, we'll walk you through the steps and techniques for drawing realistic-looking rivers.
How to Draw a River: A Step by Step Guide
Before diving into the specifics of drawing rivers, it's helpful to understand what makes rivers unique. Rivers are formed over time by the movement of water across land, carving out paths as they flow downstream. This movement creates some key visual characteristics:
Winding, curving shapes as the water erodes the land and follows the path of least resistance
Smooth, glassy surfaces near the center where the water moves fastest
Rippled and churned sections around rocks and along the edges
Mastering these qualities will allow you to draw rivers that capture the dynamism and natural beauty of flowing water.
When learning to render realistic rivers, you'll also want to consider the surrounding environment and how the waterway fits into the larger landscape.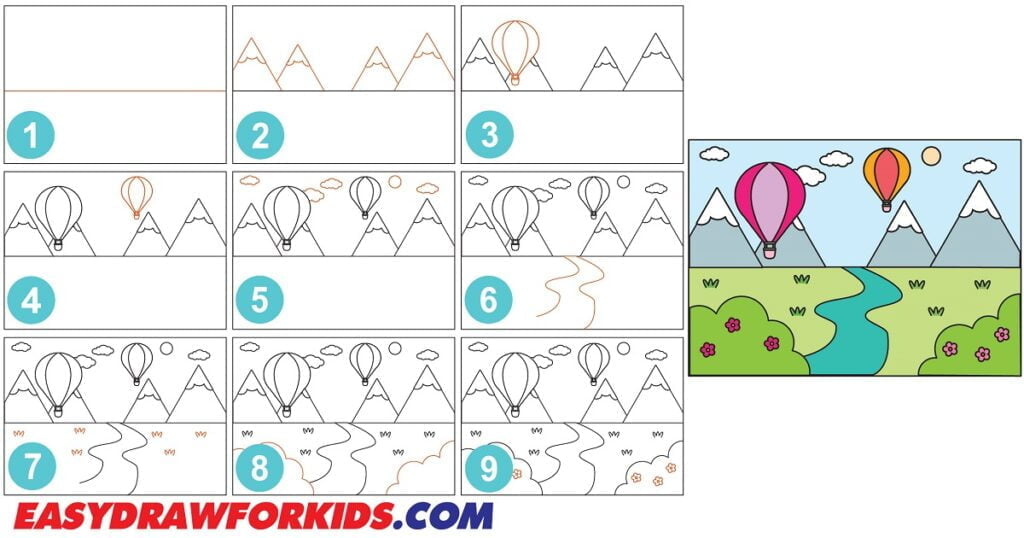 In this article on how to draw a river in 10 steps to help you drawing a realistic-looking rivers with ease!
Step 1: Draw the horizon line
Start by drawing a horizontal line near the center of your paper. This line will serve as the ground or horizon line.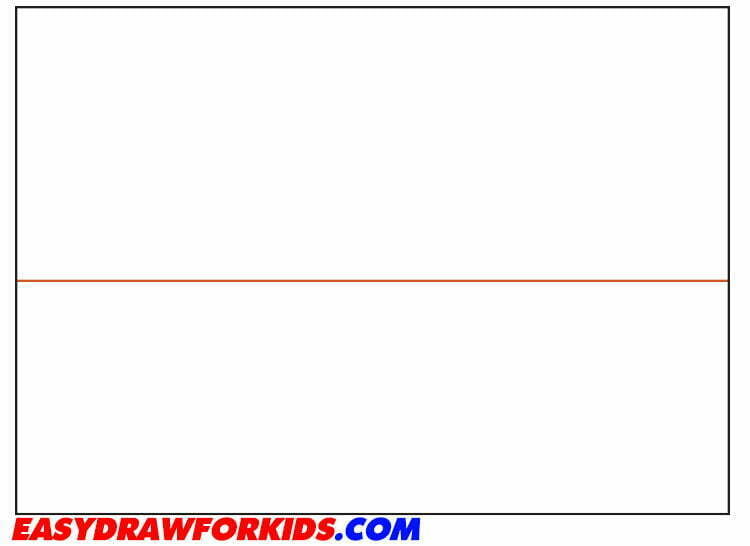 Step 2: Draw the Moutains
The second step of this guide on how to draw a river will focus on the moutains
Draw a curved line across horizon to represent the base of the mountain. Then, draw two diagonal lines that meet at the top to form a triangle shape. This will be the peak of the mountain.
Draw a few irregular, jagged lines along the sides of the mountain to represent the ruggedness of the terrain. You can also add smaller peaks or ridges to give it a more realistic look.
raw some smaller, distant mountains behind the main one to create depth. These mountains should be less detailed and lighter in tone to indicate that they are farther away.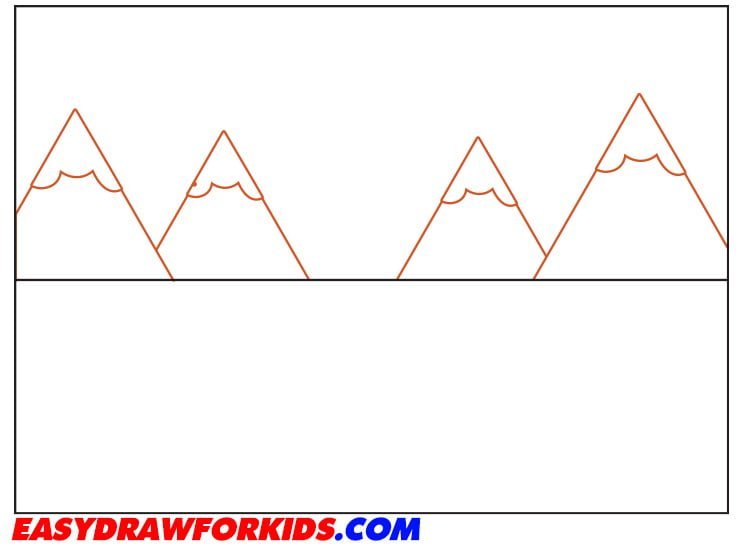 Step 3: Draw a Hot air Balloon
The third step of this guide on how to draw a river by drawing a hot air balloon.
Start by drawing a slightly elongated oval shape. This will be the main body of the hot air balloon.
At the bottom of the oval, draw a larger circle or ellipse. This will be the basket of the hot air balloon.
Connect the top and bottom parts of the balloon with two curved lines on each side, creating the sides of the balloon.
Add some decorative elements to the balloon. Hot air balloons often have colorful patterns or designs. You can draw vertical stripes, zigzags, or any other patterns you like. Use curved lines to outline these patterns on the balloon.
Step 4: Draw a next hot air balloon
Repeat this process for creating hot air balloon on the right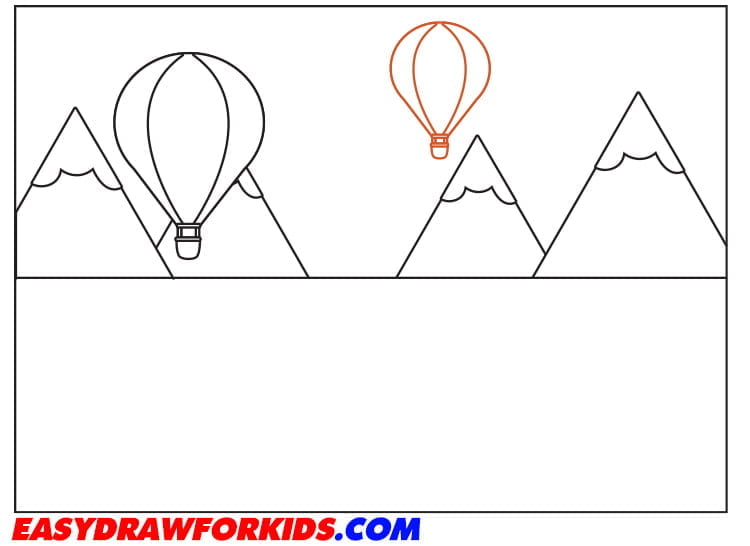 Step 5: Sketch out the Sky
Above the mountain peaks sketch out wavy lines of freeform shapes for the clouds.
Next, draw a circle for the sun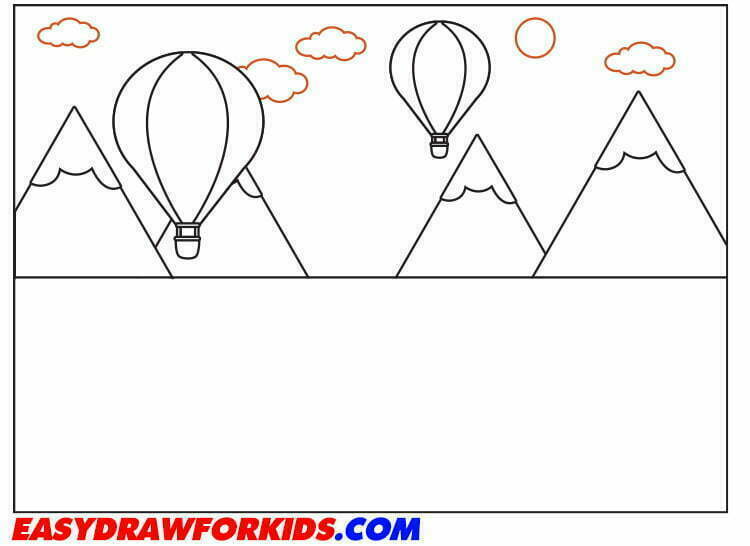 Step 6: Sketch out the River
The sixth step of this guide on how to draw a river will focus on the river.
Start by lightly sketching the overall shape of the river with a pencil.
Think about the river starting at a high point like mountains and ending at a low point like a lake.
Winding curves work well for the main river body as rivers constantly change direction.
The path does not need to be perfect at this stage – you will refine it more as you go.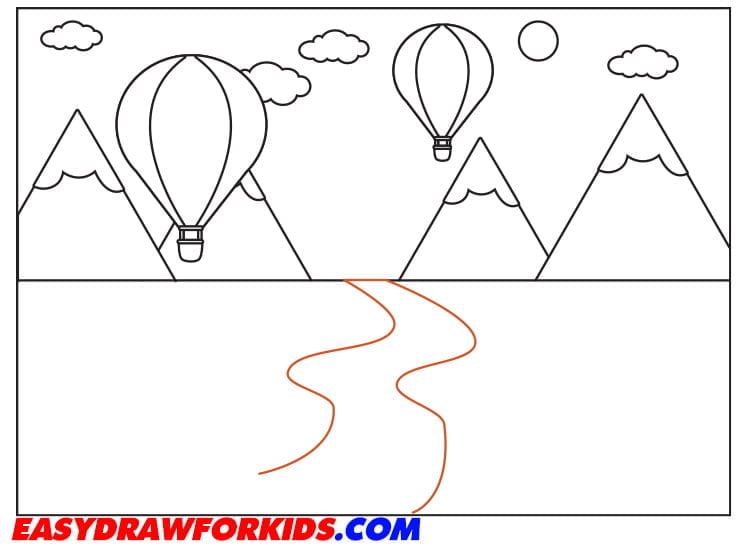 Step 7: Draw the Grasses
Draw short, curved lines extending upward. These lines will represent individual blades of grass. Vary the length and angle of the lines to create a more natural and organic look.
Continue adding more curved lines, overlapping them slightly and varying their lengths. Grass tends to grow in clumps or tufts, so you can group the lines together to create that effect.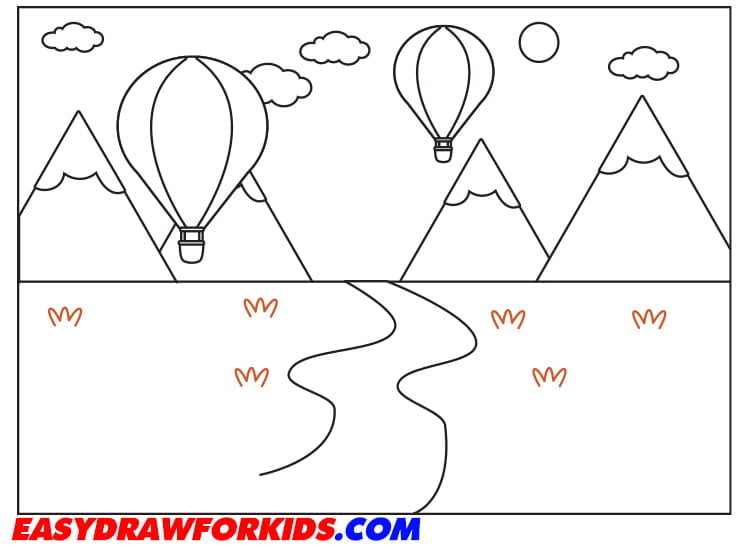 Step 8: Sketch out the Bushes
Draw two wavy lines at the bottom of the picture for the bushes as shown the picture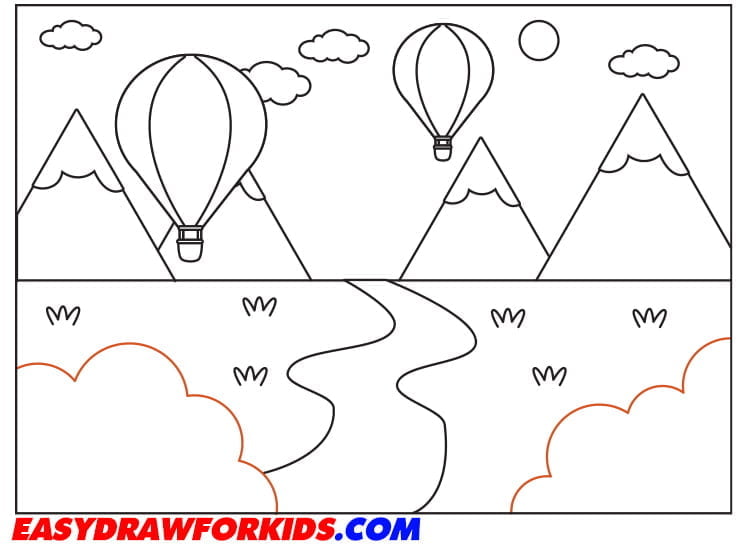 Step 9: Add the Flowers
Draw the flowers on the bushes in the form of small circles and wavy lines.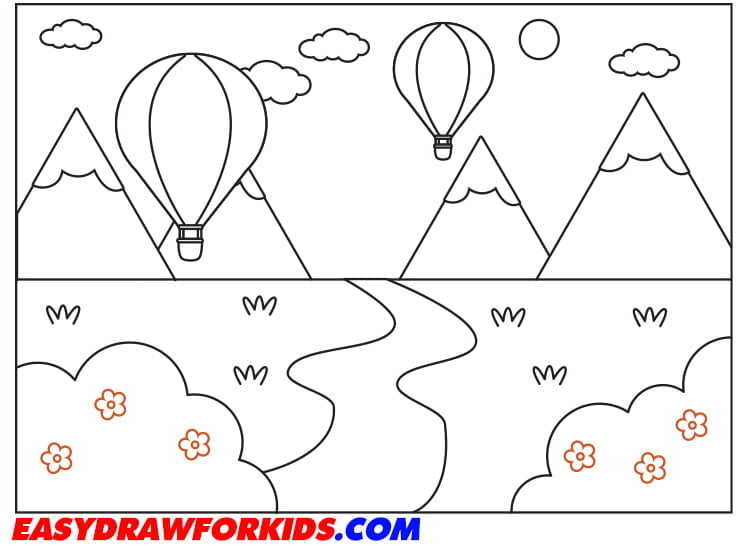 Step 10: Add Color (Optional)
Now that we've successfully this guide how to draw a river, it's time to bring your art to life with color!
You can leave your river line drawing black and white or add color for extra realism. Use soft blues, grays and greens for the water.
Dark browns and tans work for steep muddy banks while light greens suit grassy shores. Driftwood can be brown, beige or white.
Let your creativity enhance the river scene!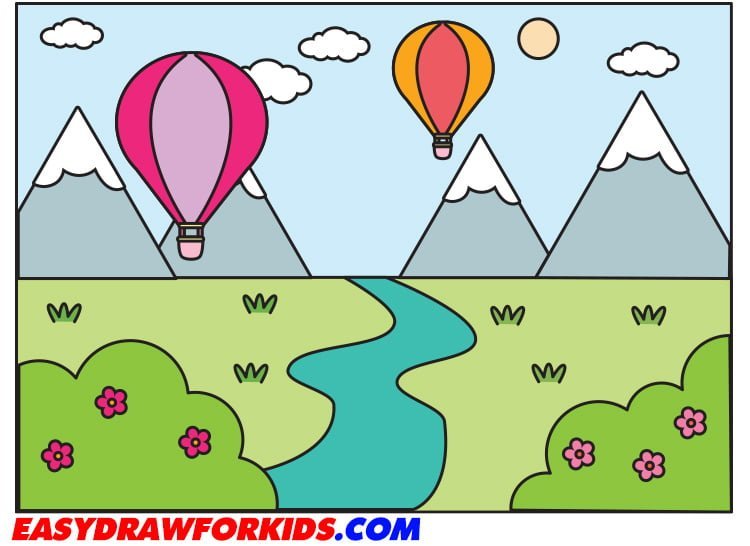 Tips for Drawing Rivers
Based on my own experience how to draw a river, here are a few tips we would offer:
Go outdoors and observe a real river firsthand. Take photos for reference too. This will give you a better feel for river shapes and textures than drawing from imagination alone.
Rivers are always moving, so try using gestural, flowing lines when sketching. Convey that sense of animation even in a still drawing.
Vary between thick and thin lines, straight and curved. This adds visual interest.
Try different styles like crosshatching, stippling, or blending to shade the water, banks, and rocks.
Mix blues with unexpected colors like purples, greens, or browns for unique water hues.
Avoid overworking or over-detailing the drawing. Simplify areas to focus on key river elements.
Conclusion
Rivers have inspired artists for centuries as both mighty forces of nature and peaceful oases of beauty.
Learning how to draw a rivers opens up many possibilities for your artwork.
Use flowing lines, dynamic textures and observational references to give life to your river drawings.
Whether stark black ink or vivid colors, a river scene instantly transports.
Now equipped with drawing techniques and tips, grab your sketchbook and let a river wind its way across the page!
You may also enjoy: