Teddy bears are a classic and beloved toy for children and adults alike.
These cuddly, furry friends have brought comfort to children around the world and continue to be a popular toy today.
While you can easily buy teddy bears, creating your own custom teddy bear art can be a fun and fulfilling experience.
Their cute, cuddly nature makes them a joy to draw as well.
If you're interested in learning how to draw a teddy bear, this step-by-step guide will help you create your very own adorable bear.
How to Draw a Teddy Bear: A Step by Step Guide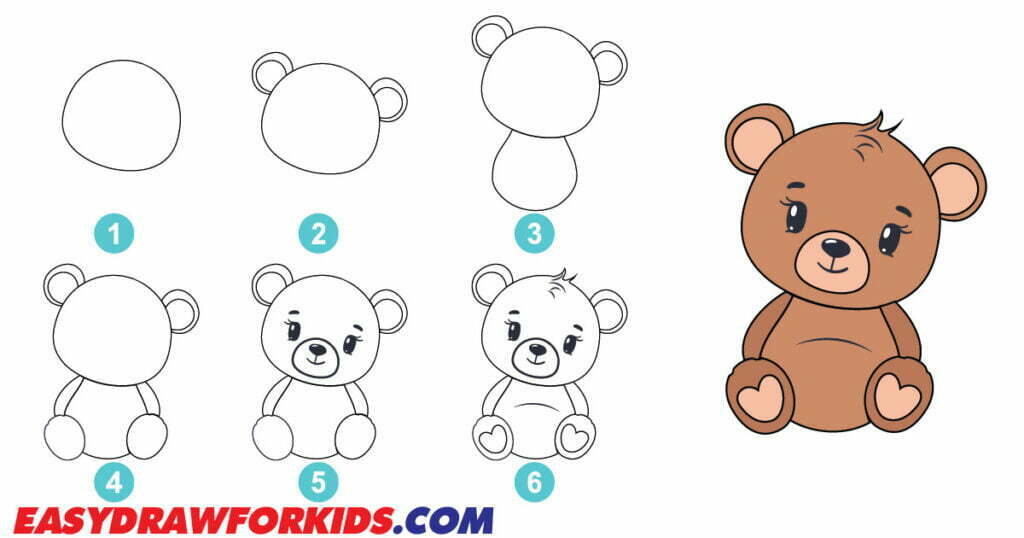 Let's start with the basic teddy bear head and body shape before adding details like facial features.
Follow these steps on guide how to draw a teddy bear to draw a simple teddy bear outline:
Step 1: Drawing the Head
Let's begin with the head, as this is the foundation for our teddy bear.
Lightly draw a circle toward the top of your page. This will be the bear's face.
The size of the circle can vary depending on if you want a large or small bear.
Just leave enough room at the bottom to add a body later on.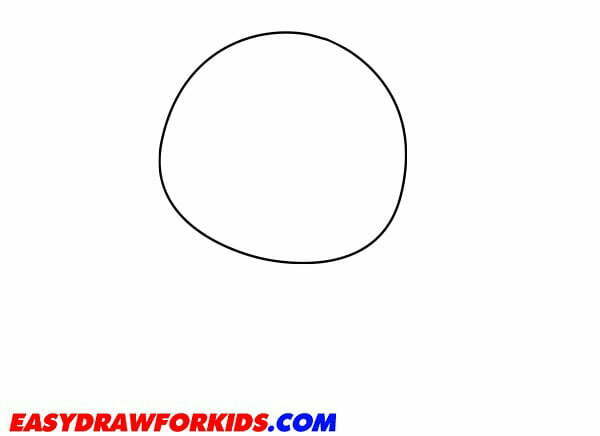 Step 2: Drawing the Teddy Bear Ears
In this second step in our guide on how to draw a teddy bear will forcus on the ear.
On the upper left side of the head, draw a small, rounded shape to represent the teddy bear's ear.
Repeat this step on the upper right side to draw the other ear.
Teddy bear ears are typically round and slightly wider at the base.
Add some fur texture by drawing small lines inside the ears.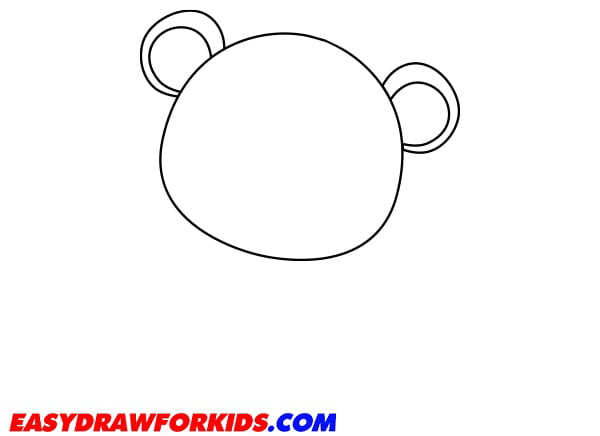 Step 3: Drawing the Torso
The third step of this guide on how to draw a teddy bear will focus on the torso of teddy bear.
We will now form the basic shape of the teddy bear's torso.
Draw an oval shape below the head, making it wide enough to give the bear a stuffed plush look.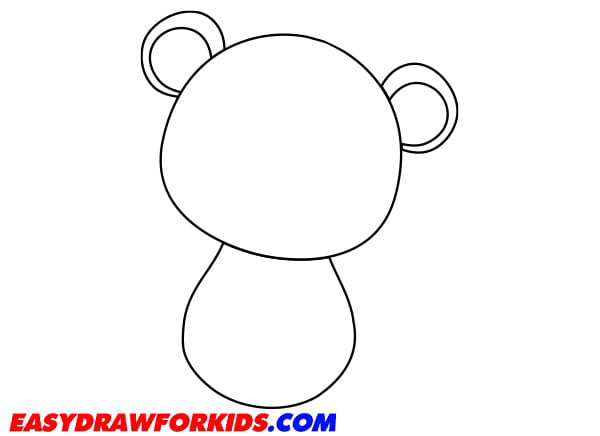 Step 4: Depict the Arms and Legs
Attach two arms to the body using long, narrow ovals.
Place one on each side, positioning them somewhere between the middle and bottom of the torso oval.
Draw the arms bending slightly for a relaxed, seated pose.
For the legs, draw two wide rectangles on the bottom corners of the torso oval. Make them short and angled outward to give the bear legs that stick out to the sides.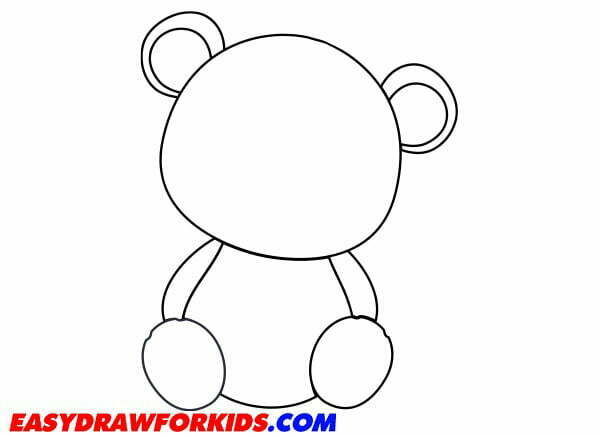 You now have a basic teddy bear outline! Use light pencil lines at first so you can easily erase and make adjustments to get the proportions right.
The head and body should be about even in size for a classic teddy bear look.
Step 5: Adding Facial Features to Your Teddy Bear
Now it's time to give your teddy bear drawing some personality! Facial features like eyes, nose, and mouth will bring your artwork to life. Follow these tips:
Eyes – Inside the head, draw two large, round eyes. Place them evenly apart and slightly above the center of the head.
Add two small circles inside the eyes to represent the pupils. Leave a small white highlight in each pupil to give the eyes a sparkle.
Snout – To form the snout, draw a smaller oval shape attached to the head center bottom. Angle the oval slightly upward.
Nose – Draw a small triangle on the snout for the nose. You can add subtle shading underneath to give it shape.
Mouth – Draw a curved line below the nose to represent the bear's mouth. You can give the bear a smiling expression by curving the line gently upward at the ends.
Ears – Darken the outlines of each ear. Add some interior curved lines to show the folded shapes inside the ears.
Take your time when drawing the face. Subtle changes to the eyes, nose, and mouth placement can drastically change the teddy bear's expression. Experiment until you find the perfect friendly, cuddly look.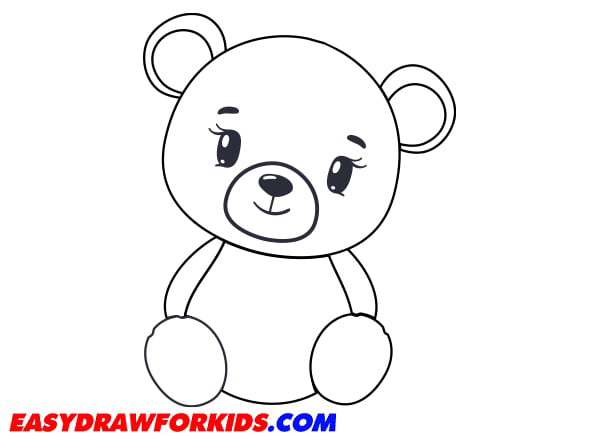 Step 6: Add the Details
Draw two short, curved lines on each side of the bear's head to represent the cheeks.
To give the teddy bear a fluffy appearance, draw short, curved lines around the head and ears. These lines will represent the bear's fur.
On top of the head, draw two small, curved lines that meet at a point to create a tuft of hair. This adds a cute detail to the bear's head.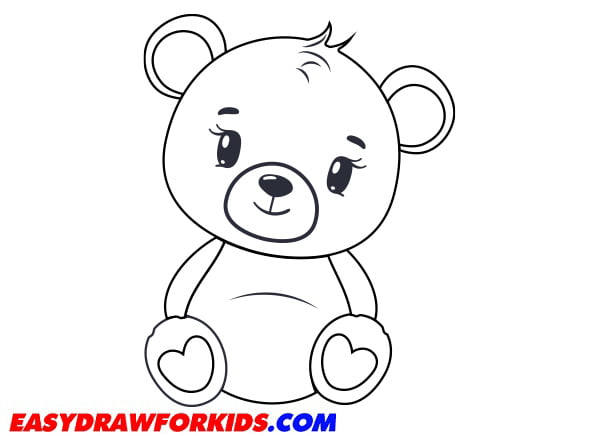 Step 7: Adding Color to Your Teddy Bear Art
Now that we've successfully this guide how to draw a teddy bear, it's time to bring your teddy bear art to life with color! Consider these color tips:
Fur – Use warm brown hues like tan, chocolate, or honey for the fur. Vary the tones to add depth and dimension.
Eyes & Nose – Black works well for the eyes and nose. For variety, try navy blue, dark purple, or brown.
Mouth – Pink, red, or coral colors look natural for the mouth and tongue. Keep the colors soft.
Paws & Snout – These areas often look best in lighter tans or grays as contrast from the other fur.
Ears & Paws – Use lighter pinks inside the ears and on the paws for accent colors.
Shading – Don't forget to blend darker shades in the fur shadows for depth. Use lighter hand pressure to prevent over-darkening.
Take your time when coloring and allow the layers to build up gradually. Varying the tones and shading will bring your teddy bear to life!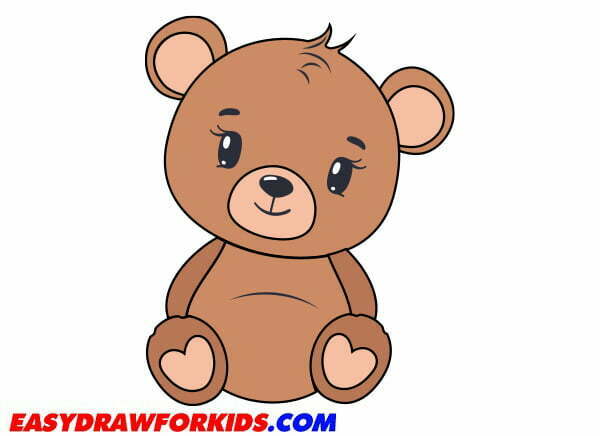 And that's it – by following this guide how to draw a teddy bear, you now have an adorable teddy bear drawing!
Tips for Customizing Your Teddy Bear Art
Once you master the basics, the possibilities for unique teddy bear art are endless! Here are some ideas to make your teddy bear drawing one-of-a-kind:
Pose – Draw your bear waving, sitting, climbing, or any pose you choose.
Size – Try a giant teddy or tiny miniature bear. Vary the proportions.
Accessories – Add details like a bowtie, hat, scarf, or glasses for personality.
Patterns – Use patterns or textures like polka dots, stripes, plaid, or patchwork fur.
Settings – Draw your teddy bear in a scene like a park, bedroom, or tea party.
Holidays – Dress your bear for holidays like Christmas, Halloween, birthdays, or Valentines.
Following basic steps on guide how to draw a teddy bear will help ensure your teddy bear looks anatomically correct. But don't be afraid to get creative and add your own personal spin! Customize your teddy art with colors, accessories, and designs that you find fun and memorable.
Conclusion
Drawing a teddy bear is a fun and rewarding activity that anyone can do.
By following the step-by-step guide how to draw a teddy bear, you can create your very own cute and cuddly teddy bear.
Let these fluffy friends infuse your artwork, cards, gifts and decorations with plenty of heart-warming charm.
Happy drawing!
You may also enjoy: