Are you fascinated by the beauty of our planet and want to learn how to draw a globe?
Drawing a globe can be an exciting and educational experience. It allows you to understand the Earth's shape, explore continents and oceans, and even mark latitude and longitude lines.
In this step-by-step guide, we will take you through the process of drawing a globe from scratch, providing detailed instructions and tips along the way.
Whether you are a beginner or have some drawing skills, this tutorial will help you create a realistic representation of our planet.
So let's get started!
How to Draw a Globe Step by Step – A Beginner's Guide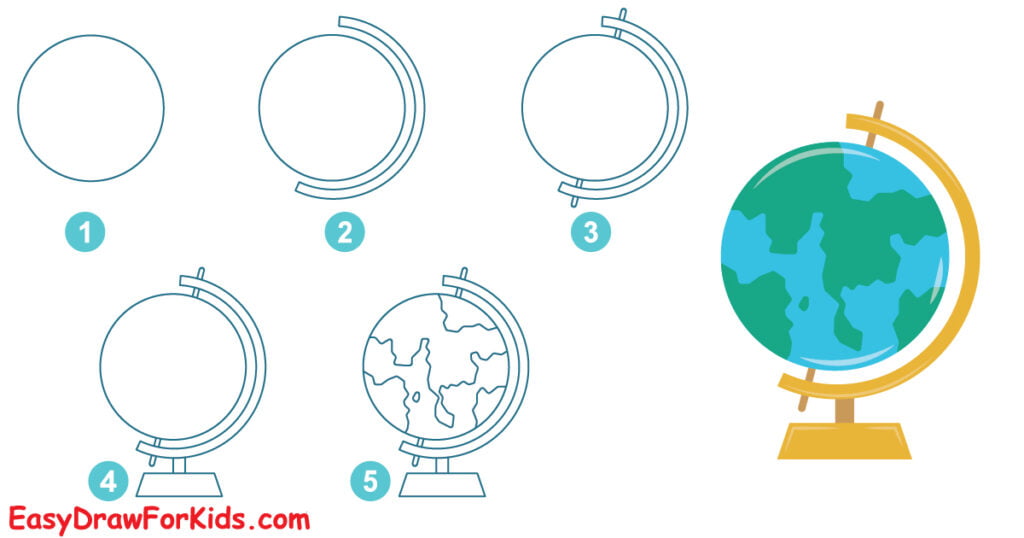 Step 1: Sketching a Circle
The first step in our guide on how to draw a globe by sketching a perfect circle in the center of your paper using a pencil and a compass if available.
If you don't have a compass, you can use any circular object as a guide.
Remember to keep your lines light so that they can be easily erased later.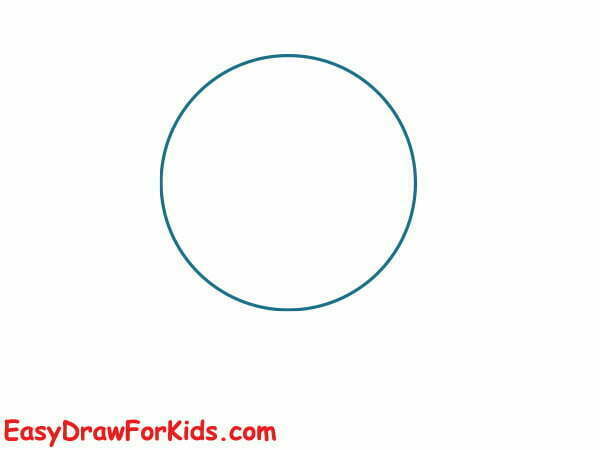 Step 2: Add the Frame
Draw a crescent moon shape from peg to peg for the globe's frame.
Use a compass to get the right curve.
Add a small peg at the base of the frame.
Keep the frame thin but visible.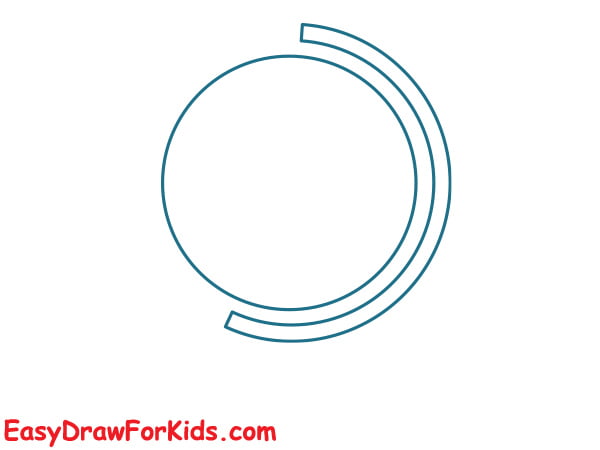 Step 3: Draw the Pegs
The third step of this guide on how to draw a globe will focus on the pegs of your globe.
Add two small rectangles on opposite sides of the circle for the pegs that will attach to the stand.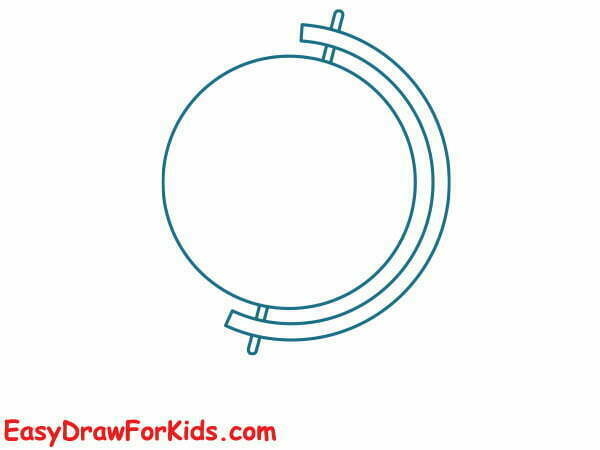 Step 4: Sketch the Base
Draw a short horizontal line under the bottom peg.
Extend curved lines outward for the sides of the base.
Connect the sides with 2 curved lines on the underside.
The base should be wide and sturdy beneath the globe.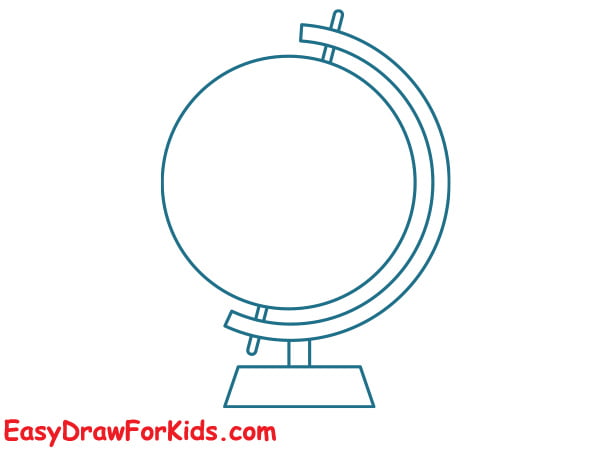 Step 5: Draw the Continents
In this step in our guide on how to draw a globe by sketching in the continents and countries brings your globe to life. Focus first on the general landmass shapes, then add smaller details.
Asia
Lightly draw the boot shape of India.
Add the Malay Peninsula down through Indonesia.
Sketch the East Indies and Philippines.
Draw jagged lines for country borders.
Australia & Islands
Shape the outline of Australia beneath Asia.
Add smaller islands like Tasmania and New Zealand.
Sprinkle tiny specks for Pacific islands.
Keep this region sparse for contrast.
Africa
Draw the horn shape of Africa under Europe.
Add the northward bump of the Arabian Peninsula.
Sketch the Mediterranean islands between Africa and Europe.
Leave this area open for more detail later.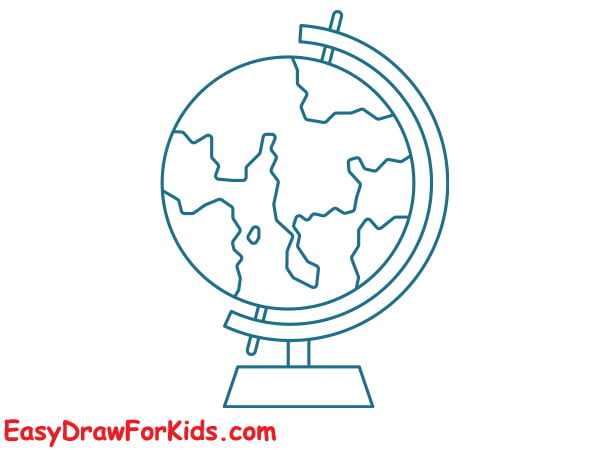 Step 6: Shading and Coloring
Once your outlines are complete, it's time to add color and shading to your globe drawing.
Coloring the Oceans
Use blue colored pencils or markers to color in the oceans. Use light, uniform strokes.
Add darker blue for depths and variation. Leave white caps at the poles.
Coloring the Continents
Color the continents with appropriate colors – greens and browns work well. Vary hues across continents.
Add some black shading at continental borders and overlaps. This helps separate shapes.
Creating Textures
For more texture, use wavy lines, dots, or different shading across land areas. This adds depth and definition.
Add color variations and shading to make mountains, forests, and deserts stand out.
Congratulations! You've successfully learned how to draw a globe.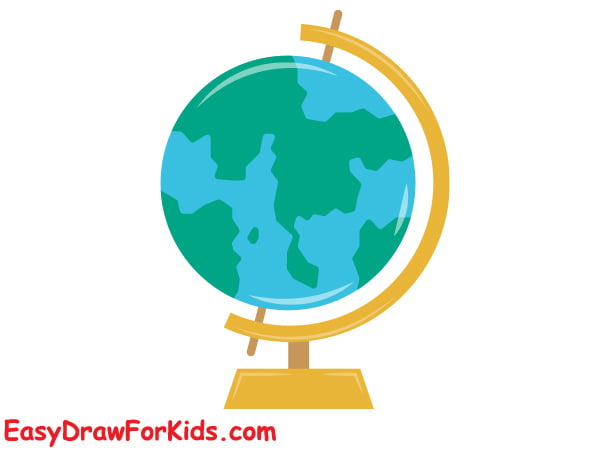 Tips for Drawing a Realistic Globe
Here are some useful tips to achieve a more polished, realistic globe drawing:
Vary line weights and colors to add contrast and visual interest
Show curvature along coastlines, rivers, and longitude/latitude lines
Keep proportions accurate – don't exaggerate or downplay landmass sizes
Use an atlas or globe for reference to copy shapes, names, and details precisely
Include some basic topography like mountains, rivers, deserts, and ice caps
Double check positioning of continents, countries, cities compared to a reliable reference map
Erase construction lines and polish with sharper colored pencils for a clean, defined look
Common Mistakes to Avoid When Drawing a Globe
It's normal to make some mistakes on your first few globes. Here are some common errors to watch out for:
Forgetting to account for the curvature of longitude/latitude lines
Drawing continents or countries the wrong size or shape
Mislabeling cities, rivers, or other geographic features
Not erasing sketch lines before adding color
Cramming in too many tiny details that clutter the globe
Using distorted map projections as reference instead of a standard globe
Misjudging proportions between oceans and landmasses
Conclusion
Learning how to draw a globe step by step can be an enjoyable and rewarding experience, allowing you to explore the Earth's shape, geography, and landmarks.
By following this detailed guide how to draw a globe, beginners can develop their drawing skills while gaining a deeper understanding of our planet.
Remember to be patient and practice regularly to improve your technique.
With time and dedication, you'll be able to create stunning representations of the globe that showcase both artistic skill and geographical knowledge.
So grab your sketchbook, gather your materials, and embark on a creative journey to draw a beautiful and educational globe!
You may also enjoy: