Are you looking to draw a pineapple but not sure where to start?
Drawing a pineapple may seem daunting, but with the right techniques, anyone can do it.
In this guide, we'll show you how to draw a pineapple step-by-step, from the basic shape to the intricate details.
Let's get started!
How to Draw a Pineapple: A Step by Step Guide
Before we get started with the tutorial, let's take a moment to talk about why drawing a pineapple is such a great exercise.
First of all, pineapples are a unique and interesting fruit that make for an eye-catching subject in artwork.
Secondly, drawing a pineapple requires careful observation and attention to detail, which can help improve your overall drawing skills.
Finally, it's an enjoyable activity that can provide a sense of accomplishment once completed.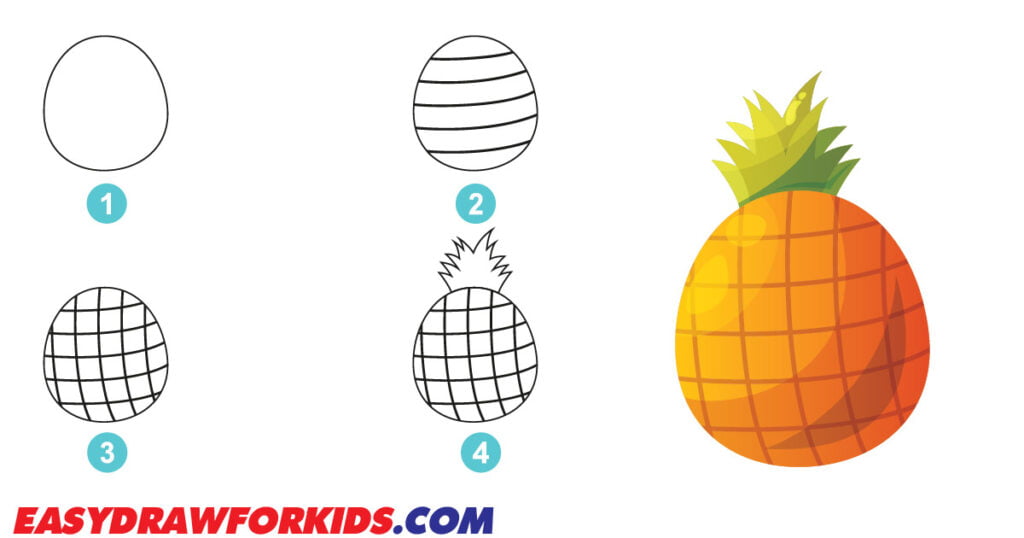 This guide on how to draw a pineapple in 5 steps to help you drawing a pineapple with ease!
Step 1: Sketch the Basic Shape
In this first step in our guide on how to draw a pineapple by lightly sketching a basic oval or egg shape on your paper. This will represent the overall form of the pineapple.
Make the shape slightly wider at the bottom and narrower at the top to achieve the pineapple proportions.
Keep your initial sketch light. As you develop the drawing, you may need to erase and tweak the shape. Once you have the basic form mapped out, you can start building up the details.
Step 2: Add the Pineapple Rind Texture
Now that we have the basic shape down, let's add some texture to the pineapple. Start by drawing diagonal lines along the length of the pineapple. These lines should curve slightly to follow the contour of the shape.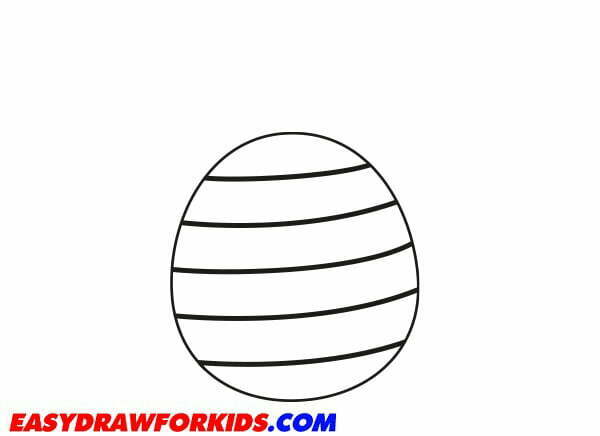 Step 3: Complet the Pineapple Rind Texture
Next, add vertical lines going in the opposite direction. This will create a diamond pattern on the surface of the pineapple.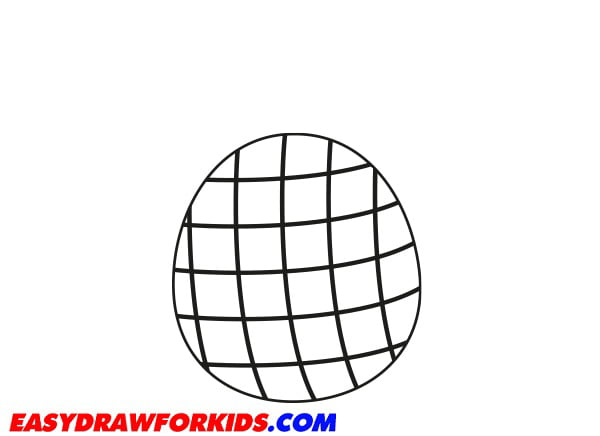 Step 4: Drawing the Leaves of the Pineapple
The fourth step of this guide on how to draw a pineapple will focus on the leaves of your pineapple
At the top of the pineapple, draw a series of spiky leaves fanning out from the fruit. These leaves should overlap each other, getting smaller toward the top point.
Start by drawing a series of long, thin leaves that are slightly curved at the tips.
These leaves should be drawn in a circular pattern, radiating out from the center of the pineapple.
Be sure to vary the length and thickness of the leaves to give your drawing a more realistic look.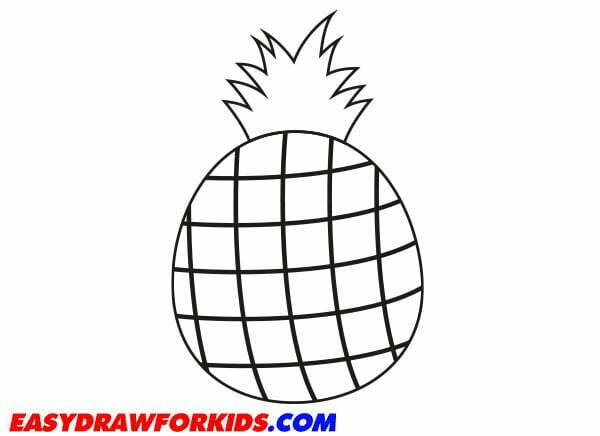 Now that you have the basic shape and details of the pineapple sketched out, it's time to add shading and texture to bring your drawing to life.
Use a darker pencil or shading tool to add shadows to the scales and leaves, making them appear more three-dimensional.
You can also add some texture to the skin of the pineapple by lightly shading some areas with diagonal lines.
Step 5: Color the Drawing
Once your pineapple is complete, consider adding color for a more vibrant, realistic look:
Paint or color the rind with hues of golden yellow, orange and brown. Use green for the spiky leaves.
Try lighter yellow on the top half and deeper golden orange toward the bottom. Look at photo references of real pineapples and match the colors.
Use colored pencils to lightly layer hues for a muted, more natural look. Or use markers for bolder tropical colors.
Add shadows and highlights with colored pencil. Deepen the rind texture with brown and black. Make leaves shiny with green and yellow highlights.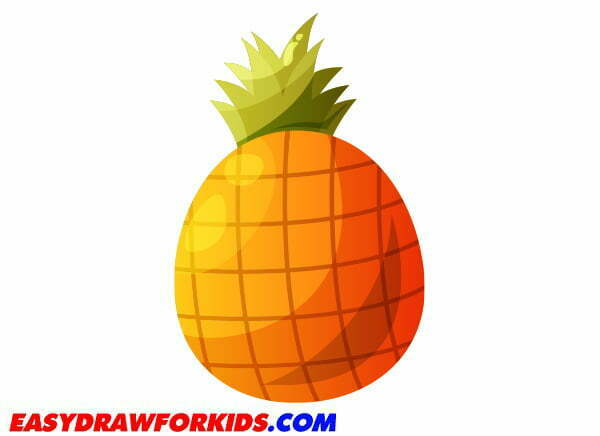 You can also try drawing a sliced pineapple, which reveals the juicy yellow interior.
Follow the same initial steps to draw the outer shape and leaves.
Then draw a jagged oval shape inside to represent the sliced area. Shade this interior area yellow and add juice droplets for a fun, tropical look.
Examples of How to Draw a Pineapple
There are many ways to approach drawing a pineapple, and each artist has their own unique style and technique.
Some artists prefer to use a more realistic approach, while others may opt for a more stylized and abstract style.
Here are a few examples of different pineapple drawings:
Realistic Pineapple Drawing: This drawing features a highly detailed and realistic rendering of a pineapple, with intricate shading and texture.
Stylized Pineapple Drawing: This drawing takes a more abstract approach, simplifying the details of the pineapple and using bold colors and shapes.
Cartoon Pineapple Drawing: This drawing features a cute and cartoonish version of a pineapple, with exaggerated features and bright colors.
Comparisons of Different Pineapple Drawings
When comparing different pineapple drawings, there are a few key elements to consider.
First, take a look at the overall shape and proportions of the pineapple. Does it resemble a real pineapple, or is it more abstract?
Next, examine the details of the pineapple skin and leaves. Are they highly detailed and realistic, or more simplified and stylized?
Finally, consider the shading and texture used in the drawing. Does it give the pineapple a three-dimensional look, or is it more flat and one-dimensional?
Tips and Advice for Drawing a Pineapple
Drawing a pineapple can be a bit challenging, especially if you're new to drawing. Here are a few tips and advice to help make the process easier:
Practice Sketching: Before starting on a final drawing, try sketching out a few rough versions to get a feel for the shape and details of the pineapple.
Observe Real Pineapples: Look at real pineapples to get a better idea of the patterns and shapes that make up the fruit.
Use Reference Images: If you're having trouble visualizing how to draw a pineapple, look for reference images online or in books to use as a guide.
Experiment with Different Styles: Don't be afraid to try out different styles and techniques when drawing your pineapple. You might discover a new approach that works well for you.
Conclusion
Drawing a pineapple is a fun and rewarding exercise that can help improve your overall drawing skills.
By following our step -by-step guide how to draw a pineapple, you can create a realistic and beautiful pineapple drawing that you can be proud of.
Remember to take your time, practice, and experiment with different styles and techniques to find what works best for you.
With patience and dedication, anyone can learn how to draw a pineapple.
You may also enjoy: