Volcanoes have always fascinated people with their immense, raw power.
Capturing this in a drawing allows you to recreate the wonder and intensity that volcanic eruptions create.
In this guide, we will break down step by step how to draw a volcano landscape.
From sketching out the initial volcano shape to adding intricate details like smoke, ash, and lava flows, follow along to create your own powerful volcano artwork.
How to Draw a Volcano: A Step by Step Guide for Beginners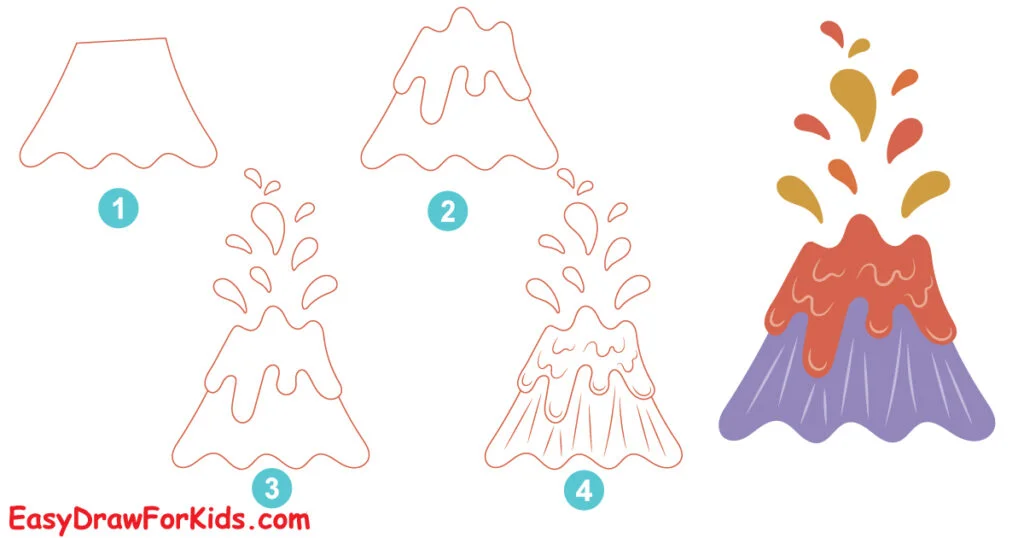 Step 1: Drawing the Outline of the Volcano
The first step on guide on how to draw a volcano is establish the basic shape and form of the volcano in our composition.
Very lightly sketch the basic outer shape of the volcano, similar to an equilateral triangle or the capital letter A.
Do not press hard or draw any strong outlines at this early stage. Building gradually will allow more flexibility as you develop the drawing.
To give a sense of three-dimensional form, you can make one side of the volcano a bit wider and rounder. This conveys the way volcanoes slope out farther on one side.
Leave the narrower section facing the opposite direction so you have more space for the eruption column later on.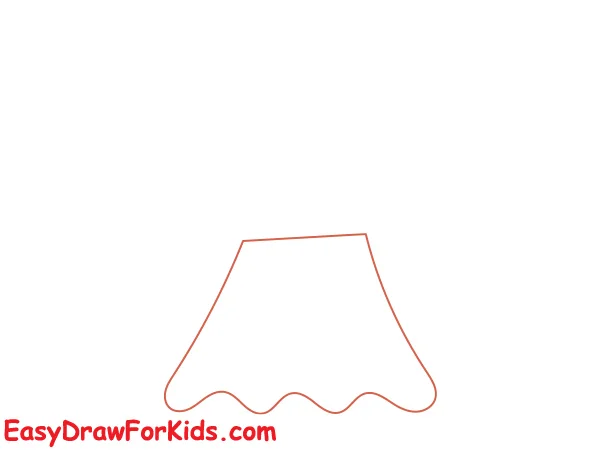 Step 2: Drawing the Lava Flows
In this step on guide on how to draw a volcano, we can begin making this volcano erupt!
These elements will visually activate your volcano in an eruption phase.
Using energetic, flowing lines, add reddish-orange lava emerging from the volcano's vent opening and streaming down its slopes.
You can build up thickness and texture in the lava streams using thicker outlines and shading touches layered within the flows.
Note how the lava glows brightest at its hottest origin point before darkening and cooling as it slides down the mountain.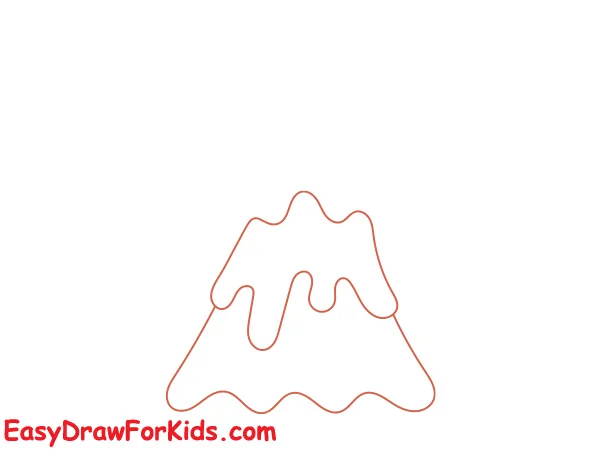 Step 3: Drawing the Eruption
In this step we'll develop more explosive details at the central opening of the volcano where the eruption action is most dramatic. Conveying motion and power here makes the whole drawing more dynamic.
Reinforce the look of a powerful, full-scale eruption by including a bright blast zone radiating from the volcanic vent.
Use intensified, irregular lines to describe lots of particles and debris catching light while they are forcefully ejected.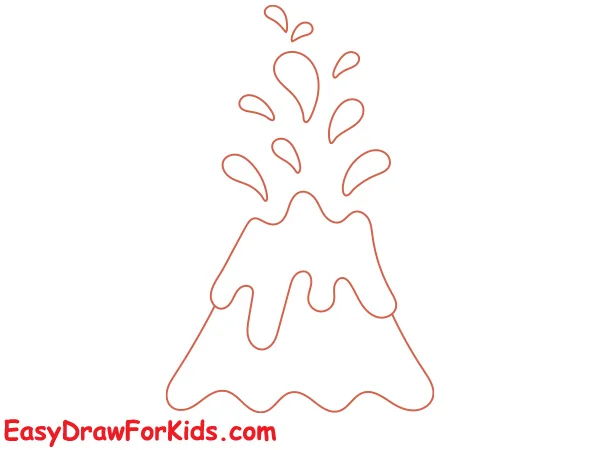 Step 4: Adding Details
At this stage, different textures, environmental details, and entourage can heighten drama within your erupting volcano artwork. Add touches to further develop the volcano's story and scene context.
Scumble darker pencil shading into the crevices and shadows surrounding emitted lava fragments to simulate a glow.
Lift out small highlights along the volcano flanks and smoke edges using a sharp eraser to accentuate form.
Scratch rock textures on peripheral cliffs and add charring effects where lava sears vegetation.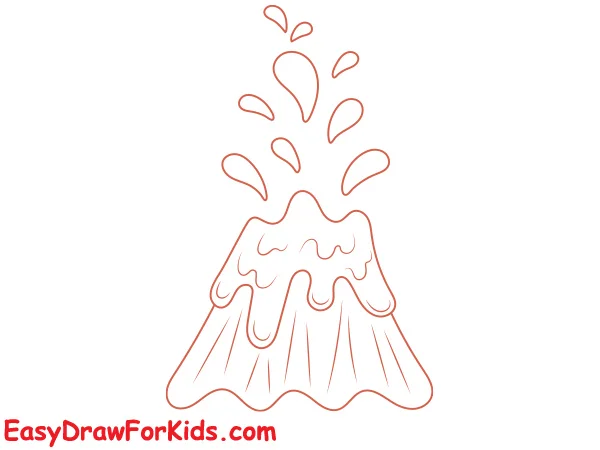 Step 5: Coloring the Volcano
Now that we've successfully this guide how to draw a volcano, now we can bring all the elements to life using color. Volcanic eruptions present opportunities for vibrant hues and dynamic lighting effects.
The volcano itself often appears ashen gray, white, or blackened brown.
Lava flows range from bright yellow-red-orange near their origins to darkened rust colors as they harden.
Ash clouds combine grays with reflections of ambient sky and lava colors.
Use color to underscore energy and temperatures. Allow reds/oranges to intensify moving up the lava streams toward the inner vent, with maximum bright yellow and white at the explosion source. Dark colors in smoke accumulate density outward from origin. Reflect environments colors around the eruption.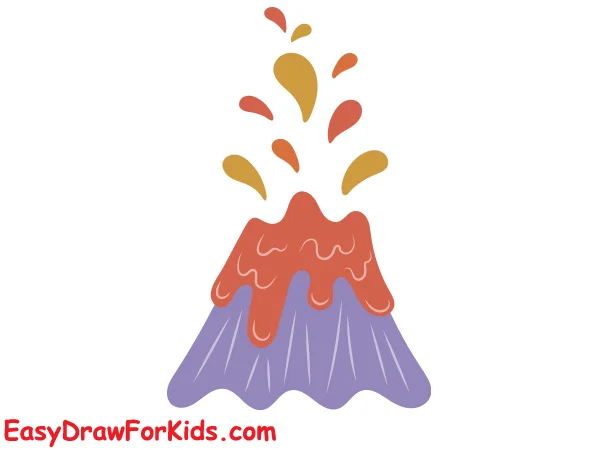 Tips and Tricks for Drawing an eruption volcano
Here are some tips and tricks for an eruption volcano drawing:
Study imagery of actual volcanic eruptions to inspire accurate textures, colors, motion effects, and lighting opportunities. Capture real-world complexity.
Use structures, or landscapes to show monumental size and power of volcano events, through height/width comparisons and overwhelmed surroundings.
Push contrasting colors and values around hot lava and ash against cooler, darker environments to intensify illumination and energy.
Emphasize the most intense active zones within the eruption using concentrated lighting, saturated hues, refined details, and directional markings with motion.
Conclusion
And there you have it – a comprehensive guide to drawing a volcanic eruption from initial outline to final.
From sketching the foundational landform to spilling glowing lava across the slopes, adding explosive plumes overhead then framing the scene in a developed landscape, all the major steps on guide how to draw a volcano have now been covered.
The only thing left is to pick up your pencils start working through the process on your own eruption artwork!
Remember to be patient with yourself while practicing these complex techniques.
Progress over perfection – you can tweak and refine small details endlessly.
The important thing is to become comfortable visualizing and translating such a dynamic event into a pencil drawn composition.
With a solid artistic approach and foundation now installed, you will watch your volcanic drawing ability steadily build and erupt!
You may also enjoy: