Are you eager to enhance your artistic abilities and learn how to draw a lamp?
Drawing objects can be an exciting way to express your creativity and improve your drawing techniques.
In this comprehensive guide, we will take you through the step-by-step process of drawing a lamp, providing examples, comparisons, and useful advice along the way.
So, grab your sketchbook and let's shed some light on this artistic journey!
How to Draw a Lamp – A Step by Step Guide
Lamps are common household objects that exist in endless shapes, sizes, and styles.
For this tutorial how to draw a lamp, we'll focus on a standard table lamp with a cylindrical base, bulbous shade, and thin neck connecting the two.
Being able to convincingly render light, shadows, textures, and form will help you make your lamp illustration pop off the page.
With a bit of patience and practice, you'll be able to add lamps to your own still life, interior, or product drawings.
1. Lamp Drawing Easy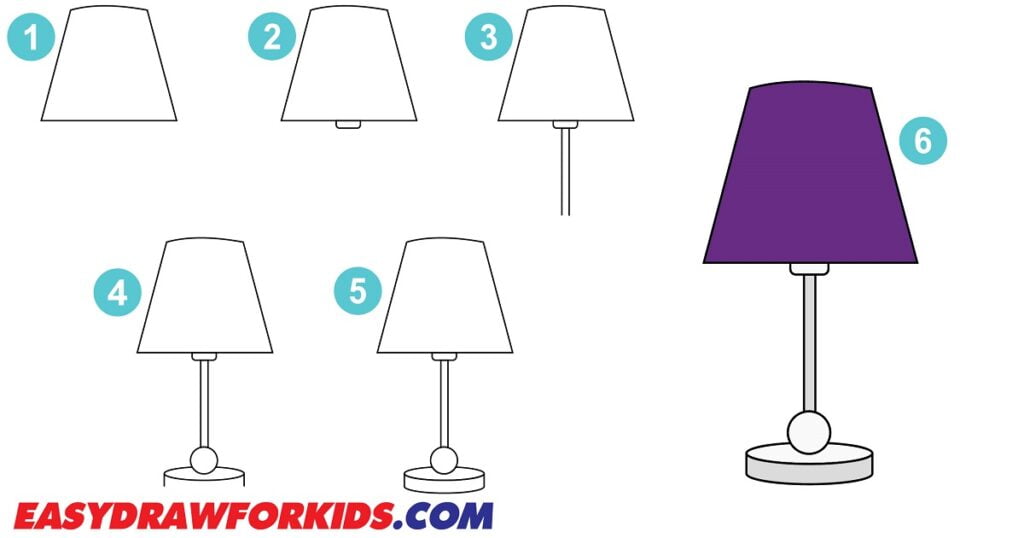 Before diving into the intricate details of a lamp, it's essential to start with the basic shapes that form its structure.
Begin by drawing a simple rectangle for the lampshade and a trapezoid for the base.
These shapes will act as your building blocks, allowing you to construct a realistic representation of a lamp.
Step 1: Draw the Lampshade
The lampshade plays a crucial role in creating a visually appealing lamp drawing.
Start by outlining the top and bottom edges of the lampshade using gentle curves.
Remember to leave some space between the two edges to represent the slight bulge in the middle.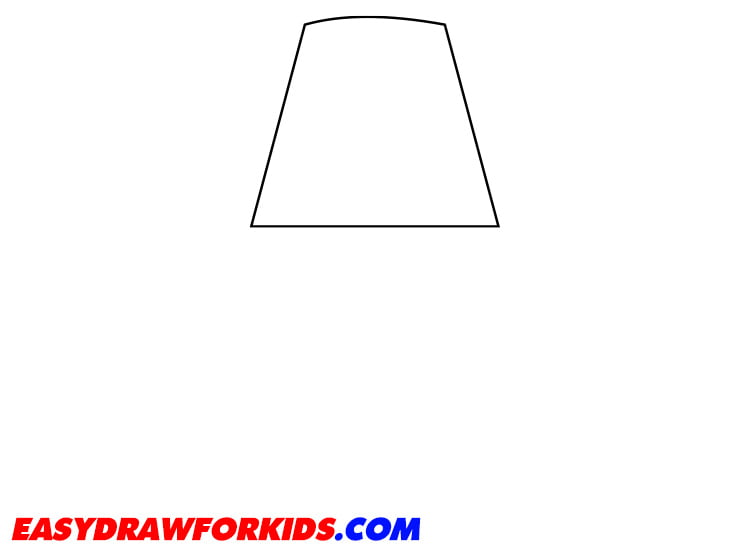 Step 2: Draw the Lamp Mount
Add a few horizontal lines inside the lampshade to represent the support structure of the shade.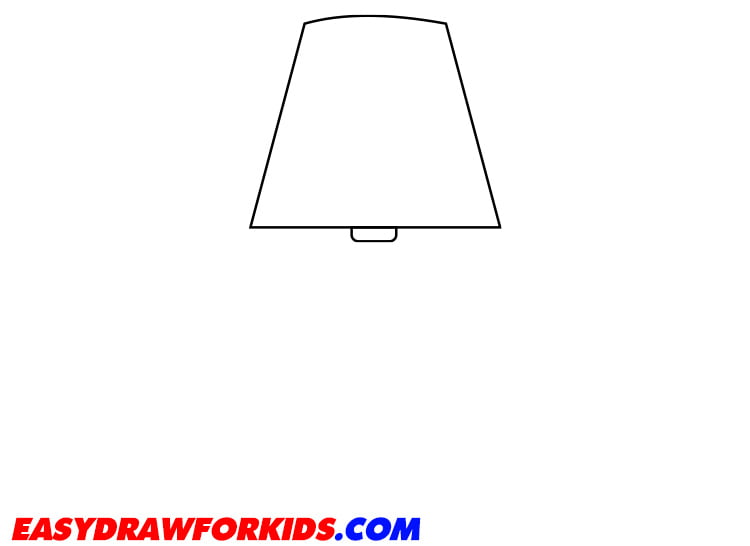 Step 3: Draw the Stem
In this first step in our guide on how to draw a lamp by draw a straight line from the top of the rectangle to the center of the page. This will be the stem of the lamp.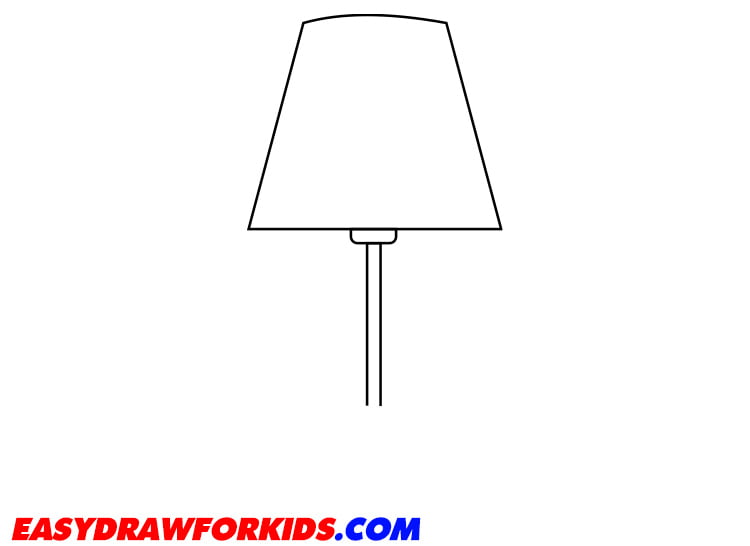 Step 4: Sketch the Base of the Lamp
Moving on to the base and stand of the lamp, start by sketching the general shape using straight lines and curves.
Pay attention to the proportions and perspective, ensuring that the base is in proportion with the lampshade.
Add details such as switches, buttons, or any additional features that your lamp may have.
Remember to use light pencil strokes when adding these details to maintain a realistic look.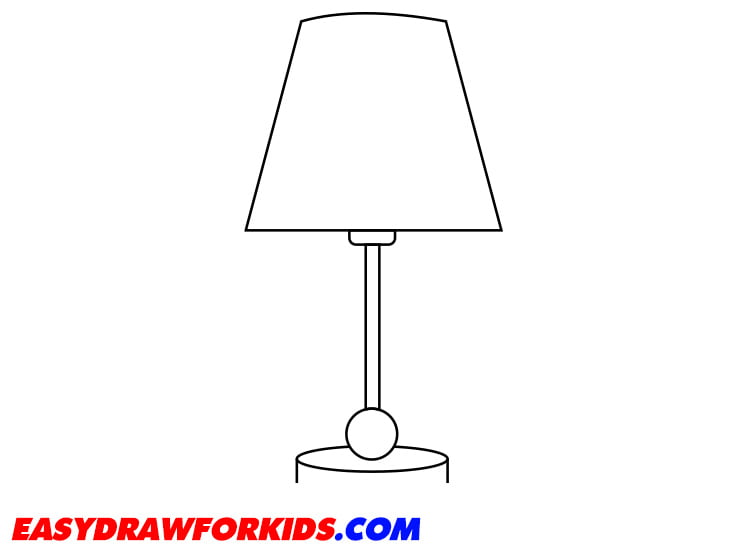 Step 5: Add Details
With the basic shapes in place, it's time to add some details to our lamp drawing.
Use curved lines to add texture and dimension to the base of the lamp.
Add shading to the shade of the lamp to make it look more realistic.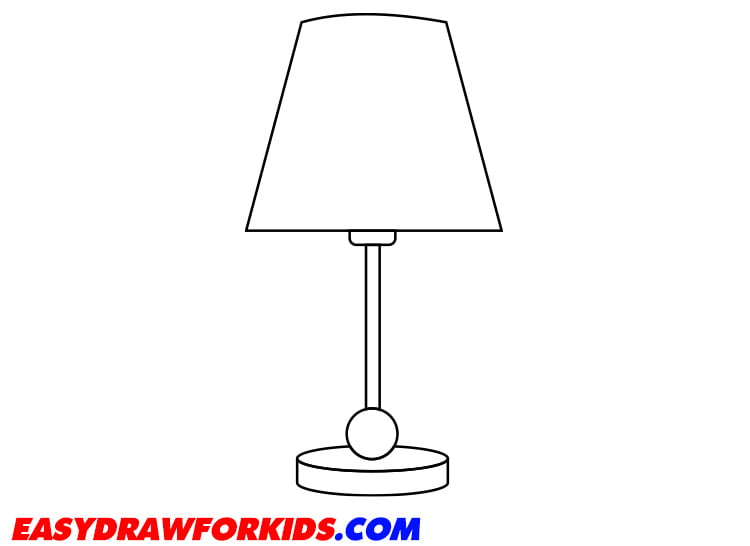 Step 6: Color Your Drawing
Determine the direction of your light source and add shading accordingly.
Use darker tones for areas that are in shadow and lighter tones for areas that receive direct light.
You can also add color to the lamp base and shade, considering materials like metal, glass, or fabric.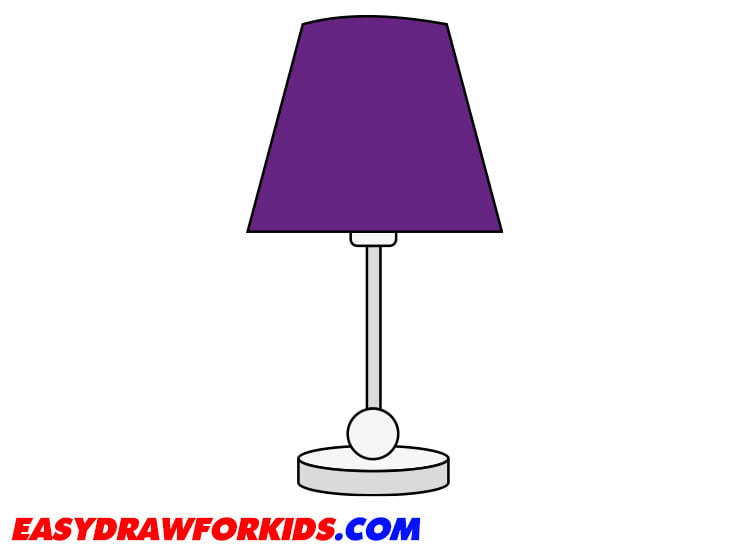 2. Table Lamp Drawing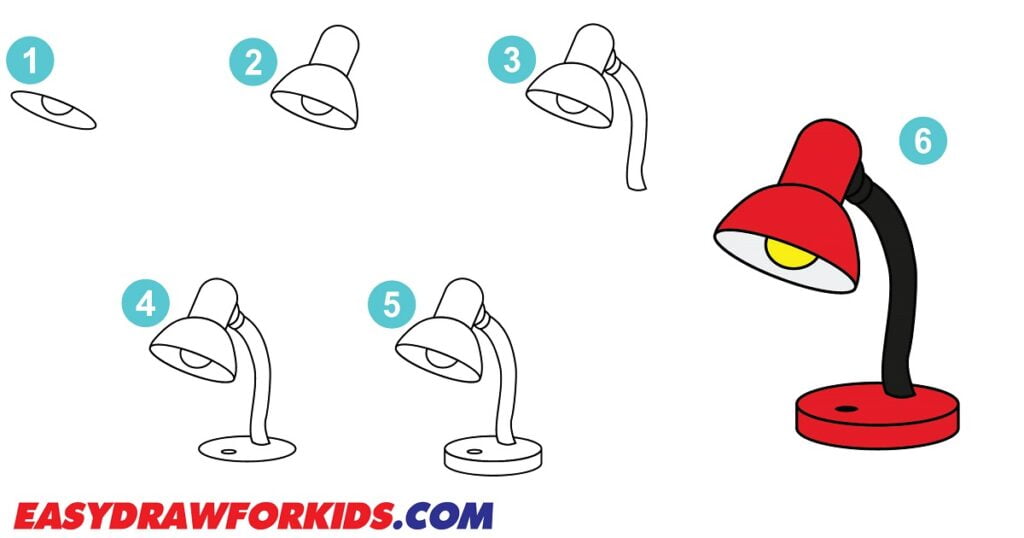 Step 1: Sketch out the Light Bulb
Draw an oval shape for the lampshade
Next, draw an arch below the previously drawn figure for the bulb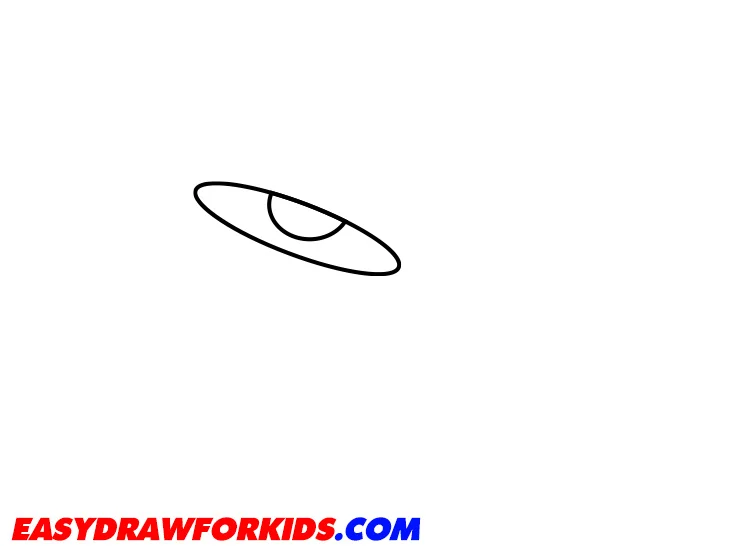 Step 2: Depict the Lampshade
Draw an oval or egg shape. This will become the lampshade later.
Adjust the oval so it has the right curve at the top and tapers slightly at the bottom. Add a lip at the bottom opening.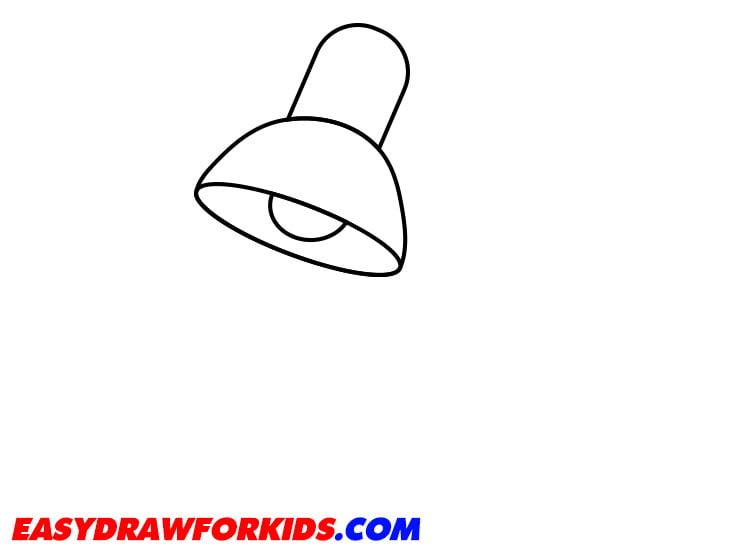 Step 3: Add the Lampstand
Draw two curved lines from the circle to the cone shape that you drew earlier. These lines will create the neck of the lamp.
Refine the shape of the connector, widening the top and narrowing the bottom.
Use straight lines to draw ridges along the length of the neck. These can be evenly spaced or more organic.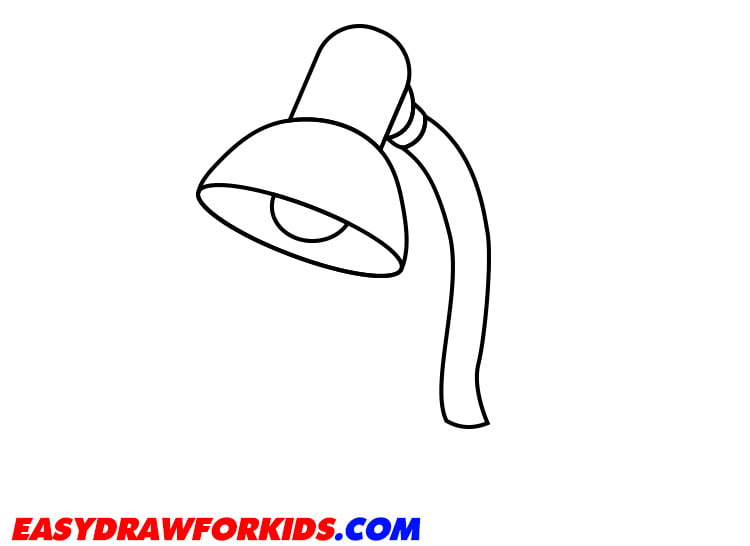 Step 4: Sketch the base of the Lamp
Draw an oval shape at the center of the bottom lampstand. This circle will be the base of your lamp.
Make the cylinder proportions accurate. The base should be noticeably wider than the neck.
Add a circle inside the base for a recessed bottom. Draw a straight or zig-zag line around the base rim.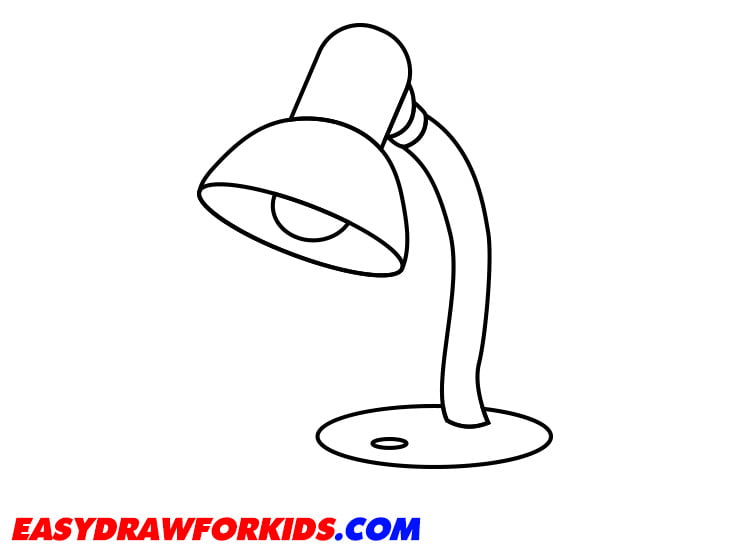 Step 5: Draw the Base bottom
Draw a circle below the cylinder to close it off.
Add a switch or button on the side of the base. You can also draw a cord or wire running from the base and connecting to the neck.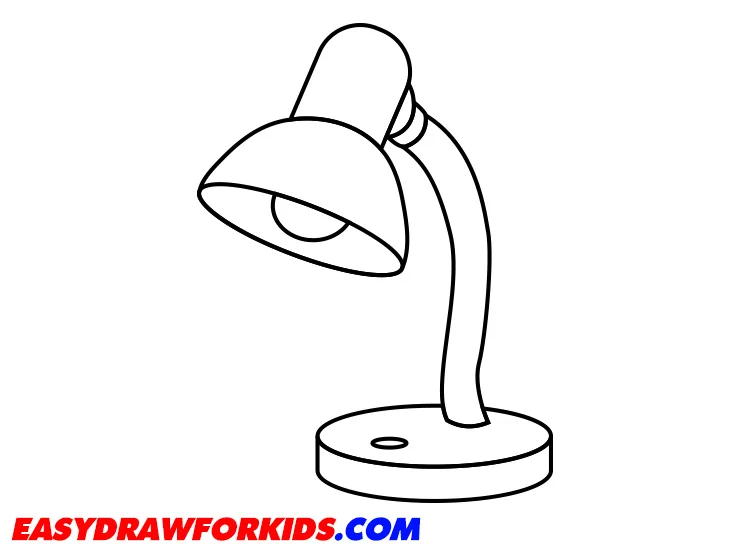 Step 6: Color the Drawing
Now that we've successfully this guide how to draw a lamp, it's time for the most exciting part. 
You can also add a light source to your drawing. Shade in the opposite side of the lampshade to indicate where the light is coming from.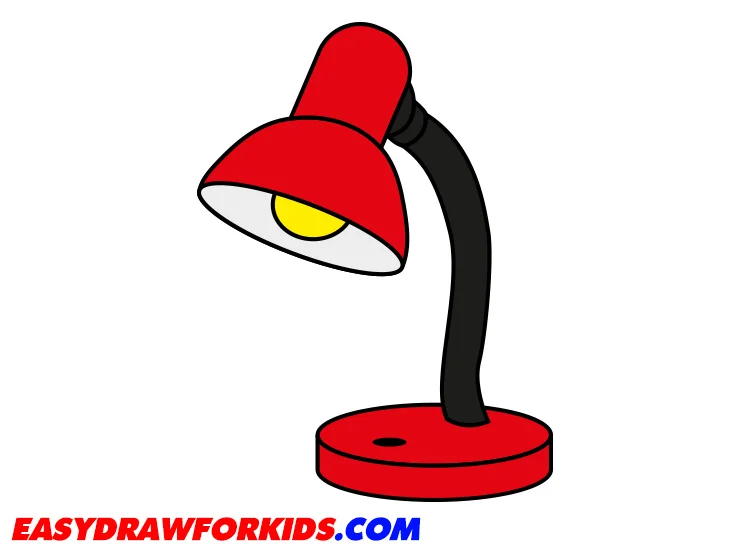 Congratulations, you've successfully learn how to draw a lamp! But before we wrap up, let's discuss some tips and example of drawing a lamp.
Examples of Different Lamp Styles
While learning how to draw a lamp, it's interesting to explore various lamp styles and incorporate them into your artwork. Let's take a look at a few examples:
Modern Desk Lamp: For a contemporary touch, focus on clean lines and geometric shapes. Incorporate metal or glass materials, and experiment with bold colors or sleek finishes.
Antique Table Lamp: To capture the charm of an antique lamp, emphasize intricate patterns and ornate details. Use shading techniques to create a sense of depth and texture, replicating the classic elements found in vintage designs.
Minimalist Floor Lamp: Minimalism emphasizes simplicity and functionality. Keep the lines and shapes clean and uncluttered. Use minimal shading to create a sleek and modern representation of a floor lamp.
Tips for Drawing a Lamp
To further enhance your lamp drawing abilities, here are some valuable tips and advice for learning how to draw a lamp:
Practice Observational Drawing: Drawing from life and observing real lamps will provide invaluable insights into their structure, texture, and lighting effects. Take the time to sketch different lamps, both indoors and outdoors, to refine your skills.
Experiment with Various Artistic Techniques: Don't limit yourself to a single approach. Explore different shading techniques, line variations, and textures to add depth and interest to your lamp drawings.
Seek Inspiration: Look for inspiration from professional artists or online resources. Examine their techniques, study their use of light and shadow, and adapt those elements into your own style.
Be Patient and Persistent: Mastering the art of drawing a lamp takes time and practice, so don't get discouraged if your initial attempts don't turn out as expected. Keep practicing and refining your skills, and with each drawing, you'll notice improvement in your techniques.
Conclusion
Learn how to draw a lamp may seem like a simple task at first glance, but it's an excellent exercise for building a strong foundation in artistic principles such as shading, perspective, and proportion.
By understanding the basic shapes, sketching the lampshade and adding depth and detail, you can create a realistic representation of a lamp that showcases your artistic potential.
Through exploring different lamp styles, comparing lighting concepts, and incorporating valuable advice and tips, you can continue to refine your drawing skills and improve your overall artistic abilities.
We hope this step by step guide on how to draw a lamp has been helpful in guiding you through the process. Happy drawing!
You may also enjoy: