Are you looking to learn how to draw a park scene but don't know where to start?
Drawing a park can seem daunting, but with the right techniques and guidance, anyone can create a beautiful depiction of nature.
In this article, we will provide step by step instructions on how to draw a park scene that will impress your friends and family.
So grab a pencil and paper, and let's get started!
How to Draw a Park: A Comprehensive Guide for Beginners
When deciding how to draw a park, first think about the main elements that make up this type of scene.
Parks usually contain open grassy areas, scattered trees, winding pathways, and recreational amenities like playgrounds, gazebos, or sport fields.
The style you draw in will also impact how you portray the park – a realistic piece may include more detail while a cartoon park can be more whimsical.
Consider if you'll be drawing from a reference photo of a specific park or inventing an imaginary landscape.
Drawing from a reference can help with accuracy but isn't required to make an effective park drawing. You can also mix and match elements from multiple park photos to create your own unique scene.
Drawing a Park Scene step by step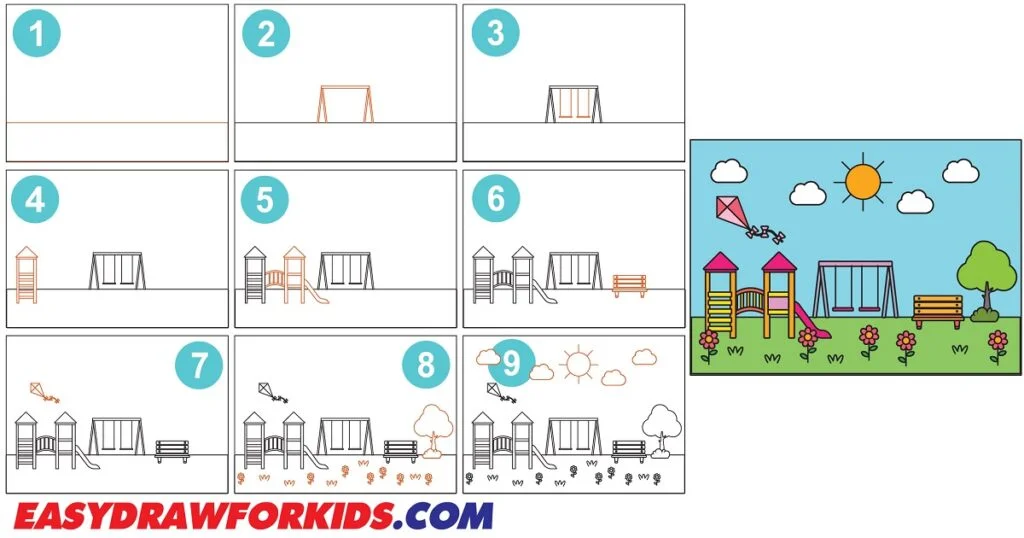 Step 1: Depict the Frame
First, determine the size of the drawing, and use straight lines to draw an even rectangle.
Then, sketch out the surface of the earth by using a straight line at the middle of the frame.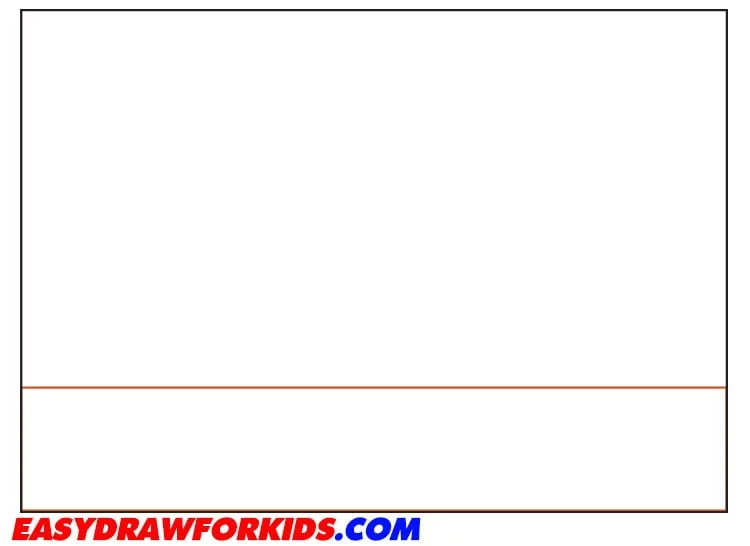 Step 2: Sketch out the Frame for the Swing
Draw straight lines for the side frames and the crossbar between them.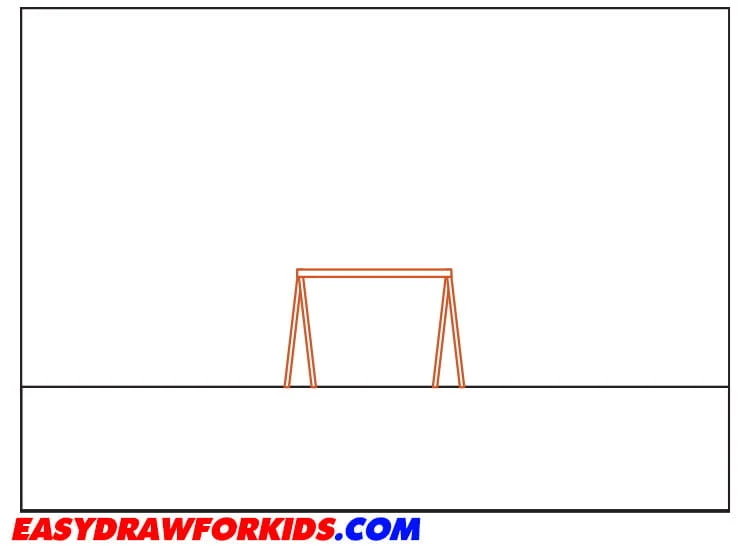 Step 3: Draw the Swing
Draw four vertical lines, and draw two seats.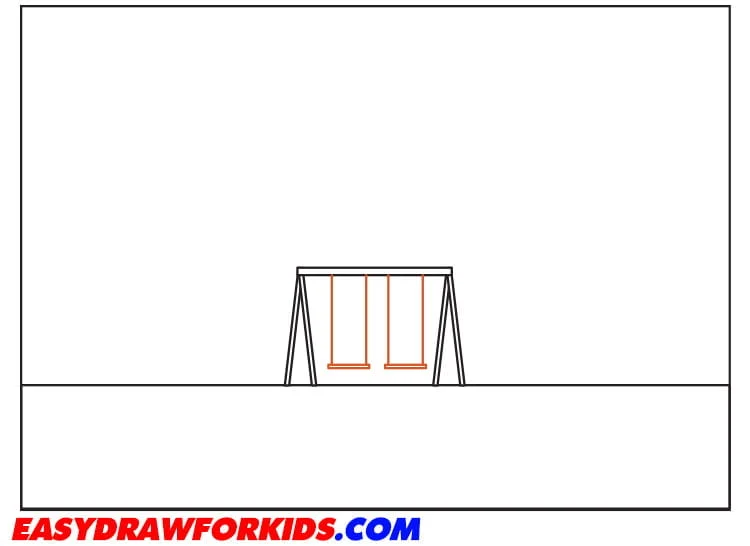 Step 4: Draw the Frame of the Slide
Using straight lines, sketch out a triangle for the roof and the base as shown the picture .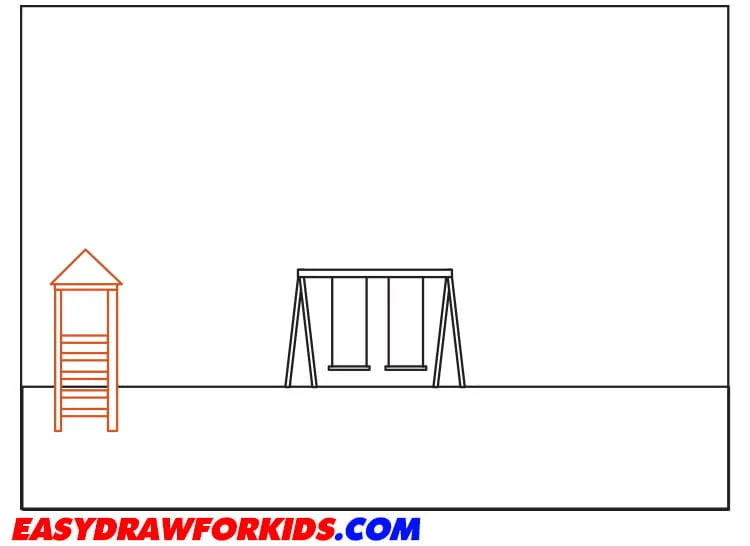 Step 5: Sketch out the Bridge, Frame and Slide
Repeat this process for the base and roof beside the first
Next , draw a bridge connect two frames
Then, draw the slide by using smooth, rounded lines from the base of the slide down to the ground.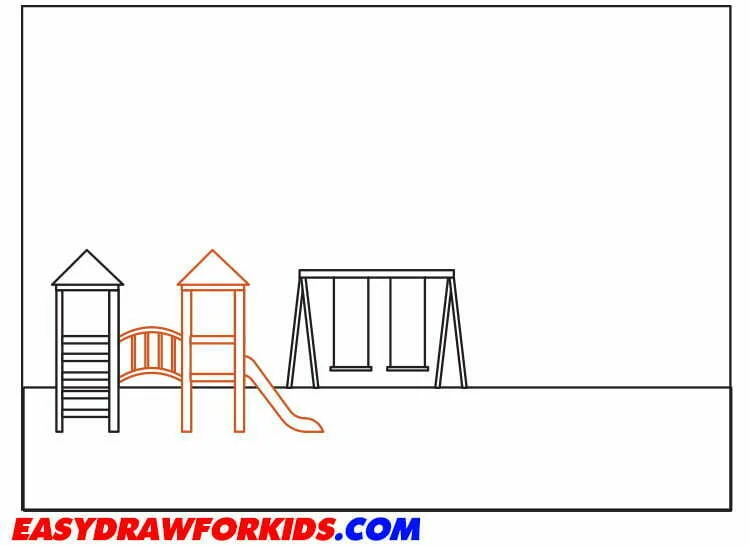 Step 6: Sketch out the Chair
The next step of this guide on how to draw a park will focus on the chair.
Draw the chair beside the wing by using straight lines and rectangular as shown the picture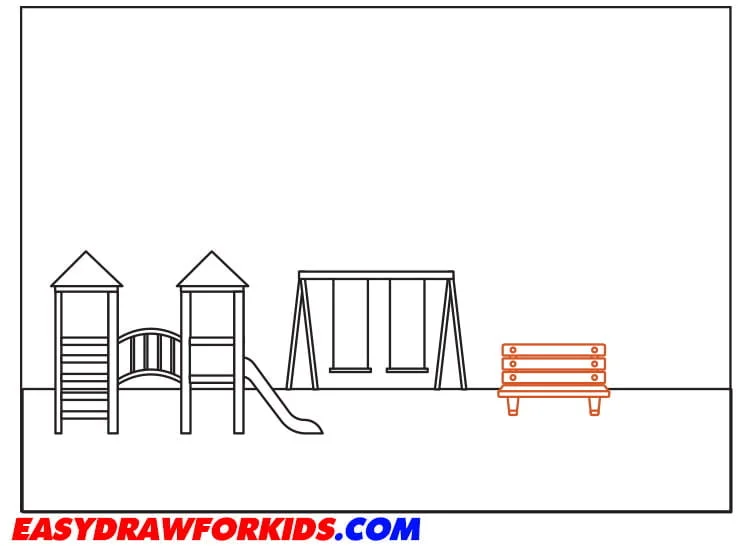 Step 7: Sketch out a Kite
Draw a kite on the sky by using rectangular and smooth lines as shown the picture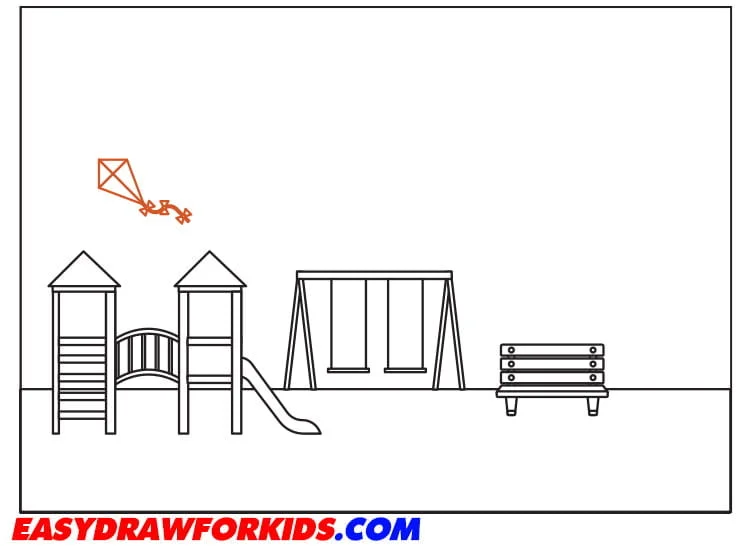 Step 8: Depict Trees, Grasses and Flowers
Sketching out the basic shapes for the trees, bushes, and other foliage in the park. Use light and loose strokes to create an outline of the scene.
First, draw the flowers and grasses intertwine with each other by using curved lines at the bottom as shown the picure
Then draw a tree and bushes beside the chair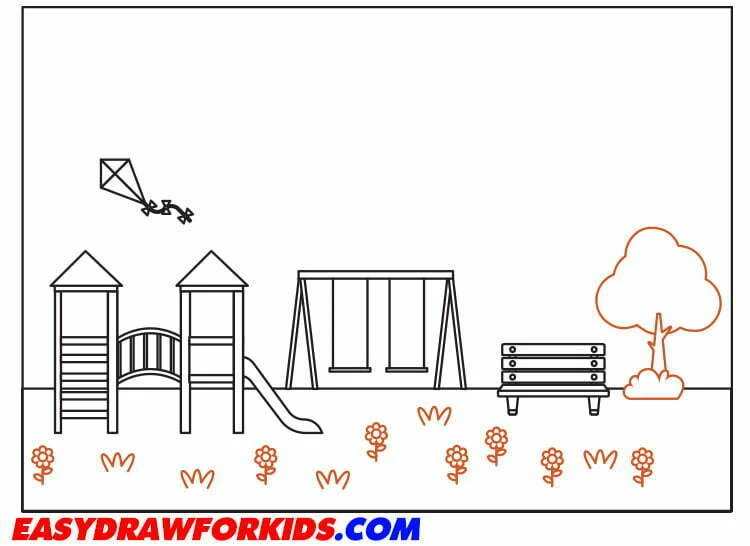 Step 9: Sketch out the Clouds and Sun
Draw the wavy lines of freeform shapes for the clouds and a circle for the sun.
Around the circle draw eight straight lines of the same length for the sun rays.
Step 10: Refine Details and Add Color
The last step of the lesson how to draw a park is coloring your drawing.
Now focus on refining details like grass texture and tree shapes to boost realism. Darken important contours and lighten highlights.
Add color if desired either with pencils or markers. Earthy tones like greens, browns and neutrals suit a park landscape.
Add bright colors just for fun elements like playground equipment or flowers.
Look for ways to enhance composition and lead the eye through the space, perhaps using a curving path or framing trees.
Balance out dark and light areas and intensify contrasts. Add your artistic touch with unique textures, patterns or stylistic choices.
Your park drawing can be realistic or imaginative!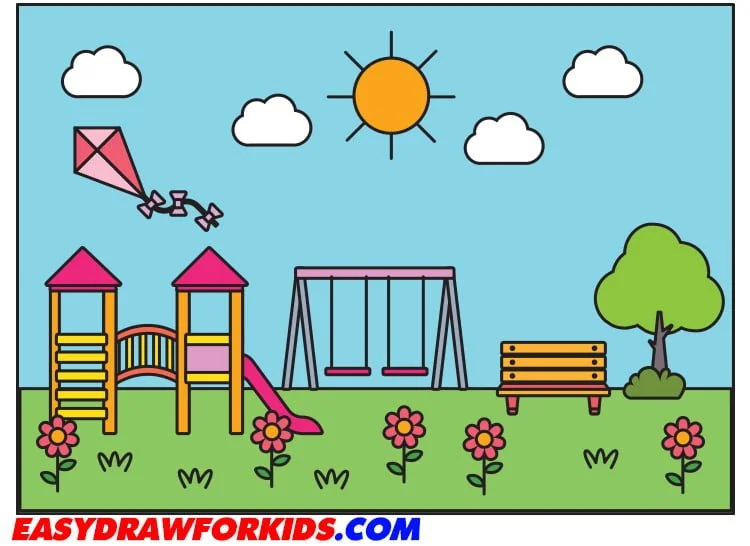 Tips for Drawing a Park Scene
Here are some additional tips to help you learning how to draw a park with ease!
Study photos of real parks for layout ideas and element inspiration
Start with a simple layout sketch before adding details
Use overlapping shapes and varied scales to show depth
Make pathways and lawns feel organic using curves and freehand shapes
Show textural contrast between manicured grass and overgrown fields
Drawing structures at different angles helps show perspective
Add color for realism or creativity, keeping a cohesive color palette
Drawing an appealing park landscape is great composition practice and allows your creativity to flourish. Use these tips to guide your park artwork. Don't be afraid to experiment and add your own artistic flair!
Conclusion
Drawing a fun park landscape is an enjoyable way to practice fundamental art techniques like composition, perspective and texture. It's also an opportunity to craft your own creative world!
Use the tips in this article how to draw a park to guide your park artwork. Take time to study park scenery for inspiration, then develop your own style.
The possibilities are endless when drawing an imaginary or reference-based park.
Sharpen your pencils, grab some paper, and enjoy immersing yourself in the creative process!
Happy drawing!
You may also enjoy: