Are you fascinated by the possibility of extraterrestrial life and their flying saucers?
Have you ever wondered how to draw a UFO, but didn't know where to start?
UFOs (unidentified flying objects) have become an iconic image in popular culture, often depicted in movies, TV shows, video games, and other media.
While the existence of extraterrestrial UFOs has never been definitively proven, their unique shape makes them fun to draw as a creative exercise.
In this article on how to draw a UFO, we will explore some simple steps that will help you master the art of drawing a UFO.
How to Draw a UFO – A Step by Step Guide
Before diving into drawing a UFO, it's important to understand its basic design elements.
A typical UFO contains a circular or elliptical body, a dome-shaped top, and a series of lights around the perimeter.
The size of the spacecraft varies from small to large, depending on the artist's preference.
As a beginner, it's best to start with a simple and basic design and then add more complex details as you gain experience.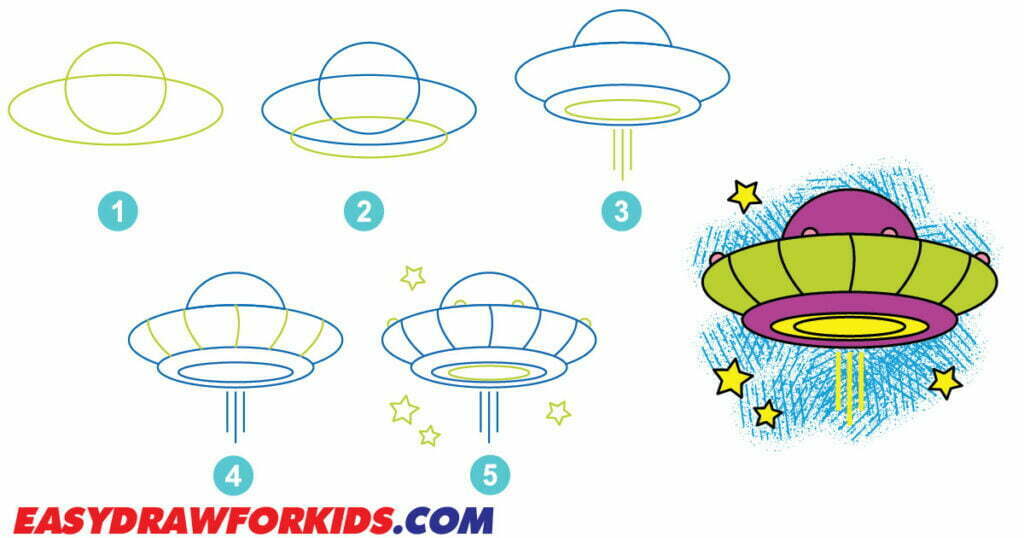 In this article on how to draw a UFO in 6 steps to help you drawing a UFO with ease!
Step 1: Draw the Basic Saucer Shape
In this first step in our guide on how to draw a UFO by lightly sketching a wide oval or saucer shape on your paper using a pencil. This will be the basic body of the UFO.
Make sure to leave some space at the top and bottom – this is where you will draw the top dome and bottom base details later.
Now draw a circle dome shape on the top of the saucer. This will be the cockpit or bridge of the UFO where the alien pilots sit.
Center and size it appropriately so it fits snugly on top and overlaps the saucer a bit.
You can make the dome slightly wider than the saucer shape itself – UFOs tend to have oversized domes compared to the body.
Don't press too hard – you want to be able to erase any early mistakes!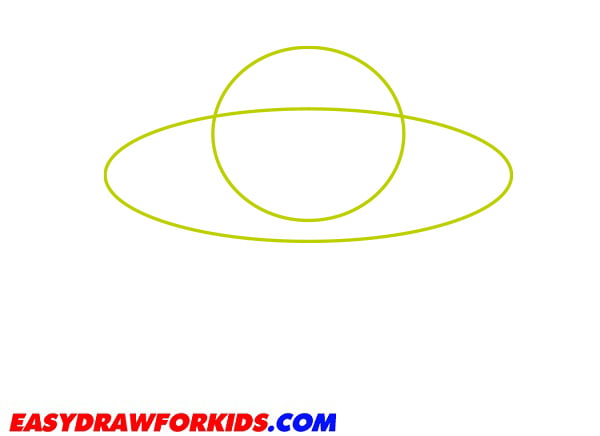 Step 2: Draw the Bottom Base
The second step of this guide on how to draw a UFO will focus on the bottom base of your UFO
On the bottom of the saucer, draw a small half-circle or curve shape in the center. This forms the base of the UFO.
Some examples have a few circles on the bottom base as ports or vents. Feel free to add any small details you want!
Use eraser (eraser) to erase the excess lines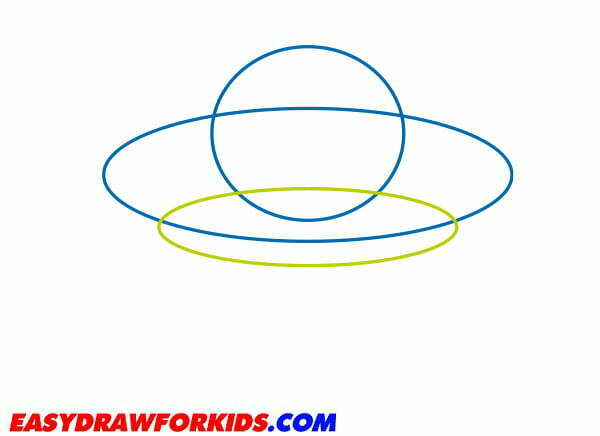 Step 3: Draw the Underside Details
Add circle shapes of varying sizes to show machinery openings and vents for the engine.
Underneath the UFO is where you can get creative with details like landing gear, vents, hatches, etc.
Extend three diagonal lines down from the underside to illustrate a transportation beam.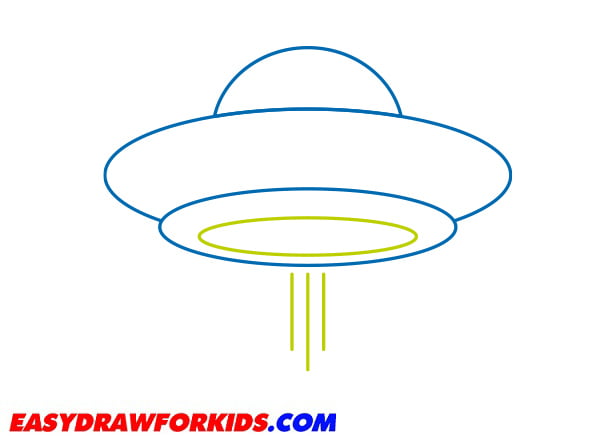 Step 4: Add Details
Once you have the basic shape and design of the UFO, it's time to add more details.
You can add lines or patterns on the body or make the dome more intricate.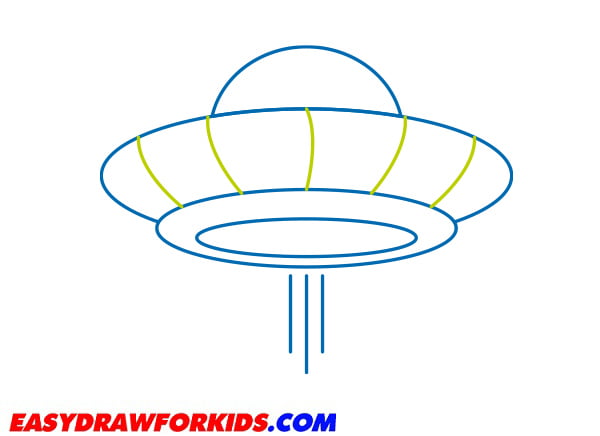 Step 5: Add Lights
Around the perimeter of the body, add a series of evenly spaced lights.
You can place them in any pattern, but a common one is to place them in a circular or spiral pattern.
Draw stars around the UFO to depict rotating bands around the saucer.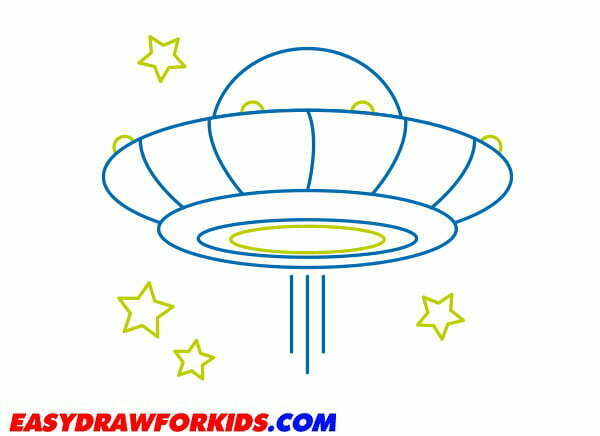 Step 6: Color Your UFO (Optional)
Now that we've successfully this guide how to draw a UFO, it's time to bring your UFO art to life with color!
Use metallic colors like silvers, grays, and greens to mimic an aircraft.
Make lights and beams brightly colored.
Add any other details in colors of your choice. An outline can help define the edges.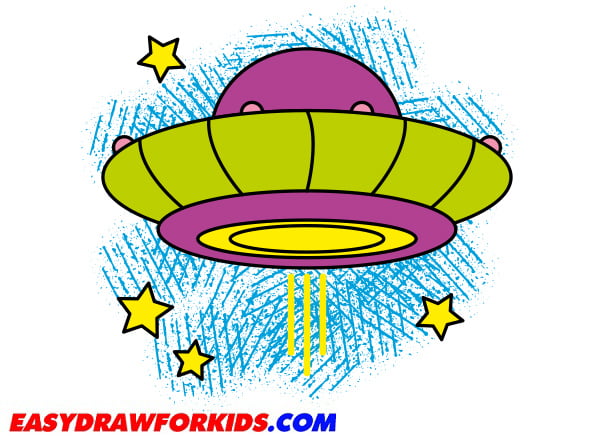 I hope this overview of how to draw a UFO step-by-step provides helpful insights and inspiration for your imagination and illustration skills
Tips for Improving your UFO Drawing Skills
Here are some tips to take your UFO drawings to the next level:
Use References – Look at photos and examples of UFOs in media for inspiration. See what shapes, proportions and details are common.
Try Different Poses – Draw the UFO tilted, banked or at an angle as if in motion. Or imagine it beaming up people with a tractor beam!
Add Environment – Place your UFO in a scene with landscapes, cities or galaxies. This adds context and interest.
Create a UFO Fleet – Draw groups of UFOs together hovering in formation. Show different shapes and sizes together.
Make it Glow – With markers or colored pencils, draw glowing lights and illuminated engine ports to make your UFOS look more realistic.
Detail the Interior – If you cutaway a section or make windows transparent, you can show detailed alien pilot and technology inside.
Develop Your Style – The more UFOs you draw, the more you'll develop a unique drawing style. Simplify details or exaggerate certain features.
So tap into your creativity and have fun imagining and drawing the ultimate UFO spacecraft! With a little practice, you'll be able to illustrate any alien encounter or sci-fi scene with unique flying saucers.
Examples of UFO Types to Draw
While the basic flying saucer shape is the most classic, there are infinite different types of UFO spacecraft you can create. Here are some examples to inspire your drawings:
Cigar Shape: Like a rounded cigar, these long tubular UFOs are usually tapered at both ends. Often they have a transparent band revealing the inner workings.
Triangle or Boomerang: UFOs shaped like triangles or boomerangs have been reported darting through the skies. They might have a light at each point or corner.
Disk Shape: Similar to saucers but less rounded, disk UFOs are like flat circular platforms or plates. Some say they look like spinning tops hovering in place.
Bell Shape: Resembling giant metal bells, these UFOs are rounded and bulge out at the bottom, coming to a pointy top.
Cylinder Shape: Cylindrical or pill shaped UFOs are long tubes that are flat on the top and bottom rather than tapered.
Multi-Orb Crafts: Some UFOs are reported as clusters of several metallic sphere or orbs joined together in formations.
Changing Shape: Many report witnessing UFOs that can change shape or configuration in flight – so feel free to get creative!
With practice you can learn to draw any shape of spacecraft. Use these types as inspiration when designing your own original alien UFOs!
Conclusion
Now you know how to draw a UFO.
Drawing UFOs is an enjoyable way to tap into your imagination and create unique sci-fi art.
With some simple saucer shapes, domes, lights, and underside details, you can easily sketch creative spacecrafts in your own style.
Don't be afraid to experiment with unconventional or whimsical designs. Use vivid colors, dynamic angles, background scenery, and your wildest ideas to make eye-catching illustrations that are out-of-this-world!
With practice and patience, you can develop your own unique style and bring your alien encounters to life.
You may also enjoy: