Windmills are iconic structures that have dotted landscapes for centuries.
Their distinctive shape makes them a favorite subject for artists to draw.
While it may seem challenging at first, with some basic techniques you can learn how to draw a windmill.
In this article, we will walk through the step-by-step process for drawing a simple windmill.
We will cover the supplies you need, the basic shapes to use, methods for shading, and techniques to add realistic detail.
With a little practice, you will soon be able to recreate these classic buildings in your own unique style.
How to Draw a Windmill: A Step by Step Guide
Windmills are associated with Holland, where their use dates back to the Middle Ages.
Their distinguishing features are rectangular or hexagonal towers, usually made of brick or stone, topped with a rotating cap and sails.
The cap would be turned by the wind, transferring mechanical energy via a shaft to machinery inside the mill.
Windmills were vital for milling grains like wheat and pumping water to drain land in Holland.
Today, while picturesque windmills still dot the countryside in Holland and elsewhere, they have largely been overtaken by modern wind turbines for generating renewable energy.
But windmills remain an iconic figure. Drawing your own windmill can be an enjoyable way to capture their rustic, old-world charm.
Now that you have an understanding of a windmill, let's dive into the step-by-step guide on how to draw a windmill.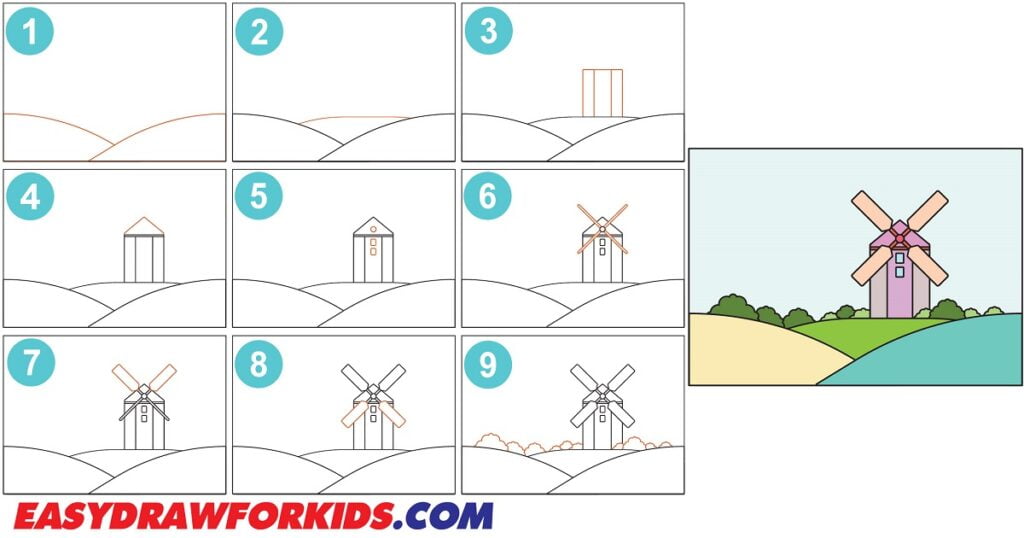 Step 1: Draw the Fields
Draw irregular, wavy lines that extend horizontally across the paper.
These lines will represent the rows of crops or grass in the field.
Vary the height and spacing of the lines to create a natural look.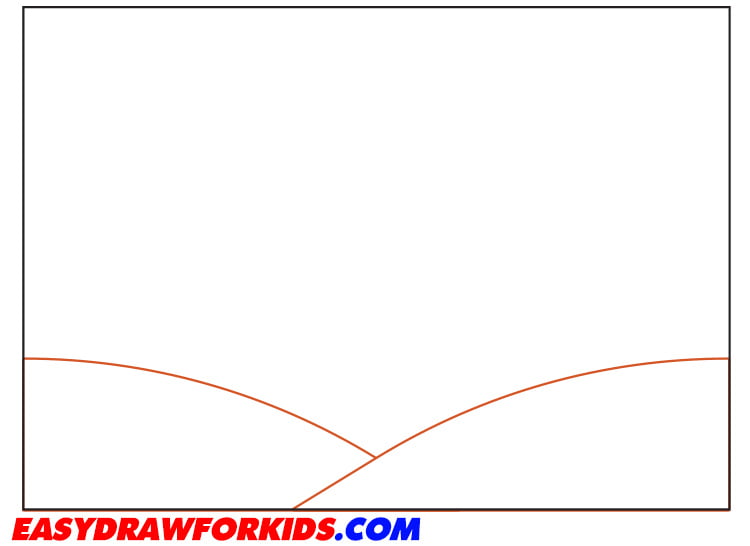 Step 2: Complete the Fields
Add more rows of crops or grass using the same wavy line technique. Overlap some of the lines to create depth and give the field a more layered appearance.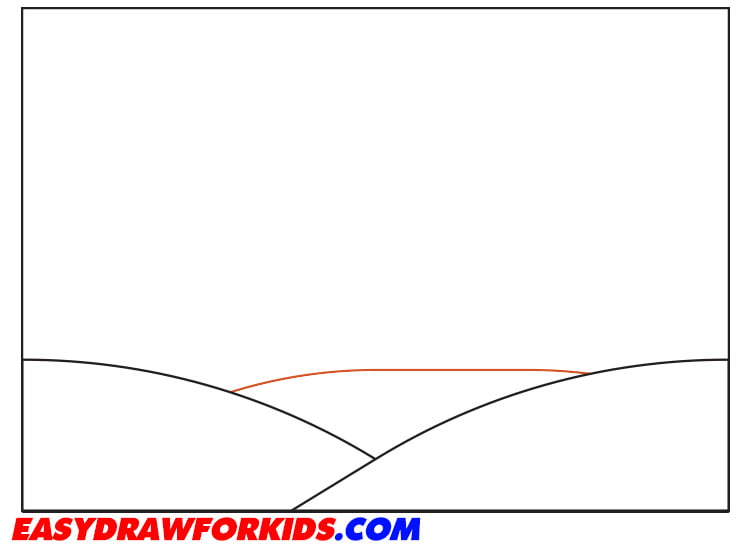 Step 3: Draw the Tower
The third step in guide how to draw a windmill is to sketch out the tower. This is the brick or stone structure that houses the mill's internal machinery.
An easy way to start is to draw a vertical rectangle, making it slightly wider than it is tall. This will represent the main body of the tower.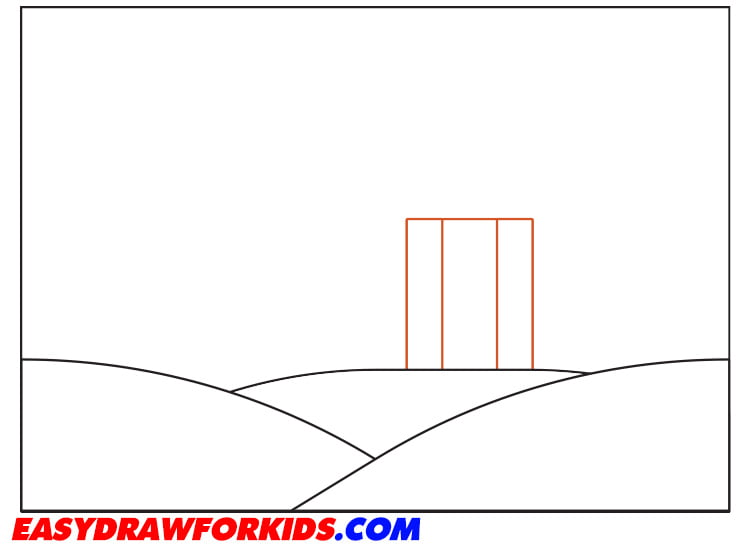 Step 4: Add the Roof
Next, let's add a gabled roof to the top of the windmill's tower.
This should slope down on both sides from the high point at the rotating cap.
Sketch two steep triangle shapes that meet at the centerpoint of the cylinder cap.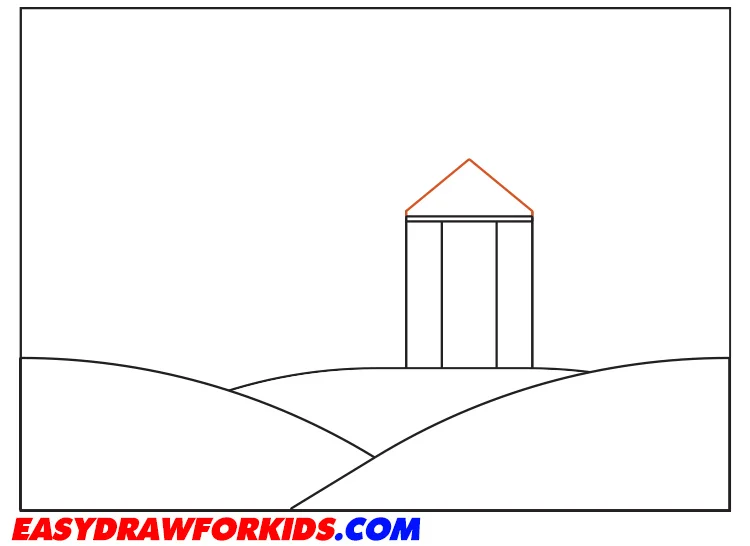 Step 5: Add Details to the Base and Walls
Along the edges of the windmill's main body, draw a border to represent the siding. Sketch horizontal lines across the walls to depict wooden boards.
Consider adding doors, windows, or other architectural details to make your windmill unique. Keep the lines light at this stage as you will refine them later.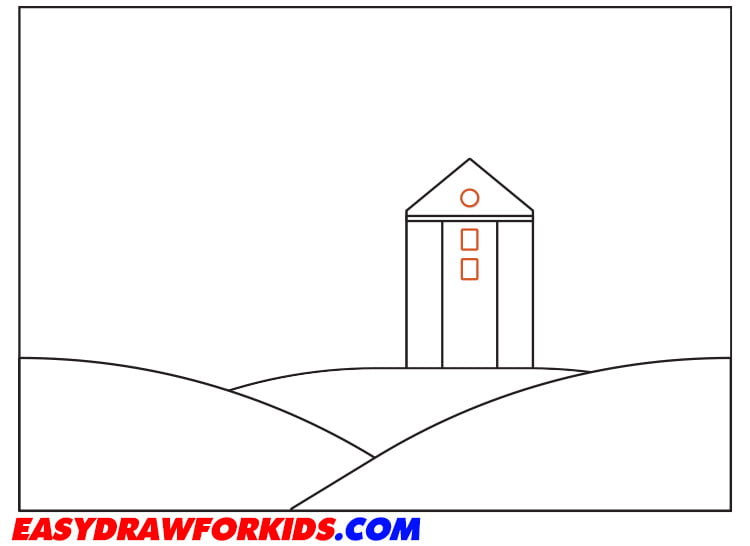 Step 6: Add the Windmill Blades
Now it's time to draw on the windmill blades that make this structure so recognizable.
Start by lightly drawing a big X shape over the front of the windmill. Position the center point of the X directly over the center of the building.
Then draw a rectangle over each of the four arms of the X shape. These will form the main part of your windmill blades on guide how to draw a windmill.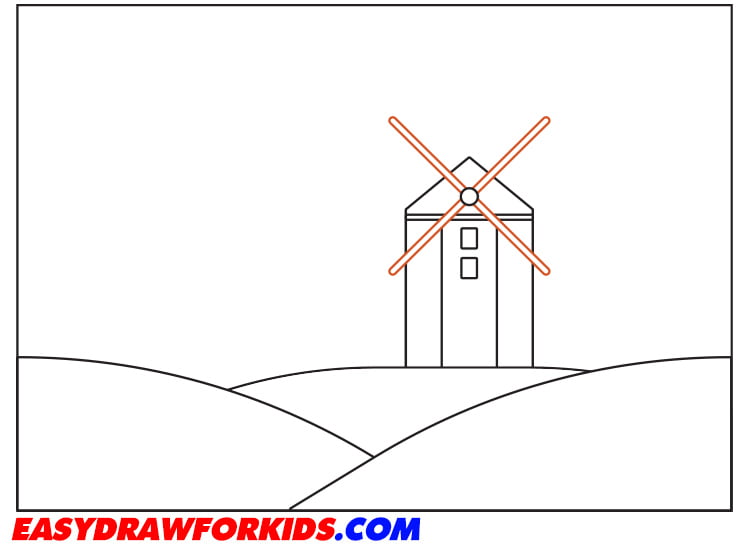 Step 7: Drawing the top Windmill Blades
Use straight lines to connect and fill in the space from each blade to the center point. Create a cross shape with triangles extending from a middle square.
Make sure the blades are proportional and evenly spaced around the X axis.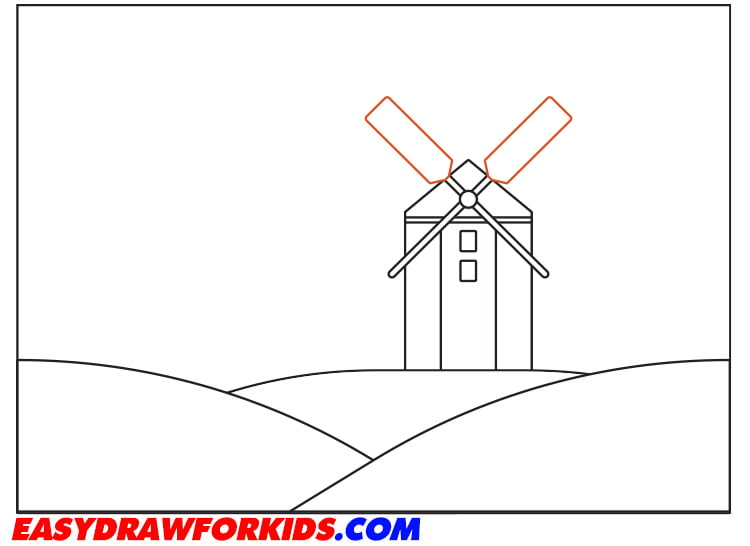 Step 8: Drawing the bottom Windmill Blades
Repeat this process on guide how to draw a windmill by creating two bottom windmill blades.
Draw a slightly concave curve on the outer edges of the sails to show how they are bowed by the wind pressure.
Make sure the sails overlap and layer over each other to give a sense of depth. You can vary the sizes and angles and have some sails turned at different positions as if caught in motion by the wind.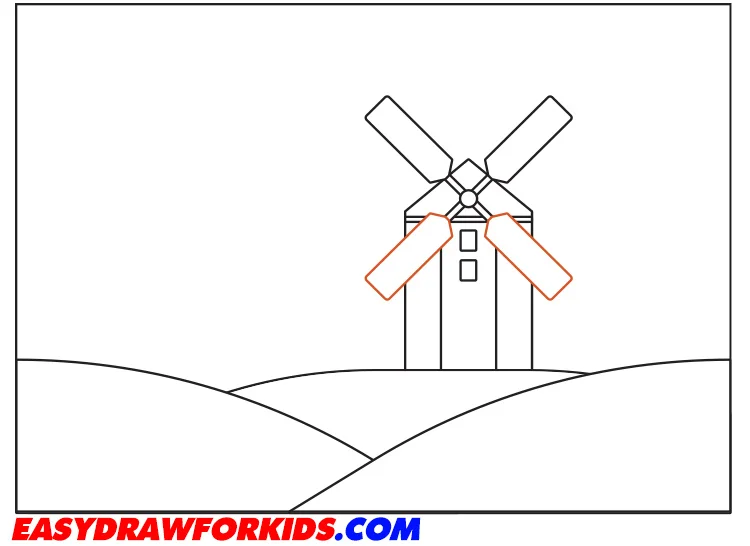 Step 9: Add Details
Scribble grass, trees, or farm fields in the background to situate the windmill in a countryside setting.
And consider adding birds flying around the sails or clouds in the sky to reinforce the windy conditions that drive the windmill. Little details like this can bring your simple pencil sketch to life.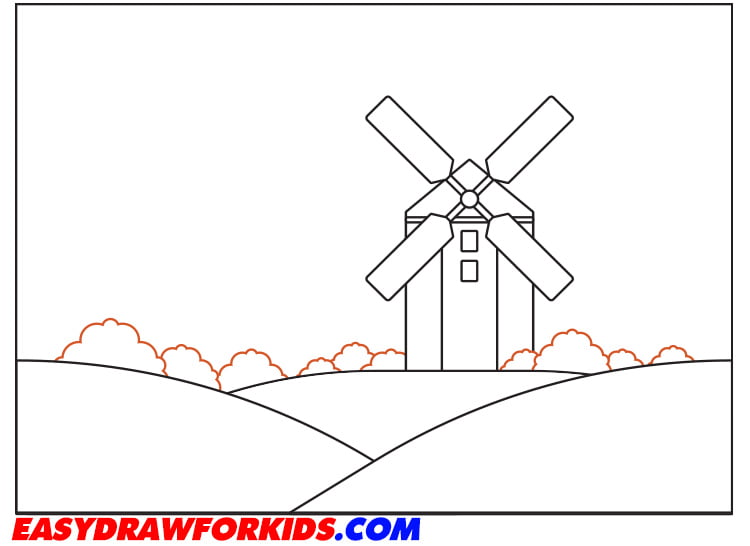 Step 10: Color your Drawing
The last step of the lesson how to draw a windmill is coloring your drawing.
Windmills often have a combination of earthy tones, such as browns and grays, to represent the wooden structure.
Consider using different shades of these colors to add realism and depth to your drawing.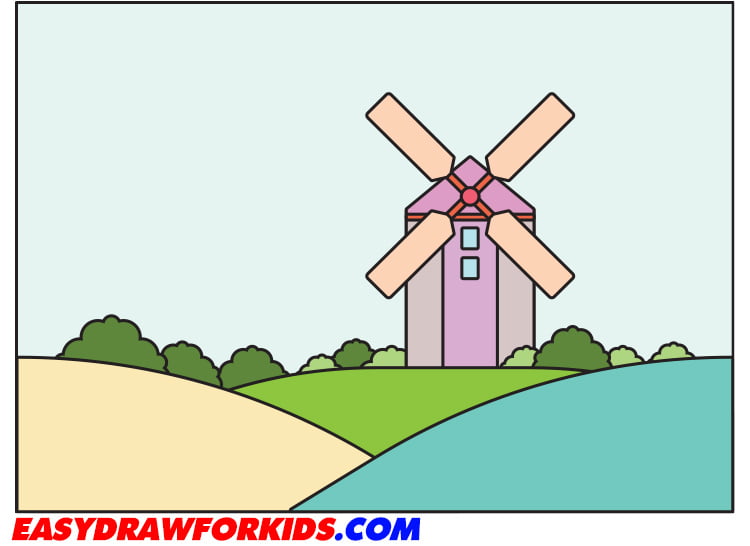 Tips for Drawing Windmills
Here are some tips for learning how to draw a windmill:
Study reference photos of real windmills to observe how the sails attach to the cap and overlap each other at angles.
Use rough, sketchy lines in your initial drawing, then trace over them more darkly once you have the proportions right.
Vary the pressure as you shade to create shadows and a sense of form and lighting on the rounded surfaces.
Capture interesting textures in your drawing, like the rough woodgrain of the tower or the cobblestones below.
Aim for the sails to appear twisted and angled to portray realistic wind flow that powers the windmill.
If you include people, chickens, or other animals, make them small in scale to reinforce the windmill's size.
Windmill Drawing Inspiration
There are many creative ways to learn how to draw a windmill that make for unique and personal artwork. Here are a few ideas to get your imagination turning:
Draw a minimalist windmill using a limited monochromatic or grayscale palette for a sophisticated look.
Depict the windmill at different times of day, like at sunset with golden light streaming across the sails.
Set your windmill drawing in a storm with dark clouds and rain to convey motion and drama.
Portray a creaky, abandoned windmill in black and white for an old-timey vintage feel.
Surround your windmill with blooming tulip flowers as a nod to Dutch landscapes.
Draw the windmill in an unusual color like red or purple for a whimsical, playful look.
Use watercolors, markers, colored pencils, or acrylic paints to bring eye-catching color to your windmill.
Draw a row of windmills in a panoramic landscape to capture their grandeur.
Depict interior machinery visible inside the windmill tower.
Let your creativity turn like the sails of the windmill to design your own unique take on this classic subject. With some simple skills and these tips, you can draw a picturesque windmill scene from your imagination.
Conclusion
Windmills are one of the most iconic and appealing historical structures to depict in drawings and artwork.
By following basic steps to build up the tower, roof, sails, and details, anyone can learn how to draw a windmill, even without advanced artistic skills.
The kinetic shape of windmills in motion naturally tells a story, making them a favorite subject for artists through history.
Whether drawing a realistic Dutch-style windmill or putting your own creative spin on the structure, the simple pleasure of sketching windmills can blow new inspiration into your artistic sails.
You may also enjoy: